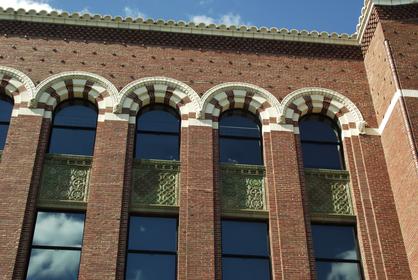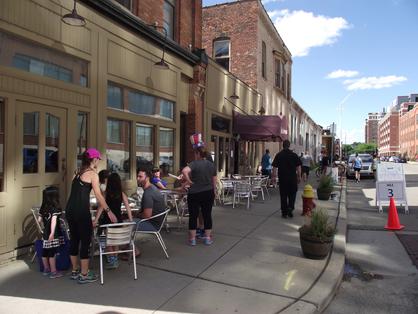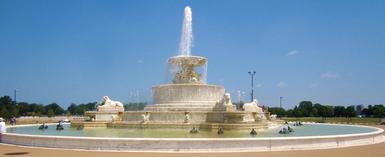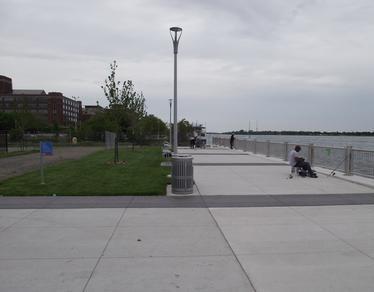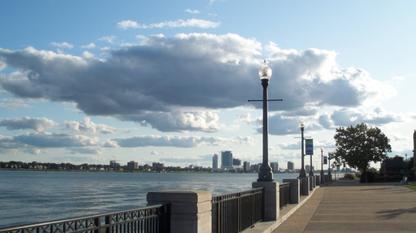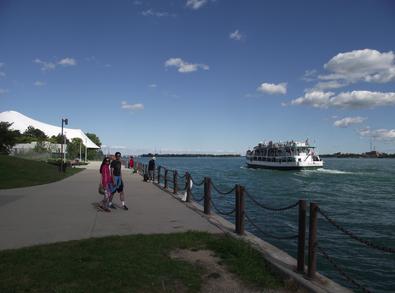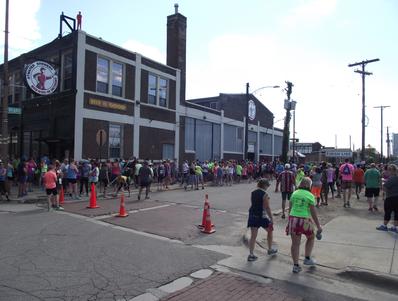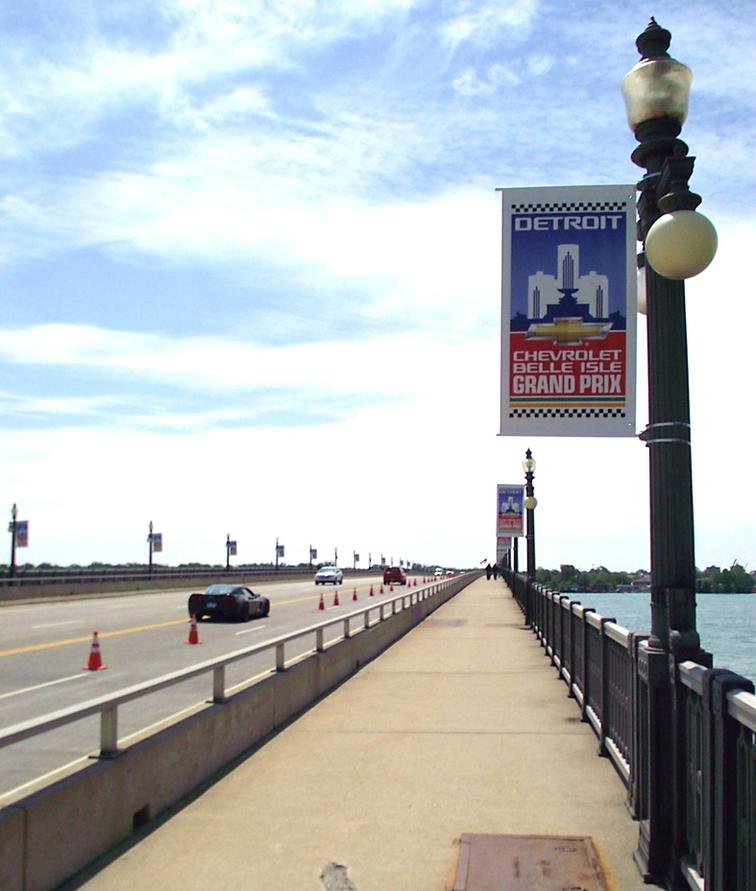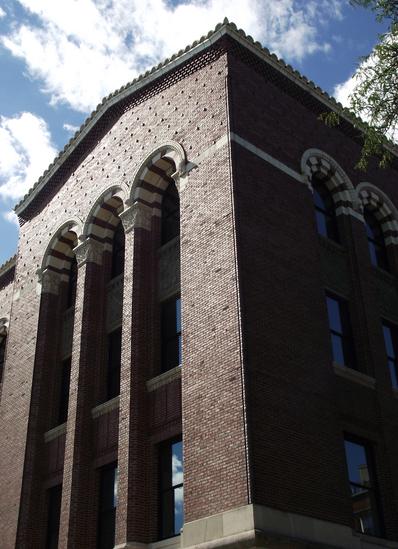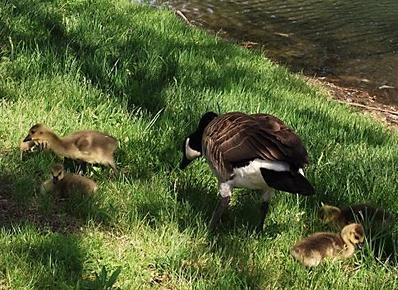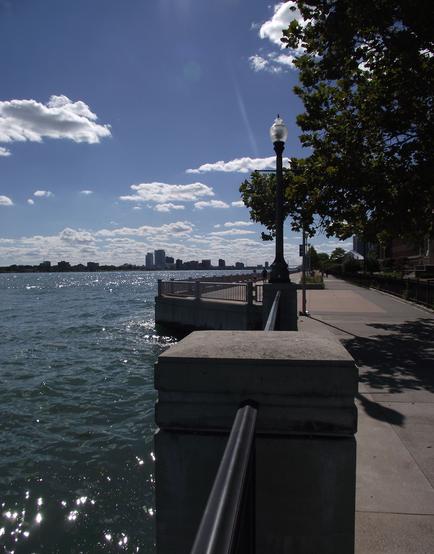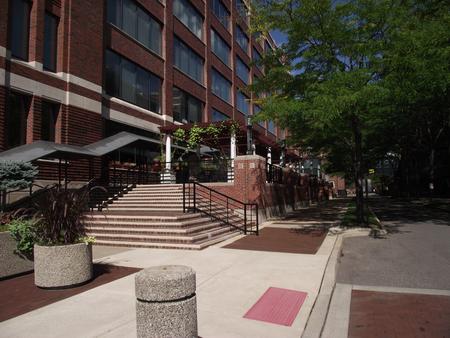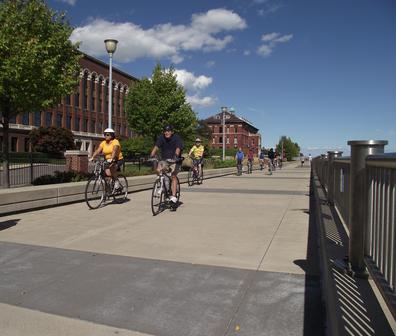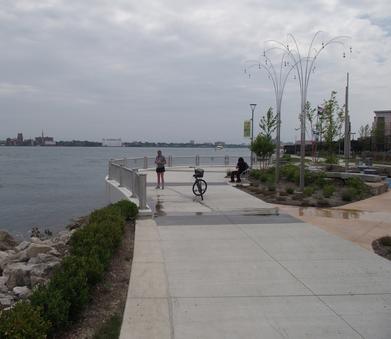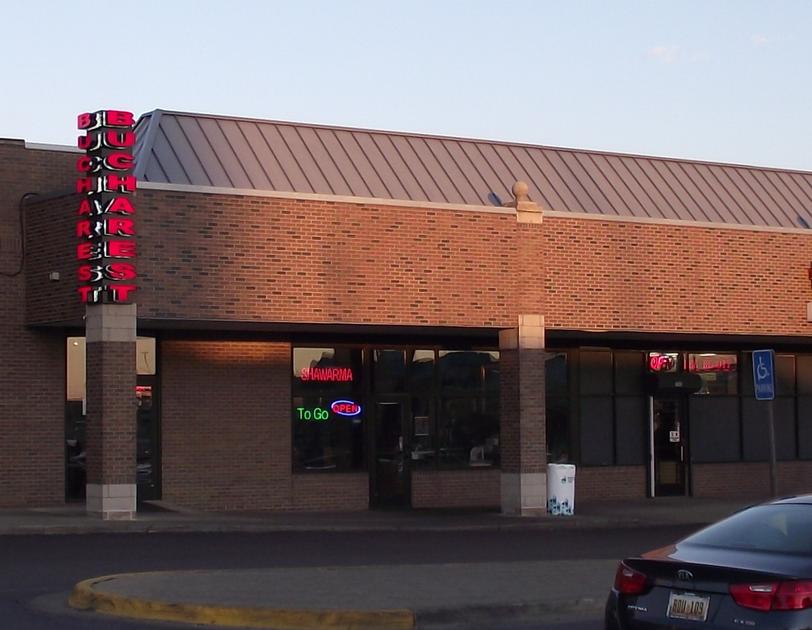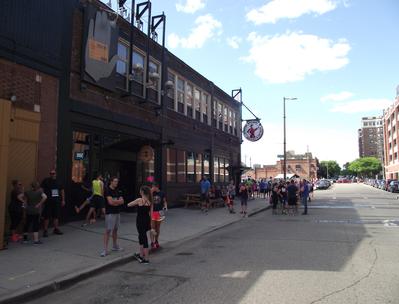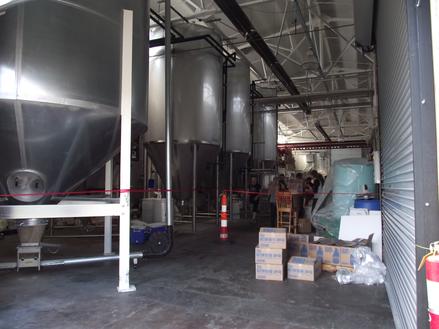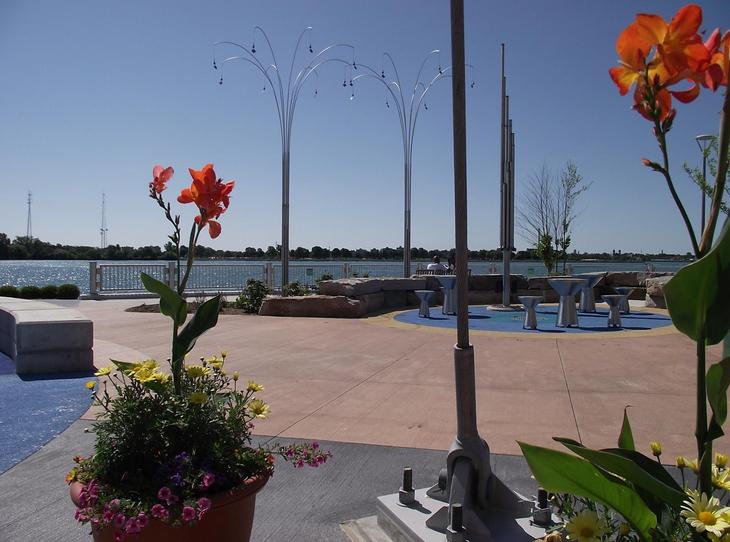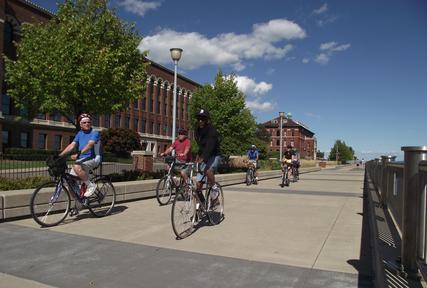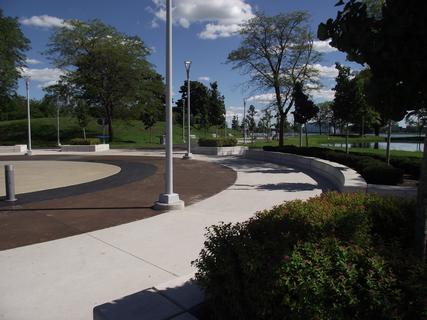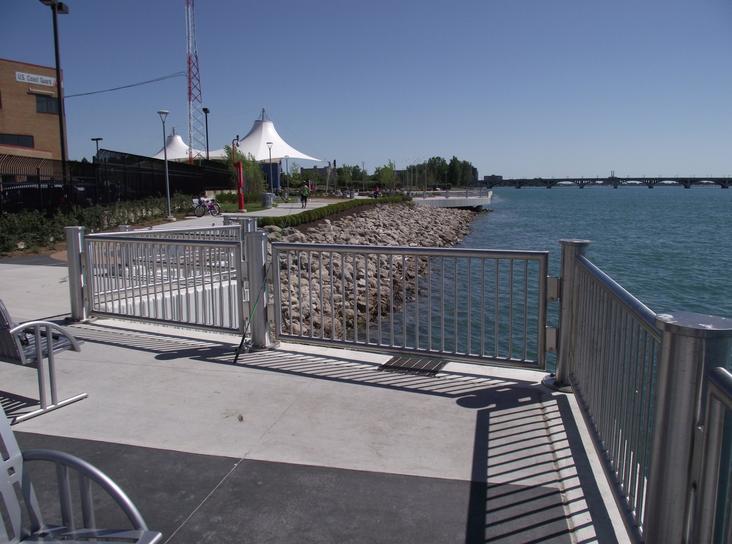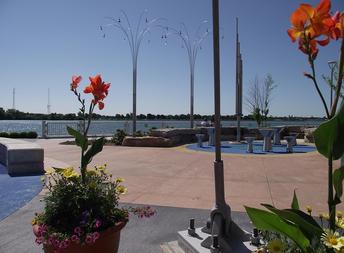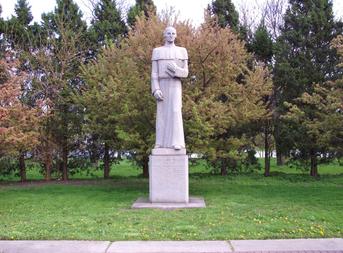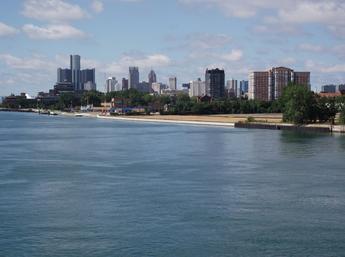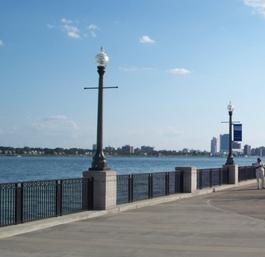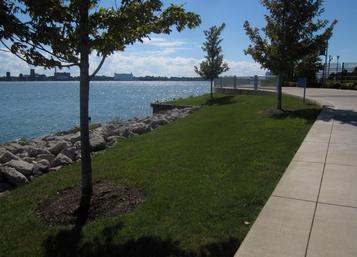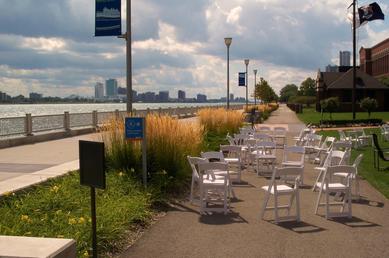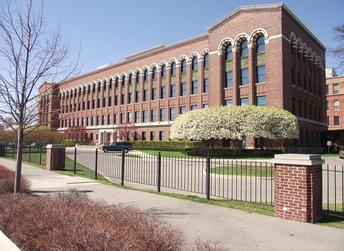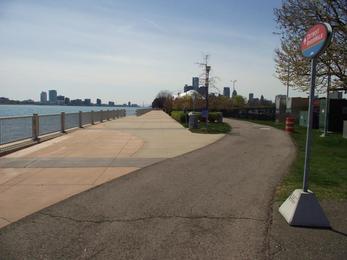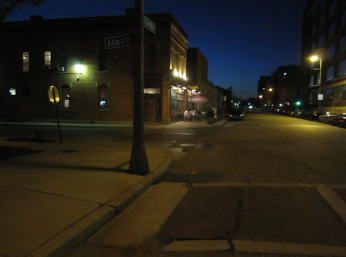 ​​
DETROIT
ENTOURTAINMENT

.

COM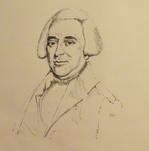 EVACUATION DAY
In 1794 General Wayne's 5,000 American troops defeated a combined Native American and Canadian loyalist force at the Battle of Fallen Timbers near present day Toledo.

After signing of the Jay Treaty, a force under Wayne entered Detroit on July 11, 1796. Wayne was probably ill at this time with gout and Colonel Hamtramck was likely in command. Captain Porter may well have ordered the raising of the flag over the city. The British evacuated. This day would later be known as Evacuation Day, an anniversary observed in Detroit for many years.

Wayne died during his return to Pennsylvania. (What made Wayne "mad"? Was it the coffee?)

BELLE ISLE PARK'S SCOTT FOUNTAIN
BELLE ISLE PARK'S DOSSIN GREAT LAKES MUSEUM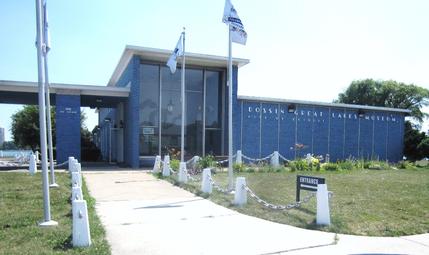 THE RIVERWALK GROWS

​The new Chene Park section offers even

more access to the water.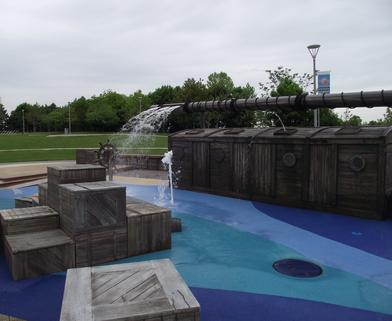 HARBORTOWN EXPANDS
High demand for living space is fueling new construction in Harbortown and quick access to the RiverWalk is increasingly favored.
Harbortown View West (a private area currently under expansion)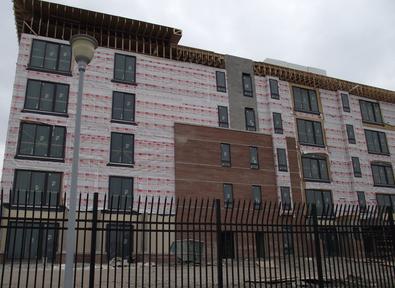 After you pass Milliken State Park near the Dequindre Cut entrance, your tour continues east on the RiverWalk...
​

Chene Park Theatre pokes through the tree-tops south of Atwater Street.

The Theatre borders Atwater Street/RiverWalk, with a 6,100 seat pavilion, featuring top jazz performers and other groups in the summer.

Riders, protected by Jersey barriers, cross MacArthur Bridge with ample sidewalks on both sides of a long, sloping entrance, lined by old street lamps.

(New street lamp lighting has been added to the bridge since the state of Michigan made Belle Isle a State Park in 2014.)
This completes your tour.

(Refer to Belle Isle Park, Page 11, next.)

Take a good look at Gabriel Richard Park from here. The renovated Uniroyal site may eventualy resemble this area but it will be more than double the size.
(An international design competition enlisted the creative talents of hundreds of landscape designers to provide ideas for park development. The RiverWalk Conservancy is expected to use them in the current park expansion west of the bridge.)

Bridge Sidewalk with Jersey Barrier, View South toward Island
View from MacArthur Bridge, Looking West toward Downtown Detroit and Canada
Gabriel Richard Park from the Bridge, View East
The bridge is a photo-op for walkers and bikers. Skyline views are winners from these angles, whether facing north shore or river gateway west.

MacArthur Bridge Buttress -- View South toward Belle Isle Park
This particular area hosts the annual hydroplane races where thousand gather for a shoreline view.

Gabriel Richard Park Shoreline
Main Viewing Pier and Shoreline in sight of Bridge
Here a fisherman may hook his last Perch for dinner.
View toward 982 Acre Belle Isle Park from Sculpture Area
Have a seat in front of the North Channel in view of Belle Isle State Park, the largest urban island park in America and one of two state parks in Detroit.

Local History Belle Isle Park was designed by Frederick Law Olmstead between 1879 and 1883, the same landscape architect who designed New York's Central Park five years earlier.
An imaginative and creative schooner playscape greets children.
Food Options/Information Food vending and restrooms are available as well as RiverWalk information about general attractions in the area. A cafe counter recently opened.
Playscape and View toward Pavilion-Cafe Area
Its overgrown, broad grassy meadows were spread among a few brick walls bound up with saplings -- all that remained of the Uniroyal plant.
Meanwhile, new gathering places have arrived at Mt. Elliott a place for children and adults, and a welcoming view to the river.

Former Main Viewing Pier and Shoreline
Mount Elliott Park Landing Prior to Renovation
About 100 yards east, this stretch of the Walk ends at Mount Elliott Park next to the old Uniroyal Plant site where the narrow sidewalk winds around to the river. Mount Elliott Park has been completely renovated and a portion of the adjacent plant site has been reclaimed with soil mitigation.
Mount Elliott Park Entrance (renovated)
Mount Elliott Park Entrance (prior to renovation)
.The brick Depot building with arched windows and the smaller maintenance building may become a museum.
Lake Schooner on Detroit River
Local History The three-story Light House Depot, 1871 was one of 12 built across the U.S. to maintain lighthouses. Well-maintained maritime transportation was essential to American commerce in the 19th century. Shipping and trade were critical to the young nation and each of its Great Lakes ports, stretching from Buffalo, New York to Duluth, Minnesota. This was particularly true of the Reconstruction years following the Civil War, which had deprived both the North and South of vital trade goods. Northern cities like Detroit were crucial to the restoration of commerce to the Southern states. The South received goods from a network of roads, the Mississippi River, the coasts and numerous rail heads along the critical lakes.
The Depot serviced nearby lighthouses with lens supplies and maintenance crews. Notice the thick shutter hinges. They held back the heavy November gusts from thin glass panes, while lighthouse tenders warmed their hands over a hearth, and heavily shrouded Lake Schooners were hove over whitecaps between narrow sand bars in front of Belle Isle.

1871 Lighthouse Depot Building Entrance
Ornate Window Details of 1871 Lighthouse Depot Building
The Lighthouse Depot, Unchanged in 146 Years
1871 Lighthouse Depot and Maintenance Facility Building
You''ll pass Harbortown before reaching the Coast Guard Station, and a couple small, well preserved 19th century brick buildings at the end of a canal.
Harbortown Apartment Tower in background, near RiverWalk intersection of Mt. Elliott Park,

Coast Guard Station and Lighthouse Depot
RiverWalk Map through Mt. Elliott Park
Barn Swallows take a Siesta on the Walk
View South on Last Leg of Walk to Mt. Elliott Park
RiverWalk, North Bend, East of Marina
A Winter Harbortown Marina View West
They're just a ten minute boat trip from fabulous fishing of Lake Saint Clair and eight minutes from Downtown. Harbortown is seen from the Walk. (The private residential area is not accessible to strollers.)
Harbortown Pocket Marina and Jet Skiers
A sunny day with breeze and breakers casts a shimmering view south to Canada over deep azure waves.
Catch the light bouncing off the polished white marble of the Scott Fountain and its grand stairway at Belle Isles's west shore or freighters cutting up the South Channel.
View toward South Channel
Belle Isle Park looms in the southeast, where the river is over two miles wide with good views east and west.
Waves splash under foot, and Barn Swallows zip past, snatching bugs for their young as pleasure craft cruise by.
UAW-GM Bend near End of Cantilevered Section
The wallkway cantilevers over the river with old-time pier lighting and railing, unlike the more modern UAW building, set behind a narrow border of grass and brick retaining wall that conceals a large private plaza.
Magnificent Cloud-forms over River
This stretch is more scenic. The black railing, lamps and heavy piers could remind you of the Esplanade of Battery Park City, New York. (Downtown Windsor is visible in background.)
(The hotel has received mixed reviews recently -- some good, some very critical.)
Cantilevered RiverWalk Area -- UAW-GM Building Frontage
Entertainment A live jazz band plays for free on the patio adjacent to the Walk twice a month, during summer evenings. (Call 313-259-9500 for schedule.) Further east of the hotel is the modern UAW-GM building.
Hotel Jazz Band Entertainment Evening (UAW-GM Building at right)
RiverWalk, Winter Evening View, East and West near Hotel
The Historic Romanesque Revival, Roberts RiverWalk Hotel and Residence Entrance

(Viewed from RiverWalk)
Roberts RiverWalk Hotel and Residence from Sidewalk
Talon Centre Building and Roberts RiverWalk Hotel Sidewalks
Hotel The mainParke Davis Building designed by Albert Kahn (AKA, the Roberts RiverWalk Hotel and Residence) is on the National Register of Historic Places. It was known as "Building 42" at the time of its construction.
A Wedding Interrupts Traffic at the Roberts RiverWalk Hotel
View toward Roberts RiverWalk Hotel and Residence

(Belle Isle Park & Bridge in Distance)
Talon Centre Building, Spring
The Beautiful Romanesque Talon Centre Building, Winter Evening
Local History From Joseph Campau, the RiverWalk heads east past the classy, ornate brickwork of the Talon Centre building, home of the Skillman Foundation. It was designed after the 1891 opening of the Parke-Davis research center now thought to be one of the world's first modern pharmaceutical centers. The Talon structure is the former administration building, designed by Smith, Hinchman and Grylls in 1927 meticulously decorated with banded archades, detailed architraves and ornate sculpted relief. The complex was composed of several buildings including the current Roberts RiverWalk Hotel. All buildings in the collection became part of Stroh River Place when they were renovated and re-purposed for residences, a hotel or offices.
RiverWalk, View East (Belle Isle Bridge, background)
Long View of Talon Centre Building Section of Walk toward West
Tours The Diamond Queen and Diamond Belle, river tour boats dock here spring and summer. They reserve narrated group tours to points along the Canadian side of the river. Their crews seem to enjoy intruding on homeowners having a meal on their patio or exchanging a friendly wave. (Unreserved tours usually pick up at Rivard Plaza, further west. Plan accordingly or contact Diamond Jack Tours for latest schedule and tour locations, 313-843-9376.)
View West toward Campau Section of Walk (Talon Centre Building)
Diamond Queen and Diamond Belle at Spring/Summer Dock Site
From this intersection, follow the RiverWalk arrow-straight for about a third-mile east.
View West near Riverboat Dock Area at Rattlesnake Club/Joseph Campau
View of Talon Centre Private Patio toward River
The Talon Centre Patio is a private outdoor gathering place used for weddings and receptions.
South Side View of Talon Centre Private Patio and Rattlesnake Club Background
North Side View of Talon Centre Private Patio
The Rattelsnake Club deck faces the Talon Centre Patio and RiverWalk.
Rattesnake Club South Entrance
Fine Dining/Entertainment The corner of this building is the home of the famed √√Rec Rattlesnake Club, one of the top restaurants in Detroit with live entertainment, great menu, art gallery, an outdoor deck and a Kodachrome view of the river -- if the trees are trimmed. Valet parking is available The Club recently featured the Il Volo Singers.
Rattesnake Club South Entrance
Stroh River Place stretches the length of Joseph Campau from Jefferson to the river. Stroh River Place apartments were restored from a 7-story brick office and other buildings. At this junction with the RiverWalk your path will swing south to the river again.
Stroh River Place Apartment Complex
...and √ Rec They Say, 267 Joseph Campau (live entertainment), all within three blocks. Some offer Rock, and others live Jazz. Andrews sends a shuttle to Red Wings hockey games.
This street preserves the look and feel of the 19th century in old masonry, chimney course-work and keystone window frames. Brick pavers join curb to curb. Stop in and have a refresher. You've earned it.

They Say Restaurant and Bar
The Riverplace Bar and Grille, The Prive Deux Club and the Atwater Brewery
Additional Proprietors on corners of Historic Jos. Campau Street
...the Riverplace Bar and Grille, 225 Joseph Campau, Prive Deux, 225 Joseph Campau Atwater Block Brewery, 237 Joseph Campau,
Restaurant/Bar/Entertainment Options These bars include Andrews on the Corner, 201 Joseph Campau,
Nighttime at Andrews on the Corner
Andrews on the Corner, Bar-Restaurant (main entrance)
Andrews on the Corner, at Atwater and Jos. Campau Streets
RiverWalk Map through Jos. Campau
Restaurant/Bar Options Visit the Bucharist Grill (formerly Downtown) for Romanian or Middle East cuisine. It's now located in a strip mall at 2684 E. Jefferson in Rivertown north of Atwater and Chene Park. A short stroll east of Chene Park on Atwater will take you to Andrews on the Corner bar and the Stroh River Place apartments at Joseph Campau Street. (Note: Atwater Steet is part of the RiverWalk.)
Local HistoryJoseph Campau Street bears the name of one of Detroit's first French families. The French claimed long skinny fingers of land stretching from the river bank. Roads were built alongside.

The area's heritage cannot be overstated. It was one of the primary farm areas for many of the original settlers in the early days of the first fort at the tiny Ville Du Detroit, a mile and a half west. This particular area was known as Cote Du Norde Est where many "ribbon" farms were cultivated by French farmers in the early 1700's. The local scene in the late 18th to 19th centuries was of busy docks and lake schooners followed by swanky boat clubs.

​At this historic corner on Atwater today are four old brick bars and a newcomer. As you face north you'll notice them on each corner. They offer live music and attract steady patrons from local apartments.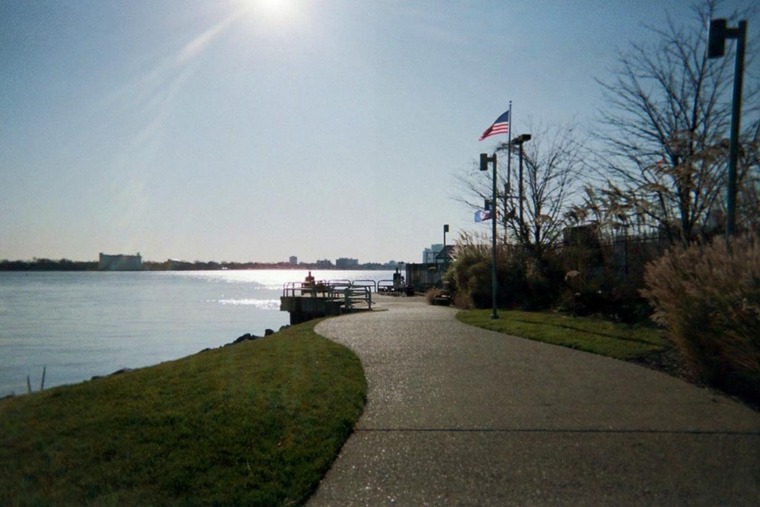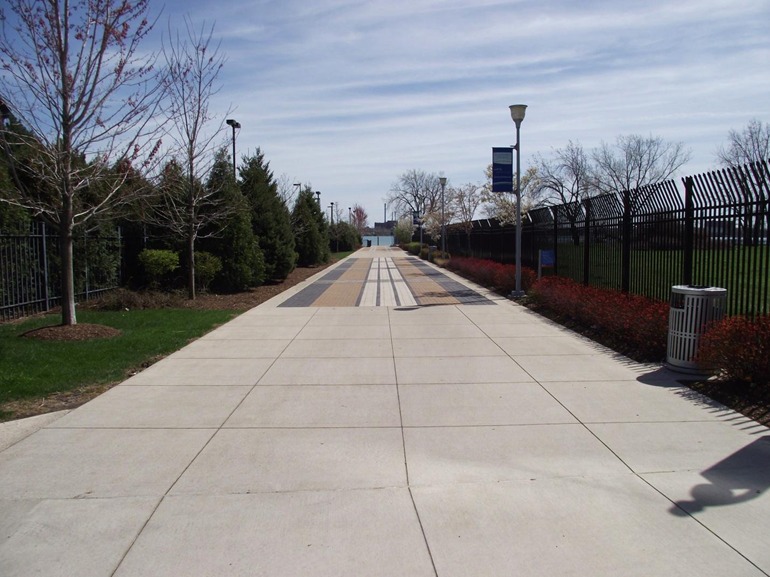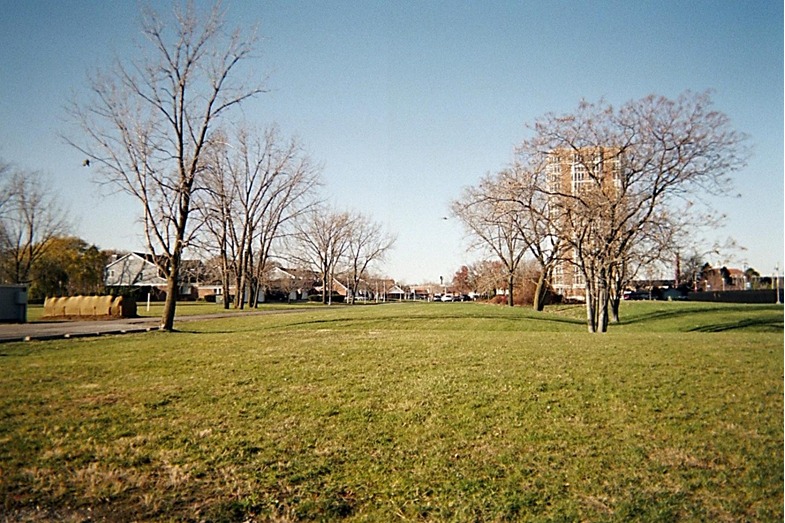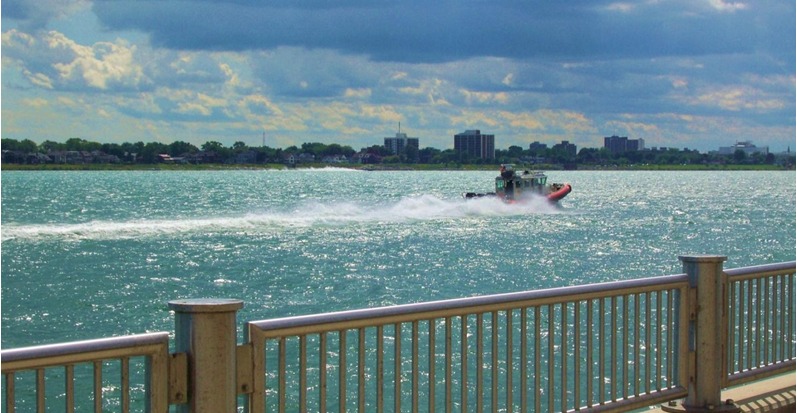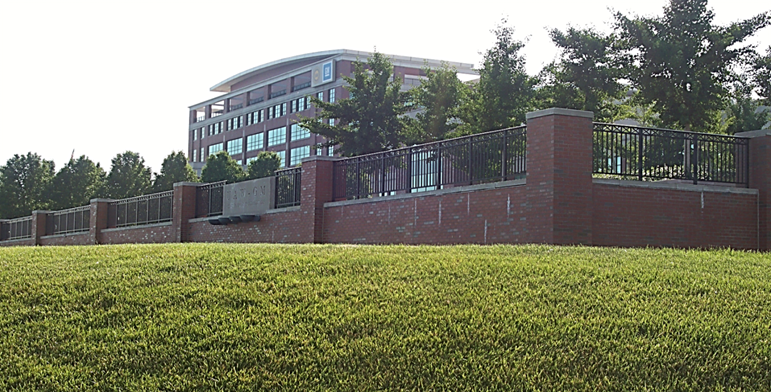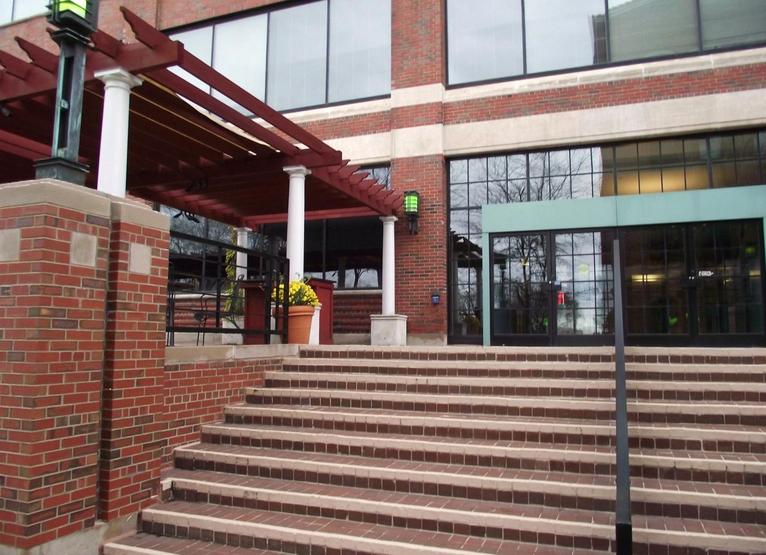 UniverSoul Circus Tents on Parking Lot North of Atwater
It's the same parking lot where the Benedictine, UniverSoul Circus performs each September. But lately, cars fill every alleyway in the Warehouse District, just to hear a jazz great or maybe a sax solo from the Average White Band, the B52's the Go-Go's and other groups that have appeared here. Boats clog the river on the theatre side during popular performances.
DETROITENTOURTAINMENT.COM
Surrounded by a moat, the theatre is built into a hill on the shore across from a parking lot. But the real attraction may be the huge, makeshift tailgate parties that crash the concert area so those who can't afford the ticket can hear performers. The concert crashers play cards, disco and rap while ribs sizzle -- until the show begins.
Family Day at Chene Park Moat
Chene Park Moat in Festive Decoration
RiverWalk Map through Chene Park
Chene Park Theatre and Moat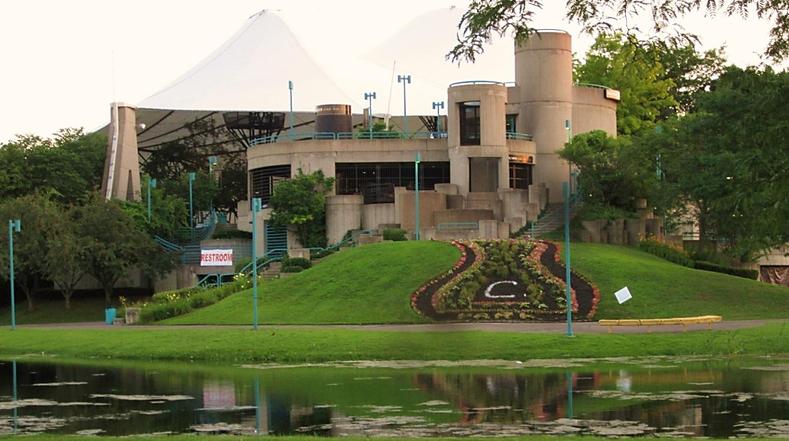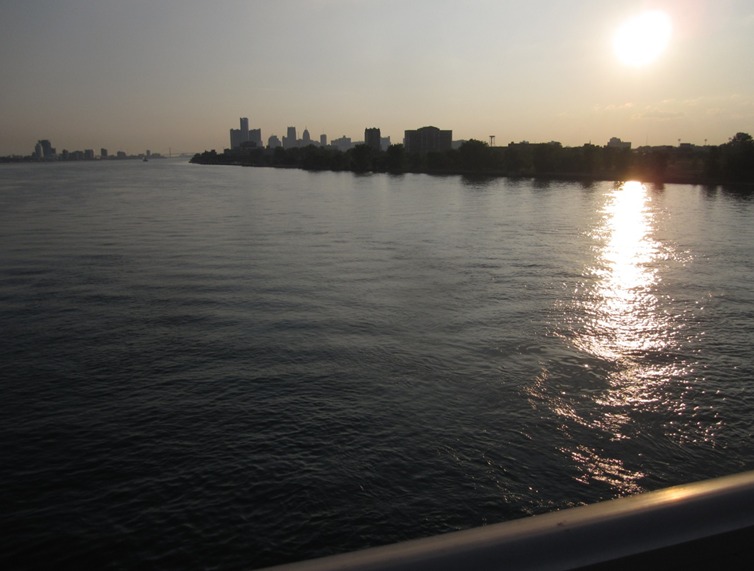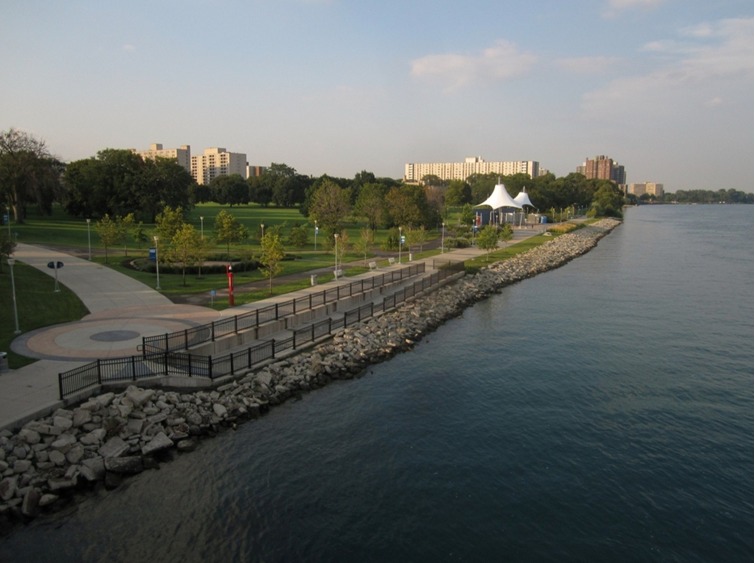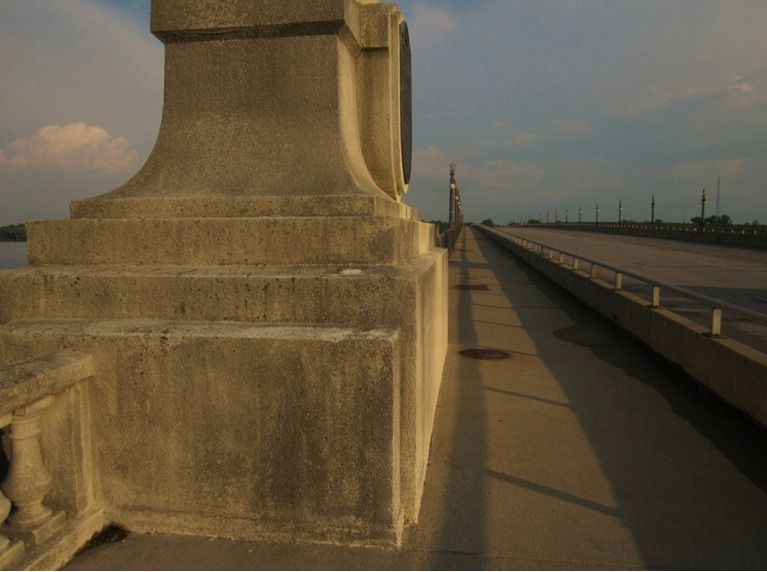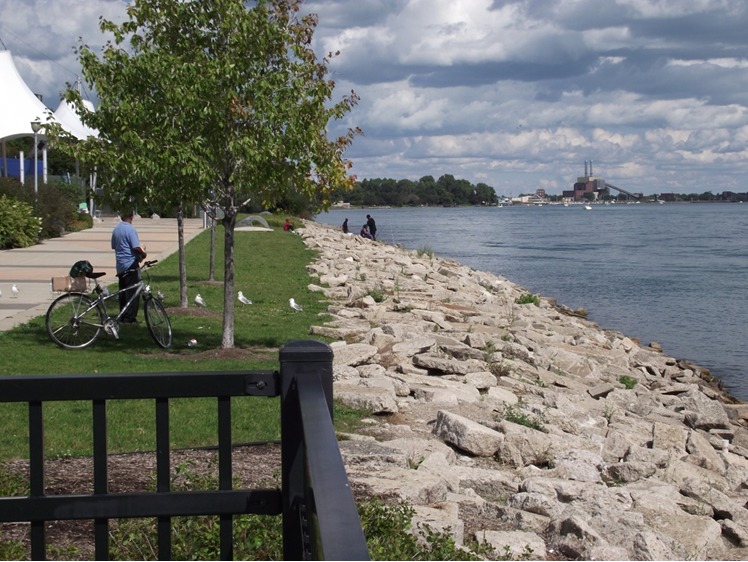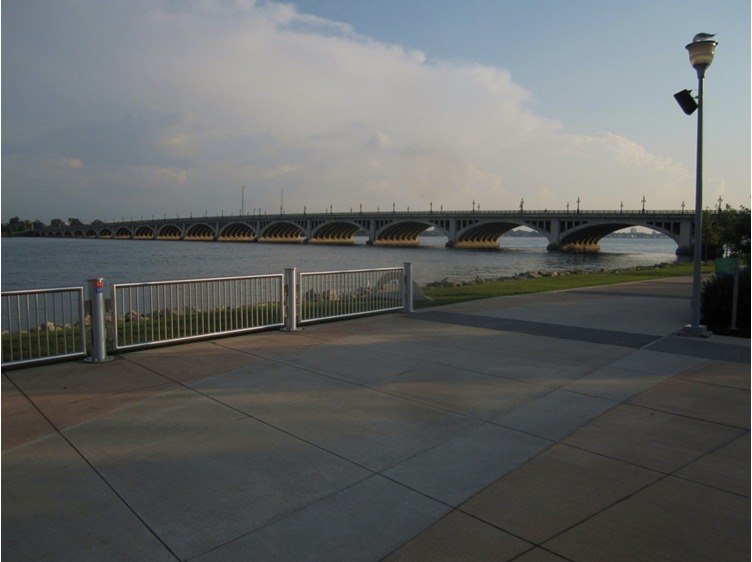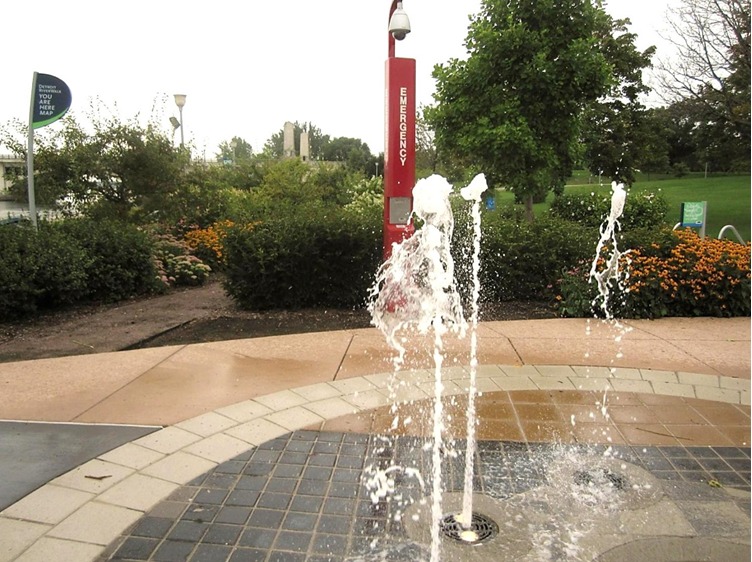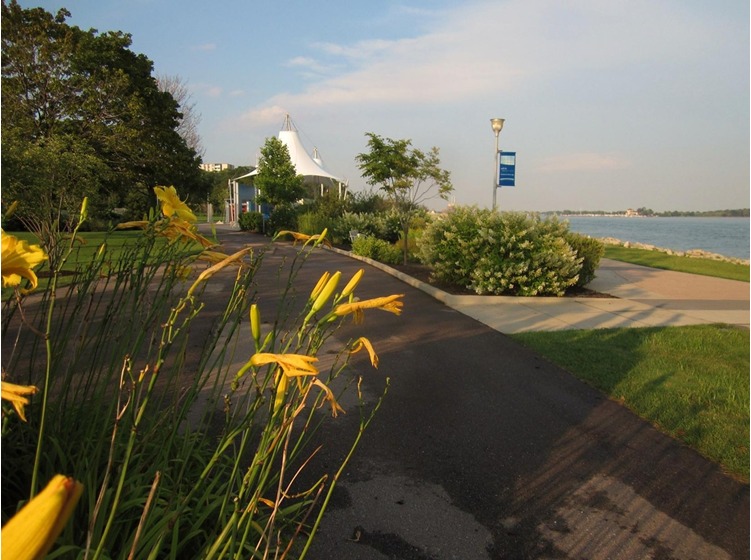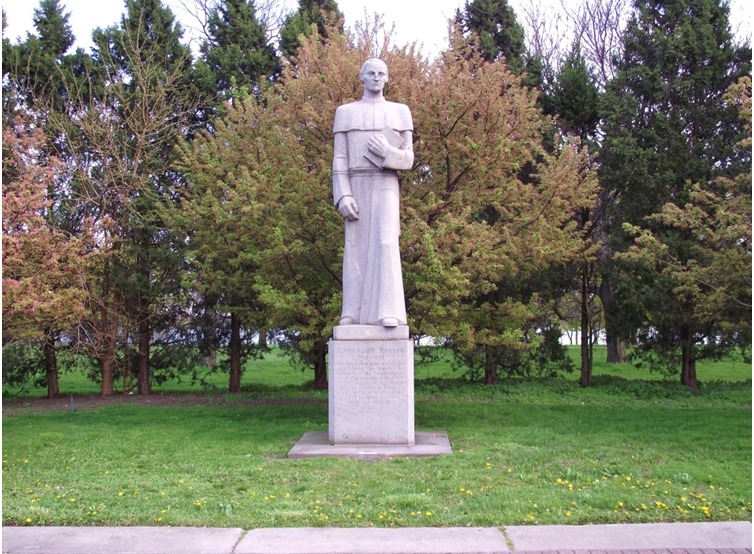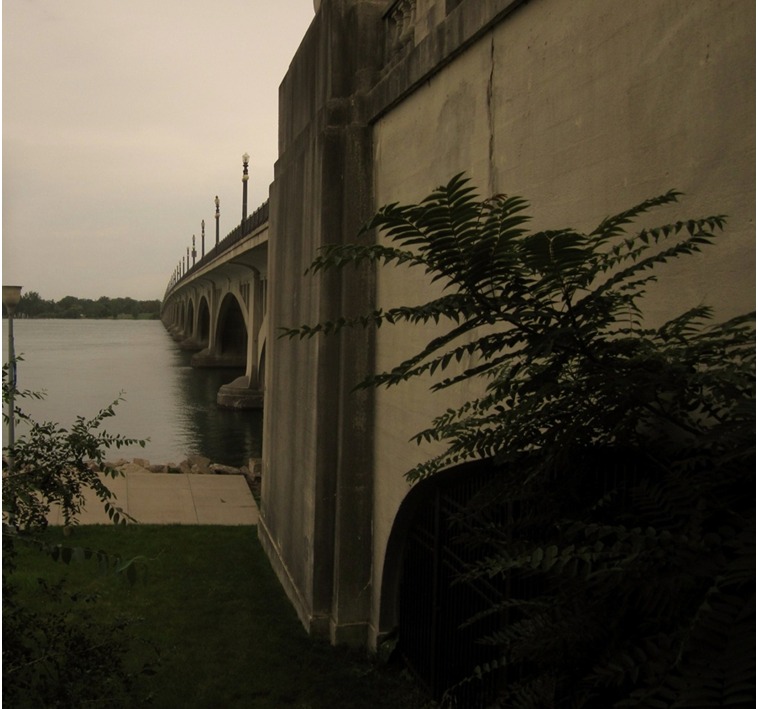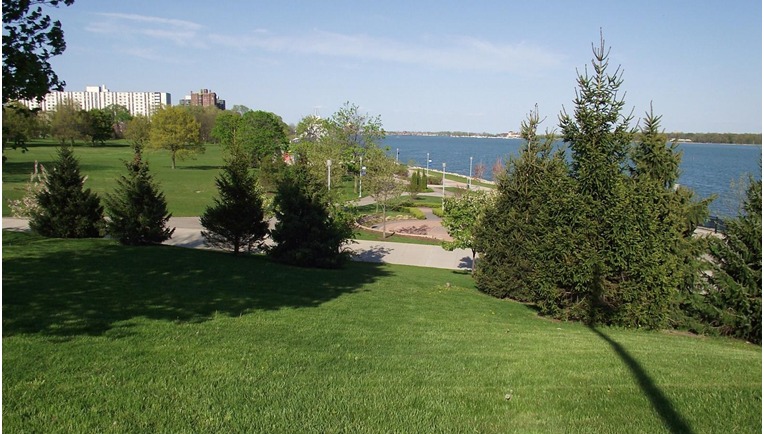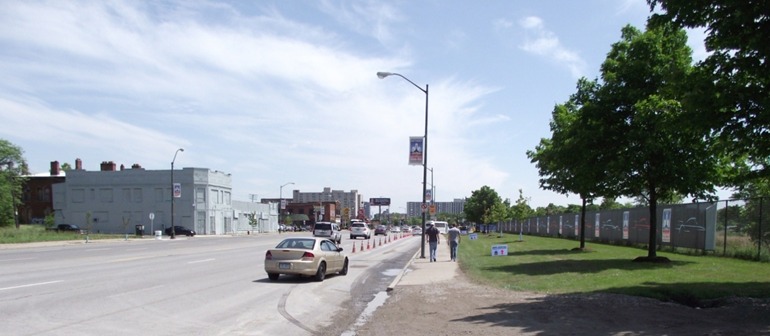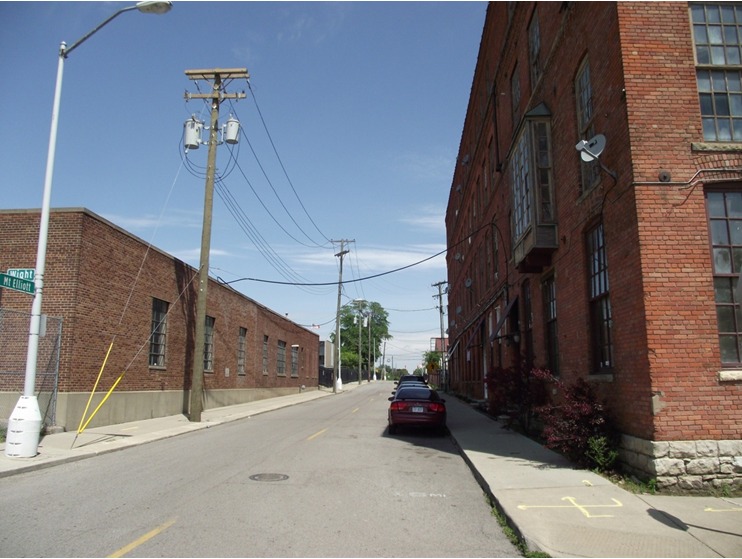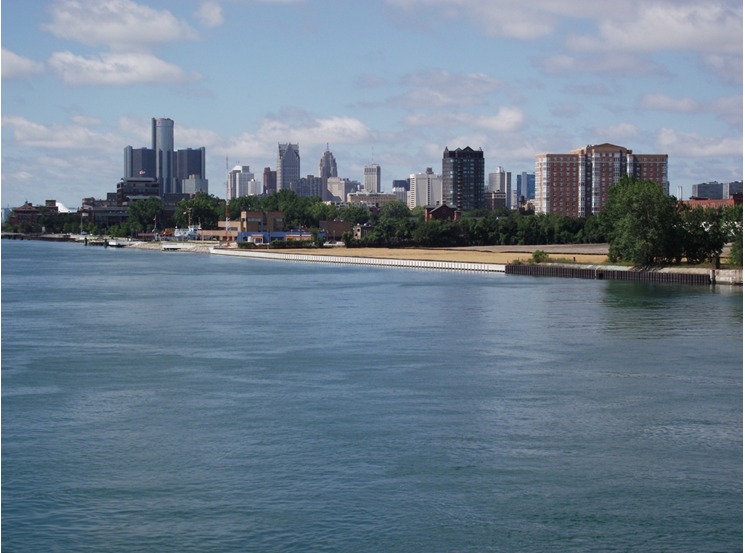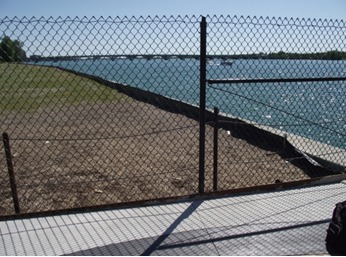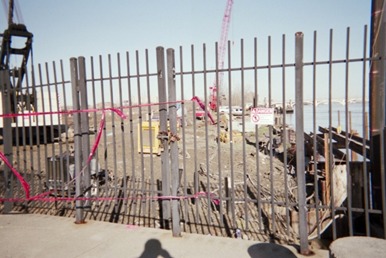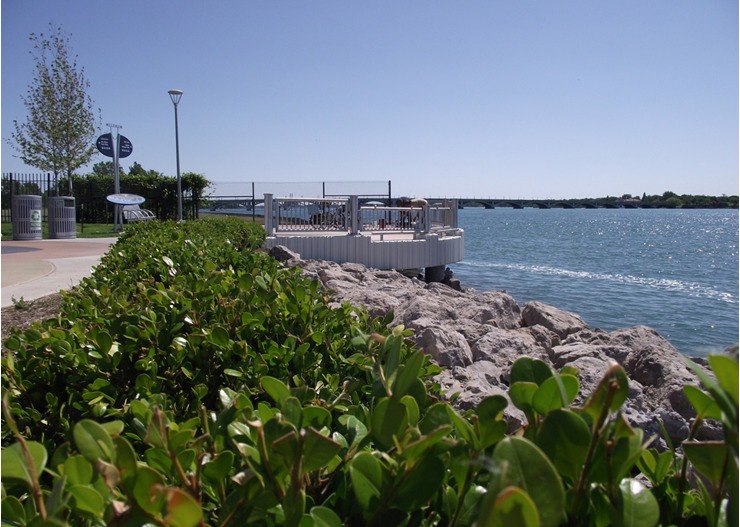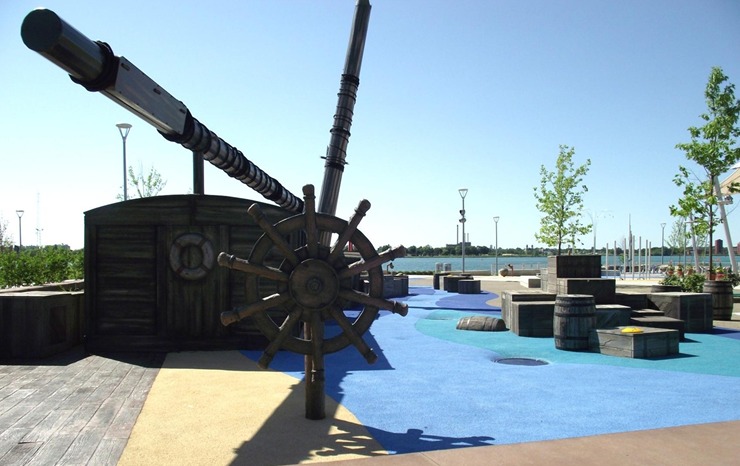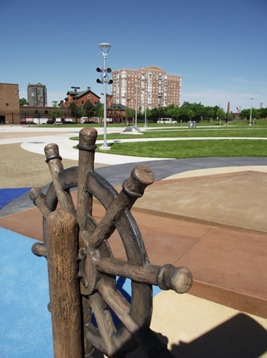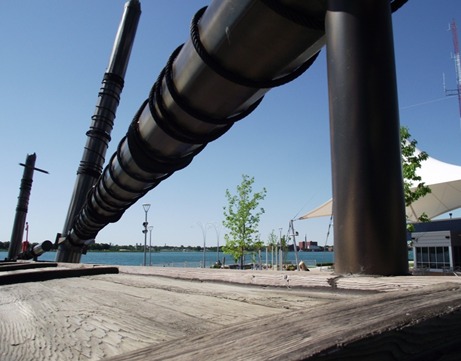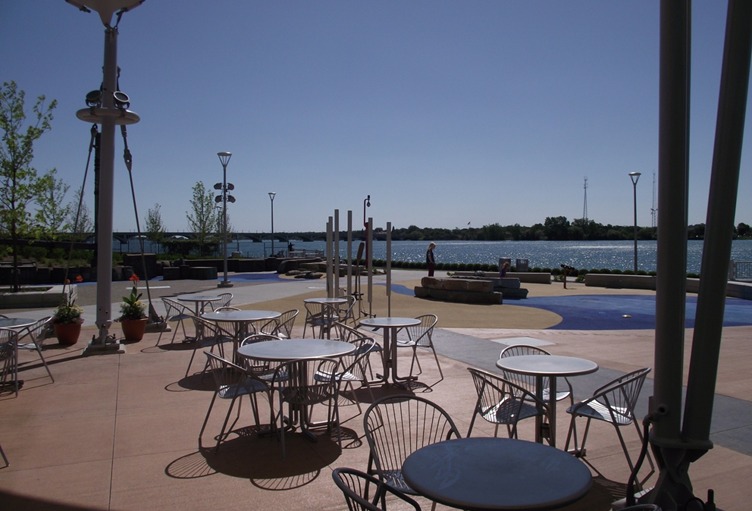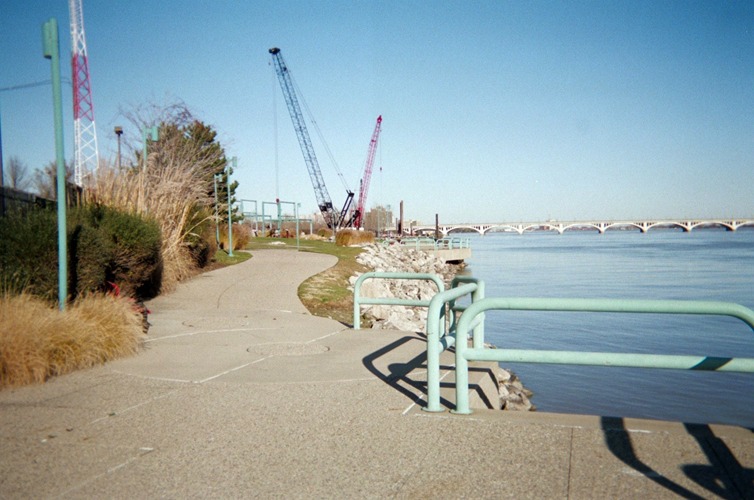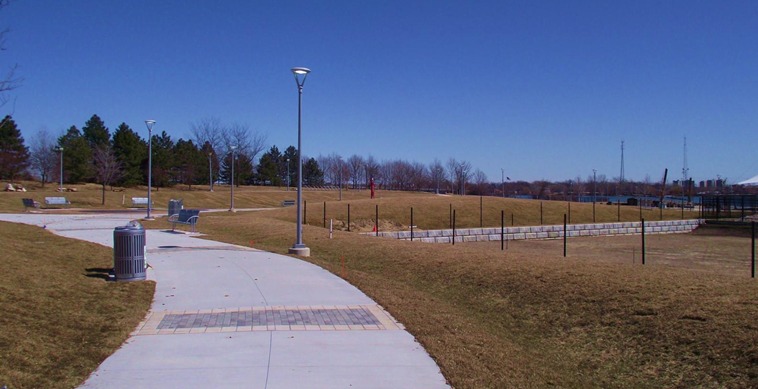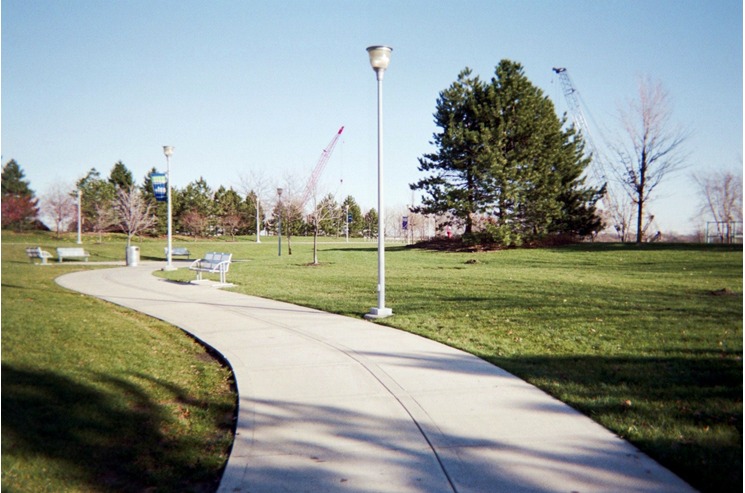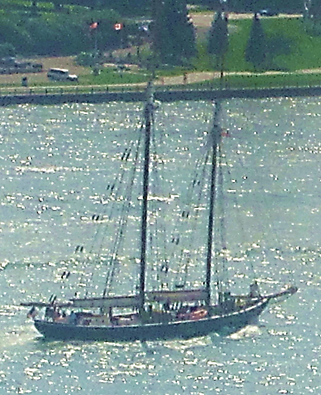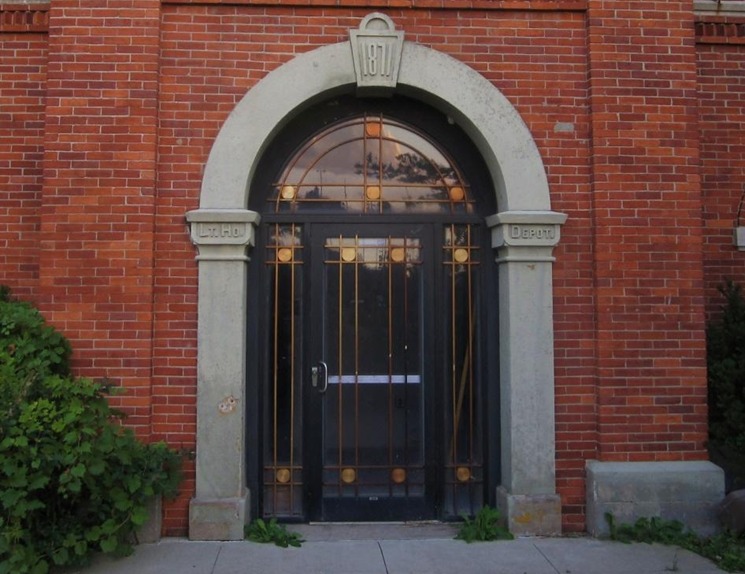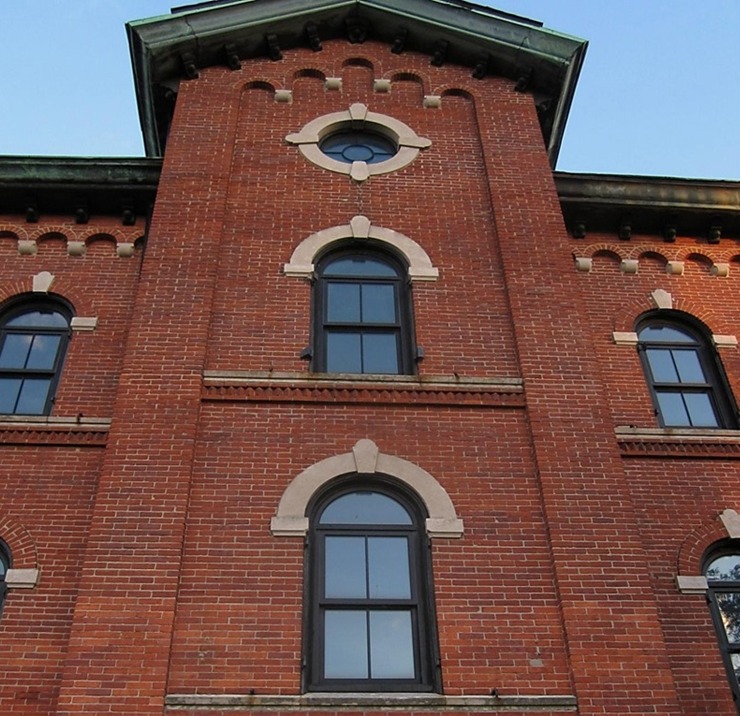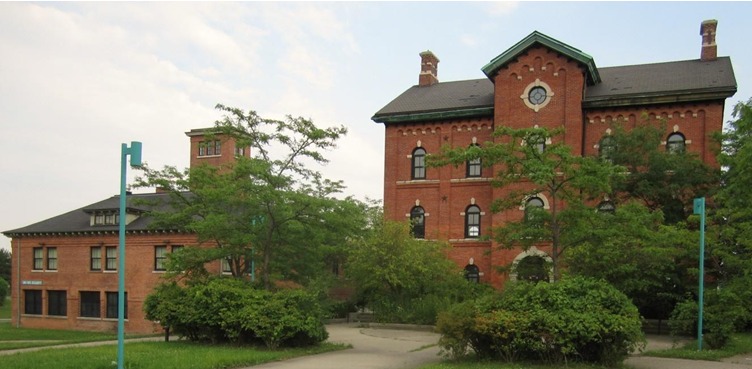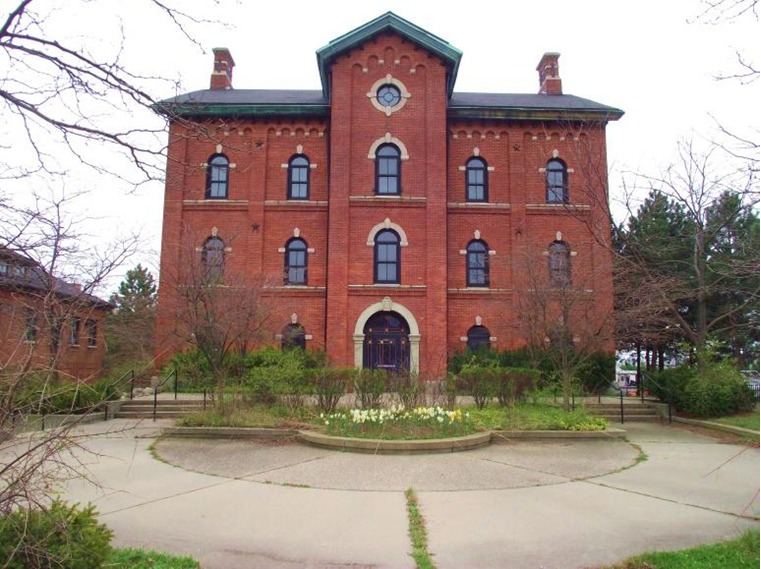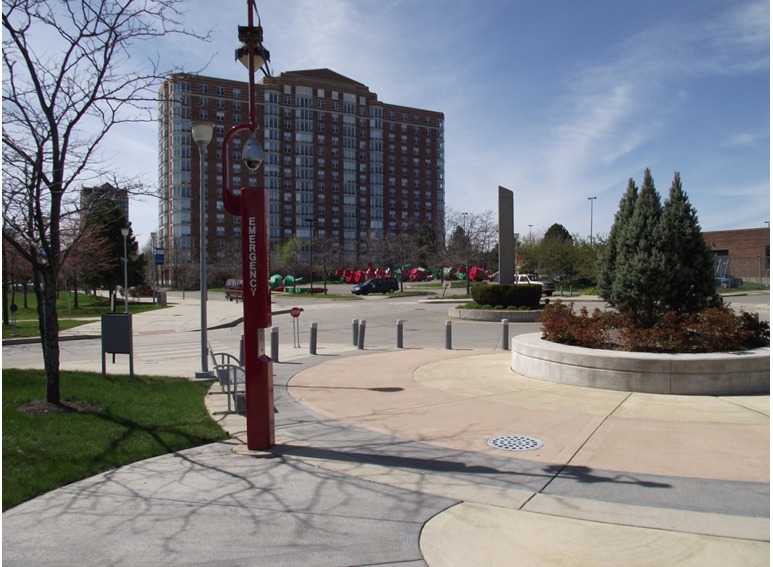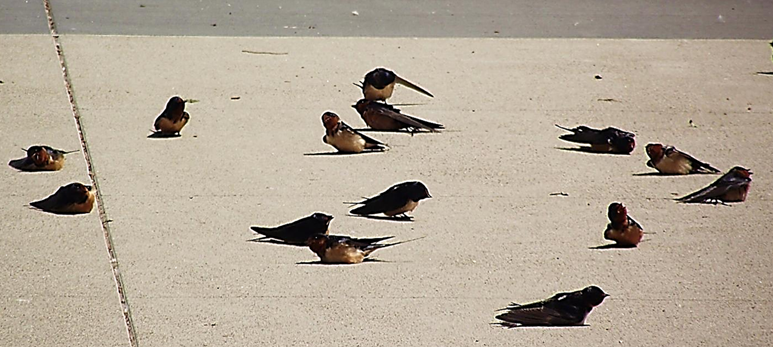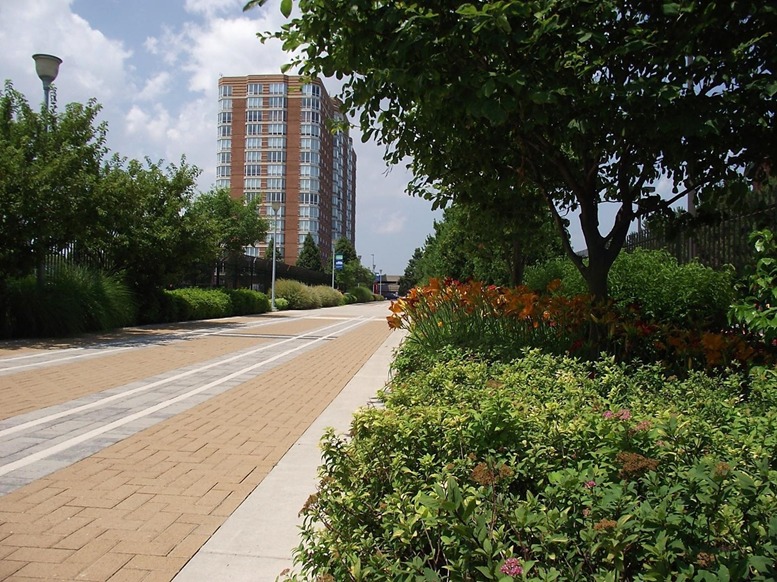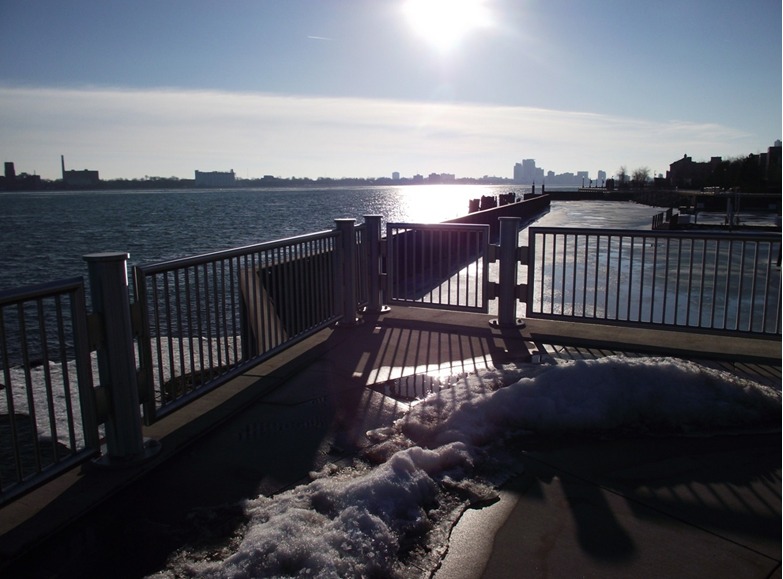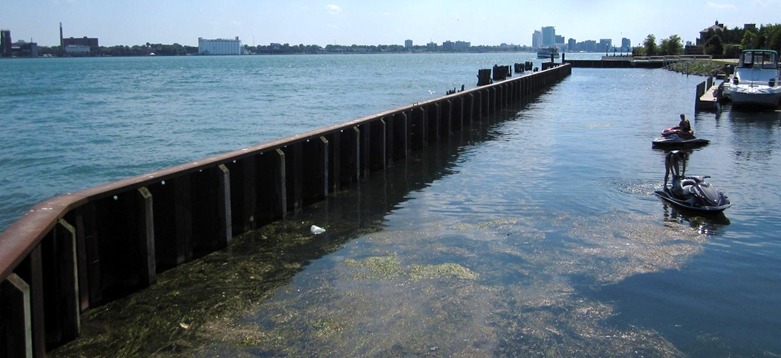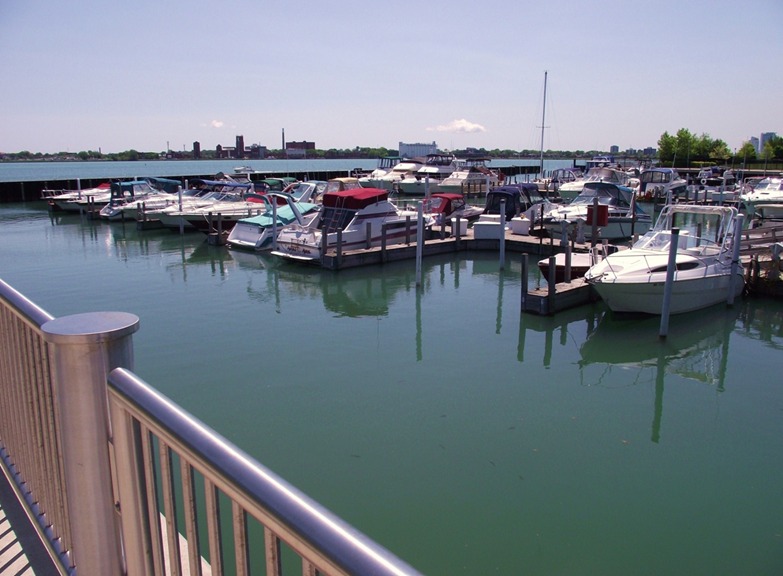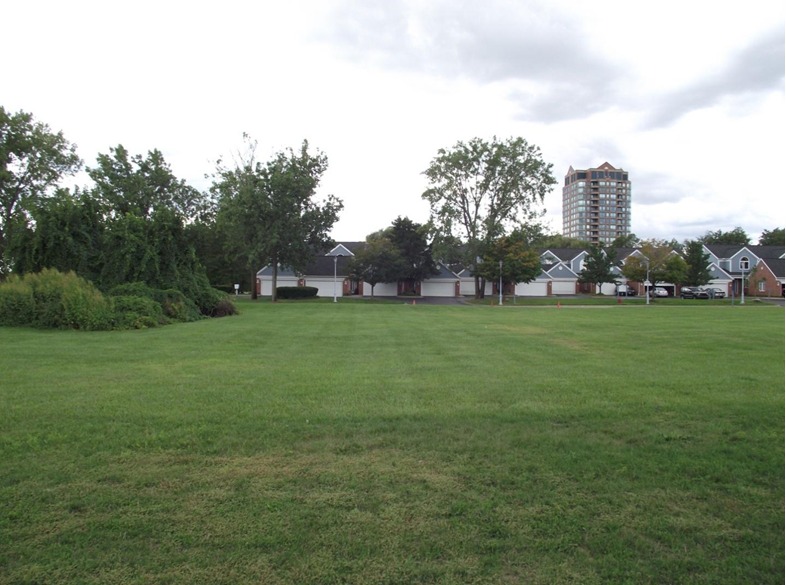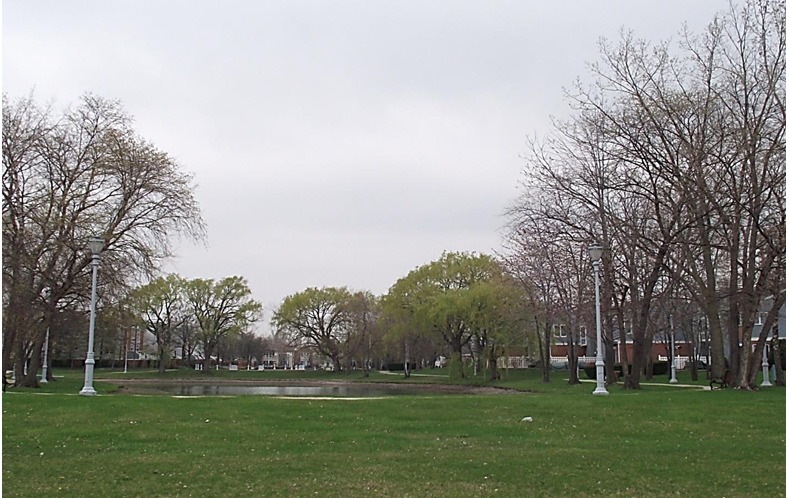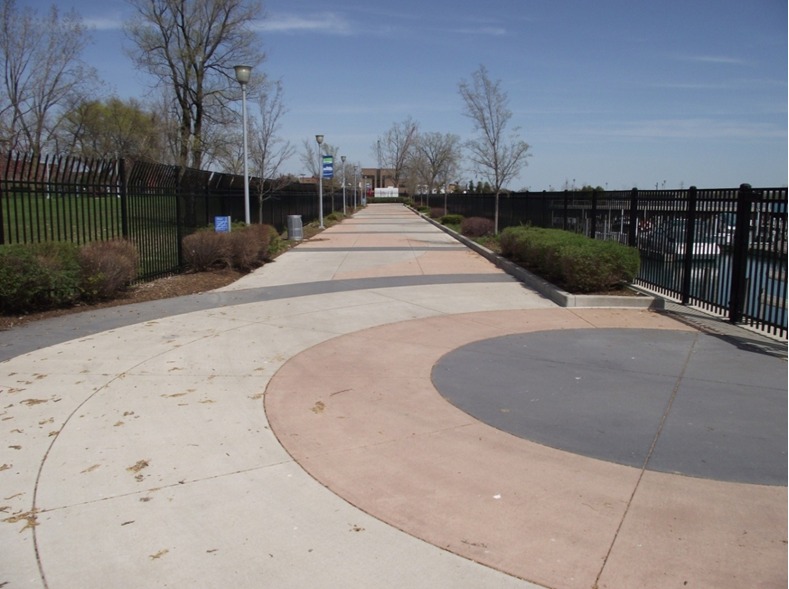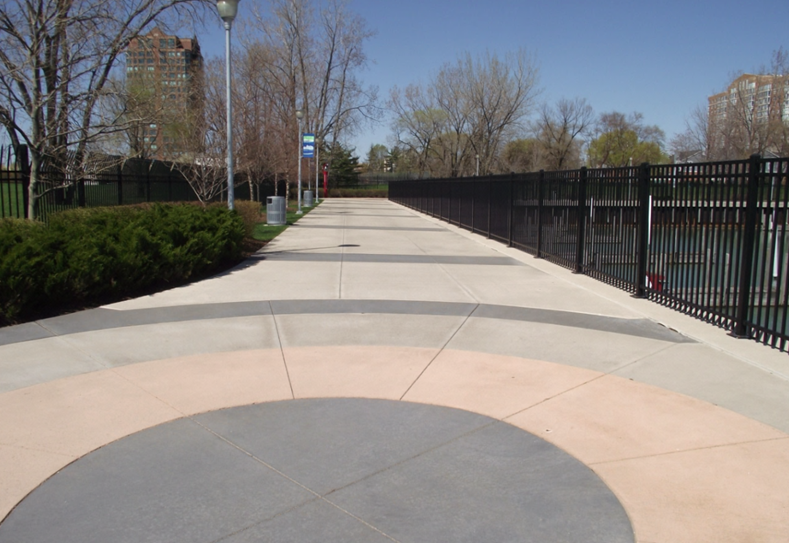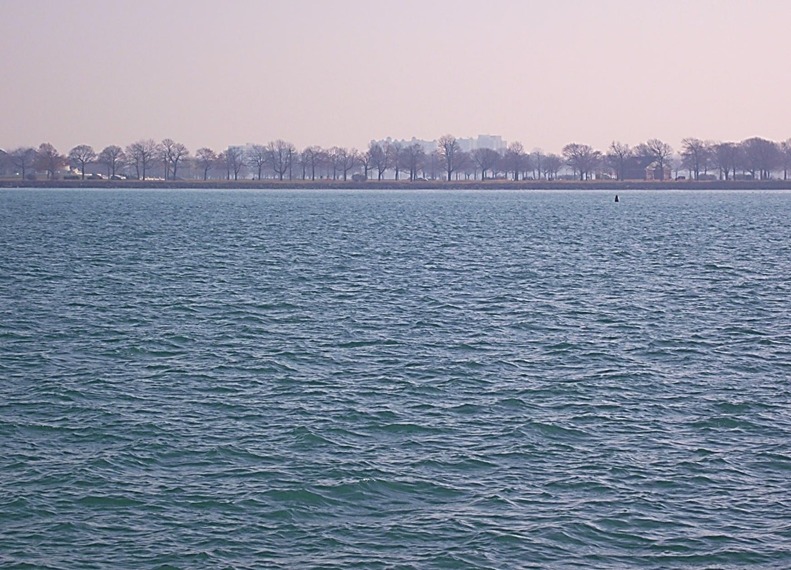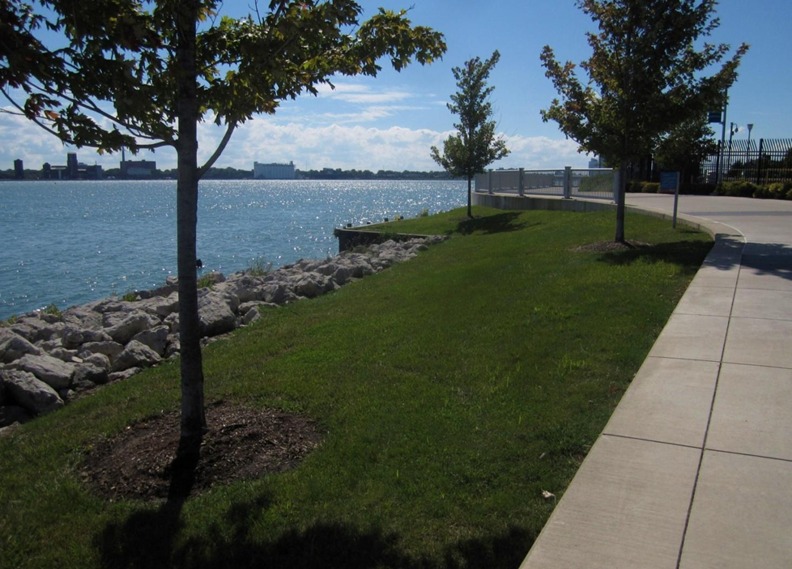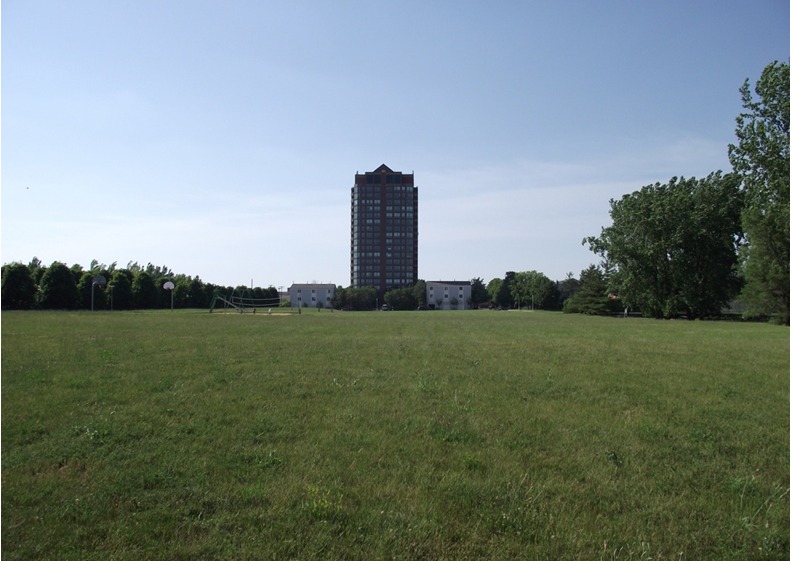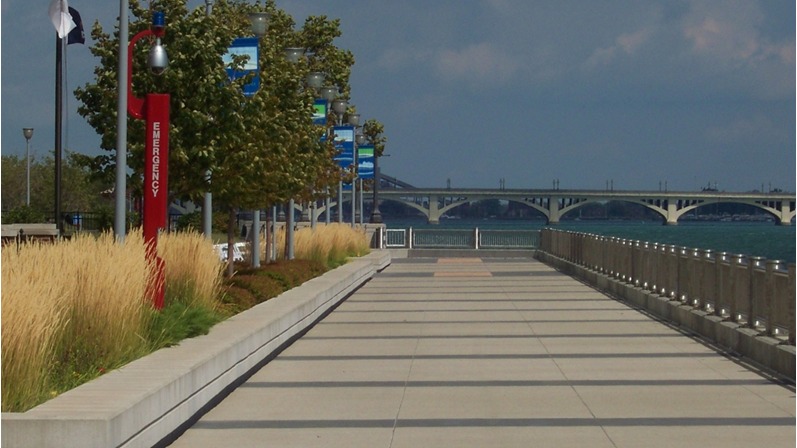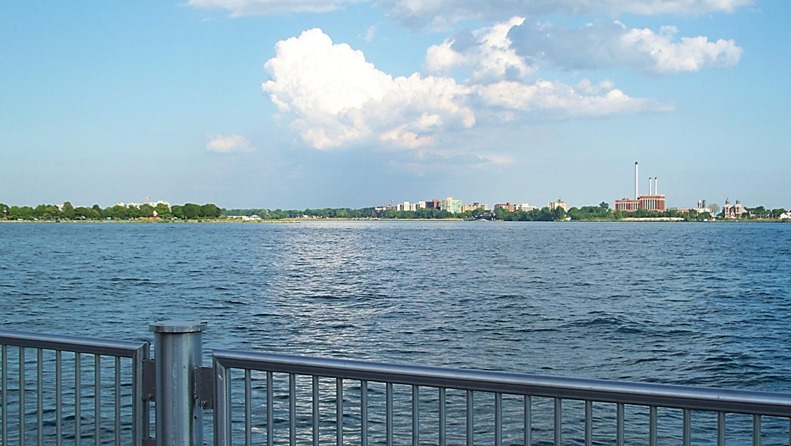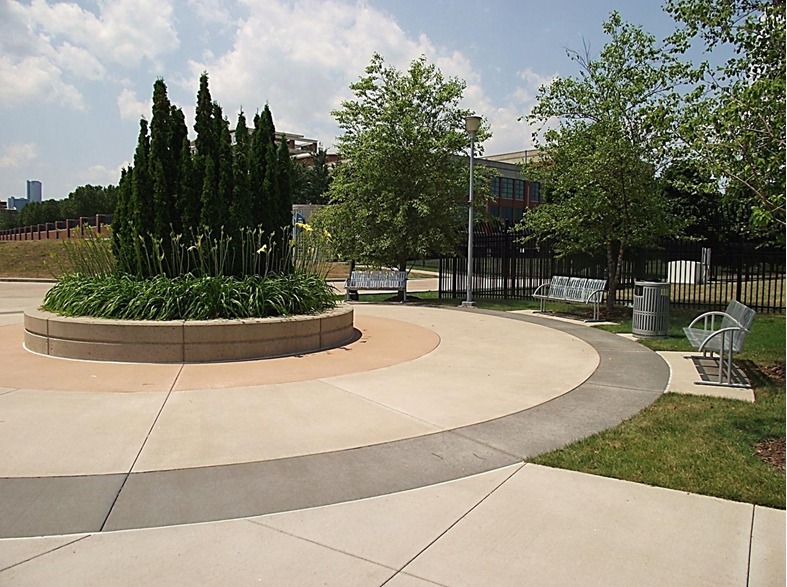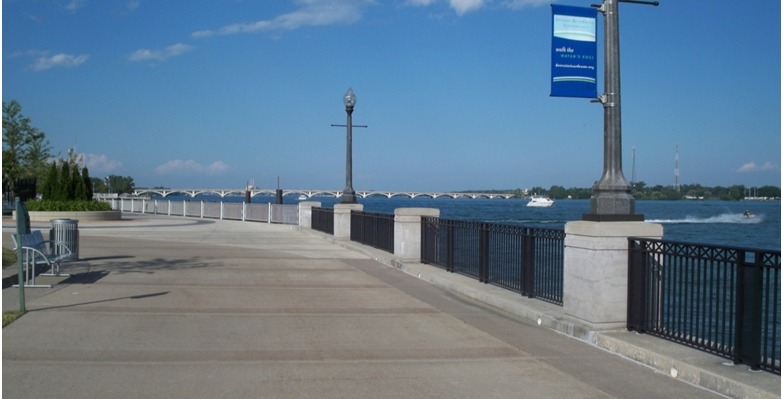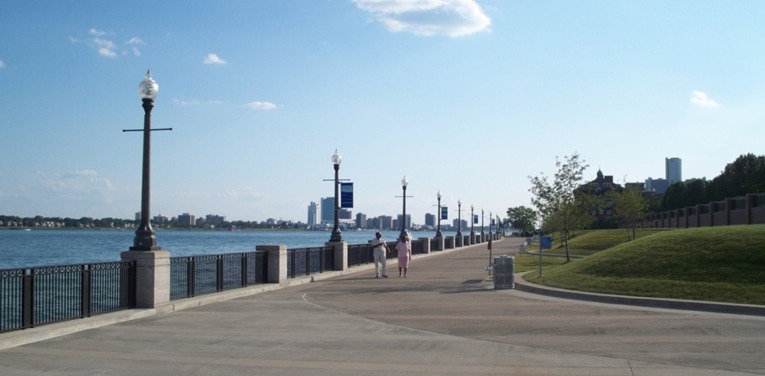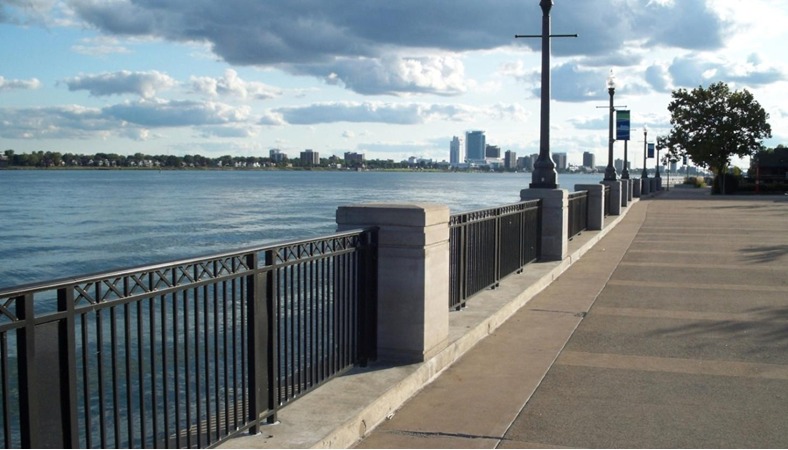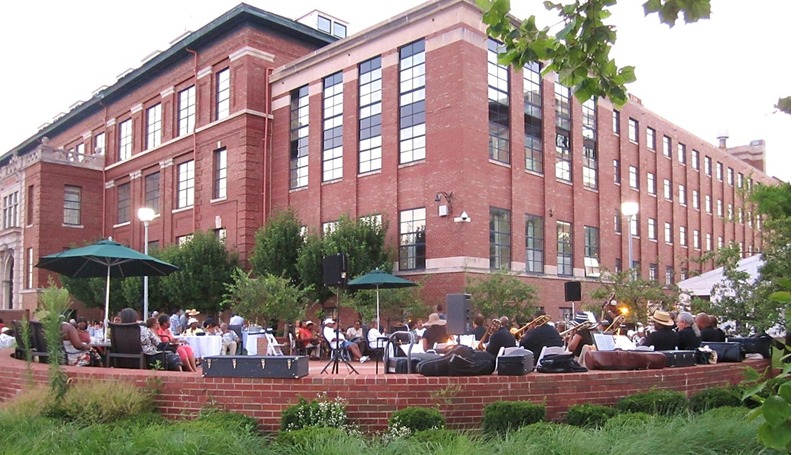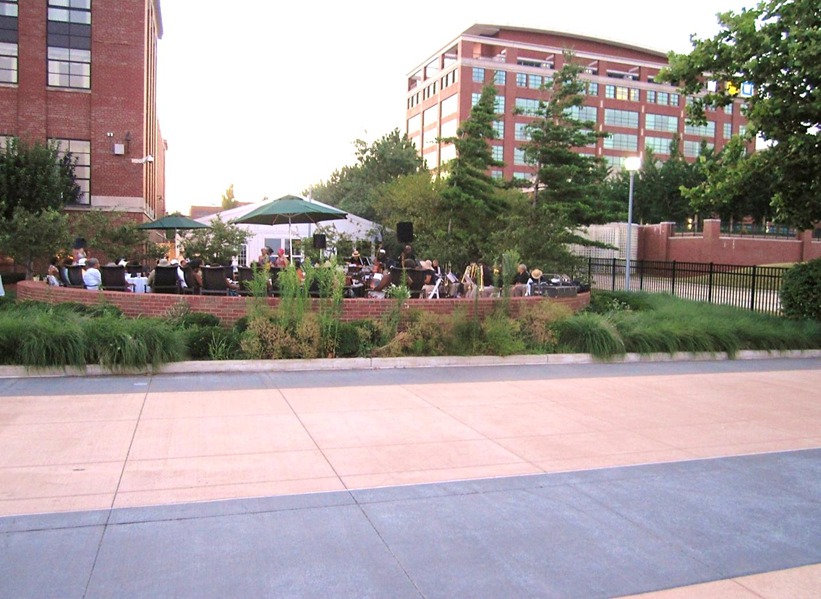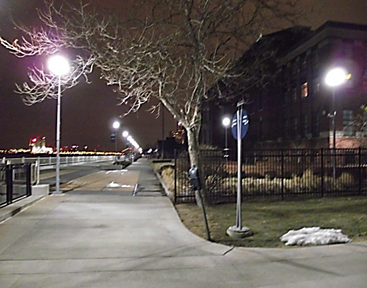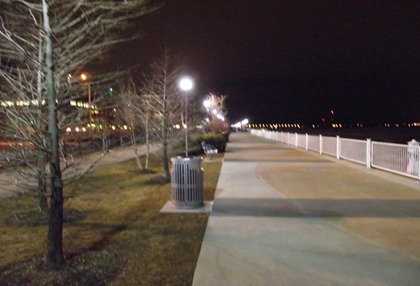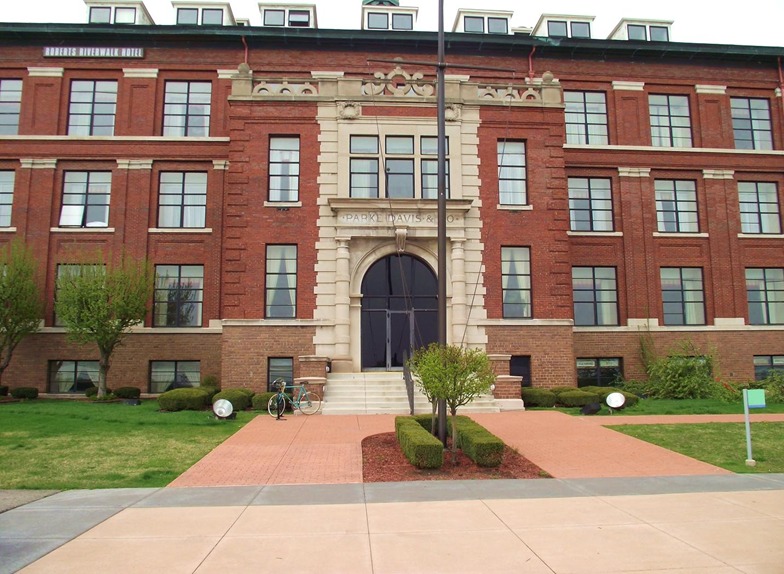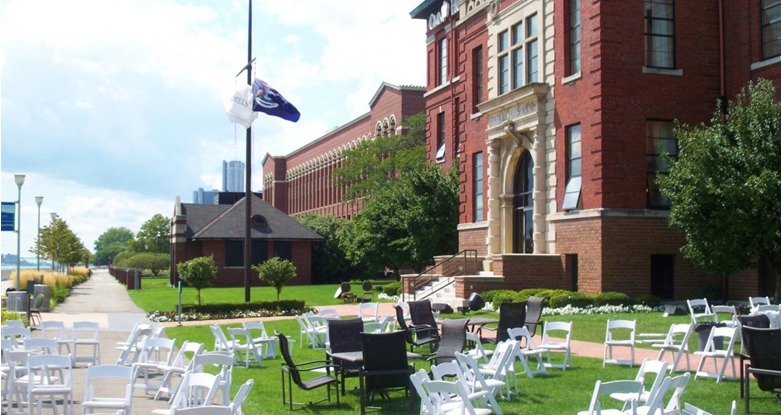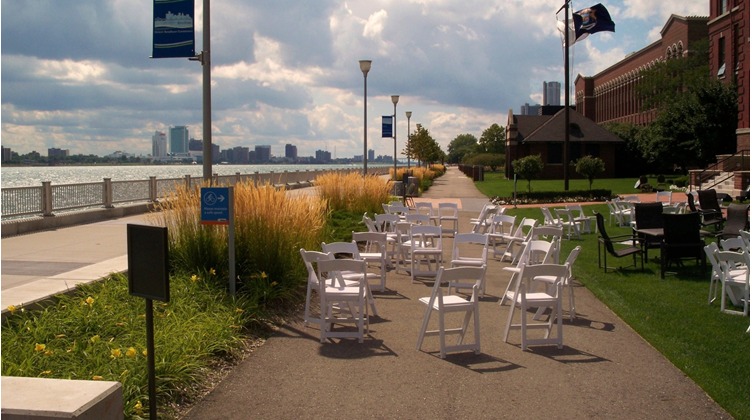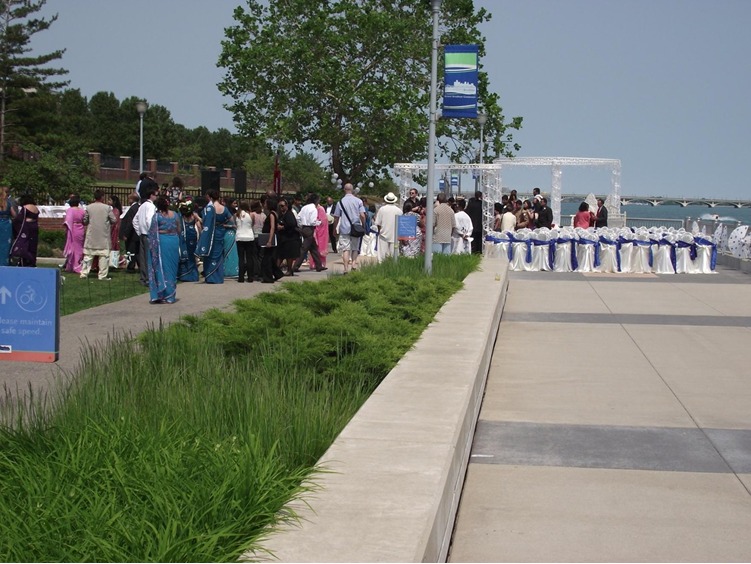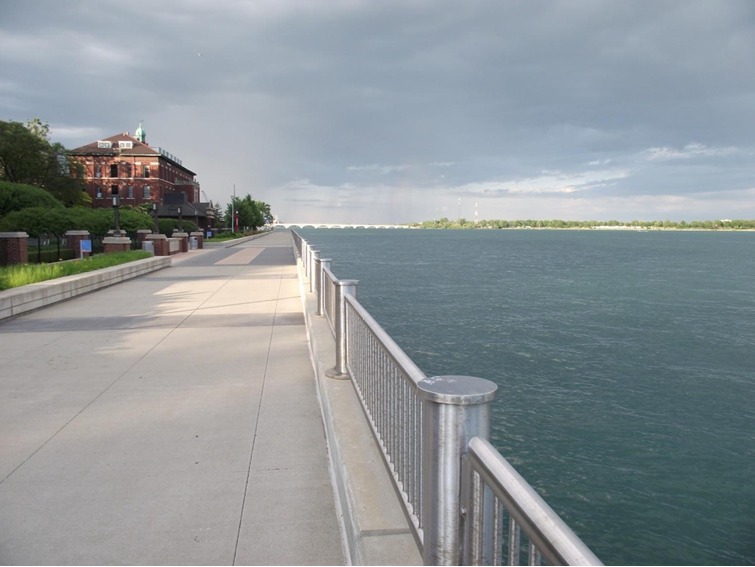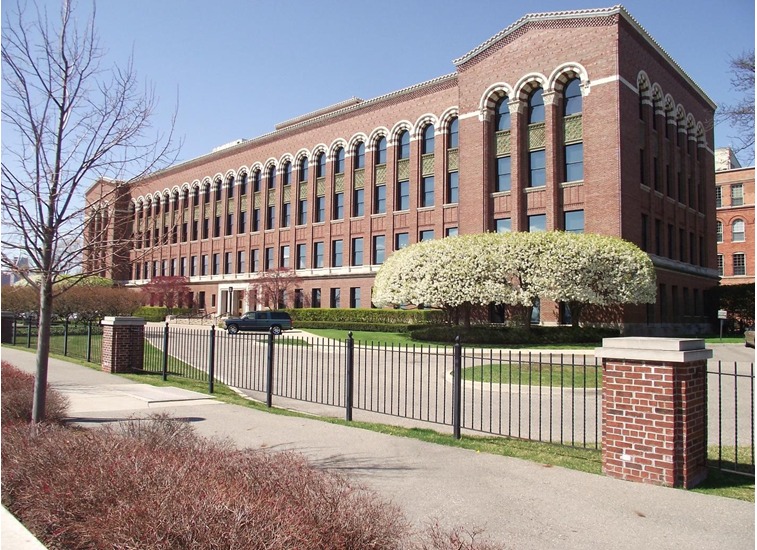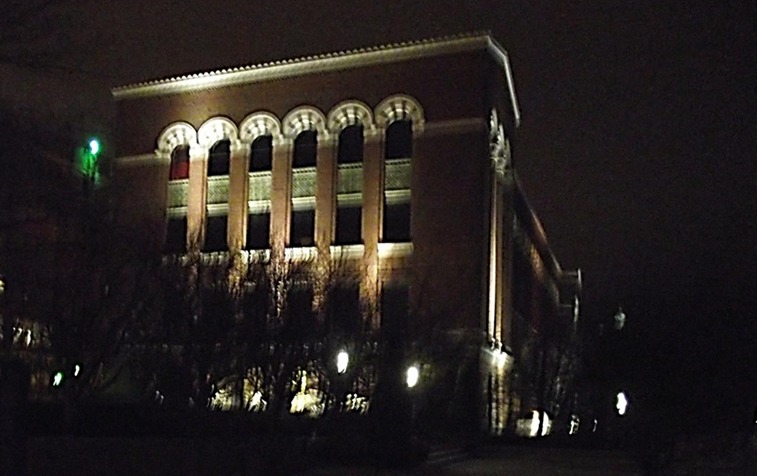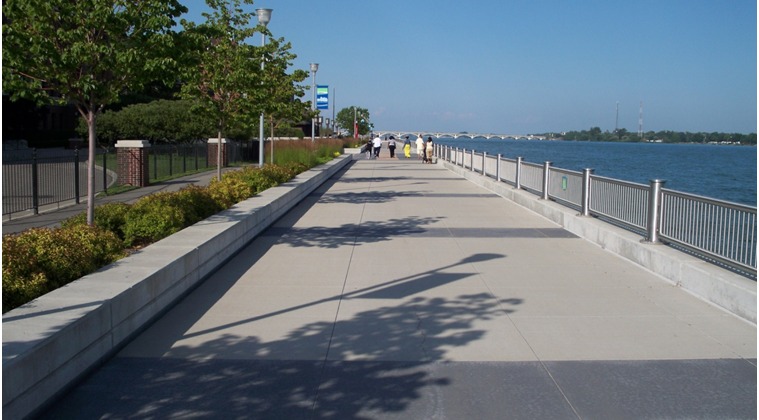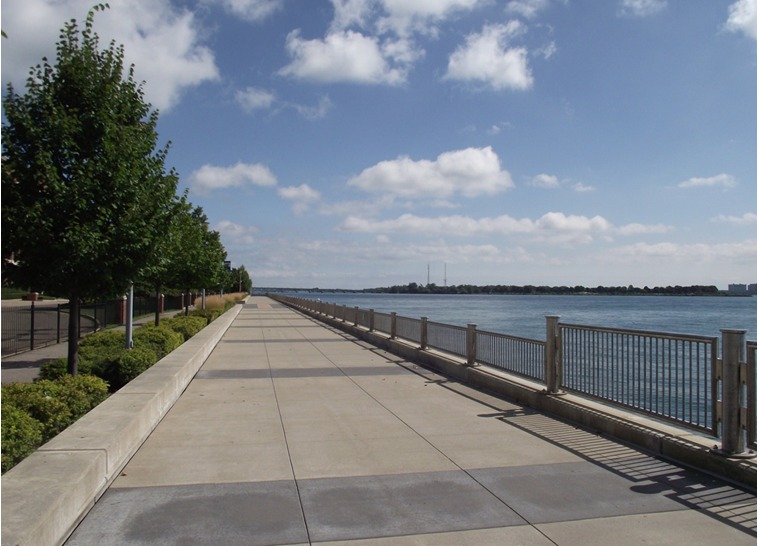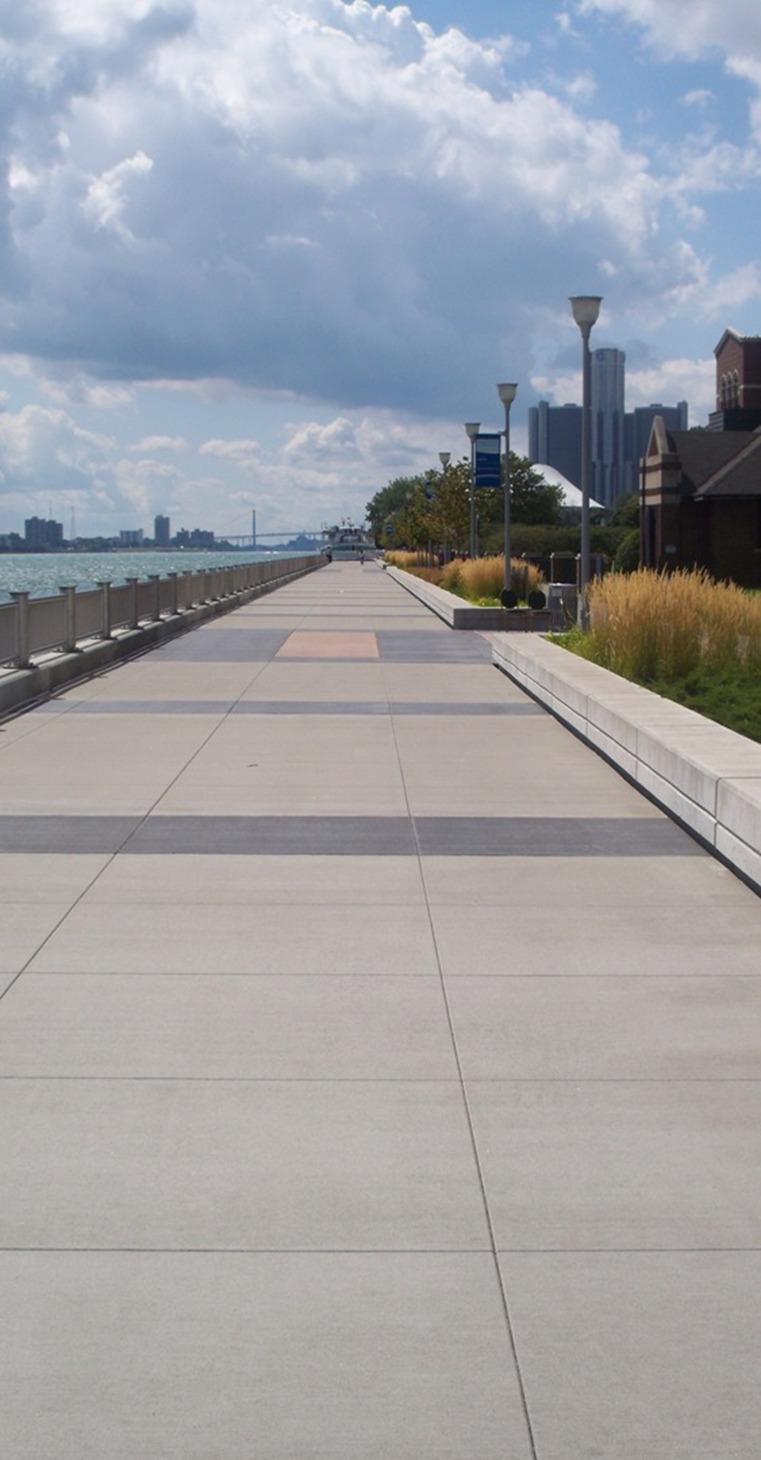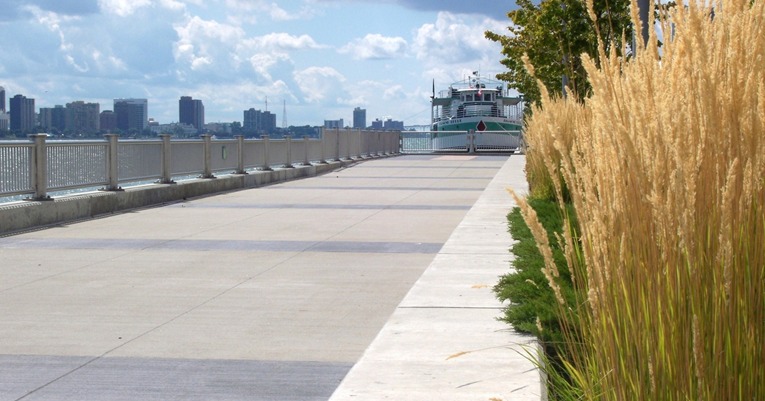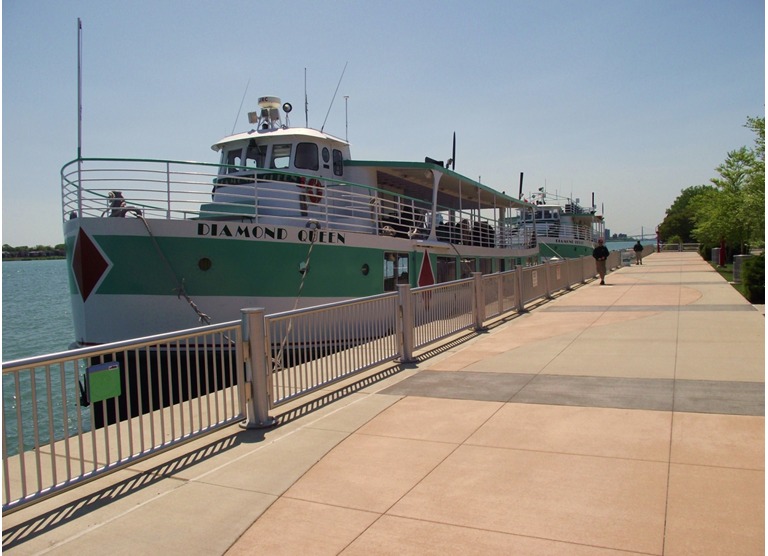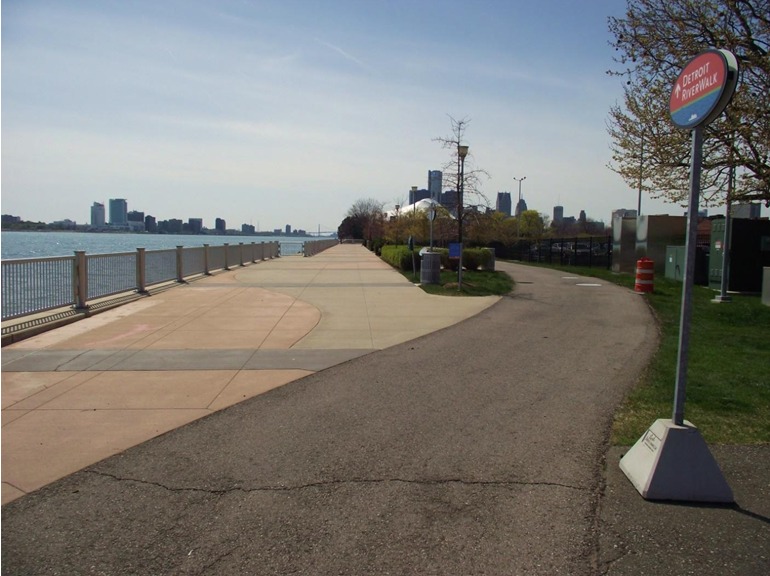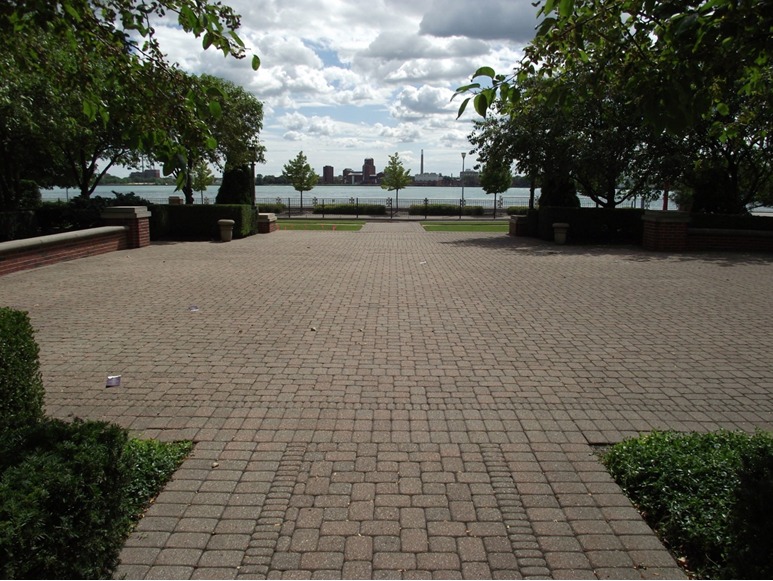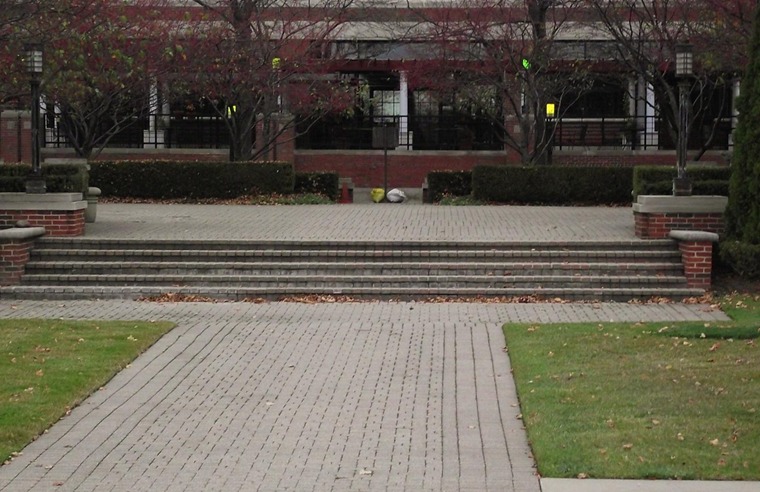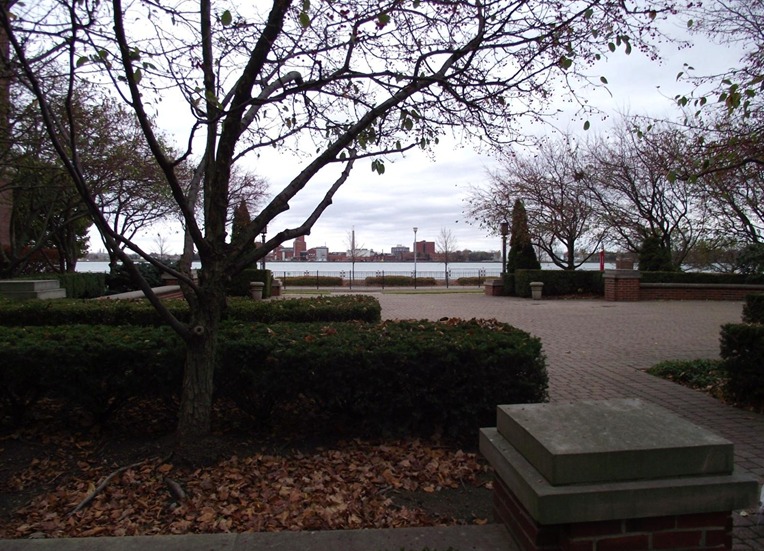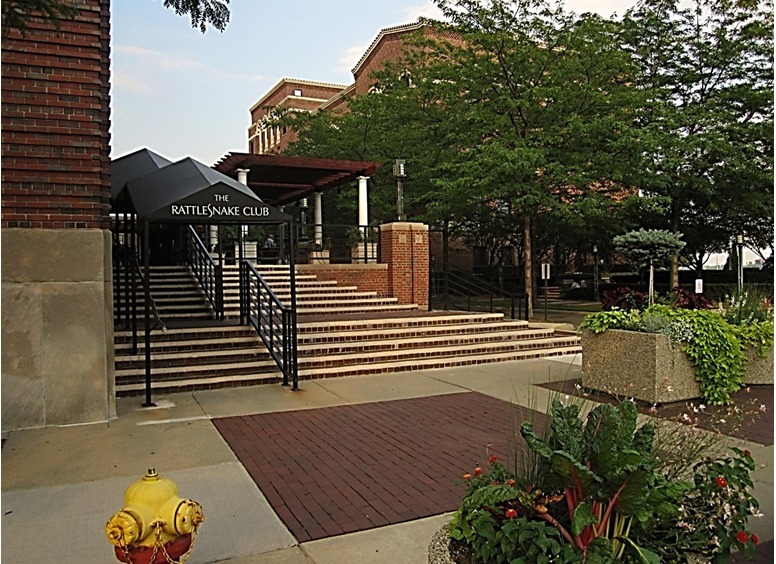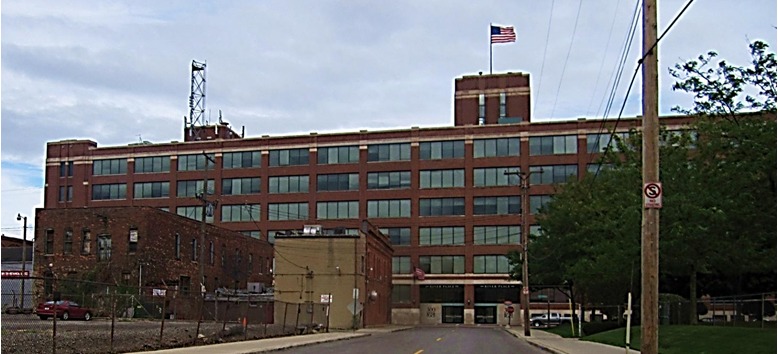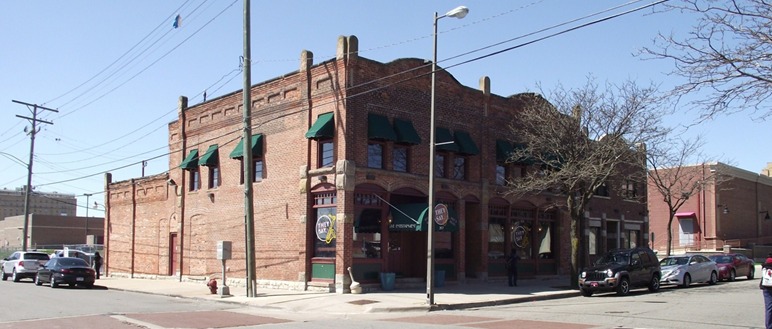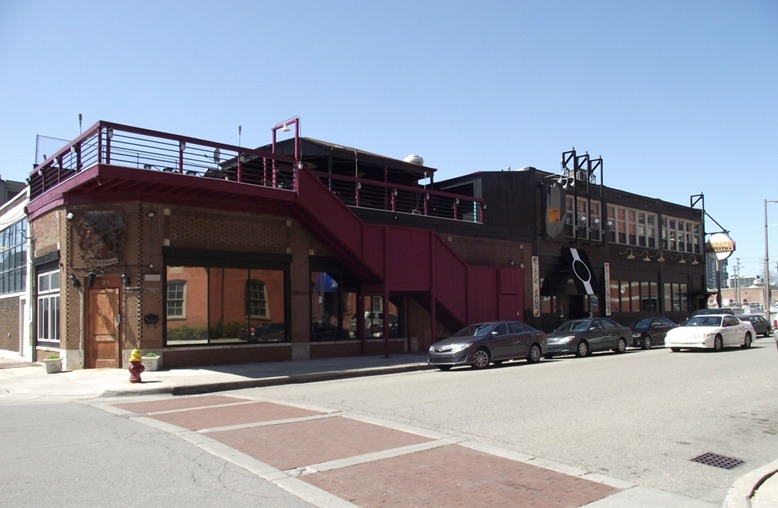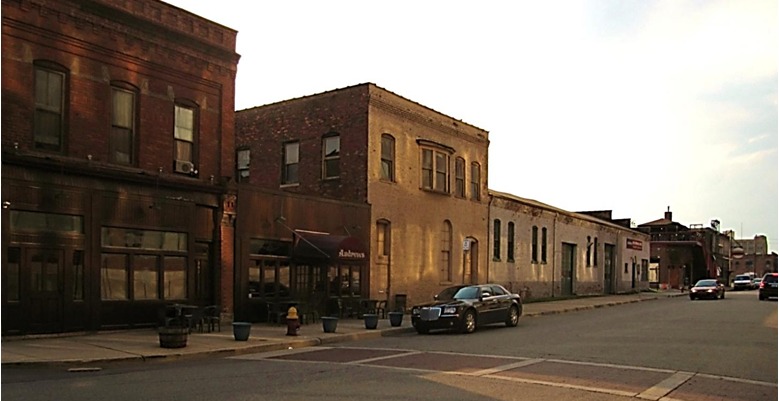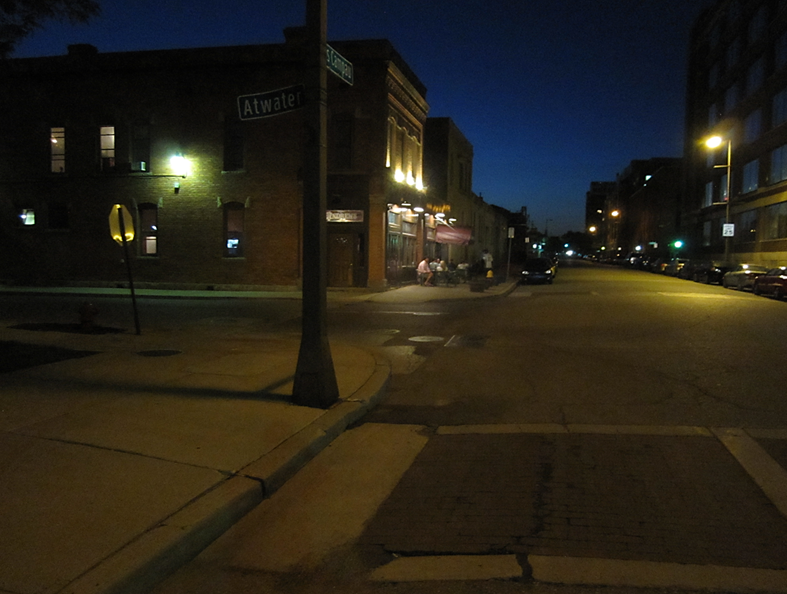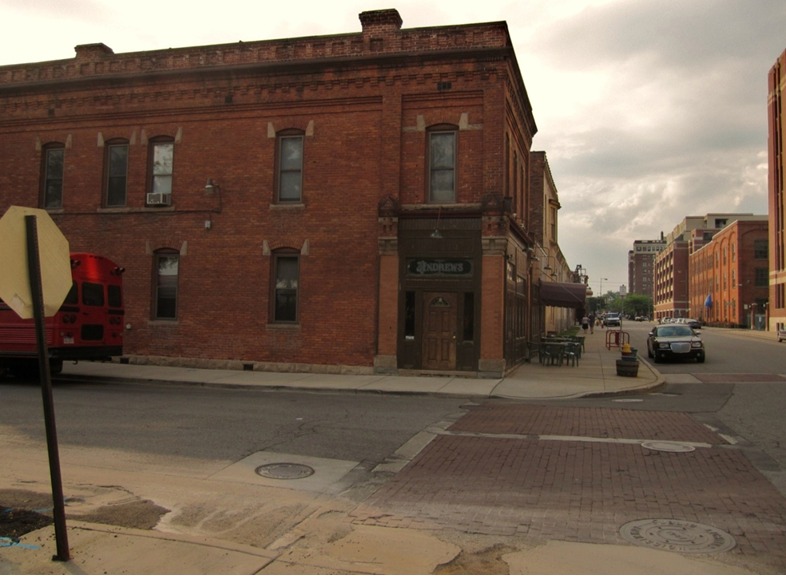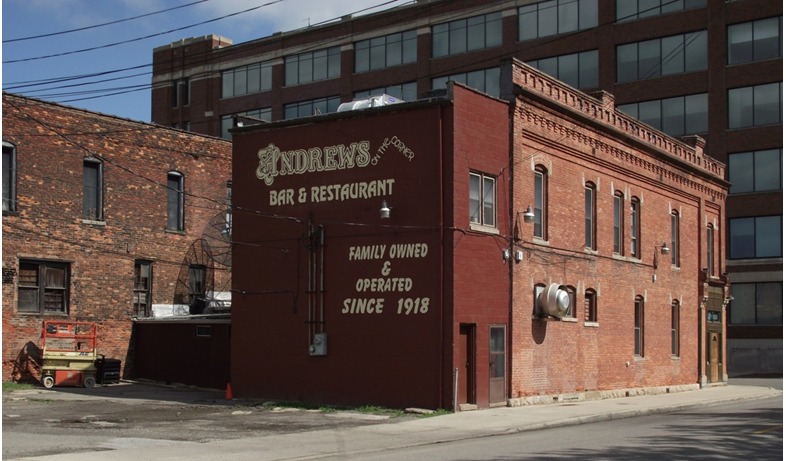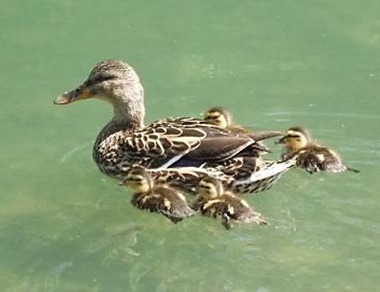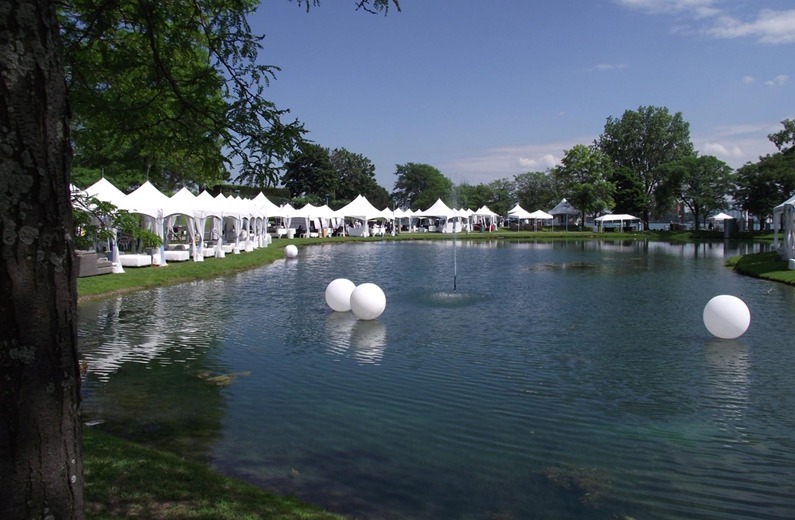 This gives you a good beach-side view of Belle Isle and the 19 classic archways leading there. A half-mile journey takes you over the bridge to Belle Isle State Park on East Grand Boulevard.

"19 Archways," Riverside View of Belle Isle, MacArthur Bridge
Fountains splash near Black-eyed Susans and maybe a Few Frisky Butterflies
A tent-covered rest area/information center ends this leg of the trip. Landscaping and two small Butterfly Gardens border a terraced landing that runs up the shore from the base of the sturdy bridge.

Gabriel Richard Park (named after Father Gabriel Richard)
If you made it this far, you'll find yourself in a large park formed by the intersecting Belle Isle/MacArthur Bridge, Jefferson Avenue and the shoreline. Congratualtions! You've travelled nearly 4.5 mile (about 7 kilometers):

Father Gabriel Richard Statue (E. Jefferson)
Local History Gabriel Richard Park commemorates the Roman Catholic priest that led St. Anne's congregation upon his arrival from Illinois in 1796. He served the French community, immigrants and Native Americans. British Protestant congregations held services in the same church during their occupation and it continued to serve an ecumenical role under Richard. While the U.S. waged war against the Northwest Tribal Confederacy the British remained a silent partner to their Native allies controlling events by proxy during the conflict. The British claimed the Treaty of Paris in 1783 was not honored on behalf of departing loyalists and reneged on their promise to leave the city despite American sovereignty. Conversely, many Canadians loyal to the British Crown joined the tribal Confederacy in battles against American forces in the Northwest Territory and in Ohio.
After defeating a combined force in the Battle of Fallen Timbers almost two years earlier General Mad Anthony Wayne marched American troops into the citadel raising the American flag over the city in 1796. It was surrendered to him ending British control of the town although no shots had been exchanged since the Revolutionary War in 1783.

Among his many contributions, Father Gabriel Richard brought the first printing press to Detroit and became a
Michigan Territory delegate to the U.S. House of Representatives. The city burned to the ground in 1805 and was
rebuilt according to the Woodward Plan. Richard himself was responsible for penning the prescient Latin phrase: Speramus meliora; resurget cineribus or "We hope for better things; it will rise from the ashes." But when the British returned under General Brock, they took the city by siege in 1812, delivering a humiliating defeat to vastly superior American forces led by General Hull. Richard was made prisoner and ordered to take an oath to the Crown. He refused having pledged his oath to the American constitution. Chief Tecumseh a British ally gained Richard's release out of gratitude for educating Native American children.
The British were not easily dislodged, however. Again they reinforced their positions and commandeered American vessels, including one from Detroit so named. After building their presence into a formidable squadron of battle worthy ships at nearby Amherstburg, Barclay met Perry in the Battle of Lake Erie. The British force was destroyed and Detroit was reclaimed by American troops in September of 1813 brought there by Perry. (The War of 1812 would end in 1815.)
Other Historical Notes Detroit was founded by Cadillac in 1701, but others preceded him to the area decades earlier. In 1670 Sulpician missionaries Francois Dallier de Casson and Rene Behaute de Galinee on their way to Sault Ste. Marie in the Upper Peninsula stopped at the present site of downtown Detroit. Settlers also planted 12 pear trees representing the 12 apostles at what is now Waterworks Park a mile east of Gabriel Richard Park. Coureur des bois such as Etienne Brule may have visited the locale as early as 1621 or 1622.
MacArthur Bridge, viewed from the Northeast Embankment
After this half mile jog, the RiverWalk renews at the MacArthur Bridge/Gabriel Richard Park location.

​

Hilltop View of Gabriel Richard Park, East of Bridge Entrance
RiverWalk Map through Gabriel Richard Park
Follow the E. Jefferson sidewalk east along the detour. Many bicyclers huff up the Jefferson sidewalk to pass the Uniroyal Plant brownfield to the island from Mt. Elliott. A fence temporarily surrounds the Uniroyal site.

"Belle Isle Park" Sign at MacArthur Bridge Approach from Jefferson
East Jefferson next to closed Uniroyal Site during Park Construction (detour area)
East Jefferson View East toward Walgreen's (detour area)
If you head north from the park on Mt. Elliott Street you'll run into the E. Jefferson Avenue sidewalk in just a couple blocks from the river. (There are several drugstores and a grocery store nearby. You also have the choice of pizza, subs or Chinese food-American-style in the adjacent strip malls.) This route will take you through a detour around the Uniroyal site.

Mt. Elliott Street View North from Mt. Elliott Park
Two-Phase Uniroyal Tire Site Re-development on RiverWalk, East of Mt. Elliott Park

(first phase opening soon)
In the area immediately opposite the fencing seen above there was a short stream leading from the river. One day I saw five trout in the streamlet. The sea wall pilings had just been driven into the shoreline. Several of the fish were eight to nine inches long, but some were tiny fingerlings. The water was blocked preventing their return to the river.
Had some trout come to spawn in a vestigial stream? Or were they there before a portion had been buried by excavation? I may be remiss for having not reported this to the DNR. This might have been a remnant of one of Detroit's inland streams or just a drainage ditch.
The small watercourse has since been buried under the new RiverWalk extension. I have never seen any literature on Detroit River trout. But the fish I saw may be among the last of a native population with fewer choices for spawning grounds.
Uniroyal Plant Site, RiverWalk Area of Extension (before and after)
Belle Isle's, MacArthur Bridge can be seen in this view east.
Harbortown's gated community includes private apartments and condos. They stand on a park green, with two towers, reflective pools and pocket marina where pleasure craft and cabin cruisers dock.
Harbortown Park Green North of RiverWalk (private)
Harbortown Landscaped Water Features across from RiverWalk (private)
RiverWalk North Bend, West of Marina
Fall View of Belle Isle Park from East RiverWalk (Scott Fountain at left through trees)
Belle Isle Park is a short distance across the North Channel. Pleasure boats travel through the MacArthur Bridge at this point.
Several rocky overlooks at the river border flower beds, trees and ornamental grasses along the Walk.
Rocky Overlooks at RiverWalk
Follow the Walk in a straight line before making a few sharp turns in front of Harbortown's lush green recreation field and condo development.
Harbortown Condo Tower and Recreation Field (private)
MacArthur Bridge forms a majestic backdrop reflecting sunlight from its lofty archways.