RiverWalk Map through Hart Plaza and Renaissance Center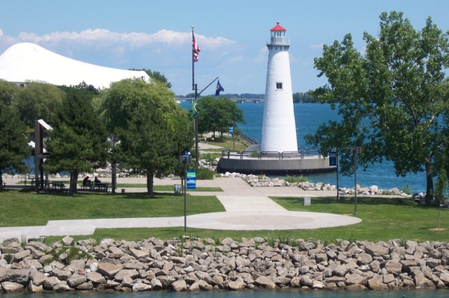 INTERNATIONAL FIREWORKS DISPLAY, JUNE
Now ranked the best fireworks in the nation, the Detroit International Freedom Festival fireworks are launched from three barges in the Detroit River near Hart Plaza. They are the only fireworks commemorating the independence of two nations.
Tours
As you travel east, the Walk eventually passes the docking area of the
√Rec
Detroit Princess riverboat, a 1500 passenger dinner cruise excursion ferry. (This location is also the probable landing site for Cadillac who founded Detroit in 1701.)
Winter Afternoon and Evening at Rivard Plaza
Downtown Detroit viewed from Windsor, Canada Shore
​

Harbor Lighthouse, Evening
DIA Weatherized Art Piece (ersatz/copy)
Peter Stroh Statue Close-up
Port Detroit Dock Administration Facilities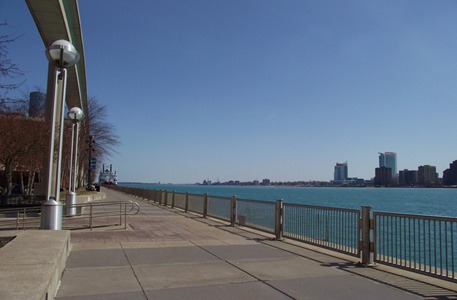 JOE LOUIS ARENA
Joe Louis Arena closed in August of 2017 and is expected to be demolished. (Its replacement, Little Caesars Arena, just opened in South Midtown on Woodward, a mile north.) If reports are correct, the new owner of Joe Louis Arena is expected to build a high rise apartment building in its place, but no immediate plans are confirmed. Until then, People Mover Station 10 will remain attached to that complex, where the Joe will be the most visible landmark at the start of this tour.
As the Walk rambles east, it broadens to include a landscaped lawn with more groves of river birch trees and shoreline benches, turning 40 feet to the river at Rivard Plaza.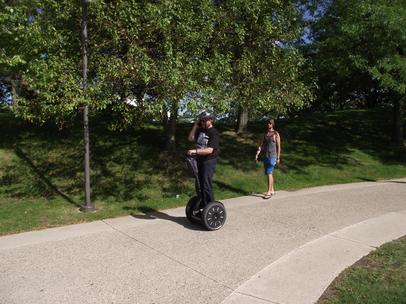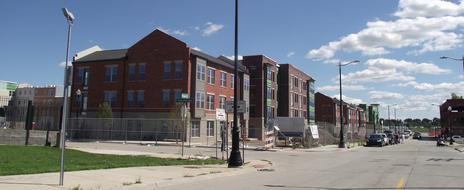 The Appledore IV Schooner and Ovation Luxury River Yacht, Docked at Port Detroit
Globe Trading Building undergoing Deconstruction, September 2013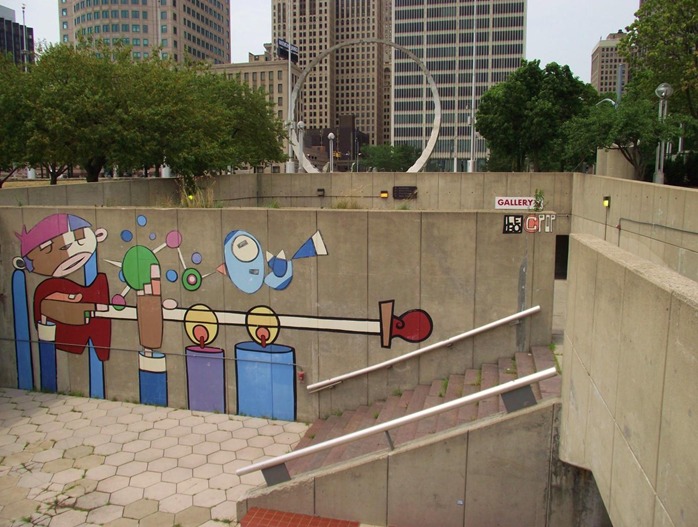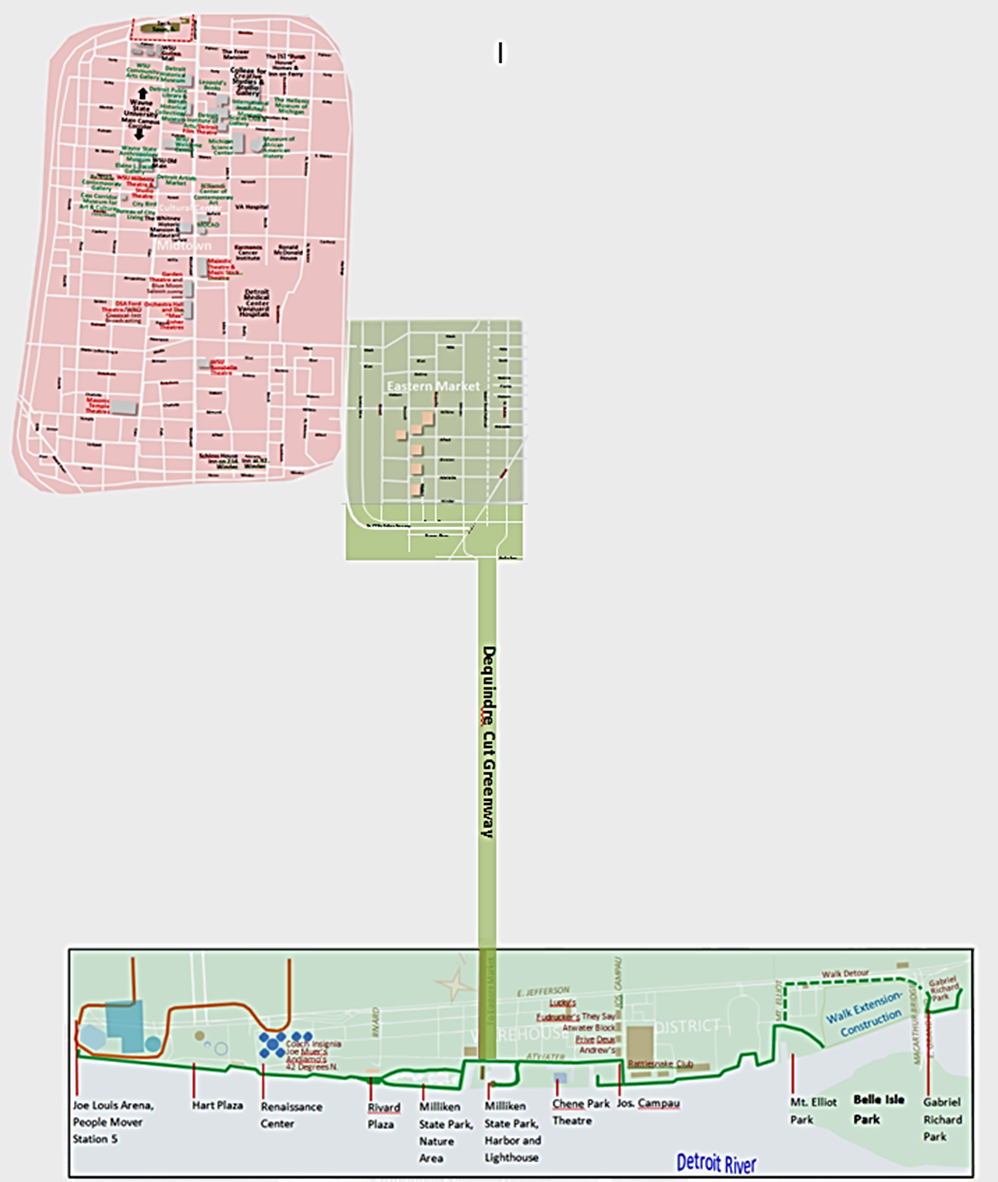 ​​​​
BEAVER INVADE DETROIT
The beaver got it all started in Detroit. It was behind the lucrative trade that brought the French, British and several First Nation tribes to the area. But the beaver was trapped out of existence in Detroit and environs, and it seemed -- for good.



However, several beaver have returned with a vengeance to the nearby Canadian Provincial Park of Peche Island, Detroit's Conner Creek power station canal and even to the Rouge River in Detroit's industrial west.



White tail deer have been seen on Detroit's Belle Isle a short distance from Downtown and it's hardly unexpected that Peche Island beavers will find their way there as well.



Fewer People, More Land...


Motown has lost so many people, the city has largely reverted to prairie attracting a lot of wildlife. This is no idle statistic. Detroit has a total of 143 square miles including its surrounding water.



Add the two internal cities with which it shares services (Hamtramck and Highland Park) and the area becomes 148 square miles -- almost half the size of New York.



All of Paris could fit comfortably within the city's abandoned expanses with room to spare.

​(Note: NYC land area is 305 sq mi and with littoral totals 469 sq mi. NYC littoral includes ocean and river areas.

Paris is 41 sq mi. total. Detroit's abandoned total area may now be as great as 60 sq mi but that area is not located in one place. A consolidated Land Bank department has been created to manage this area.)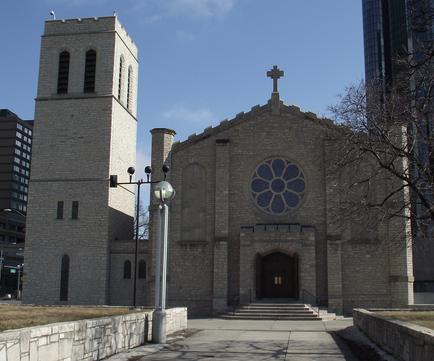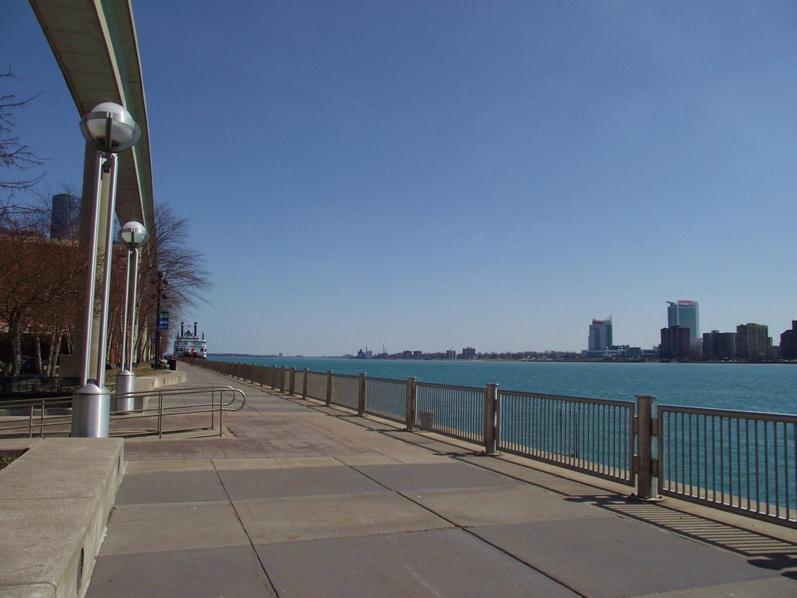 The Wintergarden atrium is a multi-level, glass enclosed mall inside the Ren Cen facing a promenade along the Detroit RiverWalk. The popular RiverWalk extends miles along the shore, and offers cool views of the river and Windsor.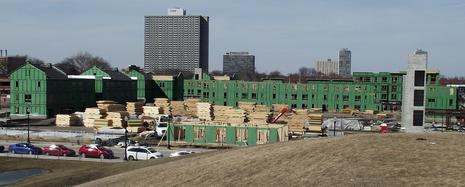 Ford Auditorium, recently demolished, may be replaced with a new 5,000 seat, pavilion amphitheatre, adjoining this location or built at the Uniroyal site. Hart Plaza is a popular festival staging area. There remain seven major festivals at the plaza since some were moved to Grand Circus Park. For a description of current festivals refer to Theatre Page 3 or Events Calendar Page 17.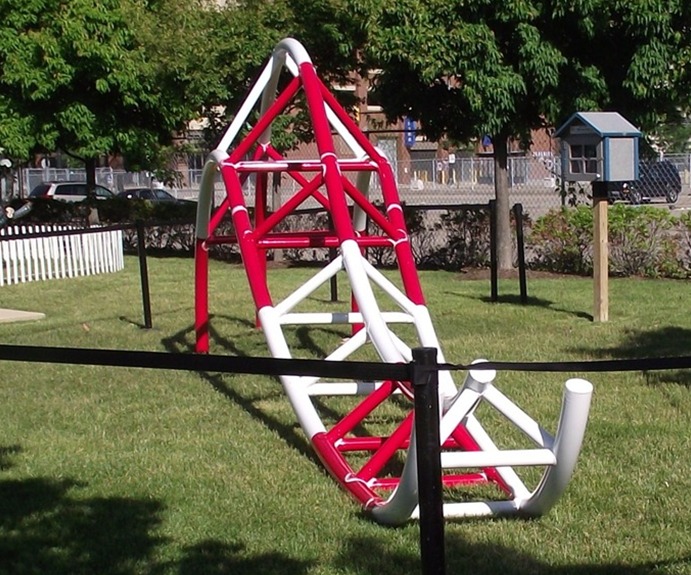 ONLY BIG BOYS CAN SIT IN THE "REALLY BIG CHAIR"

​
The views from this level are spectacular day or night.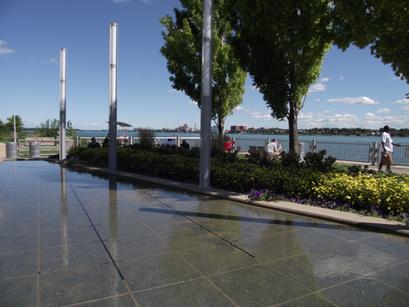 Abandoned Globe Trading company Building/Planned Interpretive Center Site (2012)
​
Restaurant/Recreation Options

The GM Food Court in the basement level of the Ren Cen contains a good variety of fast-food restaurants and a few affordable sit-down bistros during weekdays. A small, well-equipped YMCA is located at street level. You may be able to get a short term pass to the Y, offering convenient access to either of the two facilities Downtown via People Mover.


Fine Eats & Treats



√

Rec

Andiamo's restaurant is on street level in view of the river, offering outdoor dining during the warm months.

The 42 Degrees North restaurant and buffet offers good food and great views of the river.


√

Rec

Joe Muer's Seafood restaurant offers an excellent variety of seafood and is a Detroit area original.


The Volt Bar & Grille offers great atmosphere with live music and a view.


New Granite City Food and Brewery opened on the northwest side of Ren Cen complex by Jefferson.

√

Rec

Bonbons Godiva Chocolatier is a sweet treat.
​

City Authenticity




​
Car Exhibit
GM has a car exhibit in the Ren Cen basement level called GM World.

Nearby Attractions
Several additional attractions are a short hop from the People Mover station at the second/third floor on the Jefferson side of the Ren Cen, including Greektown, the Greektown Casino, Bricktown, Joe Louis Arena, Comerica Park, Ford Field, Cobo Convention Center, several nightclubs and live theatres.

Nearby Live Theatres
Detroit has the 2nd largest combined live theatre district in America. Many theatres can be reached Downtown near the Ren Cen using the People Mover. Take advantage. (Refer to map.)

RiverWalk Attractions, Boat Tours and Cruise Ships (also see RiverWalk & Dequindre Cut below)



Nearby Hart Plaza and the new Port Detroit-Great Lakes Cruise Ship Terminal area, which opened in June, 2011 can be accessed by the RiverWalk. The Detroit Princess riverboat docks to the west.
The Diamond Jacks riverboats, The Wheelhouse Detroit bike rental shop, cafe and ice cream counters are available at a tent-covered concourse at Rivard Plaza, less than a third-mile east on the RiverWalk. (Note: Except for the Detroit
Princess – which operates year-round -- the river boats are seasonal excursion ferries.)
Three cruise ships have made several visits to Port Detroit in summer. Additional cruise ship lines will be docking vessels at Detroit and should be active for all but the winter in the coming years. These ships are expected to travel throughout the Great Lakes, from Duluth to Toronto with stops between like Chicago, Traverse City, Sleeping Bear Dunes, Mackinac Island, Georgian Bay and Thunder Bay. Detroit shore excursions have included Downtown, Greenfield Village-The Henry Ford (museum) and Downtown Windsor. (Refer also to the People Mover, Renaissance Center Station for more details on dining and attractions at the center or check out Page 15 Attractions, Riverboats and Cruise Ships for information.)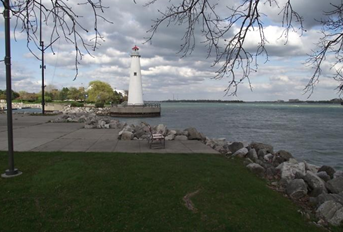 The People Mover conveniently stops here at Station 10, one level above the main entrance of Joe Louis Arena.
RiverWalk Map, through Renaissance Center
The Walk then merges with the giant Renaissance Center and GM Promenade a wide stretch of brick pavers and granite terraces elevating walkers to Atwater Street at the Ren Cen Wintergarden.
Restaurant Options

Visit Andiamo's restaurant on the 1st floor and Joe Muer's Seafood restaurant on the 2nd floor. They face the river. The 42 Degrees North restaurant and buffet provides a good meal and a grand river view just as dramatic from the east side of the Wintergarden, 2nd floor level.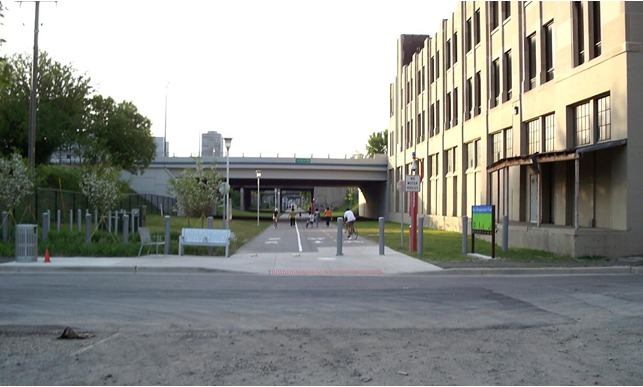 View South of Downtown Windsor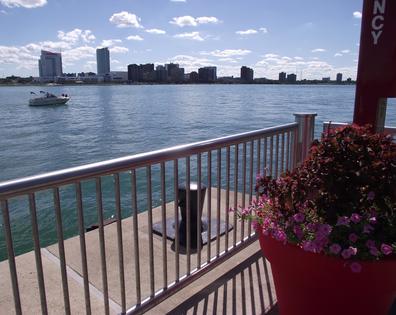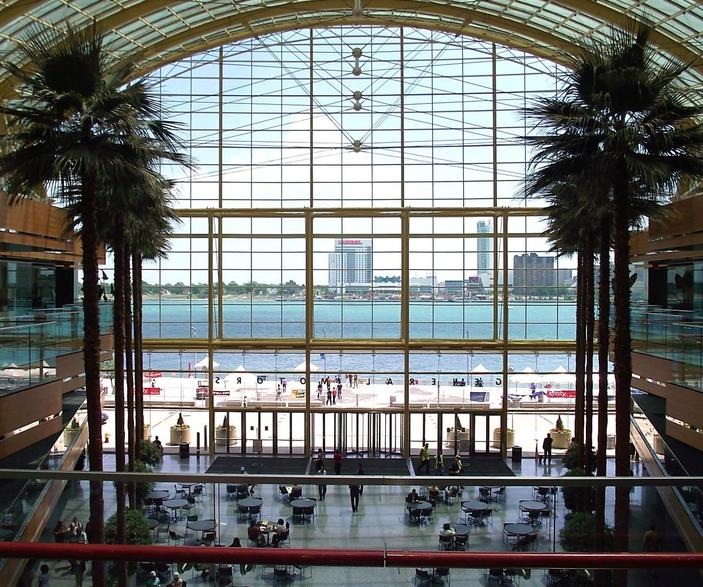 1763 British Cannon Retrieved from River in front of Cobo Convention Center, 2011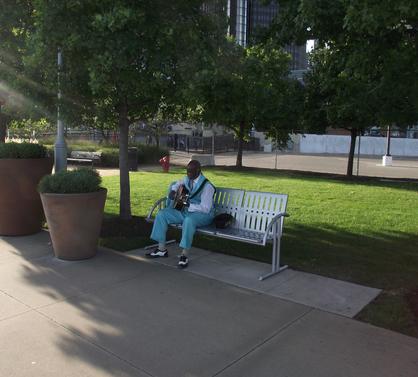 Boats await another day of exploration on the river and Lake St. Clair.

A small diorama of welded ship steel, the size of a bathtub tells the story. Note the Globe Trading Building, foreground. (This relic was found buried beneath dirt and debris.)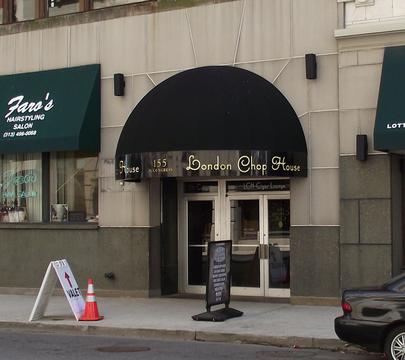 Glistening waters reflect a brilliant, cloud-filled sky over the north shore and river.



Joe Louis Arena by Day and Night (Front Entrance)
Tourist Options
Hart Plaza is a large promenade where many of the city's festivals started. Refer to the Events Calendar Page. Noteworthy Downtown buildings border the plaza. The neo-Gothic-contemporary One Detroit Center (photo, left) is the tallest building north of Jefferson at 45 stories. The 28-story One Woodward Avenue on Jefferson is Minoru Yamasaki's only skyscraper still standing.
√√Rec
Mariner's Church and the fabulous 36-story art deco-Mayan revival
√√Rec
Guardian Building (Detroit's second-most visited landmark) are nearby. Mariner's Church is historically significant to the seafaring traditions of the city, while the Guardian Building's interior decoration is an architectural wonder wrapped in Native American symbols that should not be missed.
Visitors will find Mariner's Church at the east end of the plaza. It was moved there decades ago stone-by-stone and pays spiritual homage to the many Great Lakes freighter crews who lost their lives on dangerous waters. You're welcome at services.
Detroit's most famous avenue -- Woodward -- intersects Jefferson Avenue on one side, guiding traffic to several downtown attractions, restaurants and bars offering a taste of Motown.​

Food/Restaurant Options
The orange brick Guardian Building is on Larned and Woodward a block north and contains a café where patrons sip coffee while gazing up at a cathedral, barrel-vaulted ceiling of brightly dyed horsehair. Campus Martius is a half mile north and a bit off the beaten path. It offers the Parc restaurant with a view of the park fountain, historic Civil War statuary and a "sand beach." Try the
√√Rec
London Chop House on West Congress, if you can spare the time and money for incomparable atmosphere and dining under elegant chandeliers. Nosh at the new Townhouse restaurant on Woodward or the re-opened Caucus Club. A People Mover station is available at the north side of the Ren Cen, shown above, right, and provides a 15 minute tour of Downtown.
​

All locations are a relatively short distance from the RiverWalk. Refer to Downtown and West RiverWalk Map on this Page or Page 9 for details.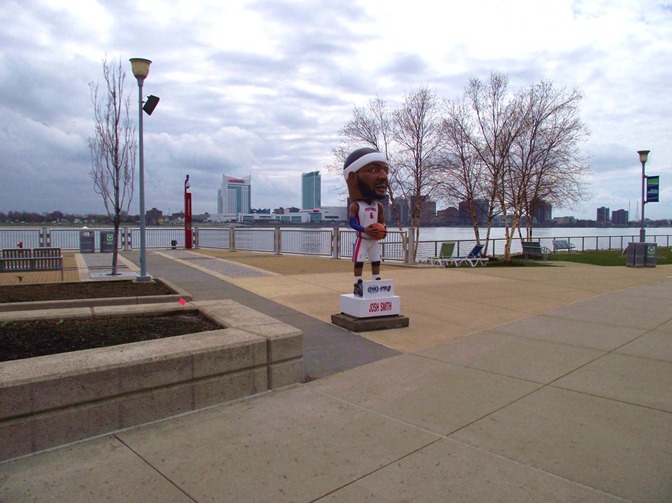 Comerica Park and Ford Field, Downtown North, Zoom Advance
ADIRONDACK CHAIRS AND PICNIC

TABLES
Passengers wait for Diamond Belle Tour Boat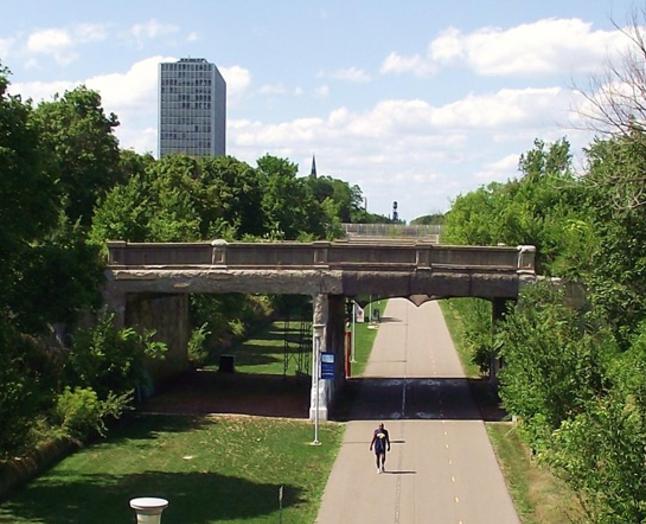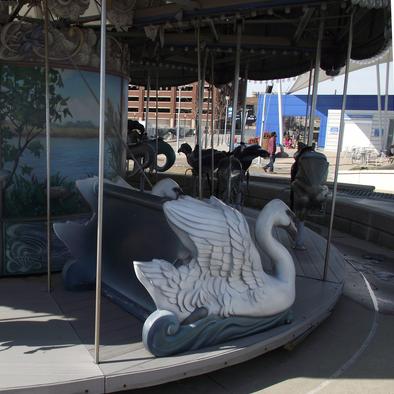 A View from the Overlook at Heart Plaza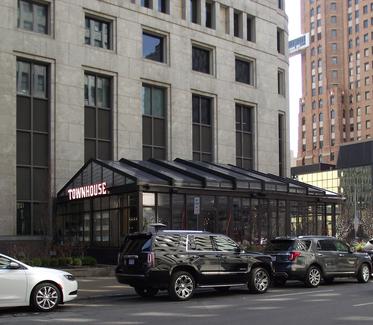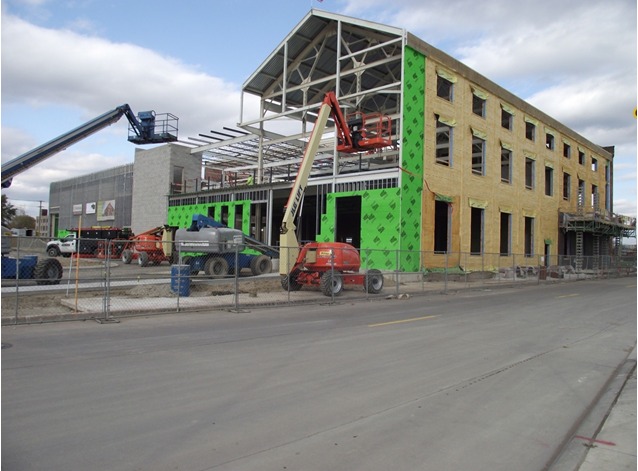 Harbor Hill and Grounds with nearly complete Bike Trail Landscaping, March 2014
The counters offer beverages, Coney dogs and ice cream, at the south end of the plaza. A new kids' playscape was built on the opposite side.
Dequindre Cut Intersection a Block North of the Atwater/RiverWalk Junction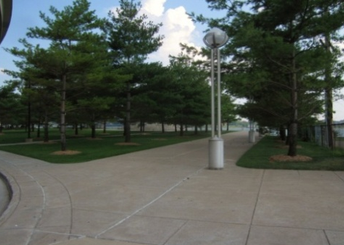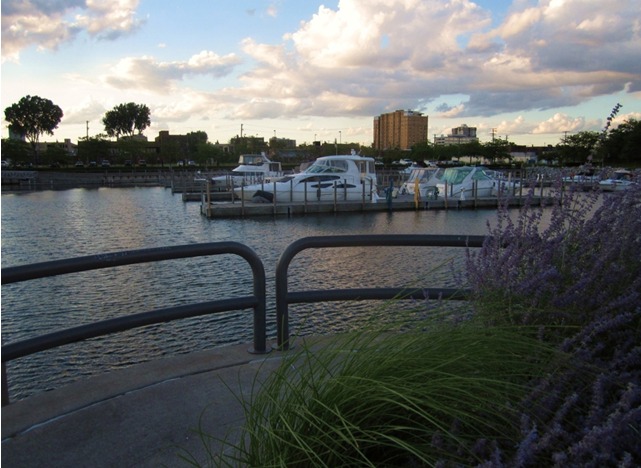 "Sphere" & "Spiral Roll" Sculptures (for the literal...a football thrown in a spiral or is it a
corkscrew with cork[?])
The Plaza merges with the new MIlliken State Park and Harbor, now one of two urban State Parks in Detroit.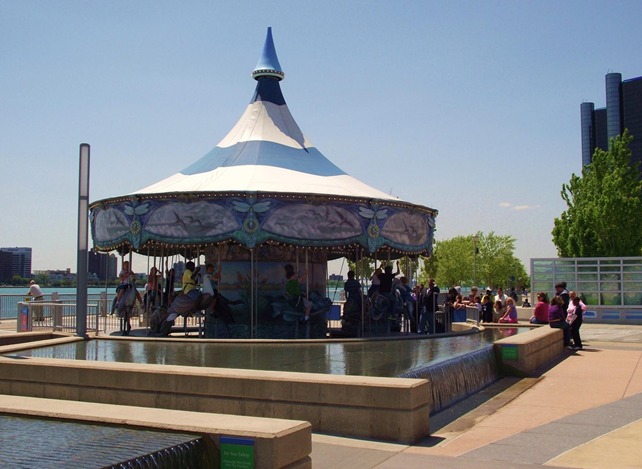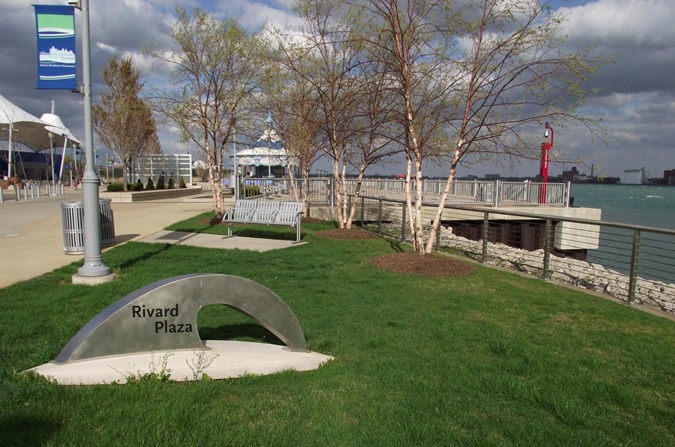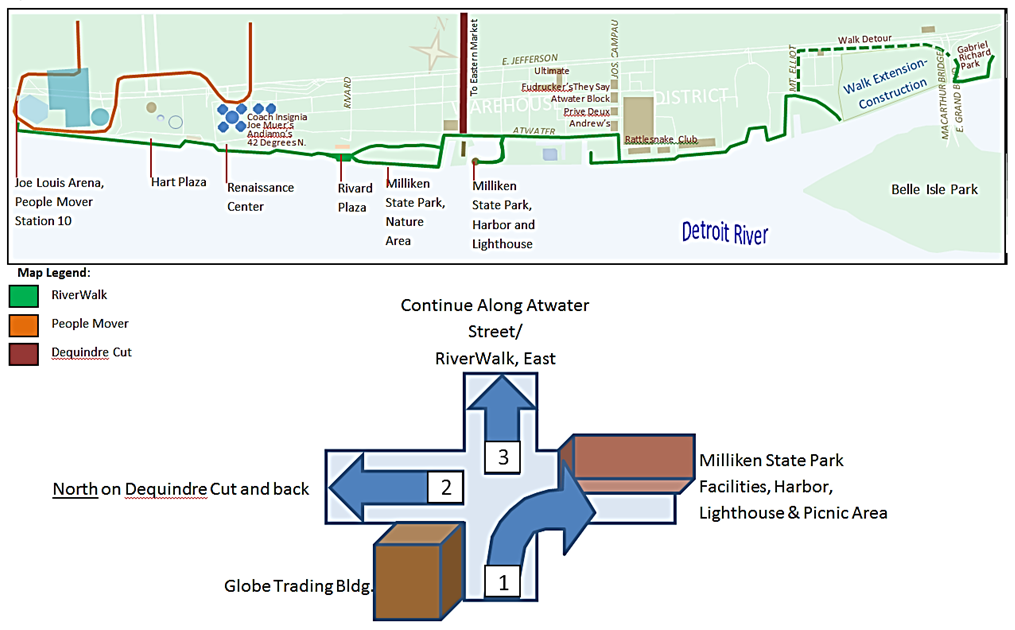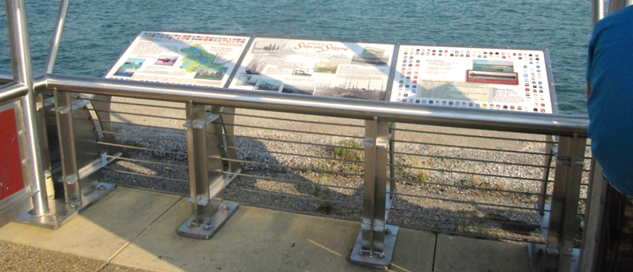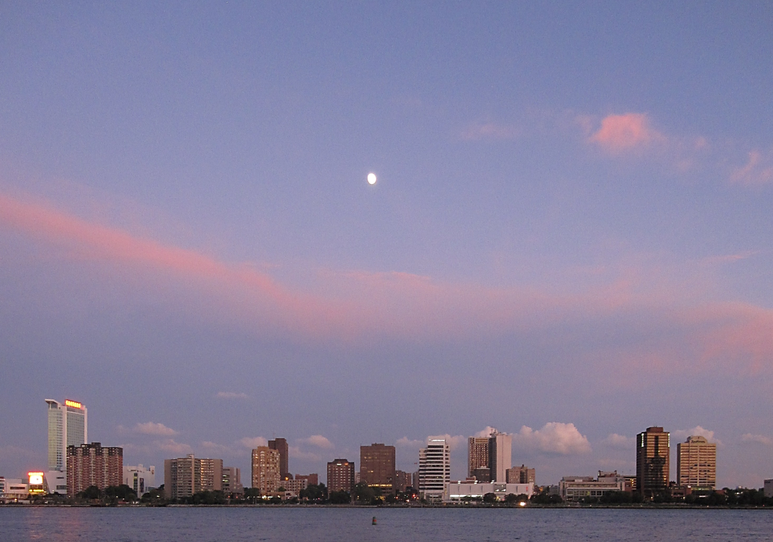 JOE LOUIS BOXING ARM/FIST
A symbol of Detroit's defiance and resilience.



Joe Louis defeated Max Schmeling, symbol of Nazi superiority, on the eve of WWII. The fist is a popular backdrop for wedding photos. (North of Hart Plaza/RiverWalk, Jefferson.)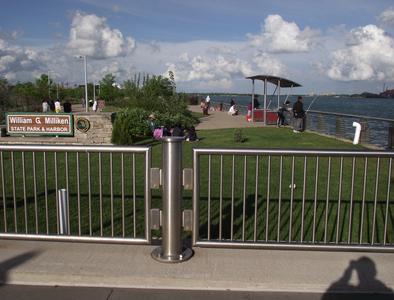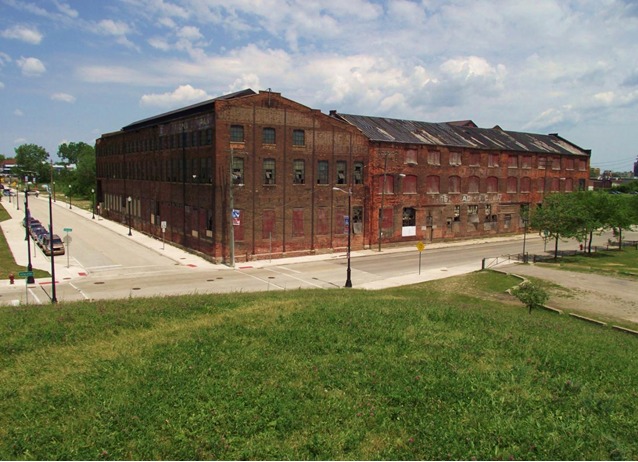 ONE WOODWARD AVE. BUILDING
ATRIUM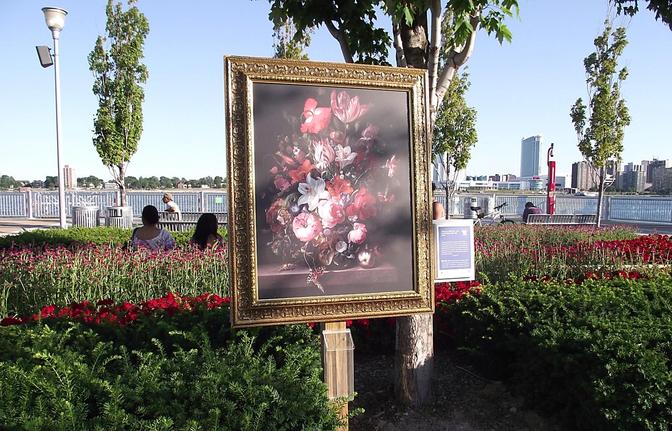 View South of Downtown Windsor with Breakers on the River

Downtown Detroit Skyline and Detroit RiverWalk Area
​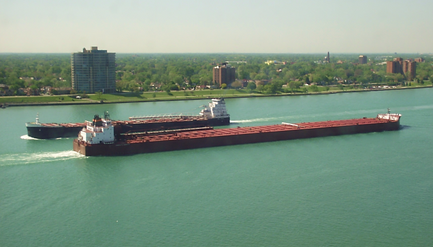 Guardian Building ("Cathedral of Finance"/"Arsenal of Democracy"), lt. and Mariner's Church, rt.
Strange Phenomena
The Detroit River is a color kaleidoscope varying from jade, turquoise, azure, teal, aquarmarine, blue, silver or gray. The skies overhead can dictate a radical change in hues in just 20 minutes. But an unusual dense fog occasionally descends over the river in the spring and fall that is both mysterious and spectacular. Once settled it becomes a great terrestrial cloud enveloping everything in its path. Still more interesting to all but the casual observer is the appearance of the river from a high-rise building on a bright moonlit night when the water is a black molasses coursing in slow sparkling channels, like a lurking sea serpent.
This venue has closed. Apparently, the restaurant's lease was not approved during a recent review. A new restaurant will replace Coach Insignia. Please adjust your plans accordingly.​​​
COACH INSIGNIA RESTAURANT
This was the Western Hemisphere's largest and second highest hotel-top restaurant. Breathtaking beauty can be viewed from its 360 degree deck, 700 feet above ground. It offers an international survey of two of the world's great cities and the stunning teal strait, stretching for miles between them.





Wintergarden & GM Promenade on an Icy-Blue Winter Evening
Franklin Street Intersection of Dequindre Cut, View North
Red Ear Turtle, Painted Turtle, Spotted Sandpiper & Crayfish
RiverWalk/Milliken State Park North Section leading to Atwater Street

(Lafayette Park Towers in Distance)
TOWNHOUSE RESTAURANT


(A new restaurant in Downtown on Woodward, it's just two blocks from the RiverWalk at the Detroit One building.)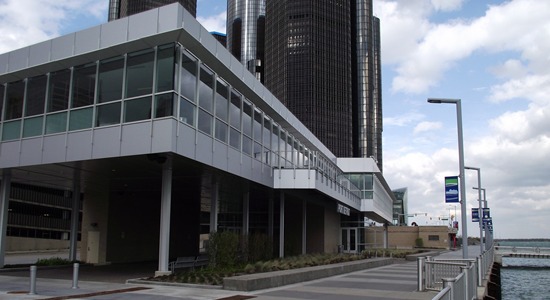 First Street Bridge, Delray
​​​​
VIEW FROM OVERPASS AND NEW SHARK MURAL
Art Gallery on Lower Level
Detroit People Mover, Joe Louis Arena Station 10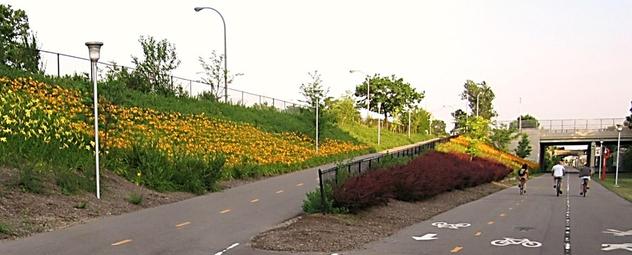 Before & After Sand Sculpture, River Days, International Freedom Festival
If you listen closely you may hear a Red Winged Black Bird's tremolo or the bull frog's "HARR-UMMM."



​Milliken State Park and Harbor contains a fifth-mile long Nature Walk with manmade ponds, streams and wetlands designed to restore the shoreline not seen for a couple hundred years.
The ponds are fed from run-off or the river by an underground sluice with a cyclone filter that activates as the pond levels drop, replenishing the water supply cleanly and naturally.



Three paved areas meander through meadows planted with native plants to attract wildlife. Ducks, geese, pheasants and muskrats colonize the area in summer, and once a coyote was seen loping through the nearby fields (until it was trucked away to give birth in the wild). In April the terns appear by the shore, and hungry cormorants and gulls dive for fish in the river just beyond.
Heading East on RiverWalk to Rivard Plaza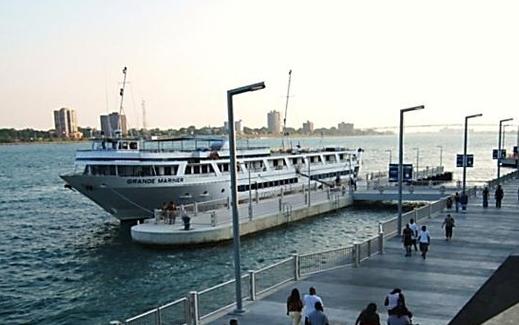 A lone mariner returns to the lighthouse for the evening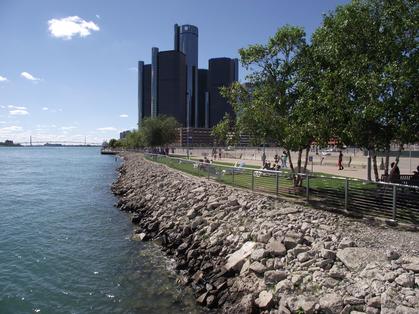 GUARDIAN BUILDING INTERIOR
A true "Cathedral of Finance," this building features Aztec, Mayan and Woodland Indian design themes that are spectacular. Designed by Wirt Rowland in the art deco style, it also was the "Arsenal of Democracy" headquarters in WWII. (Near RiverWalk at Woodward or Griswold and Larned.)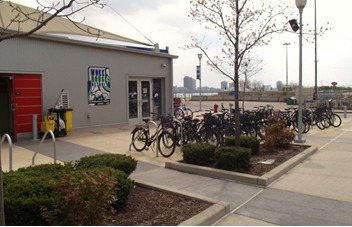 Detroit Princess, Dockside, and Stairway Entrance to Hart Plaza from Walk
DETROIT RIVER IN WINTER
The river all but shuts down in winter, quite often freezing from shore to shore. No freighters travel the river or the Great Lakes at this time. Thick ice and sometimes icebergs several feet in height flow haphazardly down the river creaking and crunching as they go. Surprisingly, some tour boats head into the river the moment the water clears. But most wait for spring.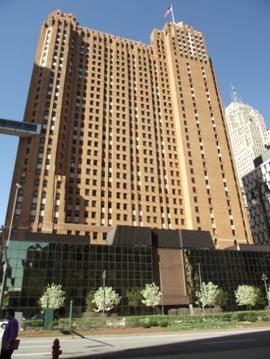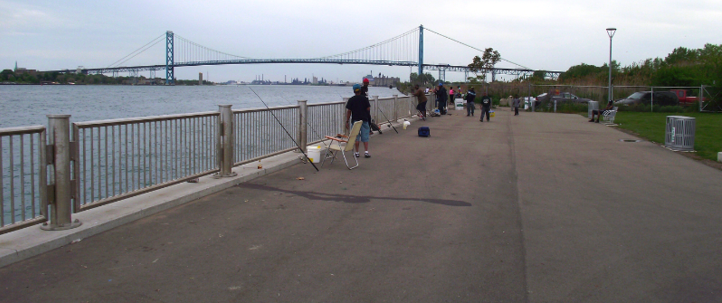 Rivard Plaza Spillway and Carousel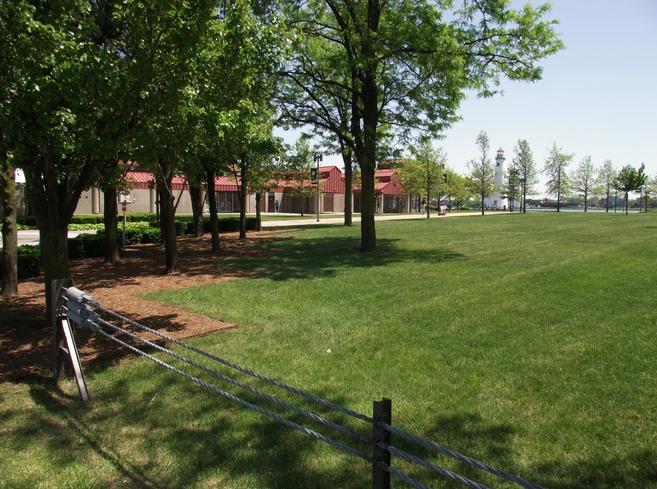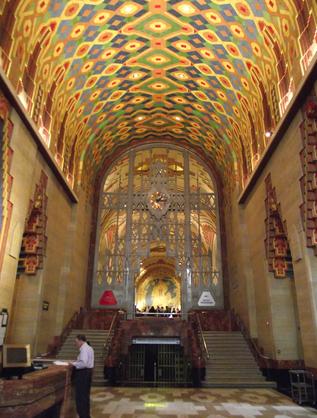 Dequindre Cut Greenway Connecting to RiverWalk, Eastern Market and Midtown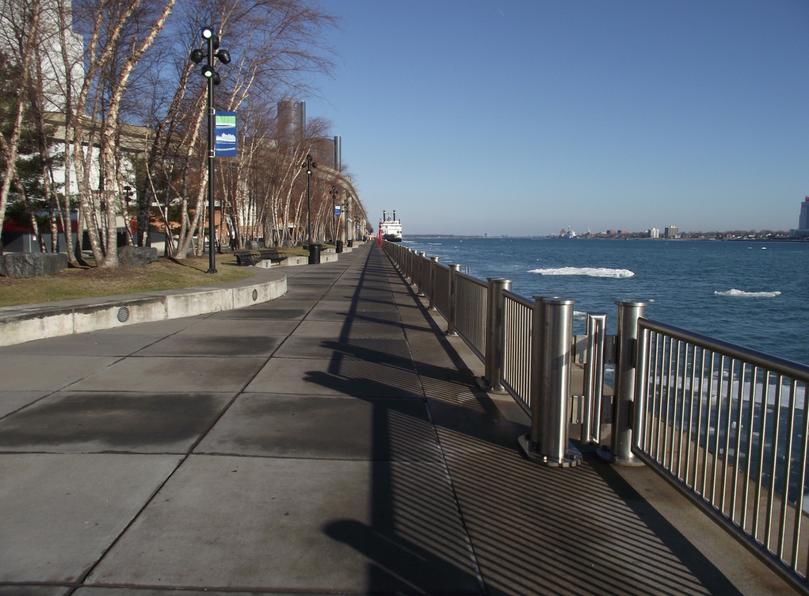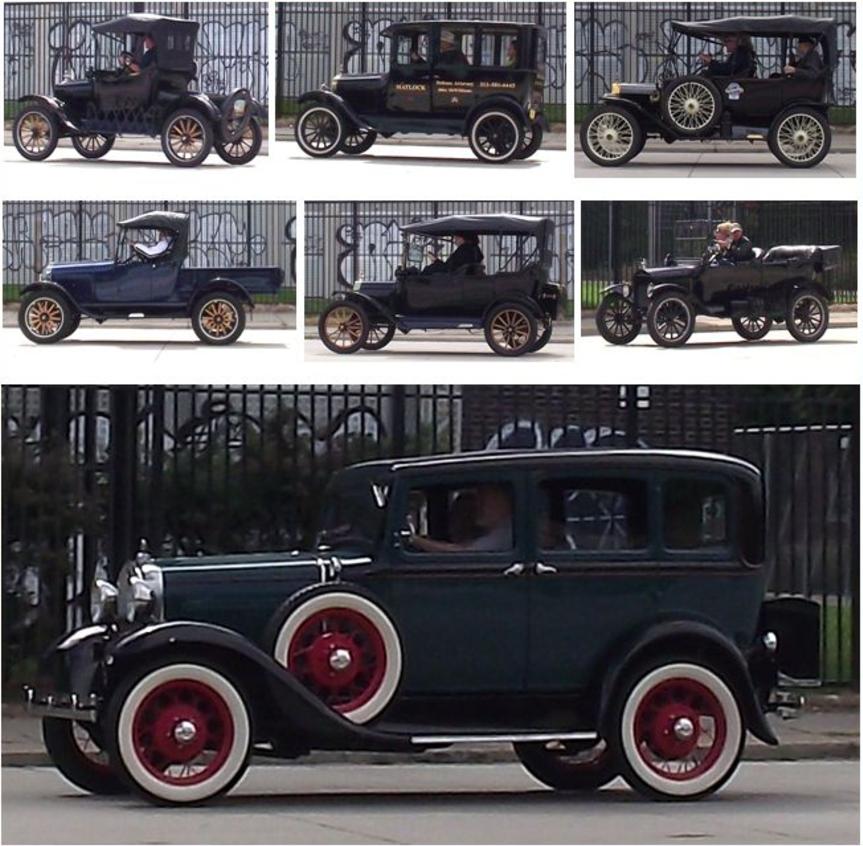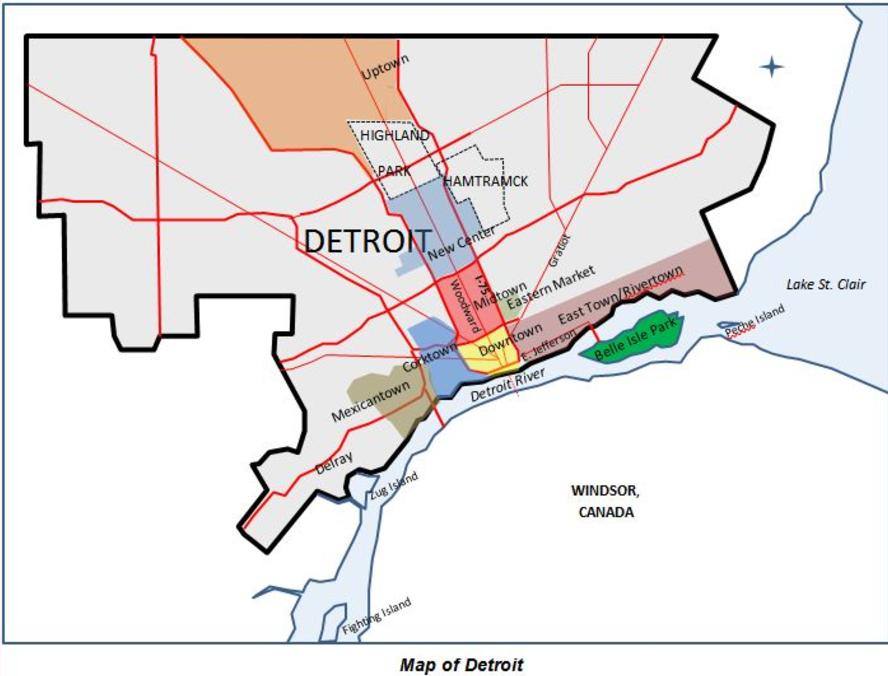 New Lounge Chairs face the River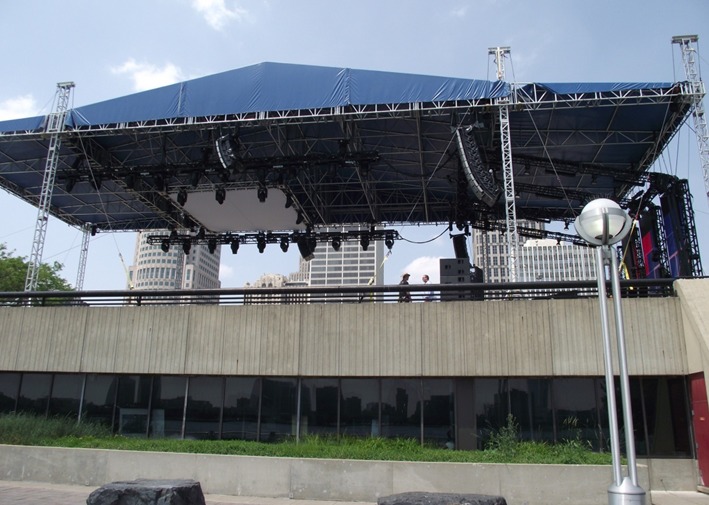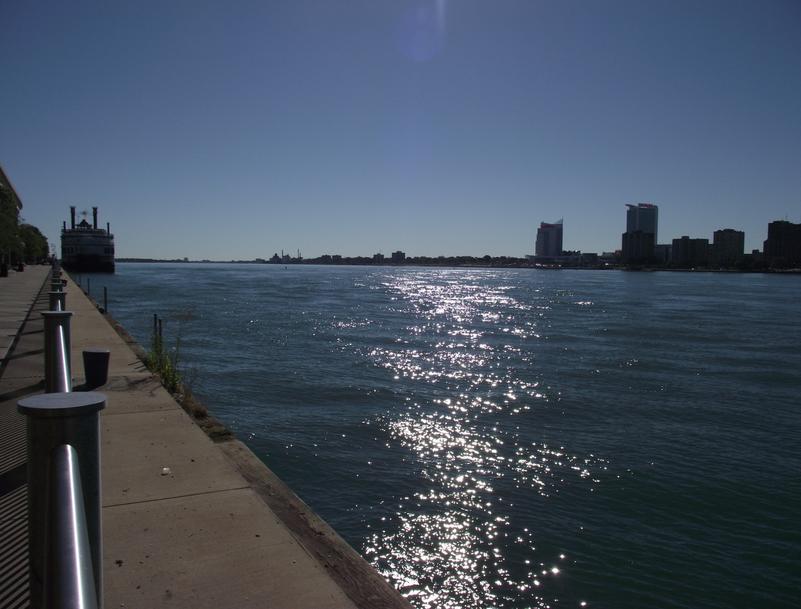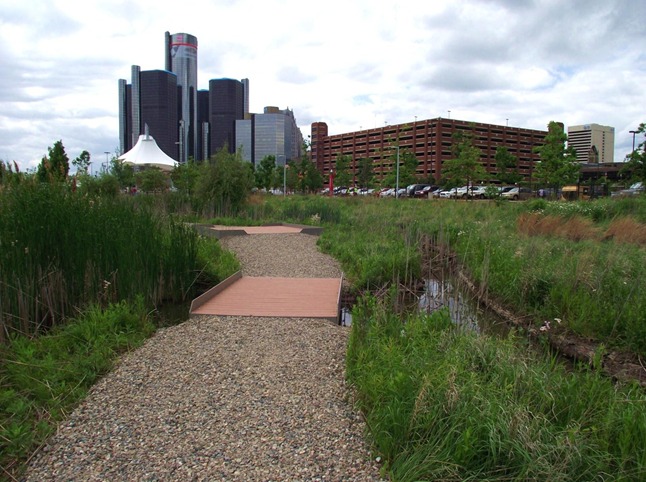 Some landscaped portions bloom lily orange in summer.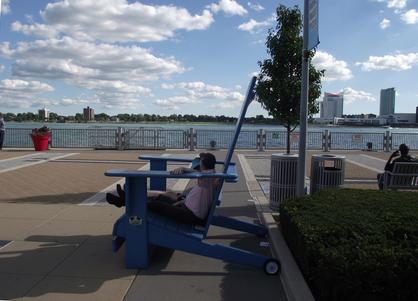 Part of New North Cut Extension, Eastern Market Area
The new asphalt bike trail winds around the Harbor Hill with a gentle grade. You can traverse this route or follow the concrete walkway a short distance north to the Atwater Street sidewalk. You will reach the same point from either side.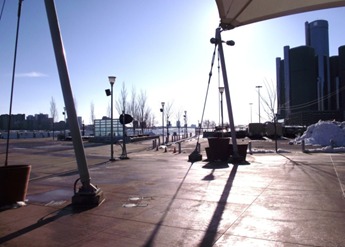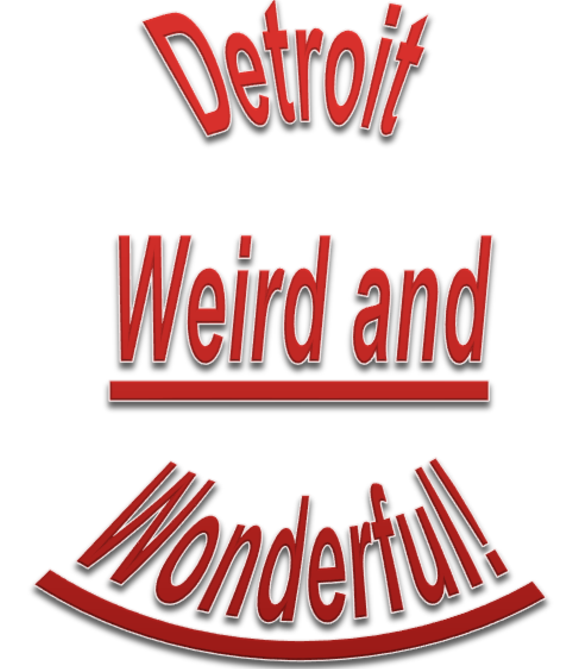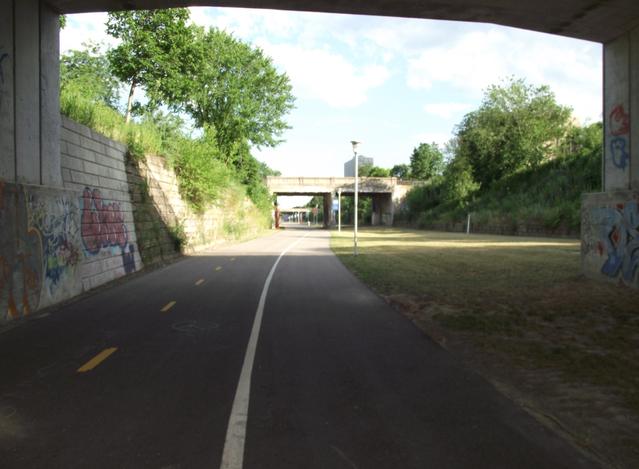 Underground Railroad Statuary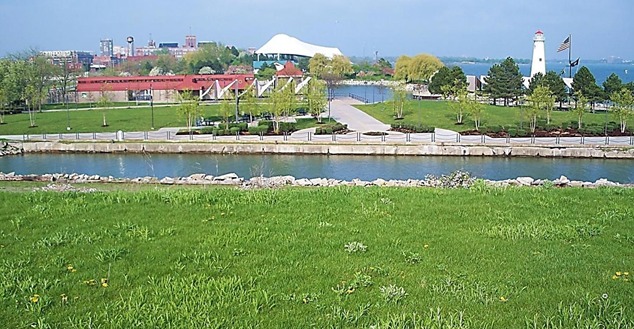 William Falkner once said that "history is not was, it is."

If Falkner could see Detroit today, he'd say "it is not is, it was."



Detroit's gritty profile sits as comfortably in the present as smokestacks on the roof of a software company. This hero of heavy industry has few large offices built since 1929 and modern touches can seem accidental. But it's not due to chance that Motown has great theatres, professional teams, museums and architecture so carefully nurtured over the years.

Numbers rackets were swapped for the lottery and casino. So the game plan is to sell history, sports, theatre, art and gaming -- the card dealt and the card played.

But this town has entered a nightmare paradox.

The rotted hood is filled with stripped homes, razed schools and leveled blocks. Districts are food deserts, and liquor stores skulked by drunks for change. Meanwhile the RiverWalk grows, homes are built by Habitat for Humanity, a few schools open, museums are restored and tourists nosh at new diners.

If judged by the hood, the city fails. If judged by the tourist the city shines.

People behave badly. They kill, snort, scam, steal, vandalize and pursue the mighty sneaker, while others write plays, help the elderly, treat addicts, flip homes or rebuild Downtown.

As a visitor, you can see games at three stadiums, attend a musical, spin roulette and tour the art museum on your stroll past towering art deco offices. You may have time for a riverboat ride to the Ambassador Bridge or the blue horizons of Lake Saint Clair. But for young residents new in town or here, born and raised, there are two visions:

The newbies peer from rehabbed lofts that face a Burnham tower. The home boys leer from blinds that face a corner crack shack.

Hipsters thrive by fantasy, marketing and investment; the locals die by drugs, ignorance and violence,

One group leads a path in, thriving by the past. The other leads a path out, dying by the present. Computer geeks fill the cyberspace between.

Can newbies change a disabled people so miserably enabled by the age of 18? Most in the hood will have none of the past and none of the future.

With no plan to revive them, no plan may survive them.




Making History

Only the rare few make history while newbies sell it by the tour bus.

Though the hood remains mired in crime and neglect, fantastic new projects rise in Rivertown, Downtown, Midtown and Corktown.

You can thank Dan Gilbert and the Ilitches for most of them.






Flowers and Reflections at the Plaza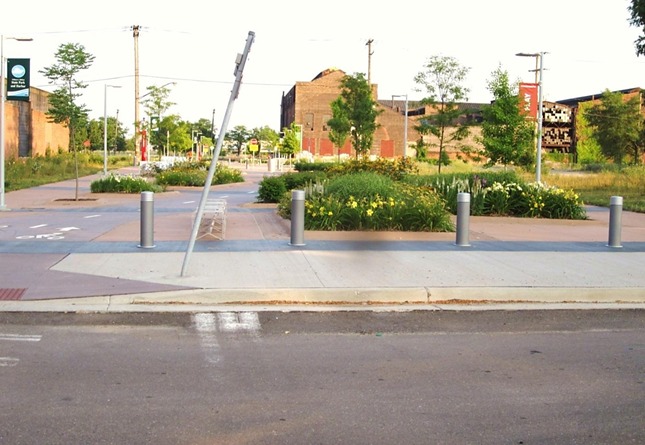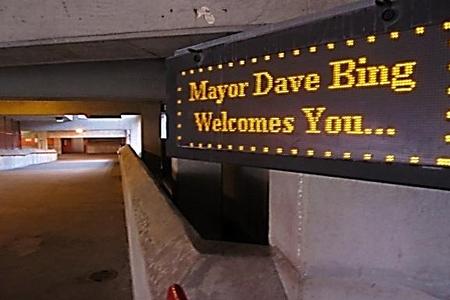 The plaza is dominated by the Noguchi Fountain (known as the "Space Doughnut" or Dodge Fountain).
ESCAPED SLAVE, THORNTON BLACKBURN
Thornton Blackburn initially escaped a plantation in Louisville, Kentucky travelling all the way to the temporary safety of Detroit's small black community. Southern bounty hunters found him in Detroit and demanded his return when a riot broke out at the jail where he was held. He escaped to Canada.



However, at one point Blackburn made a daring return to the plantation to free members of his family.



Years later he opened one of Canada's first horse taxis and died a wealthy man.
RiverWalk Map through Rivard Plaza
RiverWalk Map and Tour Directions, if heading East
A glass relief map provides a window on Great Lakes geography. (Note the outline of Michigan, the Great Lakes and the St. Lawrence Seaway.)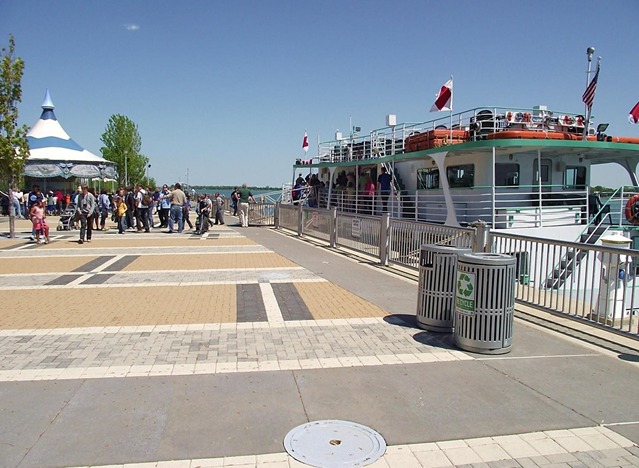 the Landing of Cadillac statue (or the "Hippie," as it appears to some), and a few small outdoor stages that ring the area. (This statue is not an accurate depiction of Cadillac whose likeness more closely resembled fictional character, Cyrano De Bergerac.)
Local History

Cadillac landed within yards of this location with his coureur des bois in 1701 before building Fort Pontchartrain (after Comte Pontchartrain) a short distance north at Fort and Shelby. In time it would be known as Fort Detroit.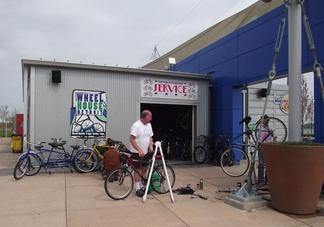 ​
The Port Detroit complex handles Passenger embarkation for cruise ships and riverboats.
The facility was at the forefront to make Detroit the Great Lakes Cruise Ship Capital according to the Federal Department of Transportation. Ships dock at the newer wharf attached to this part of the Walk.



Two cruise ships made several visits in 2012. More followed, beginning with the Hamburg in 2014, a 400-cabin cruise ship that visited Windsor. The St. Laurent visited Detroit in 2015 and re-visited under the name, Victory 1 in 2017. While plans for cruise ship visits were scaled back due to water depth and administration issues, Detroit's growing entertainment district has drawn more tourists interested in cruising the Great Lakes.



(Artists may offer to sketch your portrait here.)
​​​​​
A newly renovated west side Walk in Corktown nearly reaches the Ambassador Bridge from West Riverfront Park. Major festivals have been held at the West Riverfront Park's hugely expansive grounds by the river. Later extensions may extend well past the new Gordie Howe international bridge to the Rouge River west, and east to Grosse Pointe Park, over 14 miles.

In addition, greenways formed from the defunct railroad network are being re-laid with bike paths and running trails. The Dequindre Cut Greenway is one such example that opened and connects Eastern Market and the RiverWalk with an expanded 1.75 mile path. The 9-mile Connor Creek Greenway at Maheras Park will one day connect to the Walk further east. Riverside Park will expand west of the Ambassador Bridge, joining another seven blocks of park land to bike trails, and the Inner Circle Greenway Detroit circuit will add 26 miles to the trail network. The complete circuit will traverse 100 miles of urban landscape.
The nice thing about the Riverfront Conservancy is that most of these projects won't cost the city of Detroit a
penny to construct, and should proceed uninterrupted. (The following tour does not include the new section west of Joe Louis Arena and the Riverfront Apartments in Corktown.)


Primary access to the area is by People Mover Station 10, Joe Louis Arena.
-OR- you can access the Walk from numerous entry points along this 4 mile route. Popular locations (west to east) are:

Joe Louis Arena shown below.(Note:The arena will be demolished after the new Little Caesar's Arena opens.)

Hart Plaza

(

Port Detroit

immediately east of plaza)

Renaissance Center

Rivard Plaza

Joseph Campau Street

Mt. Elliott Park

Gabriel Richard Park
All

of them are listed in this tour.

​



ATTRACTIONS
RiverWalk, West to East:
(The DequindreCut appears later in this tour.)

Portion of Midway being erected in RiverWalk Parking Lots, River Days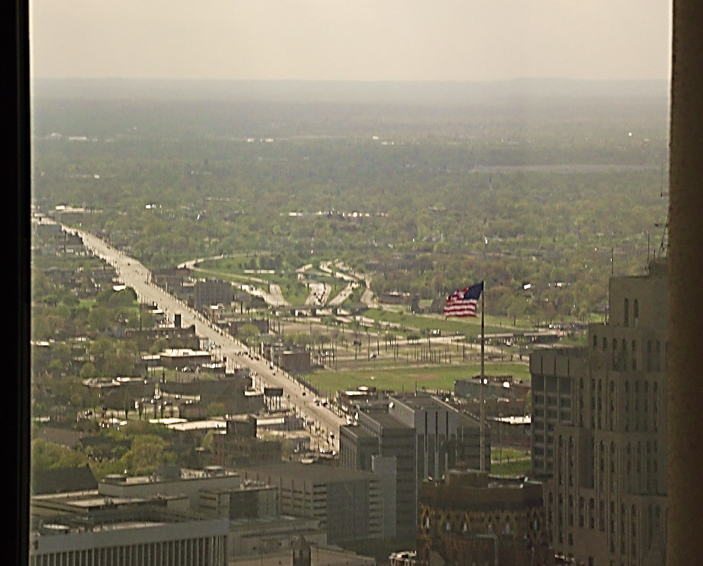 ​​​​
RECENTLY COMPLETED SECTION, VIEW NORTH
New West Walk section, linking Ambassador Bridge, Corktown
Urban Wetland, Spring 2012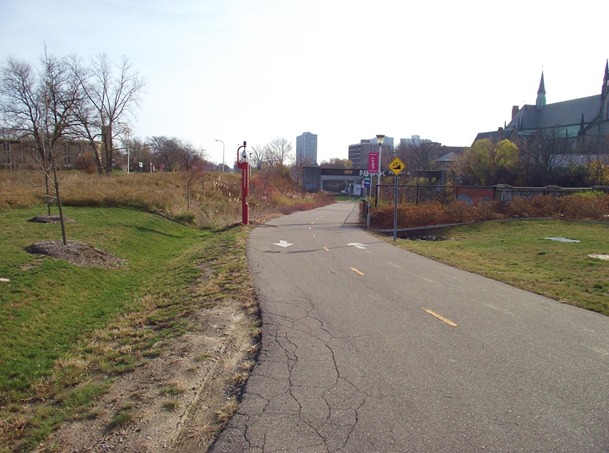 Start your Walk at the corner of Joe Louis Arena, the recent home of the Red Wings hockey team.
Take your choice. Arrive here on your own near Atwater and Jefferson or use the People Mover. A rickshaw can be arranged for pickup and a Segway company operates here (summers). Refer to the Tour Page 18. A good, old fashioned shanks' mare is recommended.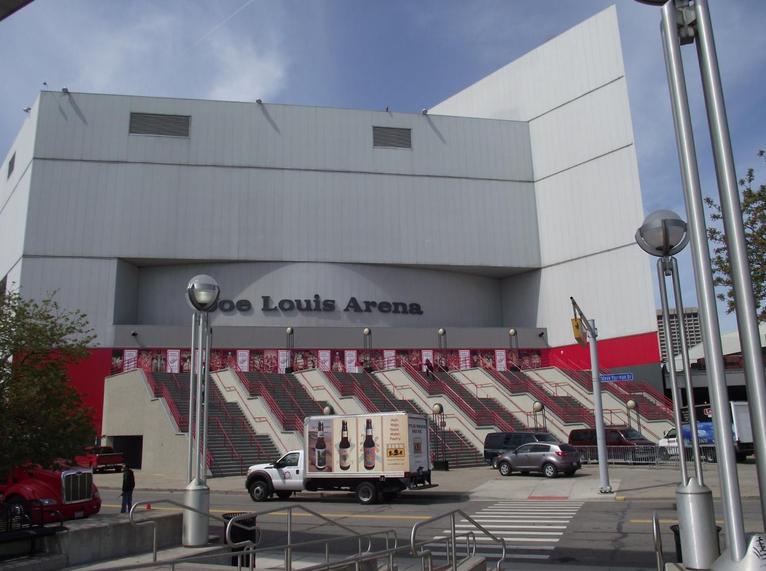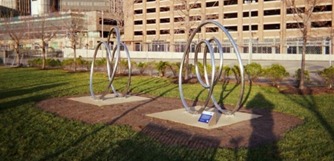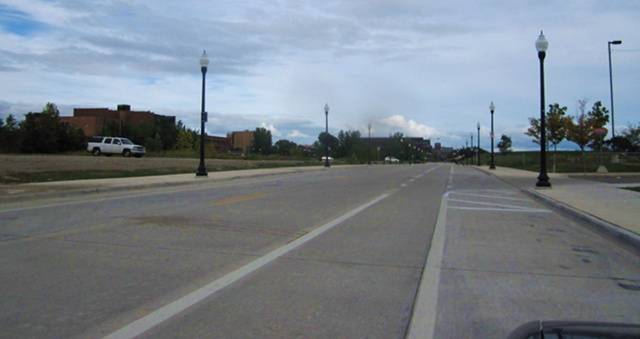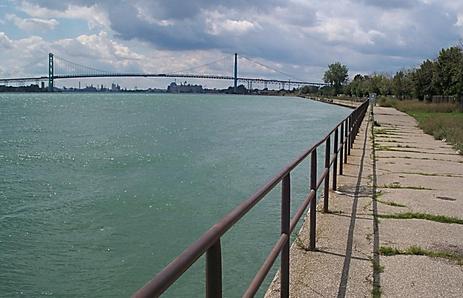 ​​​
SNAPSHOT
The
RiverWalk
is a grand,
4
-mile pedestrian walkway built by the
Riverfront Conservancy
with sensational views of the Detroit River. The first full link in the Walk opened in 2001 with the invitation of tall ships on the anniversary of Detroit's tri-centennial.
This is the first theme to link the international waterfront of Detroit. The project may someday connect other cities along the river. When the first phase is complete, it will join Belle Isle's MacArthur Bridge with the Ambassador Bridge, about 5.5 miles apart. Until then, work continues on a short section once occupied by the Uniroyal Tire Plant while the site is cleaned up.
√

√

Rec

RiverWalk & Dequindre Cut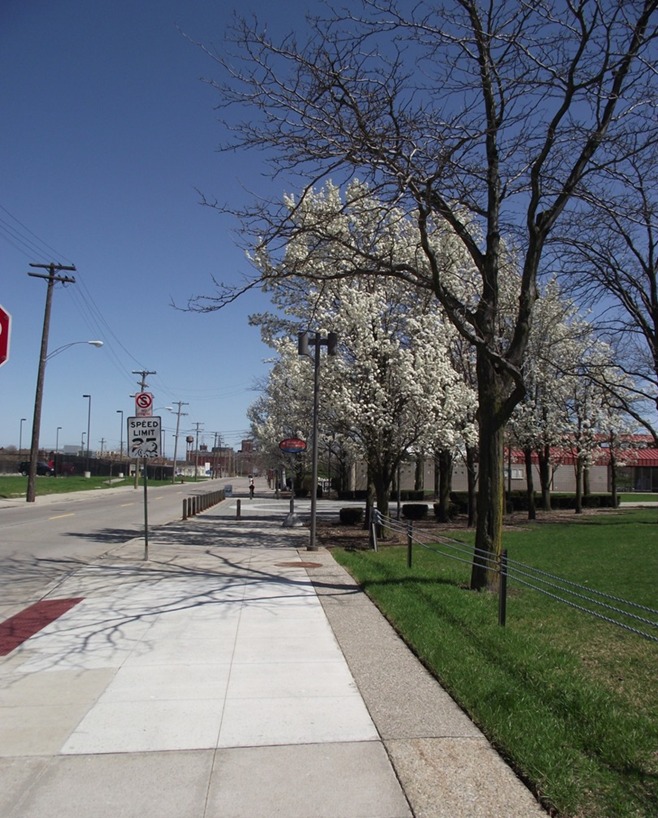 Wetland Stream Bull Frog and Pond Cattails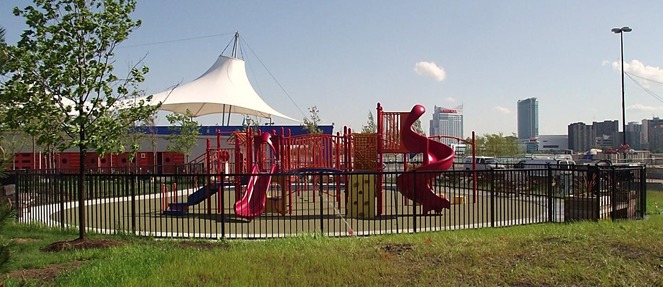 Heading Home to the Harbor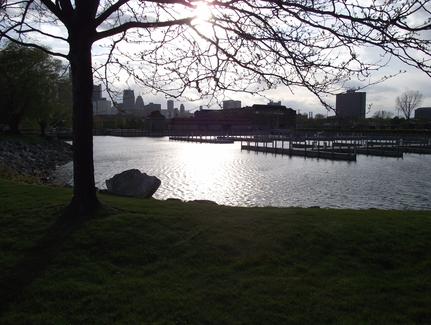 Hart Plaza Overlook from Stairs with View of Windsor, Canada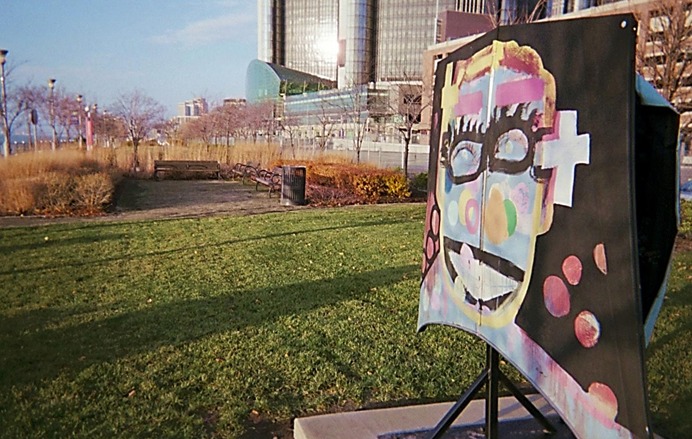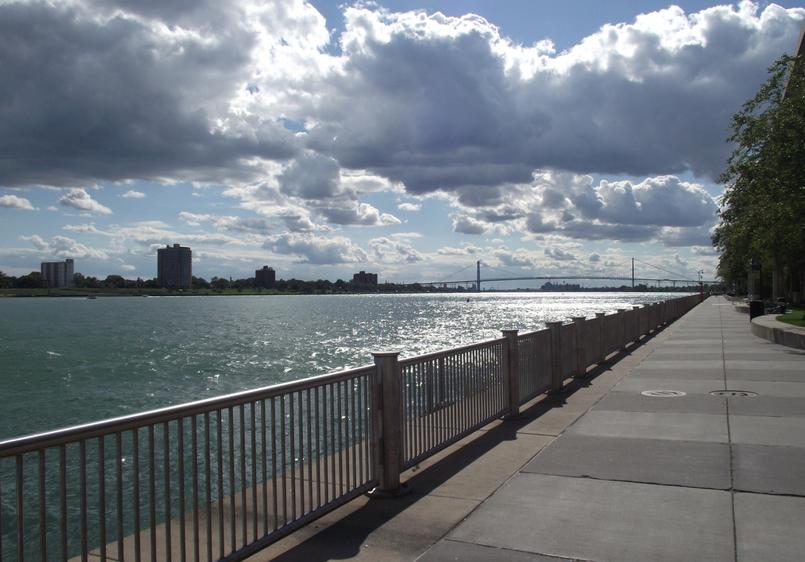 The 400 Berth Hamburg visits Windsor Docking Facility on Canadian Side of River, 2014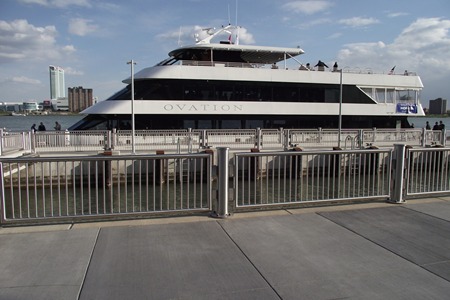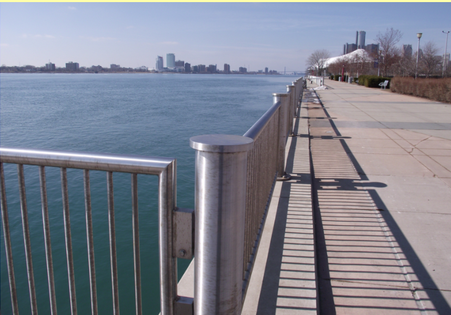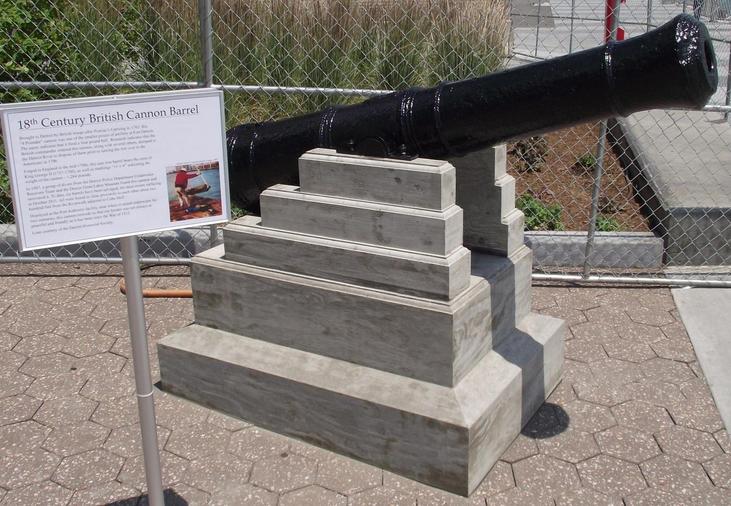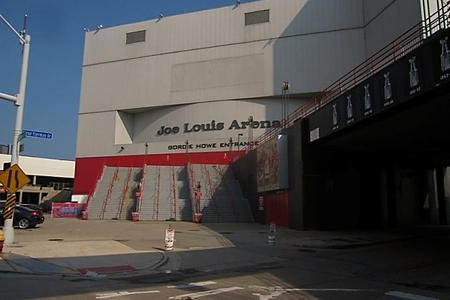 Primary access This particular spur runs at a right angle from the Walk northward (starting next to the Globe Trading building/Outdoor Adventure Center). If you're feeling like an extra stroll, you'll be rewarded with some interesting artwork along the way, including more DIA weatherized art pieces and Urban Glyphs.


If you're here on Saturday, Eastern Market offers a great destination at the other end of the Cut -- as long as your arrive by 3:00 p.m. to catch the best deals. Bring along a sack or two and pack some of the market's fine bread, cheese, produce or cider for your return trip.
Grande Mariner and Yorktown Great Lakes Cruise Ships, Docked at Port Detroit on RiverWalk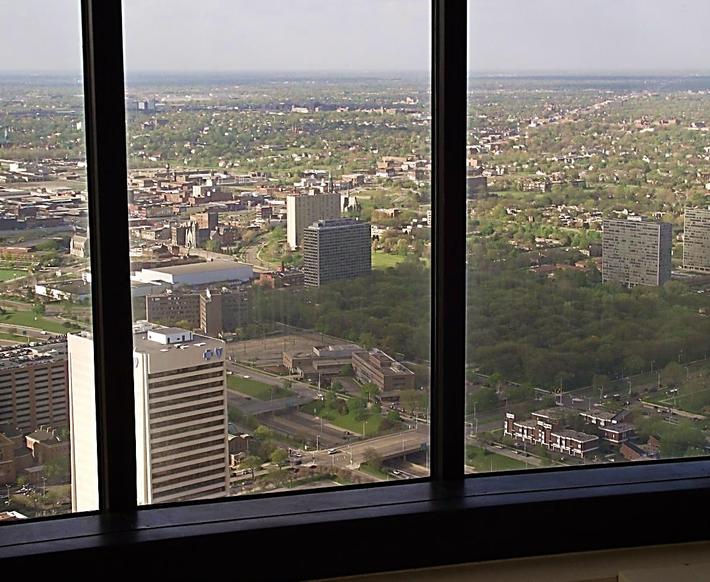 and a landscaped lighting area with piped-in classical music. (Atwater Street passes between it and the Wintergarden atrium.)
Rivard Plaza Glass Relief Map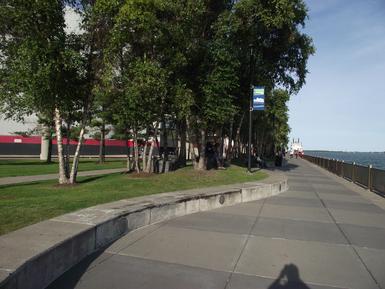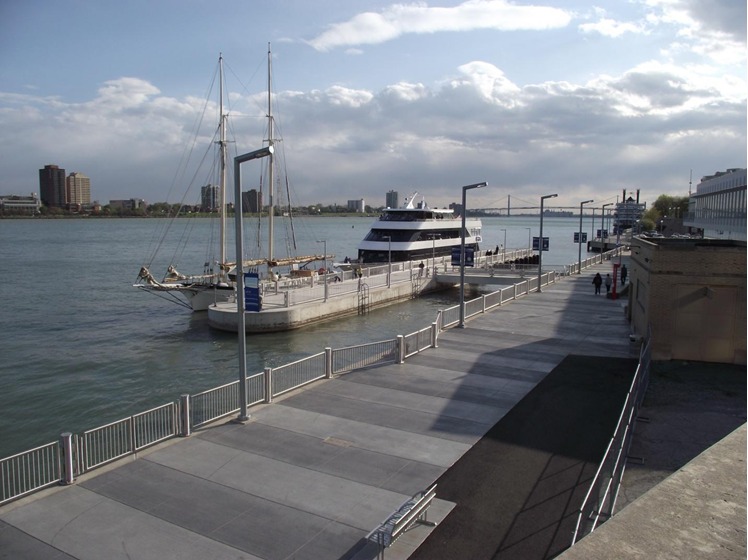 Giant Sports Bauble-head of Josh Smith (Detroit Pistons basketball player)
View West near Rivard Plaza
The ramshackle Globe Trading Company building at this intersection was shuttered for renovation. Big gaping holes revealed an interior that looked like the rust heap where Peter Weller got cornered in the Detroit based movie, Robocop. (Incidentally, a $60,000 Robocop statue may soon be erected three miles west at the abandoned Train Station. Detroit has its priorities.)

But a more ambitious building project started. The old brick warehouse and grounds transformed into classrooms, a forest interpretive area, climbing walls, simulated kayak runs and an archery center in 2014. (An apartment retail complex with potential for 500 units is being built on an adjoining site.)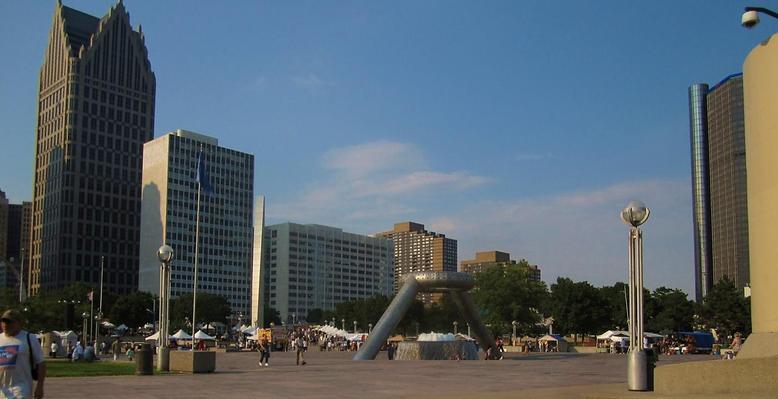 Joe Louis Arena from RiverWalk
Lake Saint Clair, Belle Isle Park, portions of Canada and Southeast Michigan are framed in the restaurant windows. The smaller twin towers to the east are sometimes referred to as the River East Center.
The hotel has its own fitness facility on the 40th floor and a renowned Concierge Lounge on the 70th floor.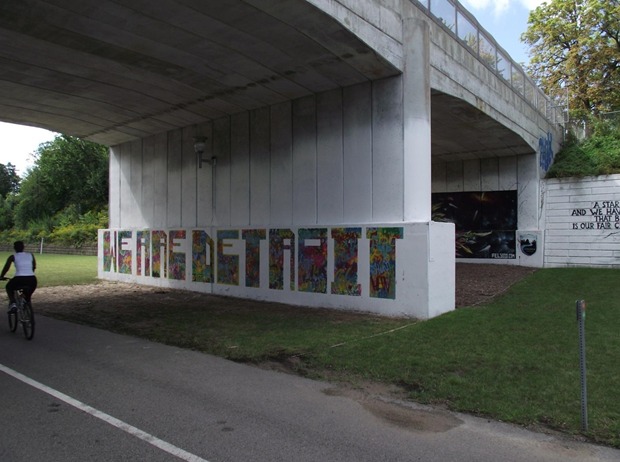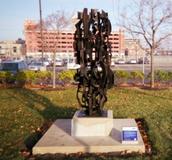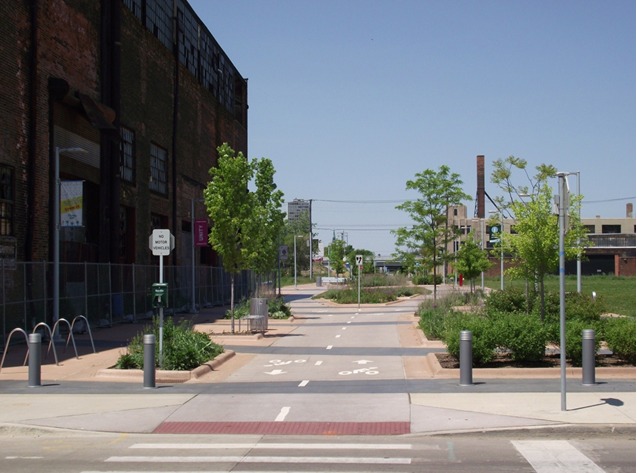 East and West Elevations of new Outdoor Adventure Center and DNR

(Department of Natural Resources) September, 2014

Another 30-foot map of metropolitan Detroit and Windsor is engraved in granite paving.
Beautiful Rivard Plaza on a Bright Summer Day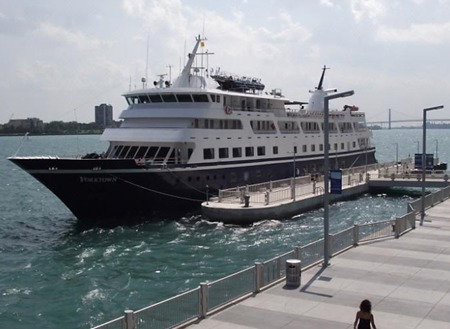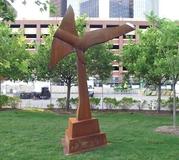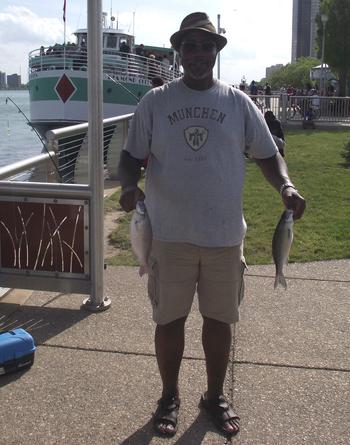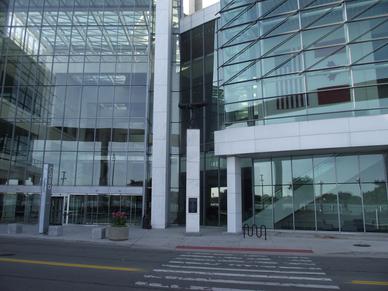 Male Red Winged Black Bird & Cormorant
The Cut trades rail tracks for a strip of asphalt, bike lanes and strollers. (This intersection joins with E. Lafayette Street.)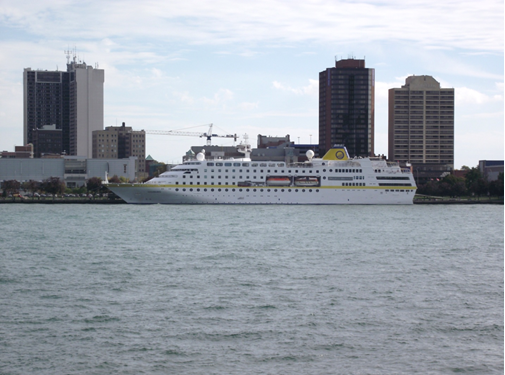 Kiosk interpretive areas profile old sailing ships, freighters and river fish. Other kiosks provide wetland information. The low-built railing is designed to eliminate a casting barrier for fisherman.


RIVERWALK LONG VIEW
This views the river and RiverWalk from the east end of Milliken State Park's nature area toward Windsor and downtown Detroit. The great distances on the RiverWalk provide challenging exercise for joggers, power walkers, bikers and inline skaters.
For a good view, climb the nearby hill. The scene from this perch looks upon the dry dock canal, park facilities and harbor to Chene Park beyond, delivering a river panorama with conviction.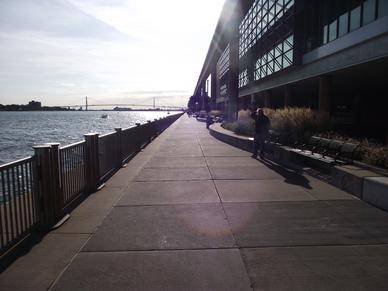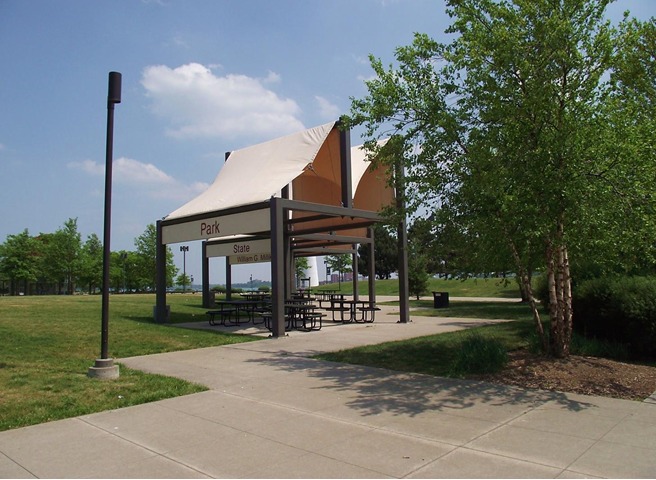 INTERNATIONAL WATERWAY
Before exploring further, look upon the water. The Detroit River is a broad avenue about a half-mile to two miles wide and 32 miles long. It forms a boundary between two great nations.



As part of the world's longest peaceful border, it's also a vital artery joining one of the world's greatest reservoirs of fresh water sailed by hundreds of freighters. Its beauty and utility play at center stage for international tourism and world trade.



Literally, French for "Strait," the "Detroit" River is the nation's main gateway between the upper and lower reaches of a giant inland sea -- the GREAT LAKES.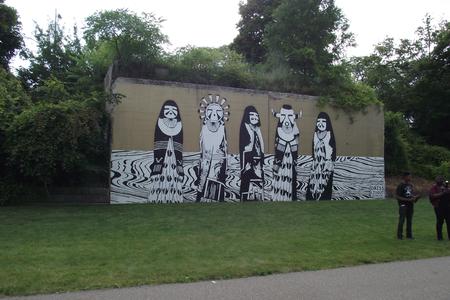 Fishermen like to fish along the sea railing. You may see one land a nice Smallmouth Bass.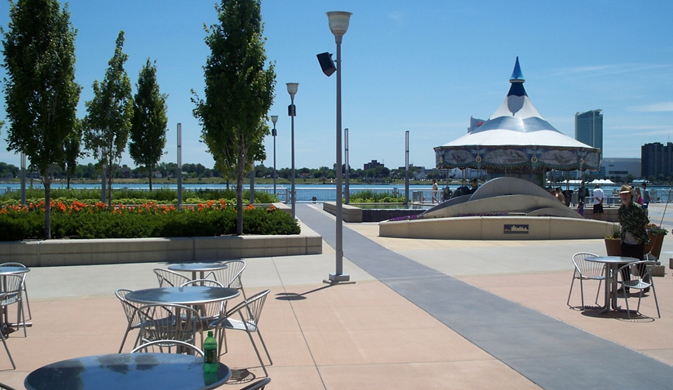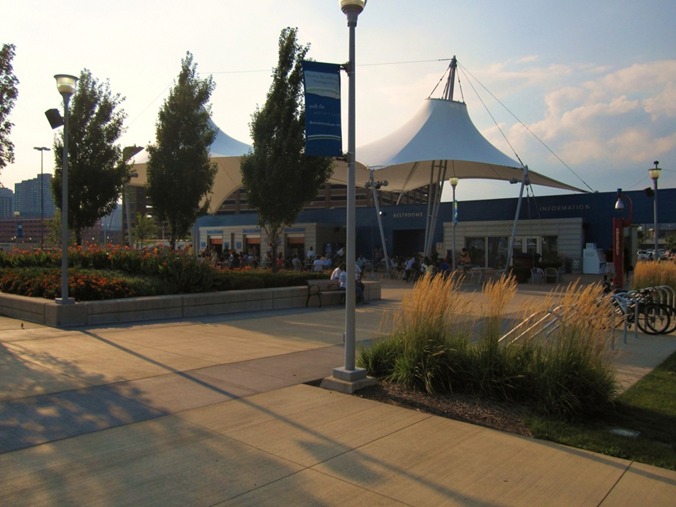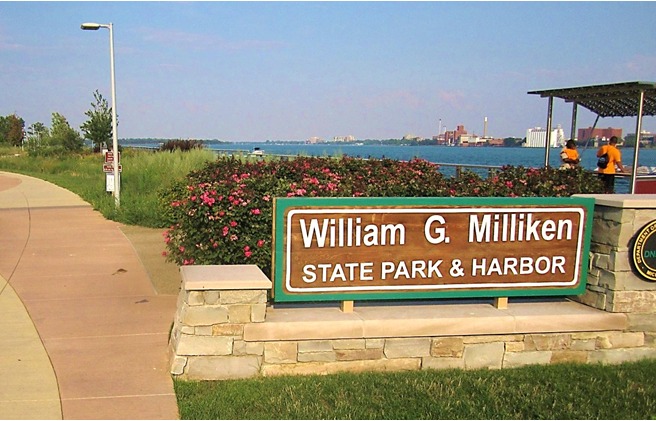 Venues near the RiverWalk and Ren Cen: Waterfall's (lt.), Steve's (rt.)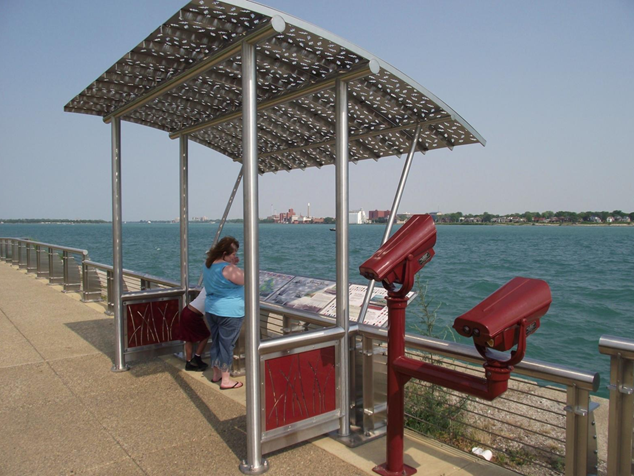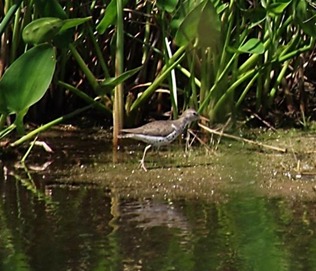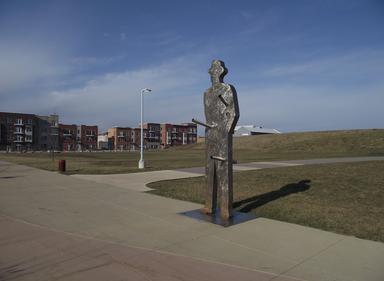 Joe Louis Arena to Cobo Convention Center Portion, Spring
(People Mover Tram Rail, above)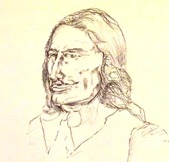 Park Office and Facilities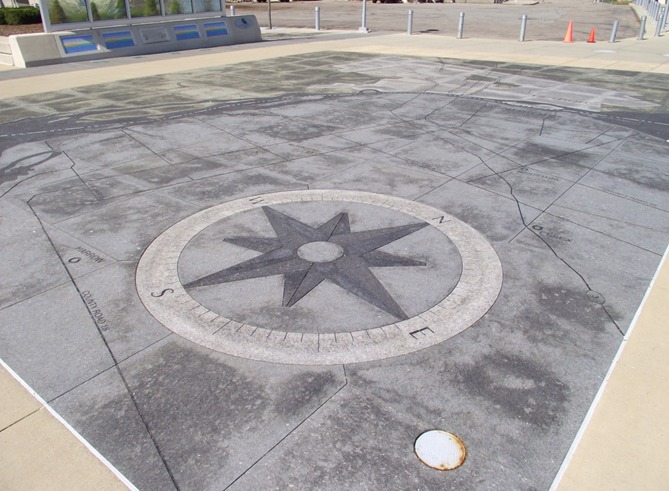 DETROIT URBAN LEGEND
The "Pinky Ring" and "Swizzle Stick" are my inventions. I recall only hearing the Cadillac statue referred to once as the "Hippie." But I am certain of the "Space Doughnut" colloquialism being used often in the 1980's. I think they're all worthy names.

The Author

Giant Sports Bauble-head of Brandon Knight (Detroit Pistons basketball player)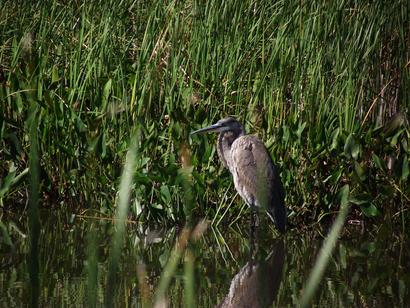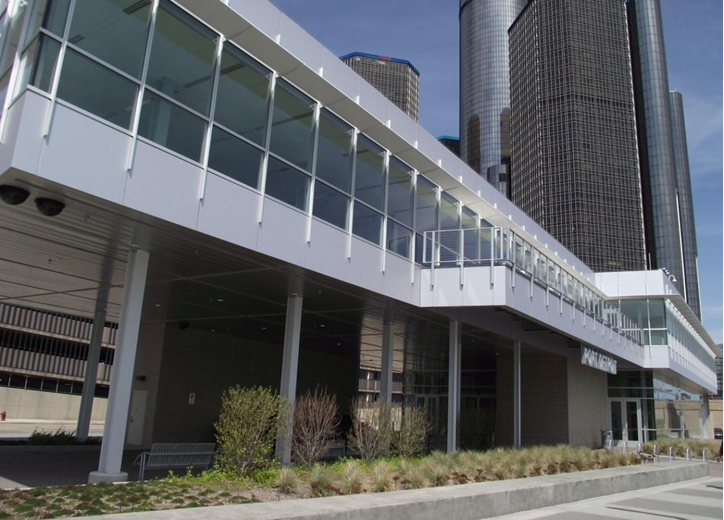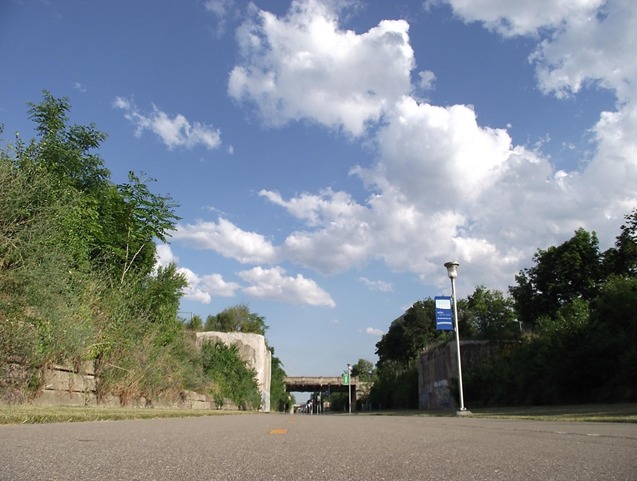 Harbor Peninsula, Early Spring (Freighter, left)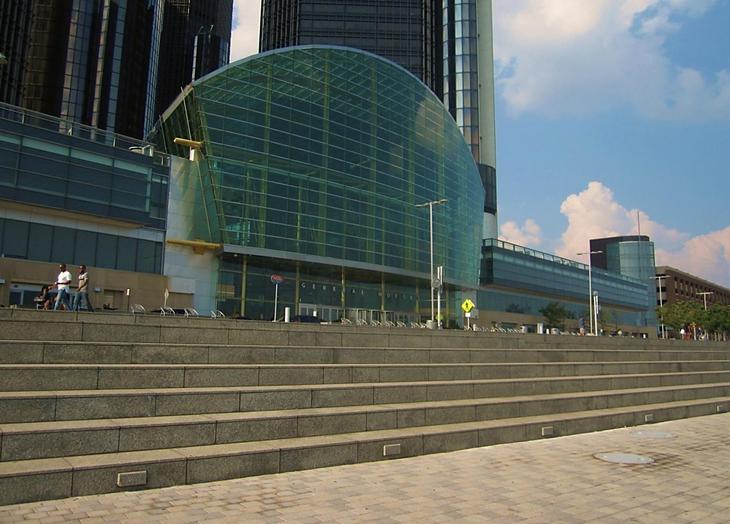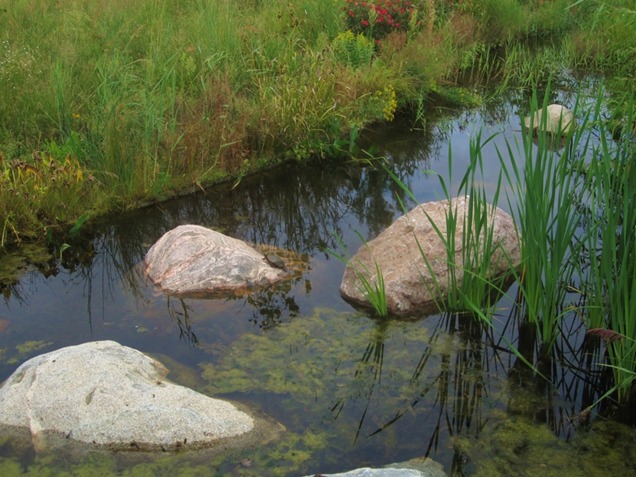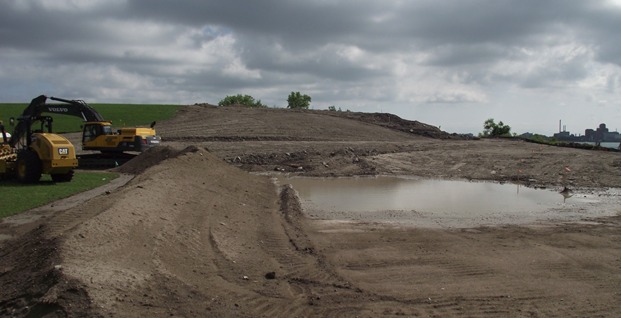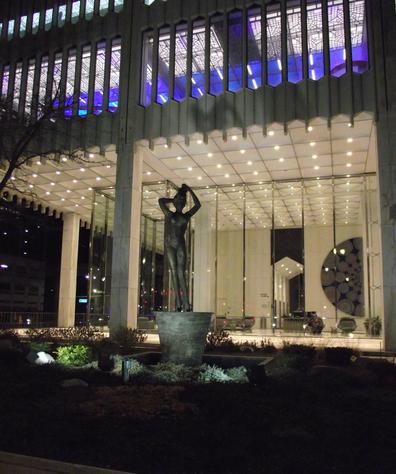 If booking a room at the hotel, be sure to ask for a location near the top overlooking the river for an unsurpassed view above the surrounding office towers.
LONDON CHOP HOUSE
North of Hart Plaza/RiverWalk, west of Woodward on Congress.
​The Boat Marina is surrounded by a landscaped peninsula, with weeping willows, guarded by a white lighthouse with a circular fishing rail at the marina entrance.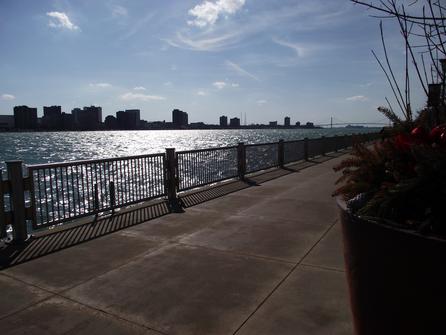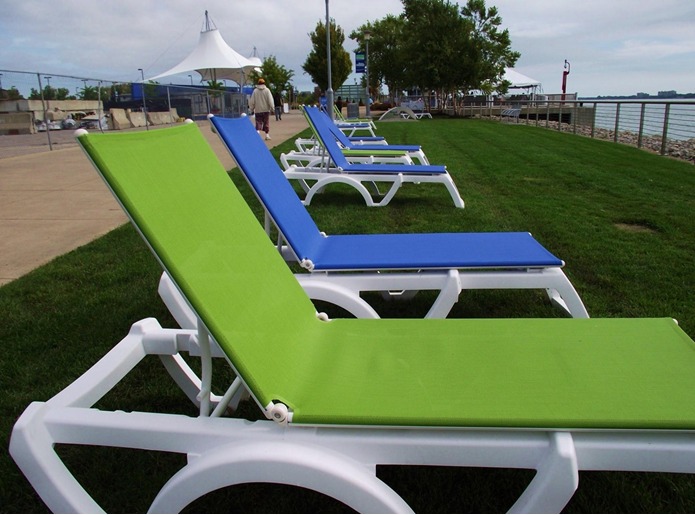 The adjacent area parking lots host the annual River Days, International Freedom Festival Midway carnival and

entertainment venues.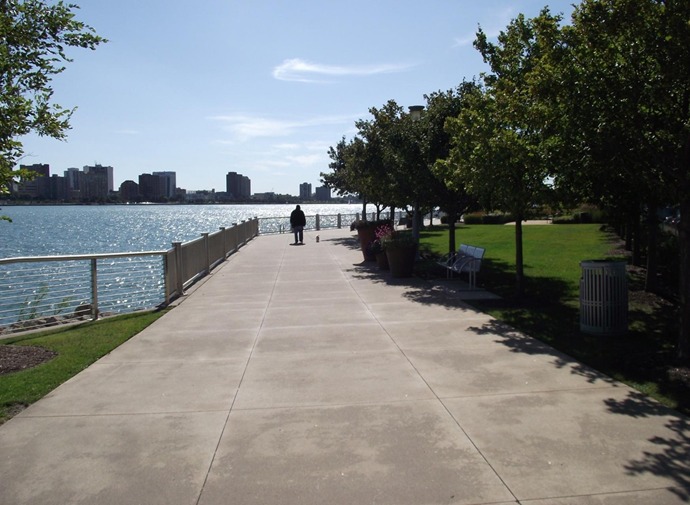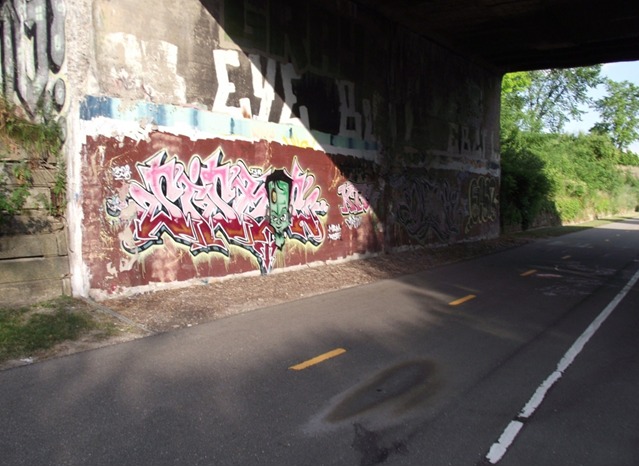 View East toward Sun-Dappled Waters (Detroit Princess in distance, left)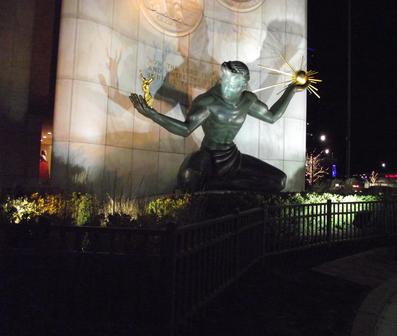 The 2-story building and wharf have been added to the RiverWalk. Several vessels dock here in the summer.

FISH GALORE
Besides Sliver Bass and the Small Mouth, record Pike, Musky, Tiger Musky and Sturgeon have been pulled from the river as far as Lake St. Clair. Green Bass, Crappie, Catfish, Perch and Walleye are also frequently caught. Sturgeon are not a legal catch, however, and are only now returning after restoration of spawning grounds and reefs. Some Sturgeon are over six feet long and over 80 years old. Lake Whitefish have also returned with other native species since river quality improved. Musky can sometimes be seen from high-rise buildings spawning in vegetation. They can reach more than five feet in length and are easy to spot from a high vantage point.


Charter services offer great fishing in Lake Saint Clair a couple miles east of Downtown. Local bass boats range as far south as Lake Erie from spring to fall.
The pie-shaped room layout features floor to ceiling windows with breathtaking vistas. (You may be booked unintentionally at the more hum-drum Courtyard Marriott across the street unless you specify an upper level at the Ren Cen.)
Several good restaurants are on the lower levels that include a souvenir shop, drugstore, banks and card shop.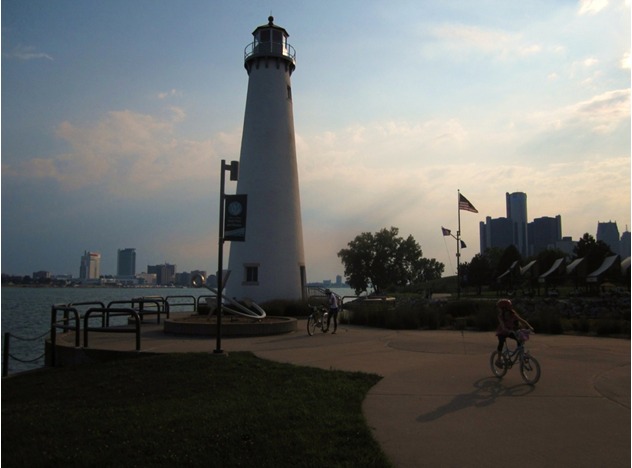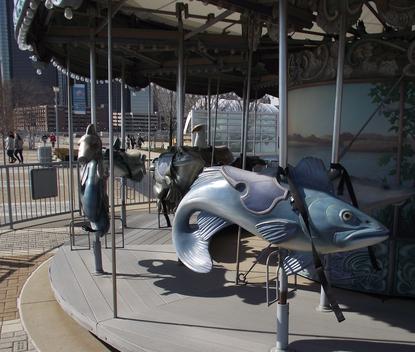 One of Several Emergency Stations for alerting Emergency Personnel
Local History

This cannon barrel was pulled from the bottom of the river in front of Cobo Convention Center in 2011. It was brought to the area by the British to put down the Pontiac rebellion not long after French capitulation. Another cannon found a bit west was recently displayed at the Dossin Great Lakes Museum at nearby Belle Isle Park. The British were in a hurry to scuttle their cannon when Americans claimed the city in 1796.
Detroit was alternately occupied by the French, the British, the Americans, and then the British again before reverting to American administration in 1815. For a time in 1763 it was nearly overrun by Chief Pontiac's 900 warriors who occupied the surrounding territory and brought the city to siege exacting cruel revenge on captives. (Refer to Detroit Weird and Wonderful, Mystery History section for details on great Native American leaders of the region.)



Construction on the new Port Detroit, Great Lakes Cruise Ship Terminal and Wharf was completed in 2011.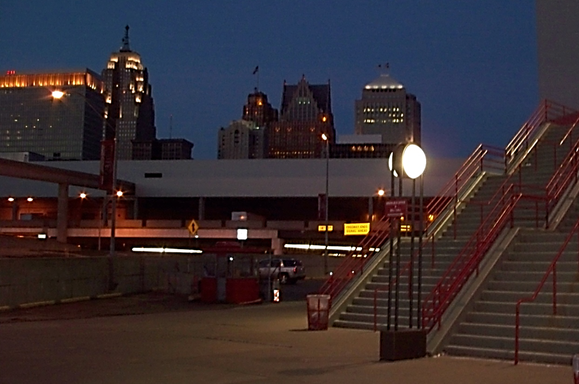 ONE WOODWARD AVE. BUILDING
& PASSO DI DANZA SCULPTURE





Re-paved Atwater Street, New Street Lamps and Bike Lanes
A wavelike concrete berm on one side and a sea railing on the other continue to Hart Plaza for a quarter mile. Follow them east.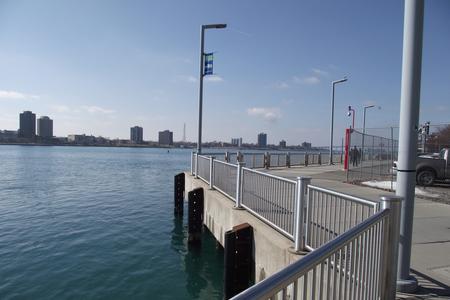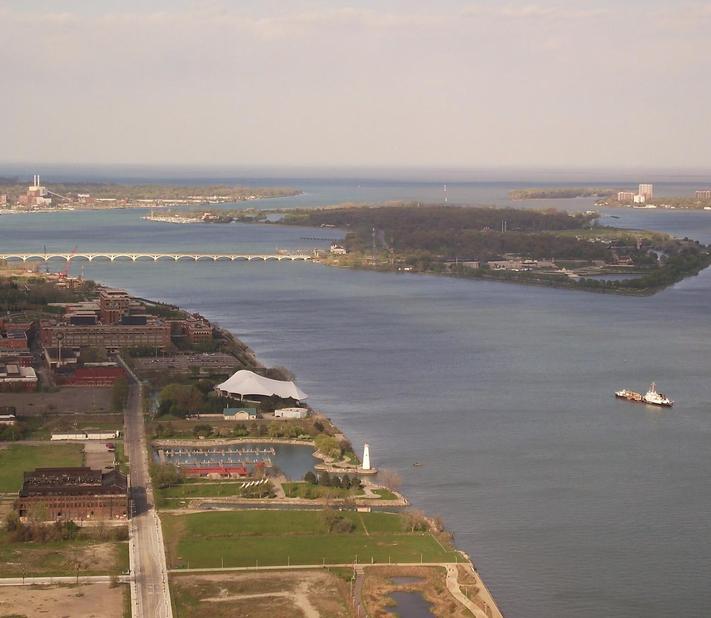 A 45-mile View Northwest of Detroit
Note: The Guardian Building with Rookwood tile
inlays and Penobscott Building are in the
foreground, right. Mount Brighton (a hill) is the
most visible landmark on the horizon, 42 miles
away (upper right). Heavy tree growth confirms a
city becoming far less urban.
Coach Insignia Restaurant and Bar
(Main Dining Area, left; Bar, upper right; Private Dining Area, lower right)
Artist Graphic, Unencumbered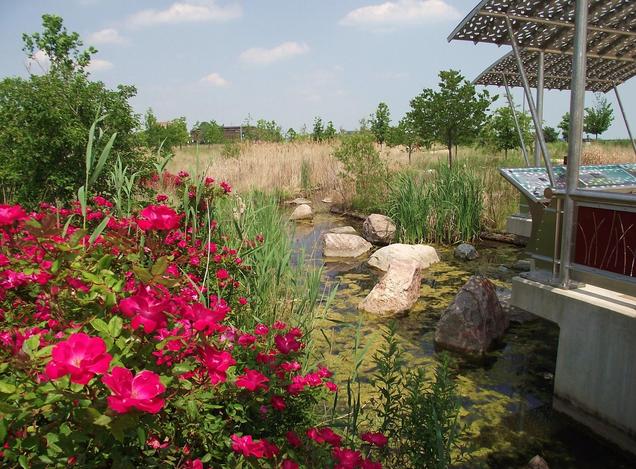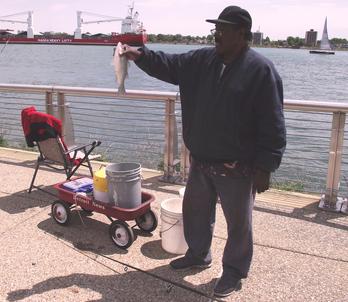 One of Upper Stage Areas during Annual Techno ("Movement") Festival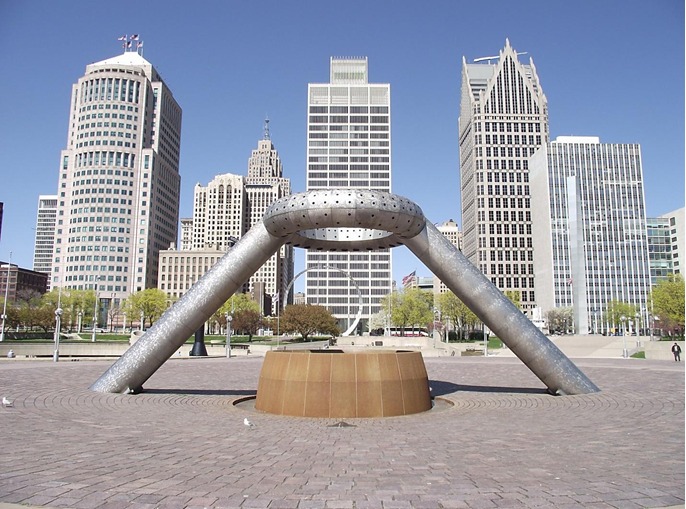 Wedding Carriage at Wintergarden Entrance, Ren Cen
ORLEANS LANDING & EXPANDING RESIDENTIAL AREA ON RIVERWALK -DEQUINDRE CUT


Local History
The Detroit River was immensely important to the local fishing industry in the 19th century. 1870 was a record year for Lake Whitefish harvests. But the industry all but died by 1920 after blasting of the river channels for large freighters. The same shores saw radical changes when fishing wharves became freighter docks seemingly overnight. Freighters replaced schooners as autos replaced carriages. Just a few inlets at the various marinas along the RiverWalk leave hints of their former role. But rebounding fish stocks have seen the sports fishermen return as well as local anglers who bring home the Silver Bass and Small Mouth in greater numbers. You'll see them casting lines from bridge to bridge.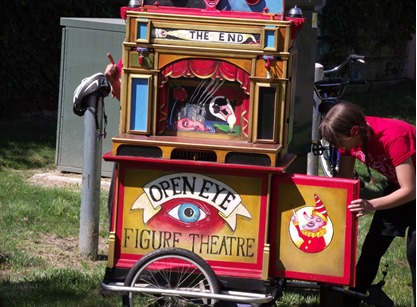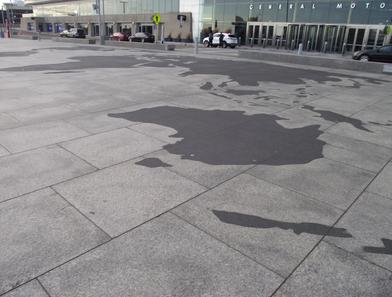 ...and pass an 18 foot tall, spiral ziggurat, an area where many fishermen haul in the Walleye and White Bass. A narrow landscape of River Birch trees outlines the paved concrete walkway, 15 feet wide.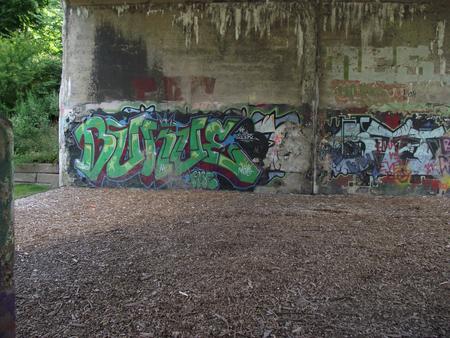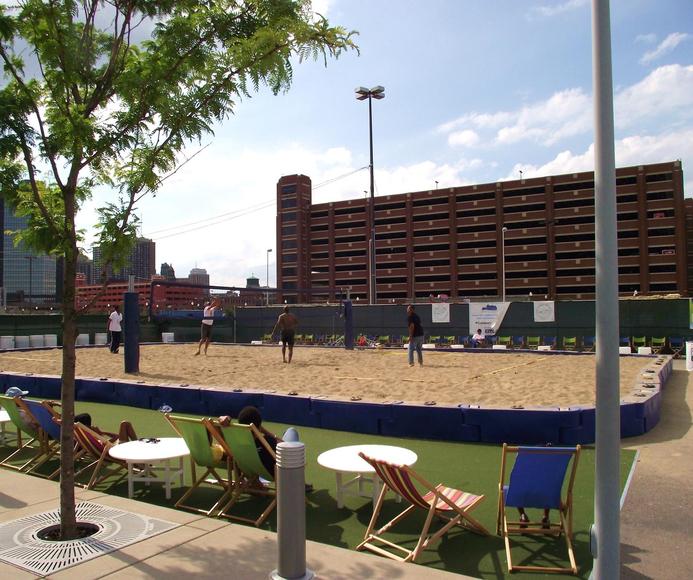 NEW APARTMENT-RETAIL COMPLEX NEAR OUTDOOR ADVENTURE CENTER & DNR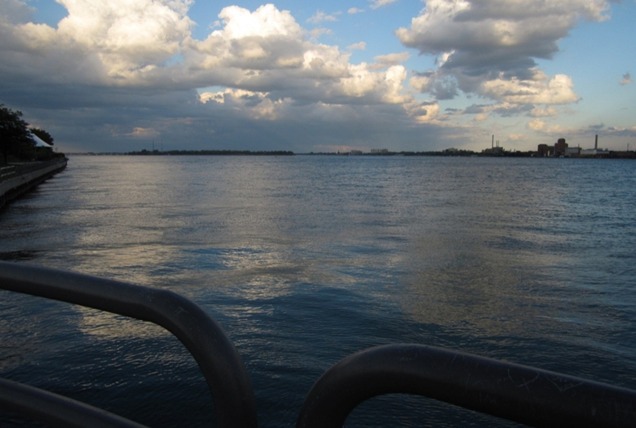 Beach Volleyball on the Walk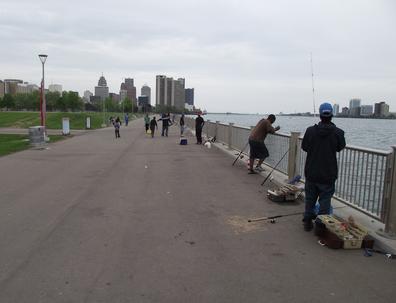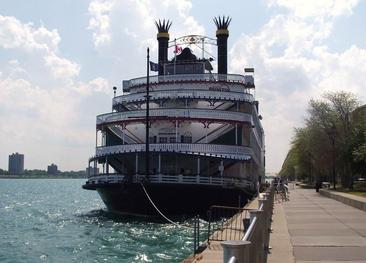 Restaurant/Bar Options

A short detour north will take you to one of two venues between Rivard and Riopelle: Waterfall's Ultralounge and Grille (673 Franklin) or Steve's Soul Food Restaurant (1440 Franklin) for authentic Detroit food.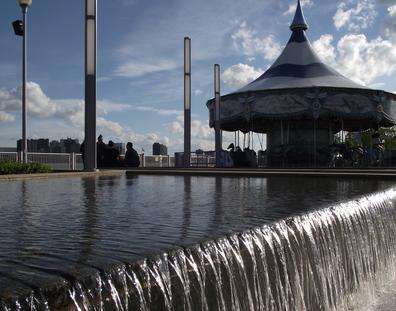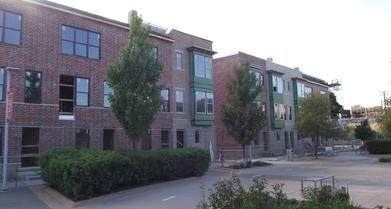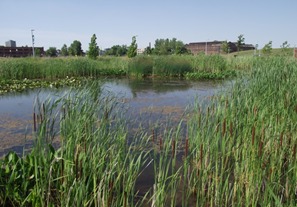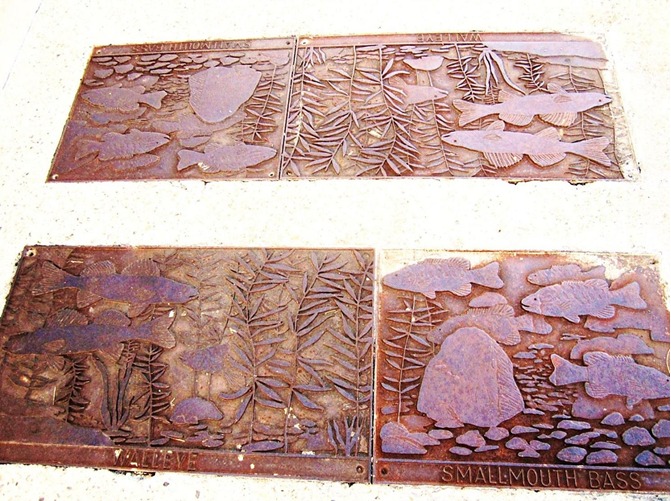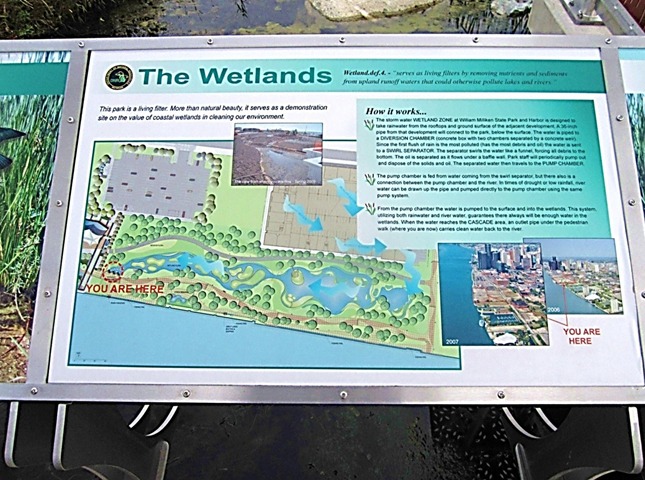 Dry Dock Canal and Harbor Lighthouse (east end of Milliken State Park)
​​​
DETROIT
ENTOURTAINMENT

.

COM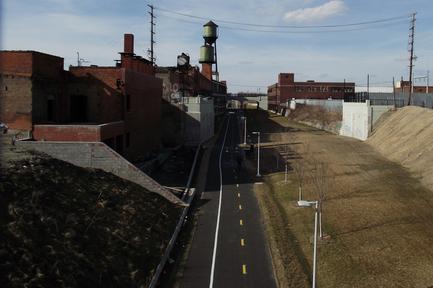 Note: The Cobo Convention Center has made great progress with its $300 million renovations. These changes bring the river to the convention-goers through massive glass galleries.
RiverWalk Fountain Array-Splash Pad -- Renaissance Center
Hart Plaza, with View toward Canada, the River and RiverWalk
​​​​EASTERN MARKET PRODUCE MURAL
The above building marks the southern boundary of Eastern Market nearest to the Dequindre Cut Gratiot exit. The Cut was expanded about a half mile in 2016.



Eastern market is open on Saturday and is considered the largest farmers' market in the nation. It has four large sheds, more than 250 vendor stands, and numerous other attractions within 12 blocks. The market has just announced a massive $300 million, 10-year expansion that will add 150 acres of new facilities to the original 315 acre complex.
Night View of Detroit Princess Riverboat at Hart Plaza with Ambassador Bridge in Background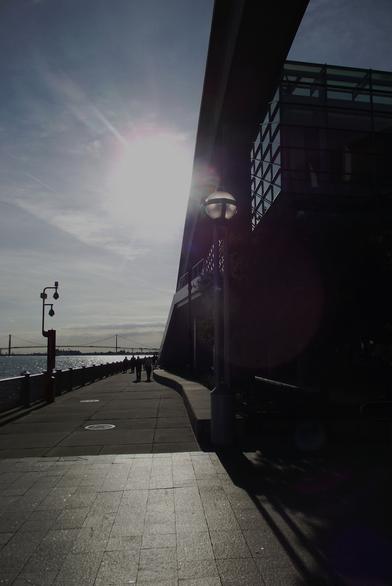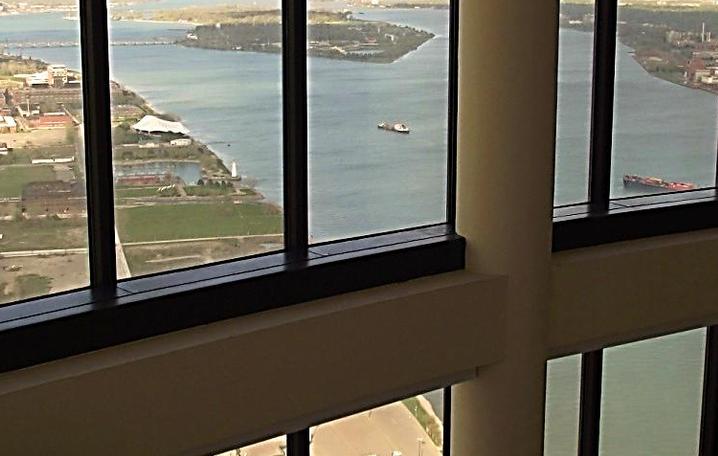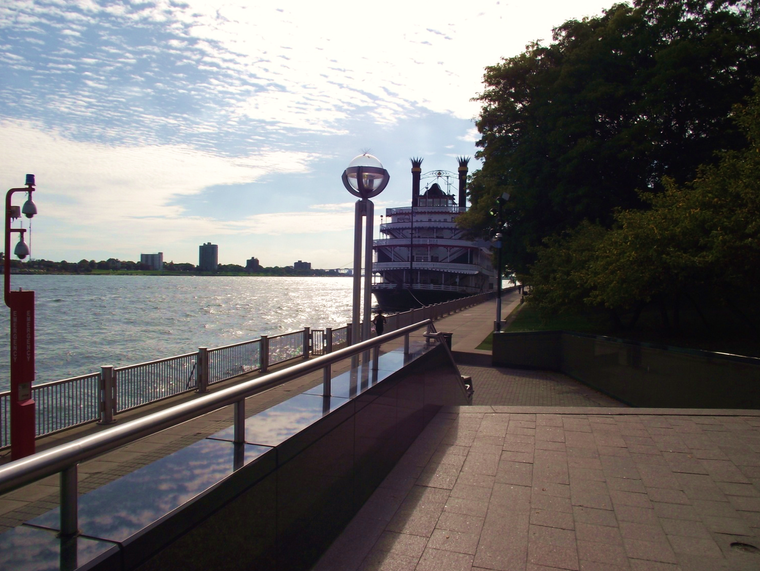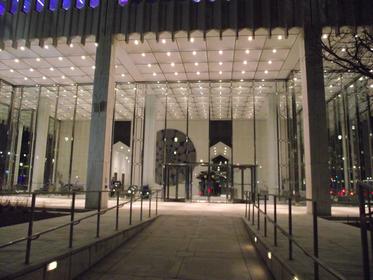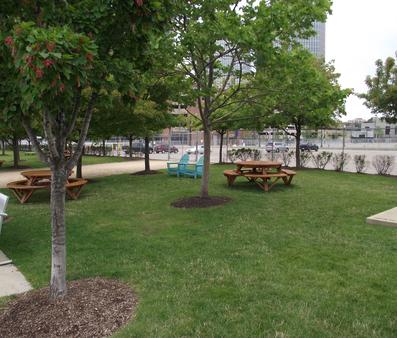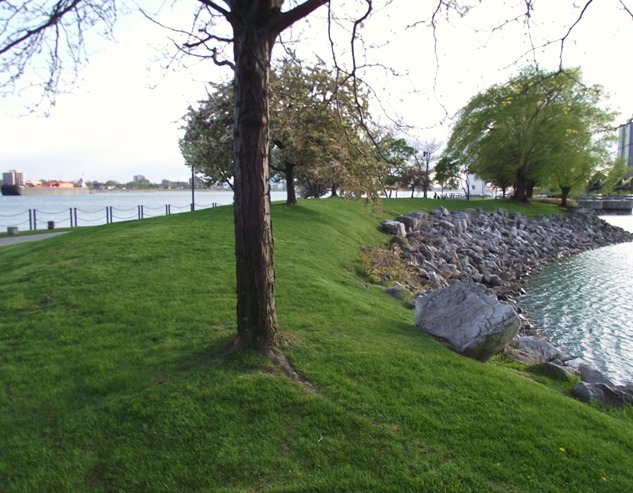 Return to the RiverWalk and head East...

See Chene Park in "10b, Ren Cen, RiverWalk-Cut" (by clicking on that selection at top of this Page)

MARINER'S CHURCH, FRONT ELEVATION
Located at the east end of Hart Plaza, this church is part of the tune, "The Wreck of the Edmund Fitzgerald," by Gordon Lightfoot memorializing the tragic loss of the ship by that name in Lake Superior in 1975.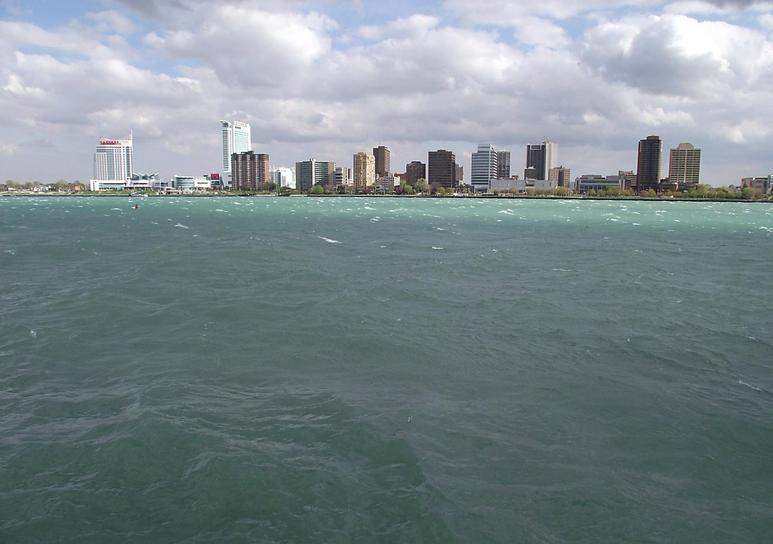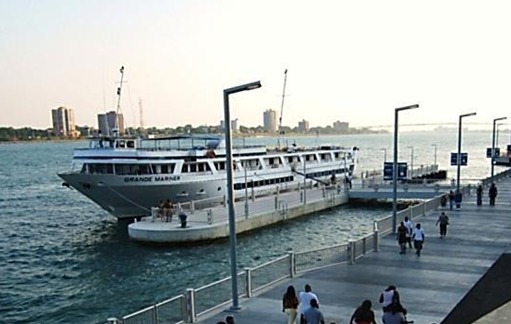 The Lighthouse is a a smaller version of the Tawas City Lighthouse on Lake Huron. At 63 feet it's exactly 9/10 of the original. As you tramp your way to the river, a nautical theme of mast-mounted flags and ship's anchor is featured at the riverside grounds, once known as St. Aubin Park and Marina.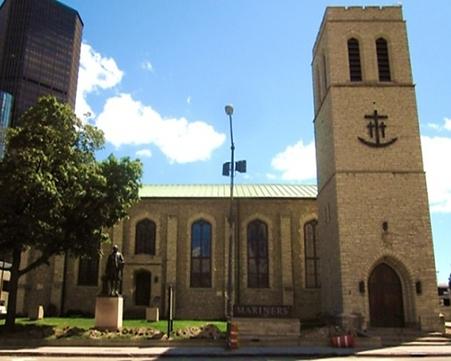 RiverWalk Approach from Station Ramp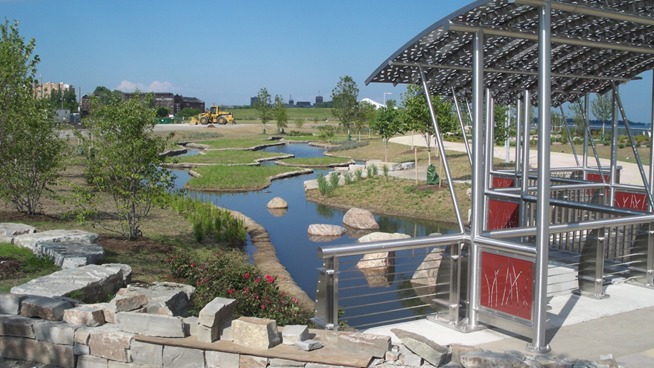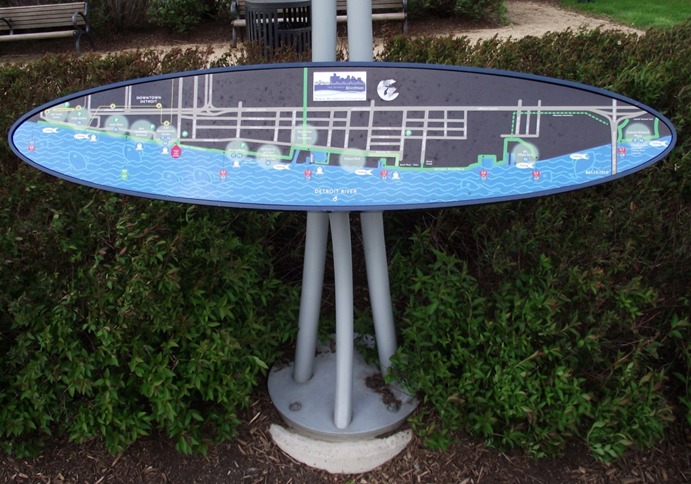 ​​
The eventual network of trails in Detroit will extend 100 miles. The local network will connect with the new Michigan, Iron-Belle Trail, from Detroit's Belle Isle Park to the west Upper Peninsula city of Ironwood, a combined 1,259 miles of interconnected pathways. It will include 774 miles of bicycle trails.

Returning to RiverWalk

​Upon your return to Atwater Street, you can continue past the Cut, east of Milliken State Park, and toward Chene Park Theatre. (Or refer to Eastern Market, Page 12 for details. Note: The Dequindre Cut has an exit ramp at Gratiot but most of Eastern Market's outer buildings are not clearly indicated from a distance. Refer to produce mural photo, left. The Cut now extends through the market to Mack, an additional half mile with more access to the market. Details pending.)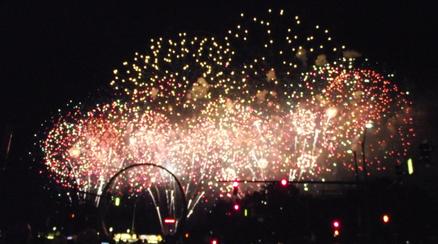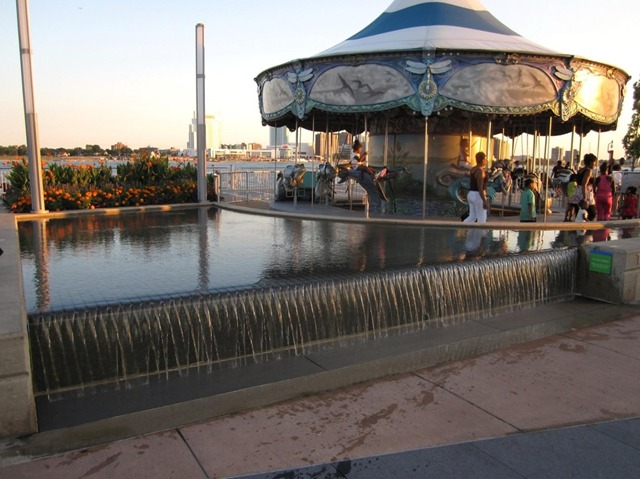 ​
The new Q-Line rail runs from Larned, a block north of the plaza to the New Center, three miles up Woodward.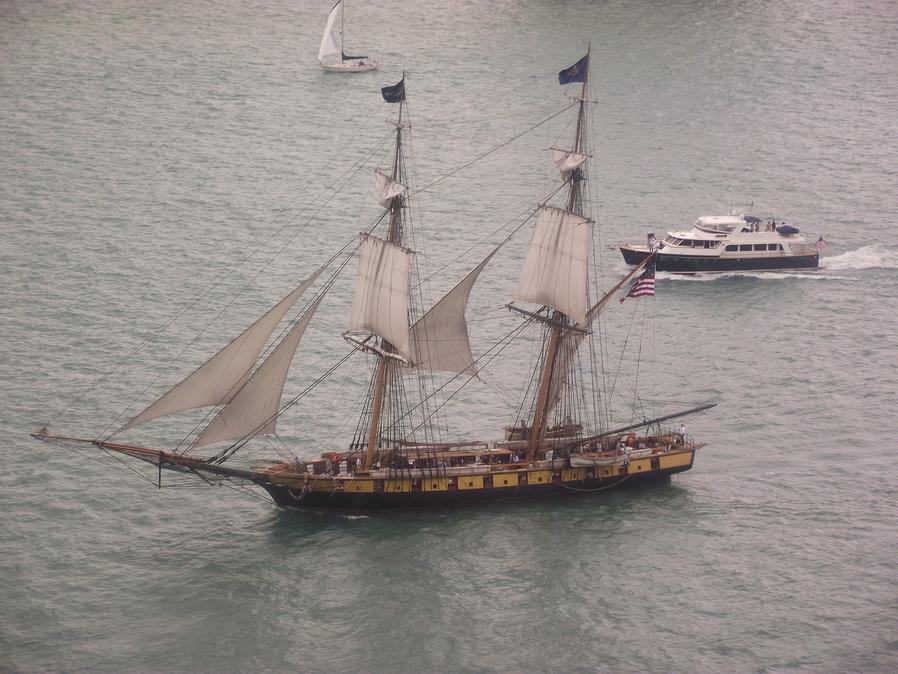 Tours and Information

Wheel House Detroit is located at the north side of the plaza building. It offers bike rentals, repair services, tours, RiverWalk maps and information.
Wetland Interpretive Area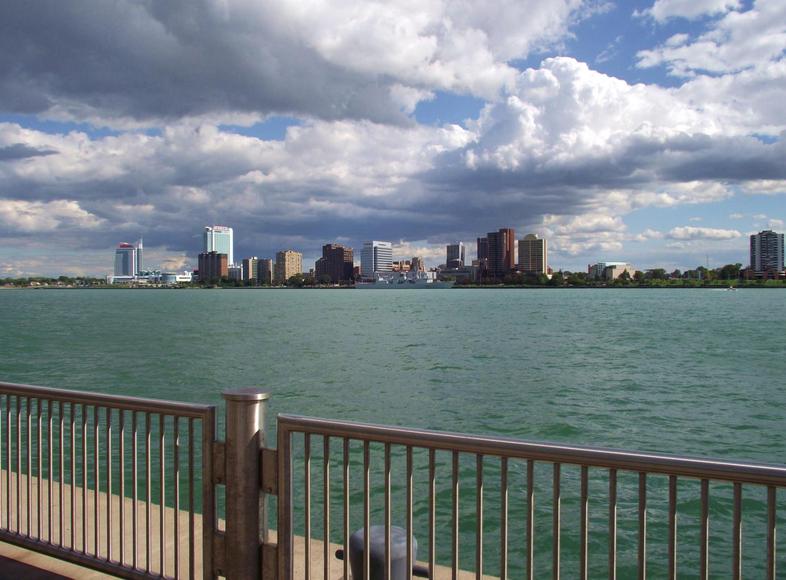 AMBASSADOR BRIDGE CONNECTIONS
This bridge also connects a thriving transportation center in Windsor with an area of Mexicantown in Detroit where Mexican Village and the Vernor Strip are popular tourist areas offering great restaurants. Like Windsor, the area supports many truck depots and freight handling facilities.
The Ambassador Bridge is hung by suspension cables decorated with lighting that casts a warm glow over the river.

William G. Milliken State Park & Harbor Nature Walk
DETROIT PRINCESS
(877-338-2628)
Hart Plaza will be renovated into a GREEN park area. Granite pavers will be replaced with grass.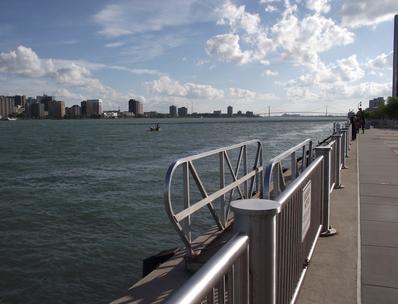 View from the 72nd-73rd Floor toward Belle Isle Park & Lake St. Clair
It opens to the east along Joe Louis Arena, Cobo Convention Center and the former Cobo Arena area.

He could be an ambassador offering a message. Is it a warning or a promise? Or is he some guy from a crime scene fleshed out in brushed steel, shot with holes by rival rum runners? After all, this was Purple Gang turf. The world of artist, John Sauve landed on this place at the river where stands a large monument called "Seinsfrage" (...the question is...). It's transforming this intersection of the urban and the natural into a third realm.
Amphitheatre Stage at start of Detroit International Jazz Festival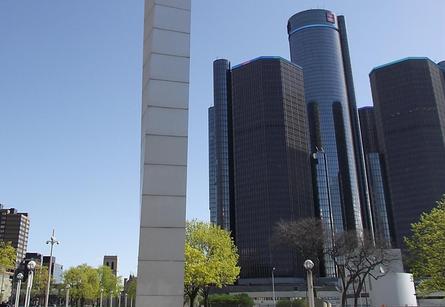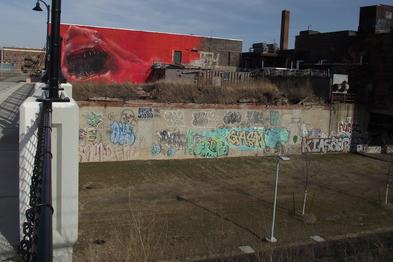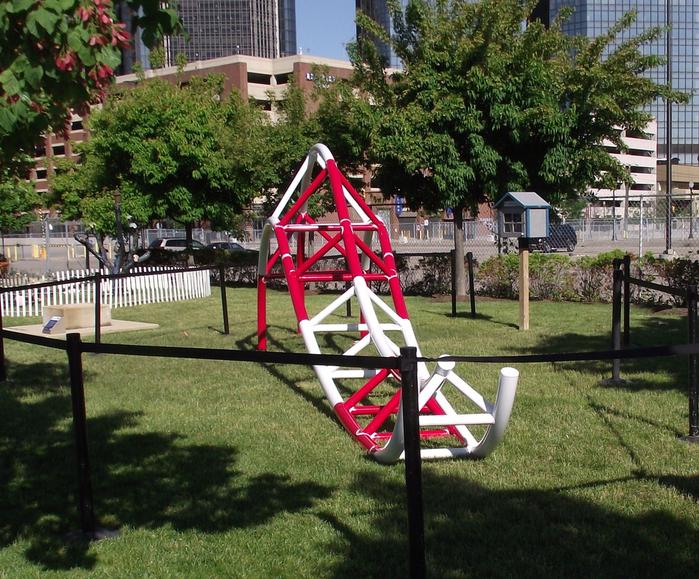 ​
This Page is UNDER CONSTRUCTION Using Another Page as a Template. Please see other completed pages while work continues.



Food, Beverage and Recreation Options

Rivard Plaza provides recreation and refreshment. This is a popular, pavilion seating area providing restrooms and visitor information. Stop at the Wheel House Detroit bike rental, Cafe Classics, Sweets & Treats and Expresso Express counters. Or just take a load off. Rent a bike and finish the tour on wheels, if you like.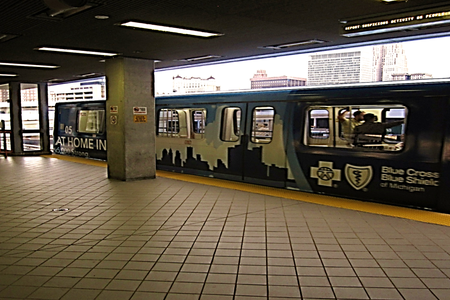 Wetland Streams and Ponds under Construction, Summer 2009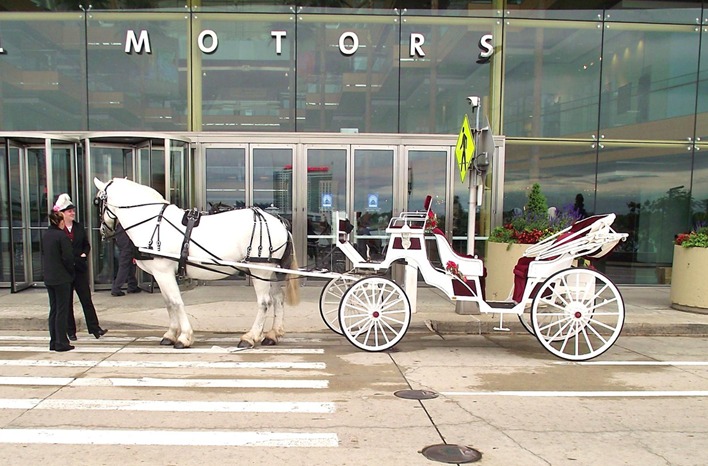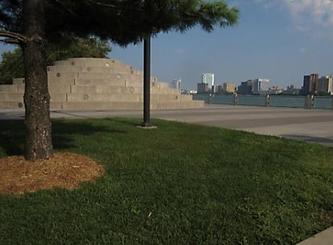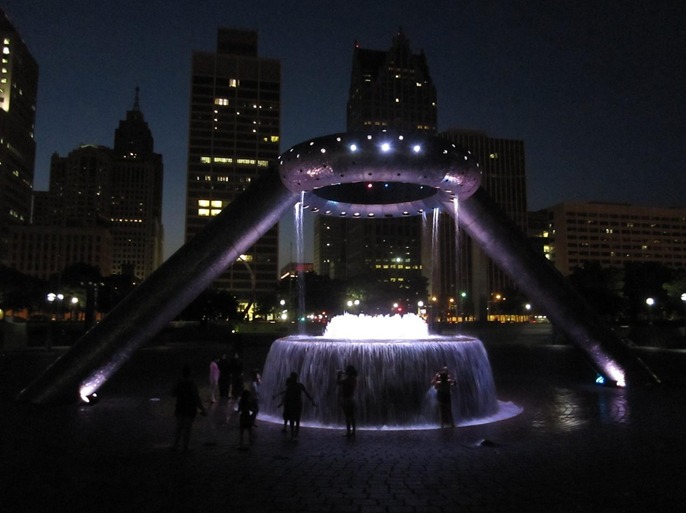 MUSKRAT DEN
Muskrats have colonized several ponds in the Milliken State Park area. An effort was made to keep them out, but now they're in nearly every pond. (Their presence, though makes the park more authentic, much like the original intent.)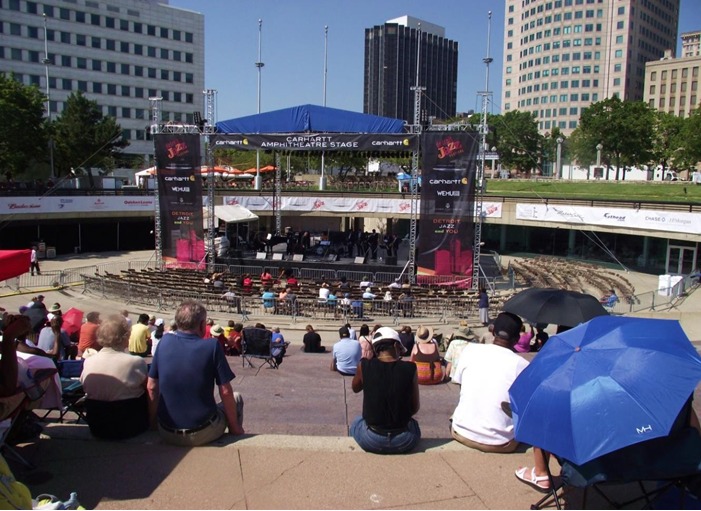 Two landscaped berms are expertly planted in the summer and fall with eye catching flowers by pools that gush over ledges on long spillways (Boll Family Fountains). A colorful carousel of fantasy fish, birds and mermaids revolves to old-time carnival music.
Evening at the Harbor, View West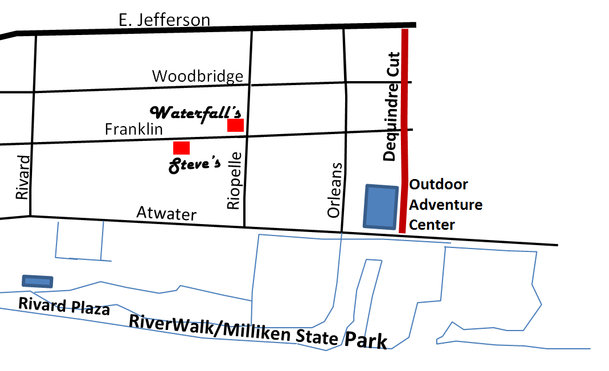 Shoreline Views of the Lighthouse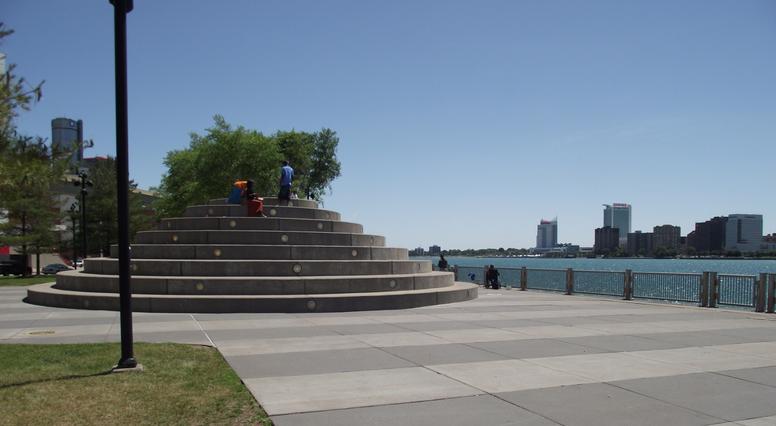 Diamond Belle arriving at Rivard Plaza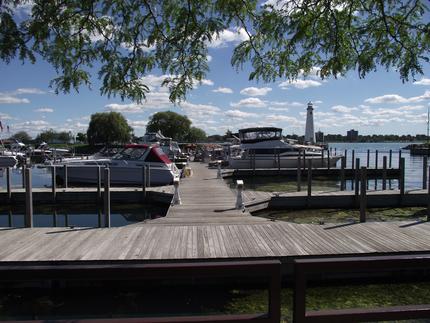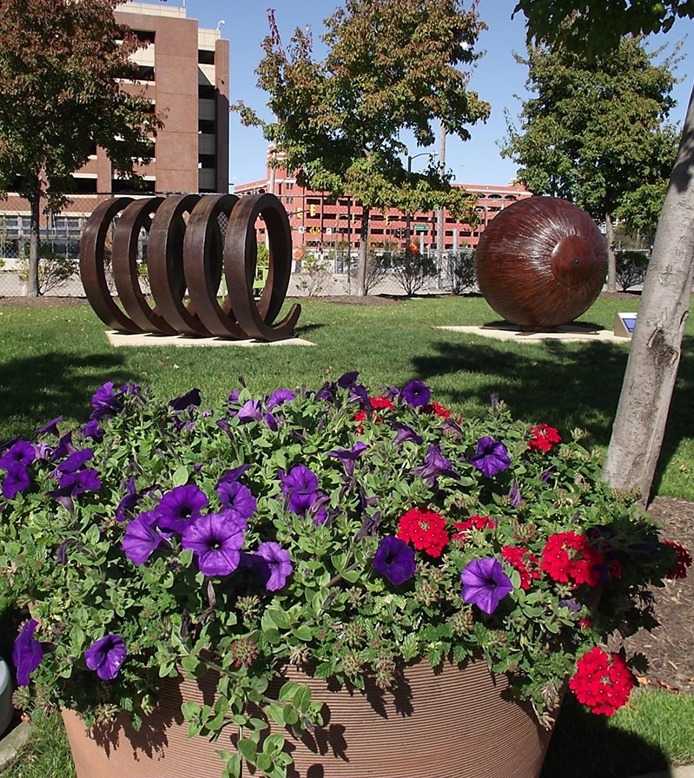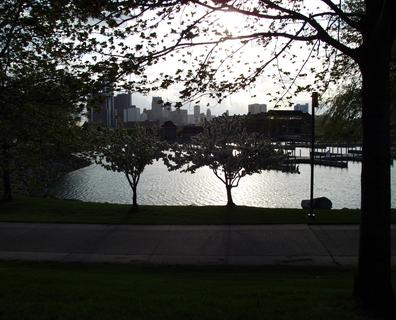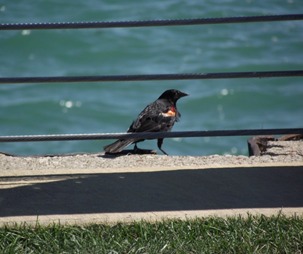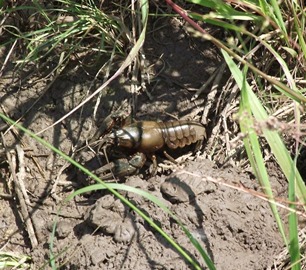 A less "Spacy" Noguchi Fountain, foreground

(Skyscrapers left to right: Madden Building, Buhl Building, the stepped Penobscot Building (background), One Woodward Avenue, Detroit One Center, Coleman Young Municipal Center)
Tours

√Rec

The Diamond Belle and Diamond Queen pick up passengers for unreserved riverboat tours here.
THE UNDERGROUND RAILROAD
The Underground Railroad was not a physical railroad. Instead it was a route followed by escaped slaves connected by safe-houses, churches and abolitionist societies where slaves were hid.



This secret route or "Underground" safely directed slaves to Canada where no one honored the Fugitive Slave Act.



One of the earliest and most successful underground routes was through Detroit to Windsor even though there were politicians in the area who upheld the southern slave laws.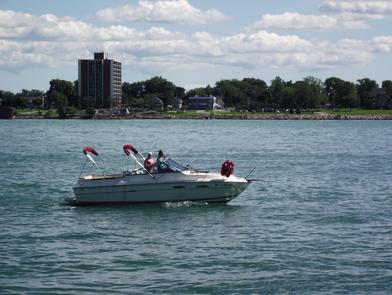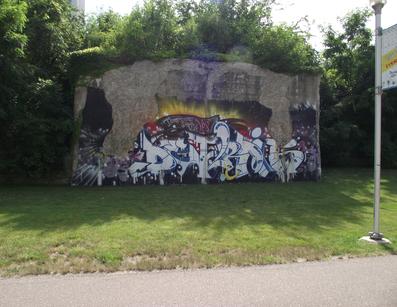 View West of Hart Plaza Approach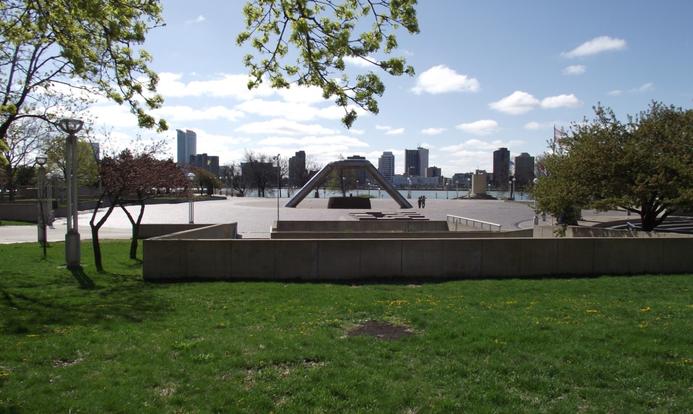 A ledge and ramp lead to Joe Louis Arena from the Walk pavement.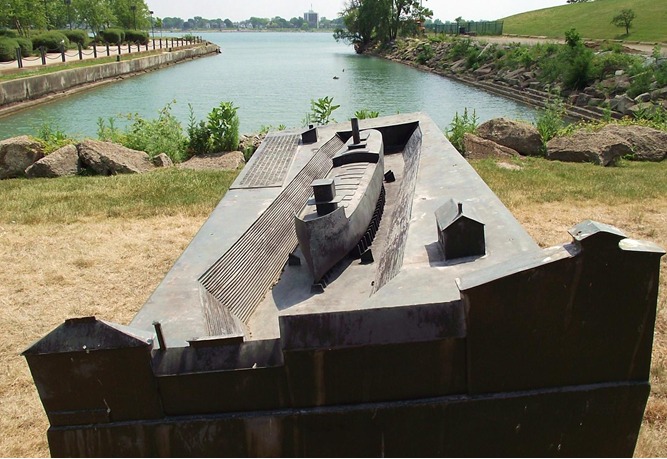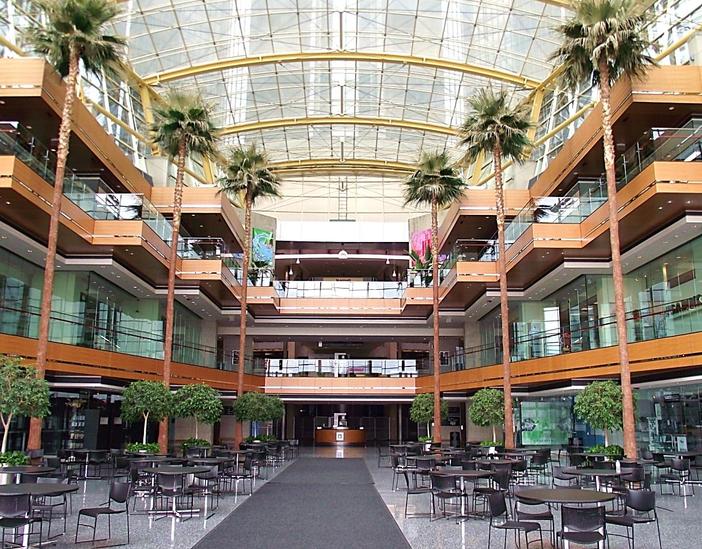 Atwater Street to Dequindre Cut Entrance (across from Milliken State Park)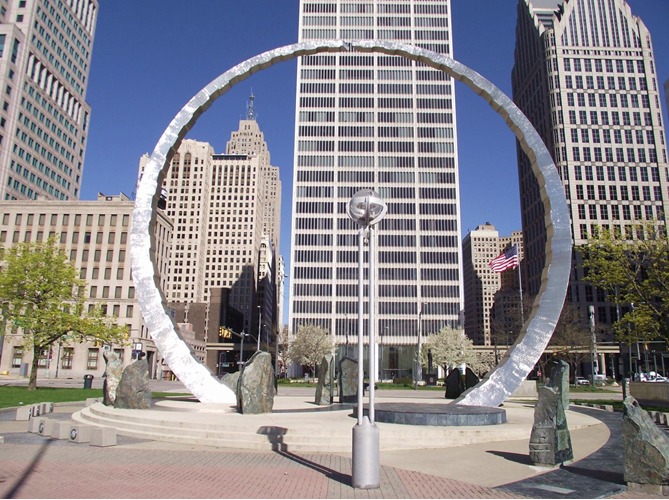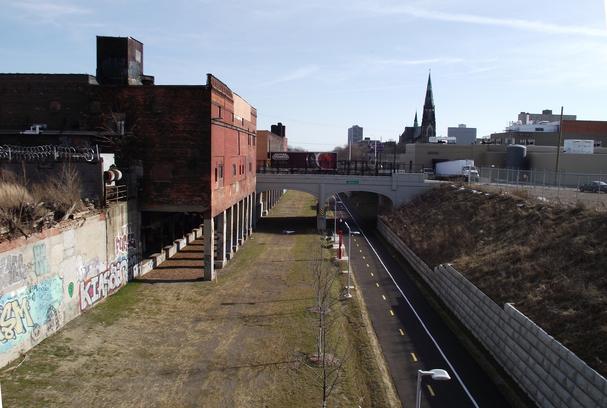 MYSTERIOUS MOONLIT WATERS
Perhaps this image won't convey the impression of all the river's churning cross currents and reflections. (You had to be there.)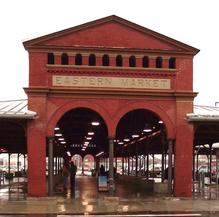 A broad sidewalk (shown on photo, right) parallels Atwater Street. Continue following that east, if on foot or climb the adjacent Harbor Hill and take a break.
​
WEST-SIDE WALK PRIOR TO RENOVATION
Detroit is undergoing a radical transformation on the waterfront. The city's shore has become a gathering place for the family, fishermen and visitors alike, offering tremendous beauty and options for exploration.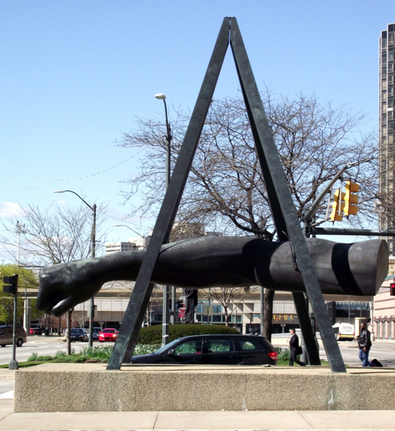 Atwater Street Portion of RiverWalk adjoinging Milliken State Park Harbor Area
RiverWalk Map through Chene Park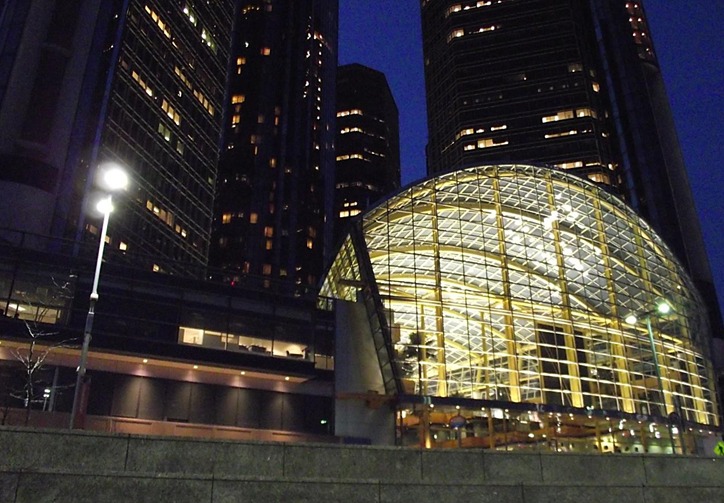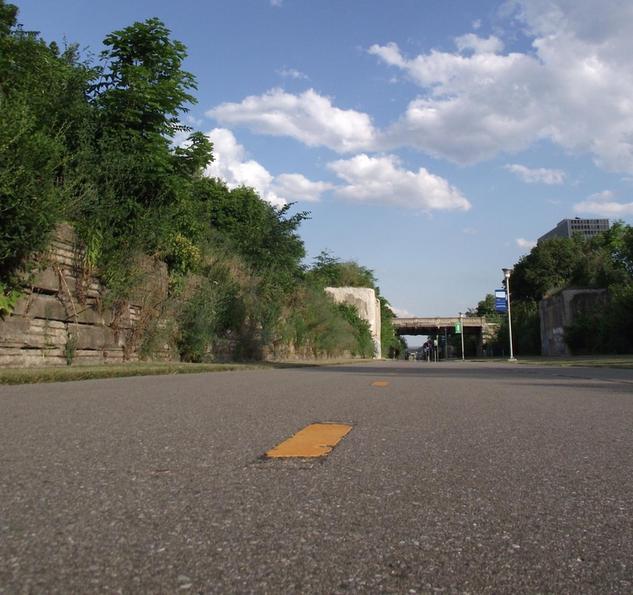 Atop Harbor Hill, facing east -- across from the Outdoor Adventure Center
"Space Doughnut" Revelers Cooling Off in the Fountain on a Hot July Night
Gratiot Exit (just south of Eastern Market)
Landscaped Lighting Area, Fall
​​​​
NEW EASTERN MARKET MURAL
​

Detroit is experiencing explosive growth in artwork. Contests and shows continue unabated throughout Downtown, Mexicantown, Midtown, Corktown, and Eastern Market. The market recently held an invitational art mural painting exhibition. Numerous displays decorate buildings, and still more artists come to Motown to celebrate their expression.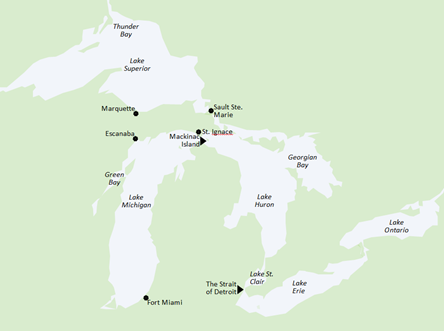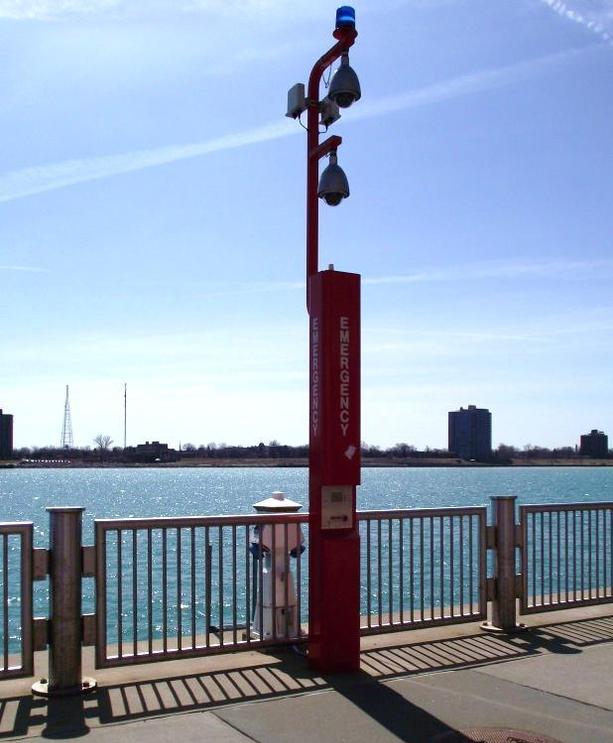 Pocket Park Hedgerows and Artwork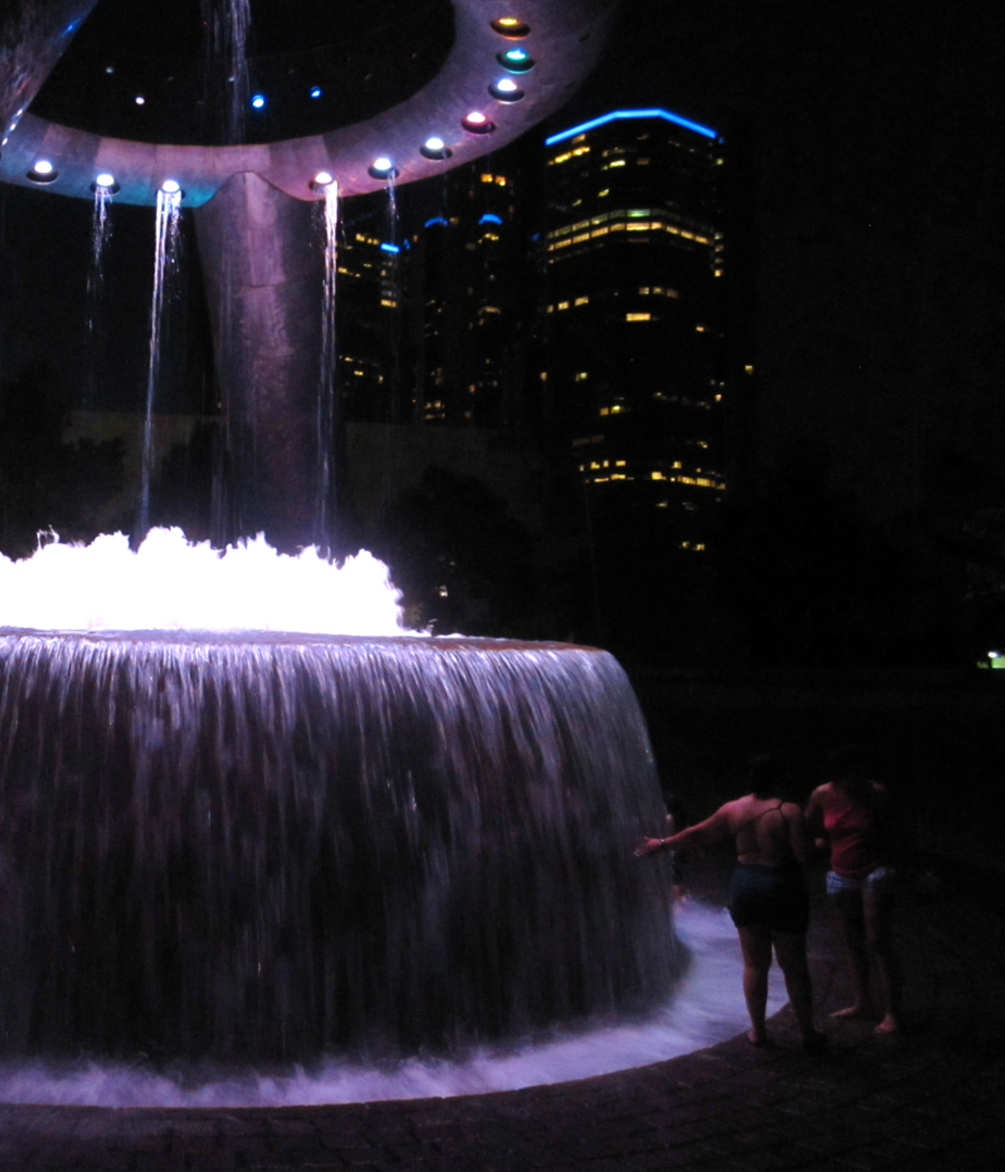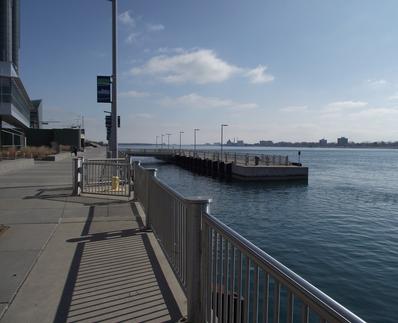 People Mover Stairway Ramp with a Hearty Welcome from Detroit Mayor
(Mayor Duggan was elected in 2013)
DETROIT'S DOWNTOWN AND MIDTOWN
At one time Detroit had only one large, loosely defined Downtown. Later, Downtown was divided from Midtown at the I-75 freeway. For comparison, Detroit's compact Downtown is about 35% as big as New York's while its Midtown is nearly 75% as large. Both pale in comparison to New York's building frontage due to abandonment and a near absence of growth since the 1960's. (But the areas are coming back with major investment.)



Detroit's unique, angular Downtown streets are very European in layout, while its broad boulevards follow familiar Midwest American design cues. Downtown contains
the Central Business District, the Civic Center, several live theatres, three professional sports stadiums, the elevated People Mover tour tram and two of Detroit's three casinos. Bike lending corrals offer a convenient way to see Downtown.
​

Midtown contains the Cultural Center, numerous fine museums including the superlative DIA, as well as Wayne State, the Medical Center, several more live theatres, a third casino and one of nation's largest farmers' markets. The new LCA Arena was built here as part of a giant entertainment center called District Detroit, which will boast five new neighborhoods surpassing Greenwich Village in size.
Windsor across the river is increasingly considered part of Detroit entertainment and is accessible by tunnel. Its own large casino is visible from the river, providing a fourth gambling venue locally. Many fine Windsor restaurants spice up the international flavor of Motown.



Downtown, Midtown and New Center are now linked by the Q-Line rail on Woodward.
Restrooms, Drinking Fountains & Picnic Areas

. You can find restrooms and drinking fountains on the west side of this facility and plenty of places to picnic with a view of the river.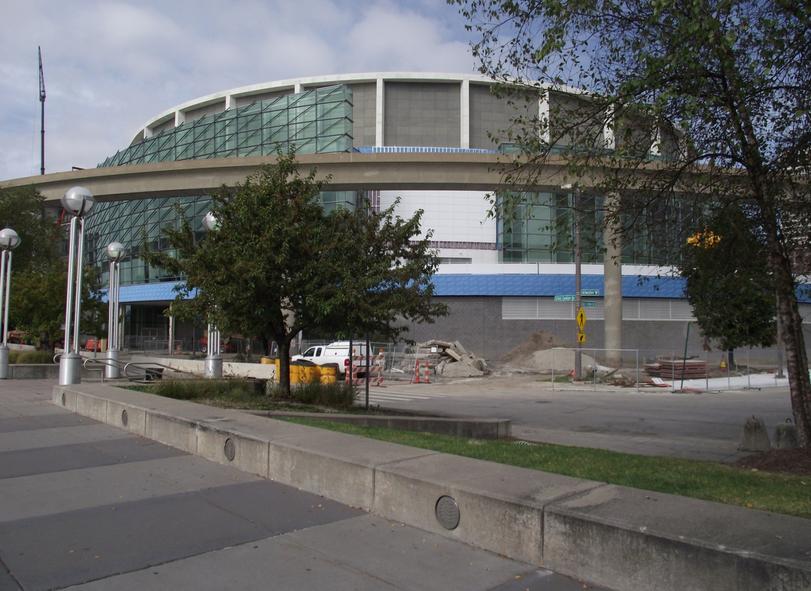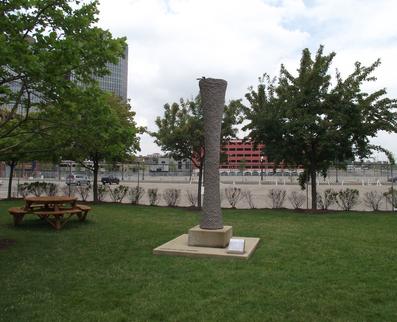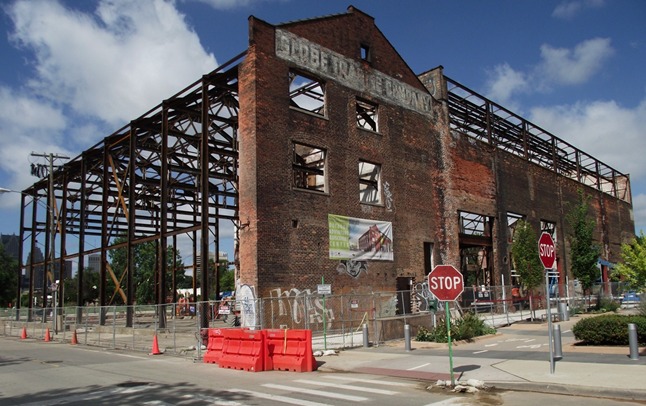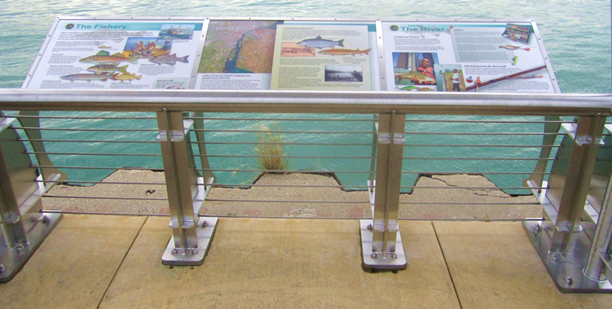 Hart Plaza, with View toward Downtown from RiverWalk Entrance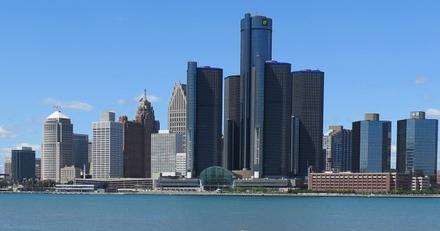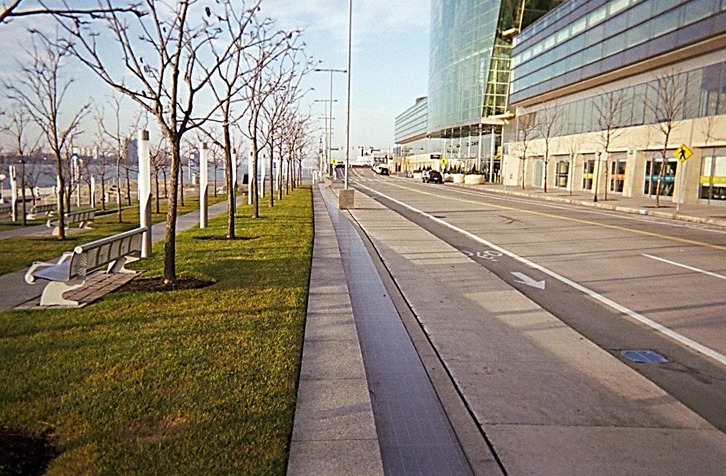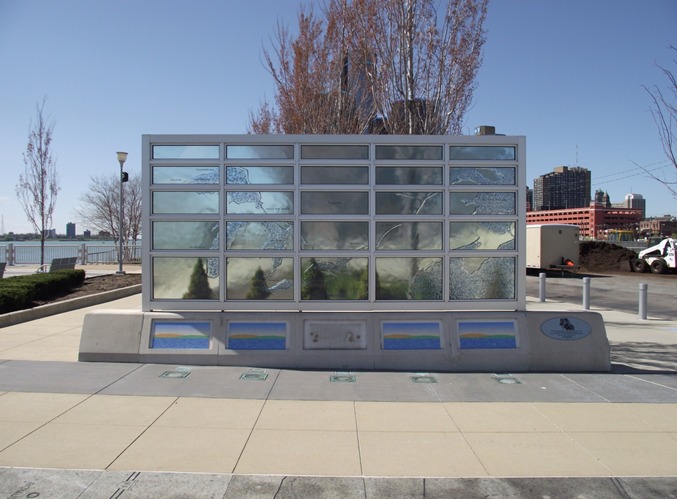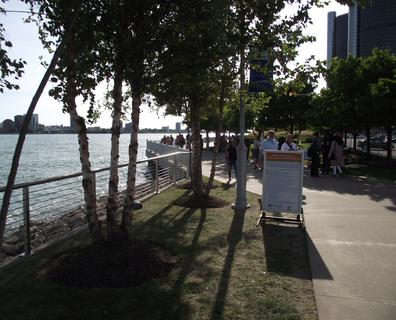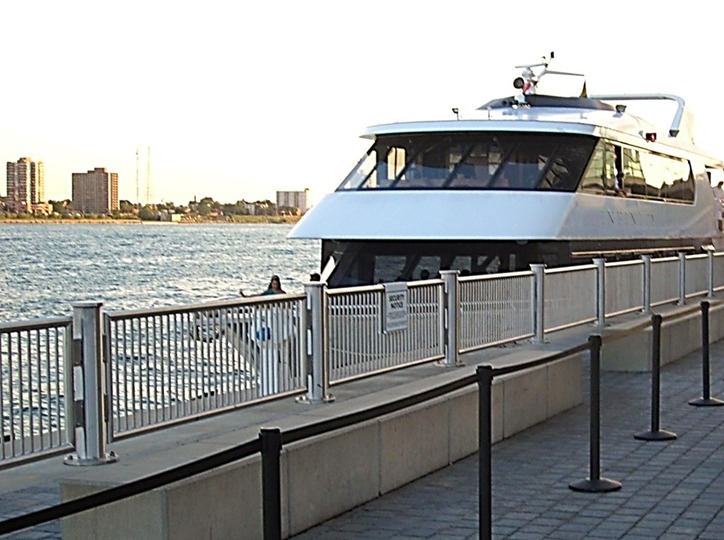 This portion of the Walk follows the street east, past the hill, dredged from the riverbed.
Local History
Milliken State Park is part reliquary of the Globe Trading Company dry dock canal, and a kind of spa for lake freighters that docked Downtown. The canal's water was sealed off and water was pumped away so ships could be re-fitted and re-stocked for the next voyage.

Milliken State park Harbor, Picnic Area, Facilities and Lighthouse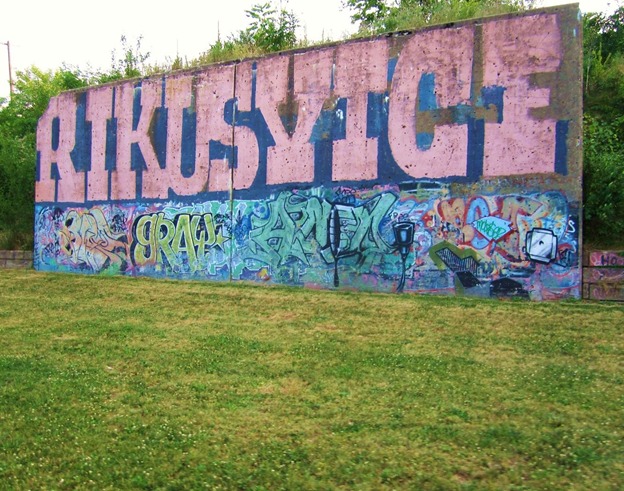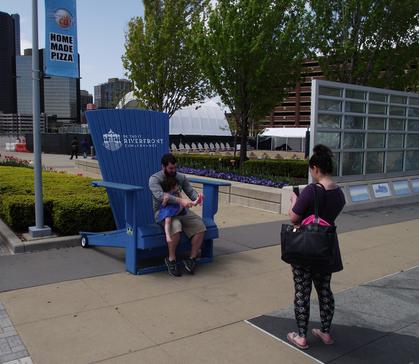 As you approach the riverside from the station stairway ramp, you'll cross a pine grove
"TAKE ONE, LEAVE ONE LIBRARY"
(Book Lending Nook)
These appear to be large birdhouses. But if you look closer you'll discover there are books stored inside the front door for the convenience of a stroller who might like to sit and read.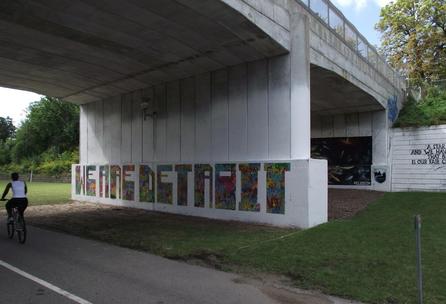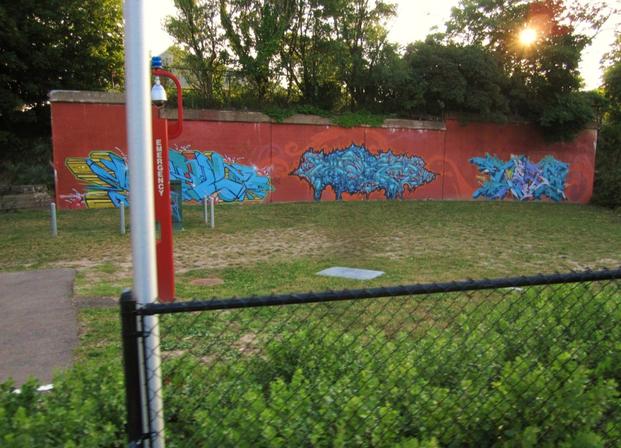 DETROIT'S FABLED DECLINE
A return to nature finds the city in a stunning role reversal. In 1950 it was the world's greatest industrial center, and the nation's richest metropolis. As the fourth largest city, this cosmopolitan giant of 1.85 million was the middle class miracle that built museums, theatres, a record number of homes, and unrivaled infrastructure.



While the cultural legacy remains at the core, vast swathes of urban abandonment make isolated landmarks rise from the meadows like prairie towns. The population today ranks number 24, and may not exceed 670,000. (Detroit's population may have reached just shy of 2 million by 1951-54 due to a surge in southern migrants before a precipitous slide).



​ (Note: According to American FactFinder, Detroit's 2014 population was 680,250. But that is no certainty. While Downtown and Midtown have grown by more than 10,000 residents in the last several years due to new businesses and office transplants other areas lost population. However, this loss appears to have slowed to a trickle.
(I reported a lower population figure in an earlier iteration of this site. Detroit rapidly changes. Portions of the city are growing while others continue to decline making the figures difficult to track. The city has dropped in ranking in the last few years from number 18 to 24. It's the first time Motown has ranked lower than the top 20 urban areas since 1850. (The metropolitan area as a whole is increasingly robust, however, and investment in the business district of the city-proper is so intense it is starting to spread to the surrounding neighborhoods for the first time.

....from the Author.)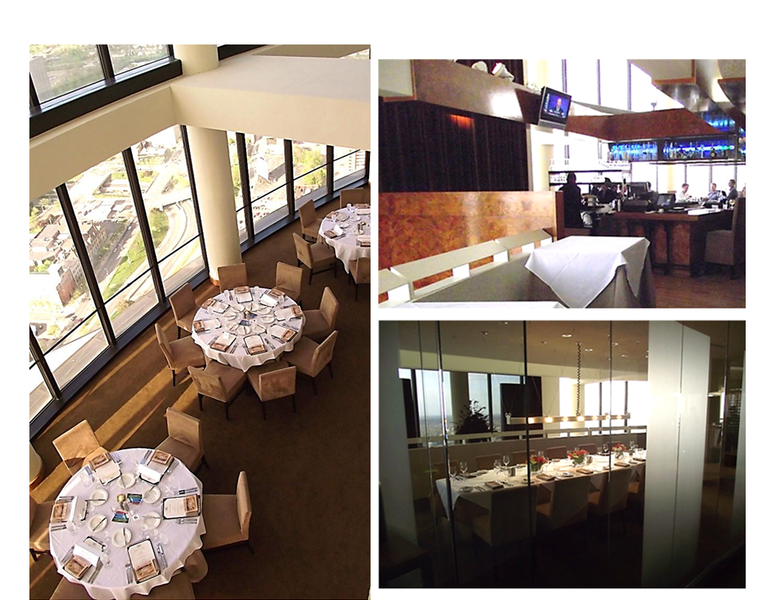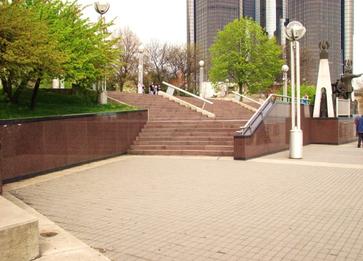 How to use this Page:

This page . ENJOY THE MOTOR CITY AND HAVE A PLEASANT STAY!
This location includes a 200 ft. fountain array that erupts with shifting sprays of water, delighting kids -- who can't resist splashing through it --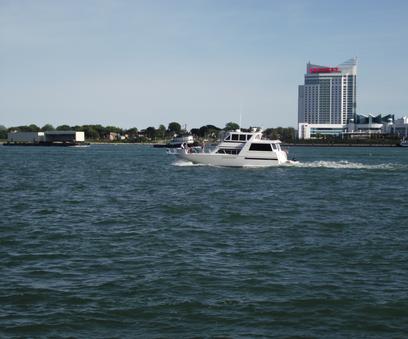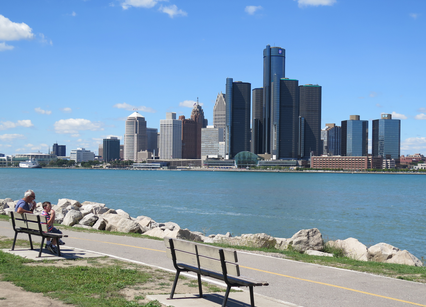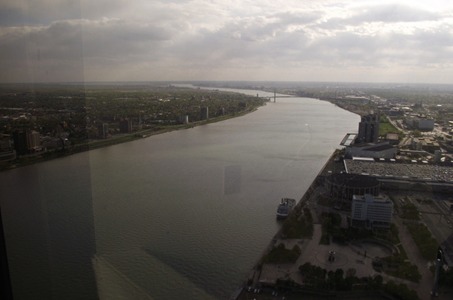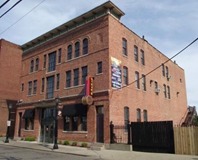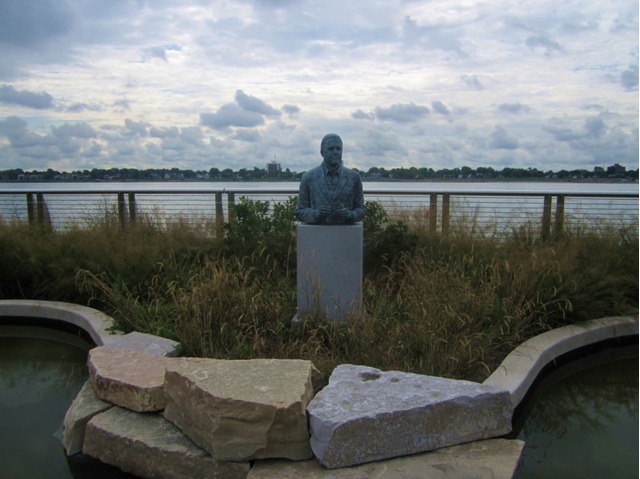 Numerous visual aids guide you through the area's attractions and wildlife.
Continue your walk toward Rivard Plaza and a comfortable rest area.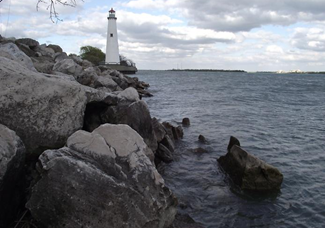 Other attractions include the Labor Union, Ring of Transcending (or the "Pinky Ring," if preferred), the DNA monolith

or Pylon (which resembles a "swizzle stick"),
Dequindre Cut Entrance and Exit Ramp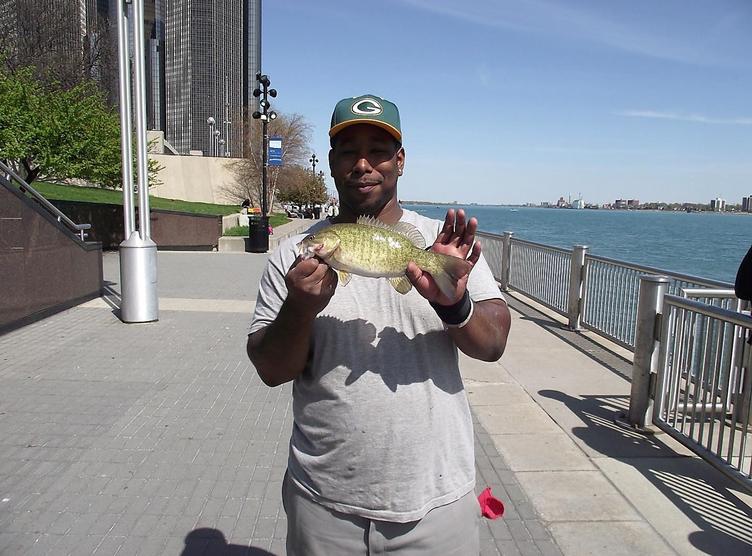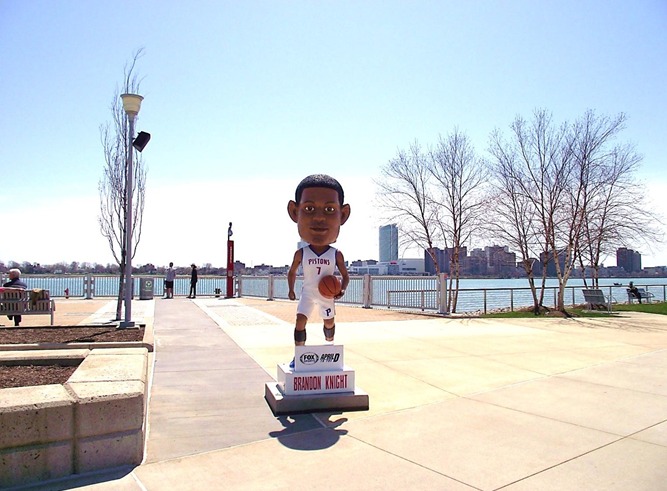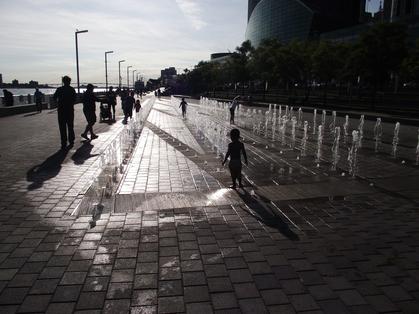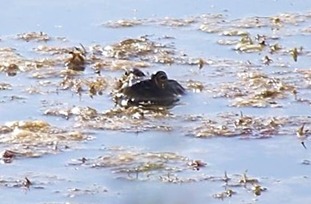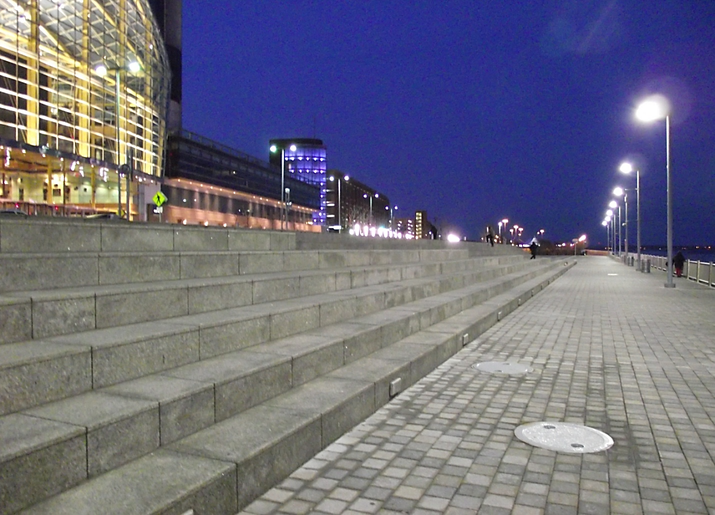 SNAPSHOT The Dequindre Cut links the RiverWalk to Eastern Market with a 1.75 mile pathway, and is part of the expanding Detroit Greenway project, eventually connecting 100 miles of trails through a program called Link Detroit. More rail conversions in neighboring Hamtramck will integrate with those in Detroit through the Rails to Trails program.



The Cut is a former railroad line that runs below grade with roads passing over and ramps leading out.
Rivard Plaza Refreshment Area and Seating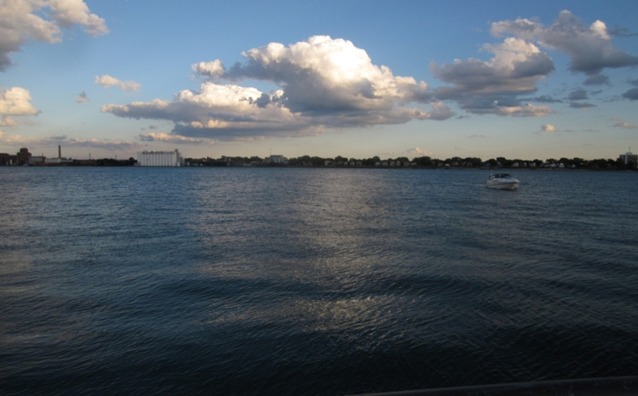 Along the sidewalk at the eastern edge of the nature area, stands a tall steel figure with fedora who beckons you.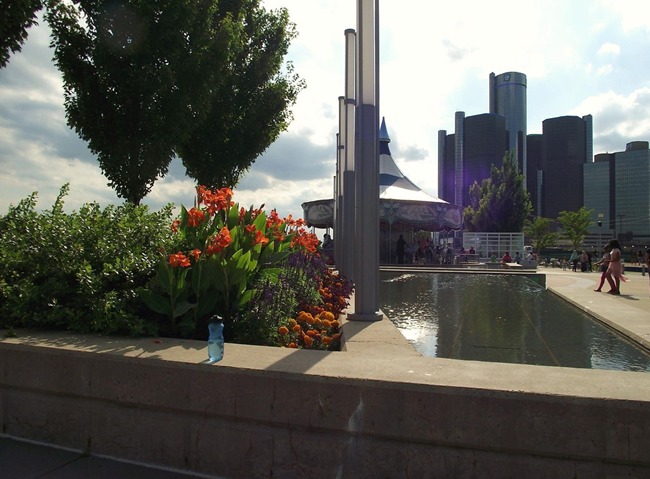 Passengers Disembarking Diamond Belle
​
Stop for a moment and take a gander at a lifelike statue honoring Peter Stroh, longtime Detroit philanthropist, at the riverside location.
Local History
Stroh's Beer Company was established in Germany in 1775, and then in Detroit in 1850, where it was a popular Detroit-made brew. It was sold to Pabst more than a decade ago.
Mr. Stroh's likeness protrudes waist-high from a solid block of granite. A low-profile fisherman's rail with interpretive areas, offers you and fishermen a survey of the river. One location provides binoculars.

Lily Landscape (exit to Lafayette Street)
The Main Amphitheatre: One of Three Existing Stage Areas at Hart Plaza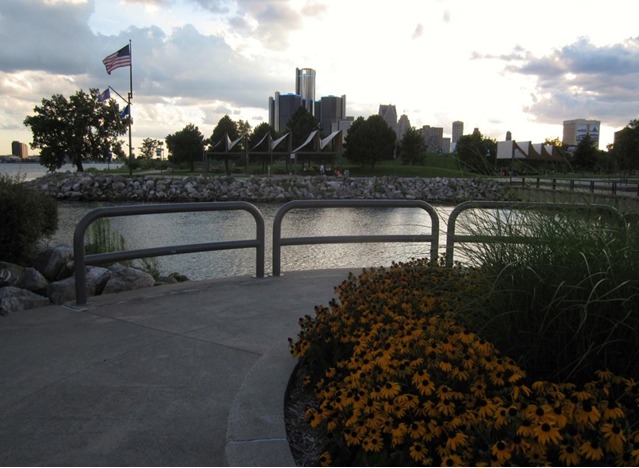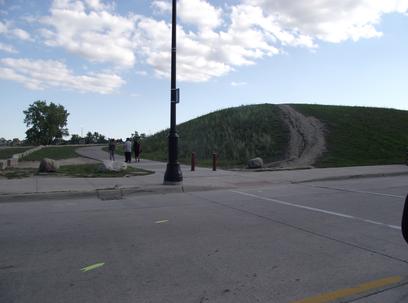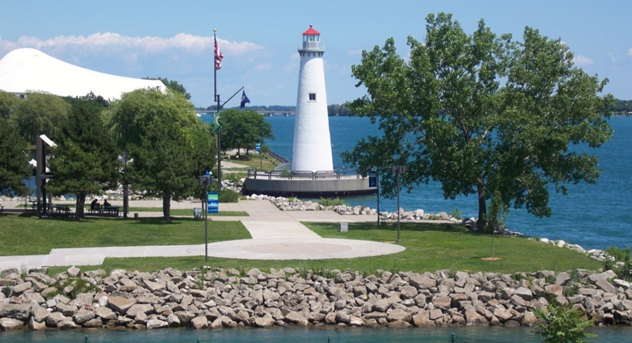 RiverWalk Map through Milliken State Park, Harbor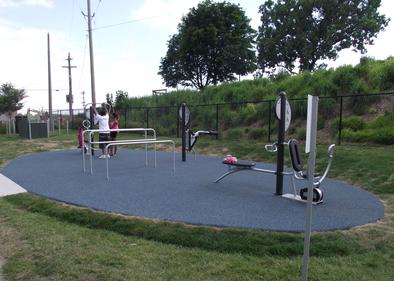 (One day a travelling puppet show appeared in the Cut.)


The Cut's concrete viaducts are scribbled with graffiti or work by artists who paint over every available patch for bragging rights. Rain washes the Urban Glyphs away and a new contest starts. Artists win this trump. Who's next?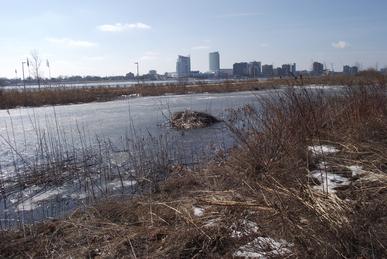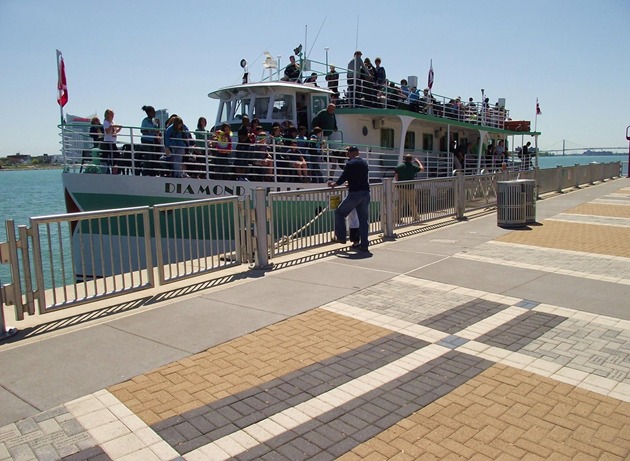 West Warehouse District Restaurant Map (area north of Rivard Plaza and RiverWalk)
Many wedding receptions are held near the RiverWalk. Here a carriage awaits -- big diapered horse included.
Note: The Ambassador Bridge was built in 1929 to improve traffic
to Windsor. It will be joined by a new bridge further west in a few years.
Tunnels under the river connect downtown Detroit
to Windsor via America's busiest border crossing by commercial tonnage.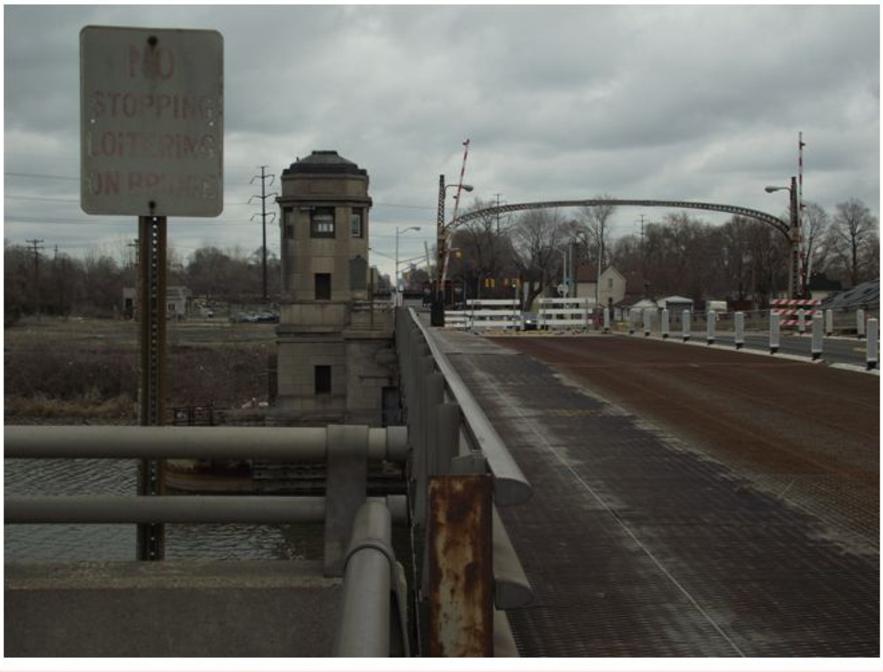 View toward Windsor from Hart Plaza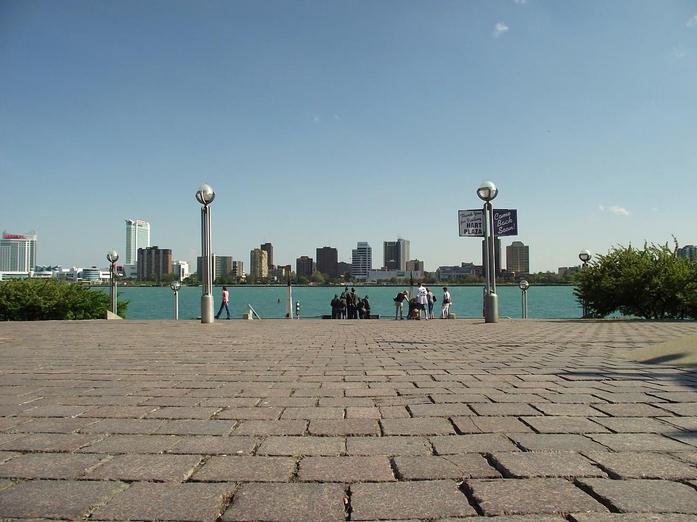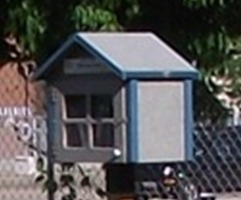 Light breezes breathe fresh air through a harbor under silver skies.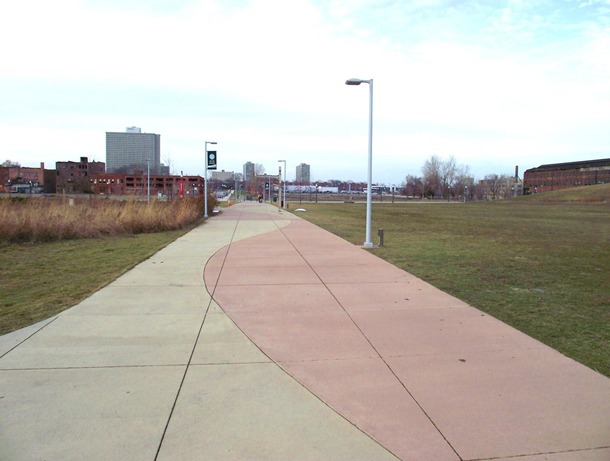 Harbor Hill and Grounds undergoing Bike Trail Landscaping, September 2013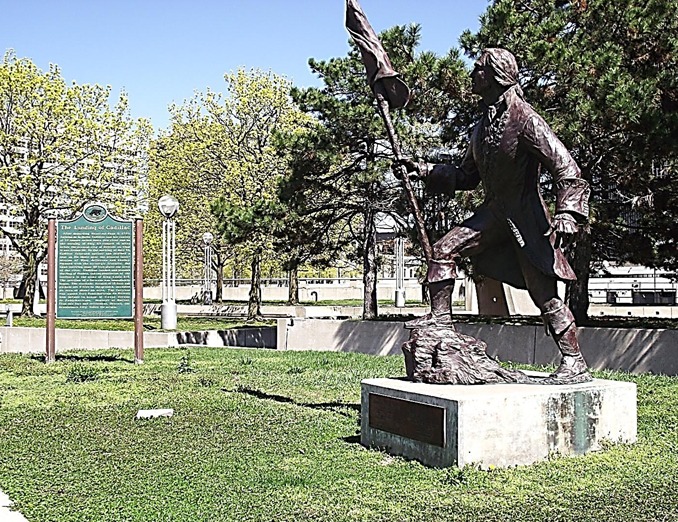 ​
WEST RIVERWALK VIEW TOWARD DOWNTOWN
Several large concerts have already been performed on the lawn adjoning the west RiverWalk.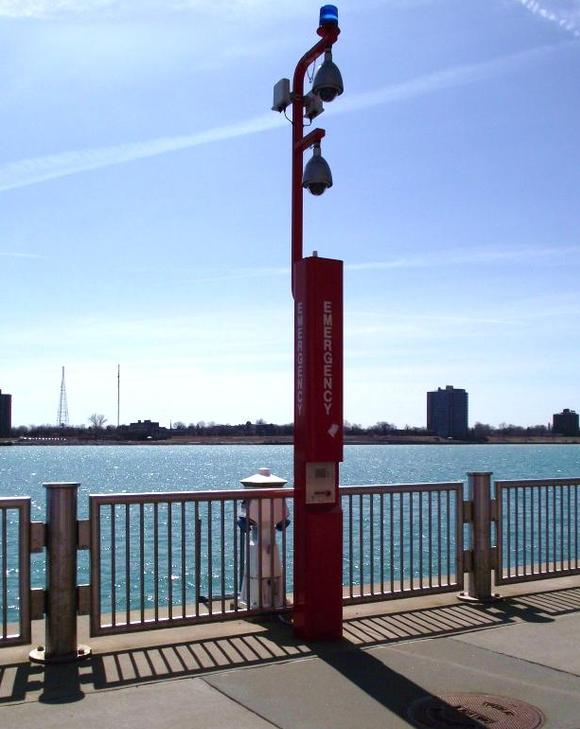 Unobstructed View East toward Belle Isle Park and Lake St. Clair, Zoom Advance
(Lake St. Clair & Anchor Bay are about 430 sq. miles)
Note: Cloud cover can be seen overhanging
the lake's horizon line....Classic arched
MacArthur Bridge at left. Tug and barge
are moored in center of river.
Statues of Underground Railroad travelers are perched on a RiverWalk overlook. Detroit was a major stop for escaped slaves heading to Canada until the Emancipation Proclamation in 1863. Former slave, Thornton Blackburn established the first major escape route to Canada in 1831.
This section contains donor-engraved brick pavers honoring contributors to the RiverWalk project.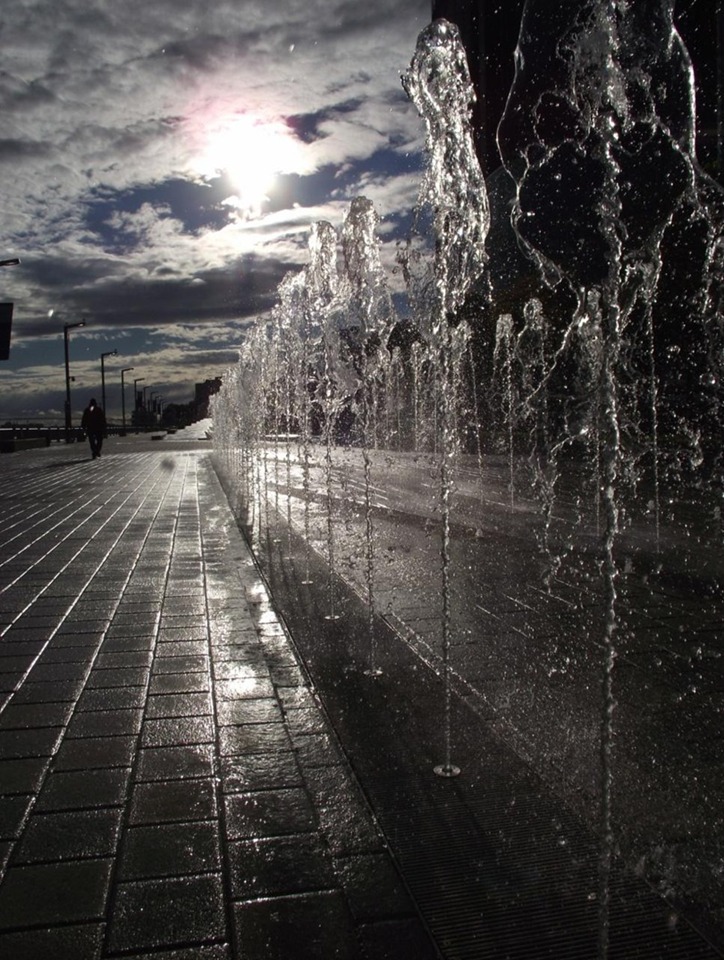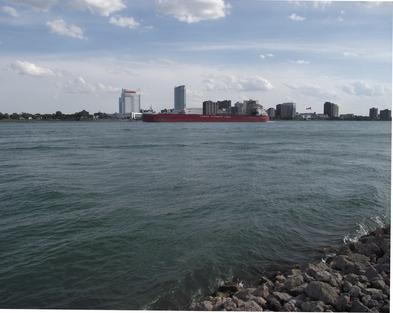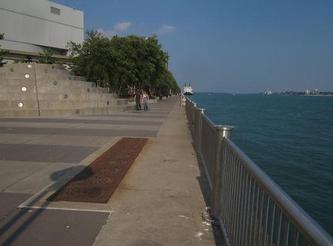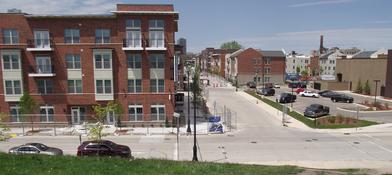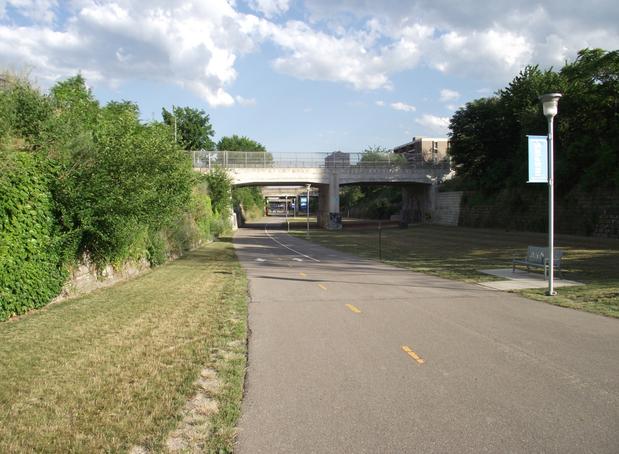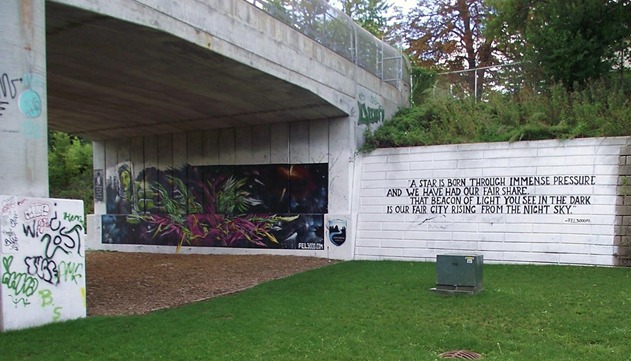 Wavelike Berm and River Birch in front of Cobo Convention Center, Winter
Outdoor Adventure Center, Southwest Corner under Construction, November 2013
​
DETROIT RIVERWALK, ONE OF SIX
"BEST CITY WALKS"
IN WORLD!
London's Guardian ranked the Detroit RiverWalk among the six best city walks worldwide after readers were asked to recommend their favorite locations.

Daniel Gilmartin added that at Detroit's RiverWalk, "Excitement and energy are all around."

(Detroit News, August 16, 2016.)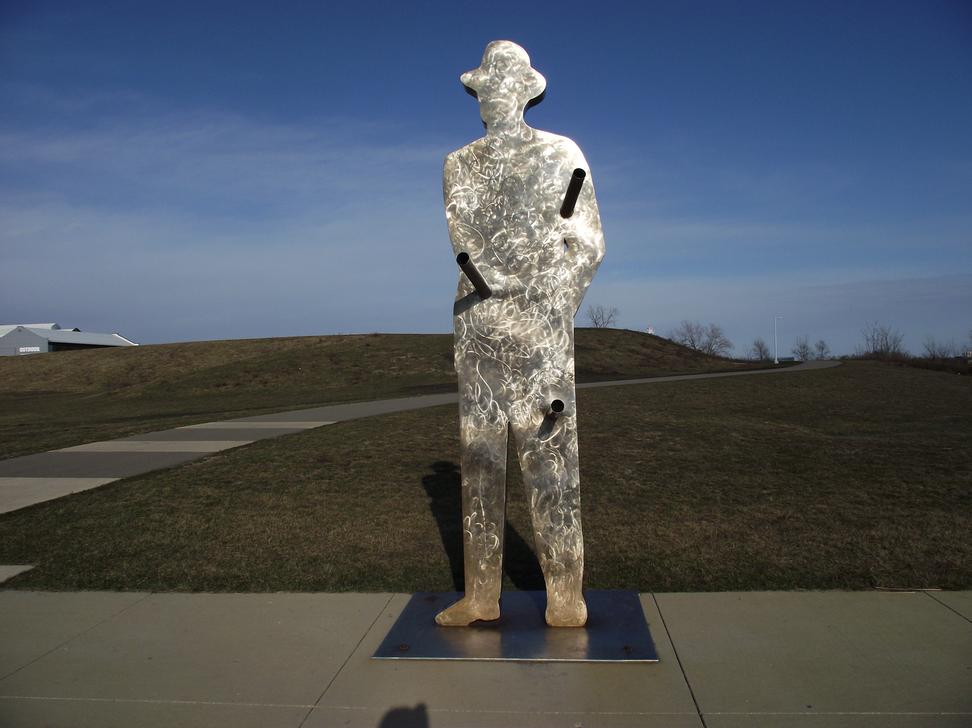 Stroll for another quarter mile on 18 feet of pavement landscaped with River Birches, mini-parks and benches. These are decorated by hedgerows of ornamental grasses, festooned with large, flower-filled vases set among ground cover and pea gravel.
Nature Trail Bridges, Spring 2013
​​​
NEW

Q-LINE RAIL Many would prefer the name, "Soul Train."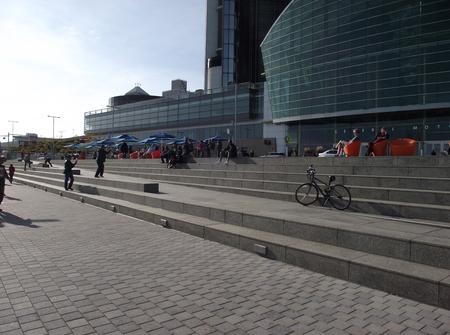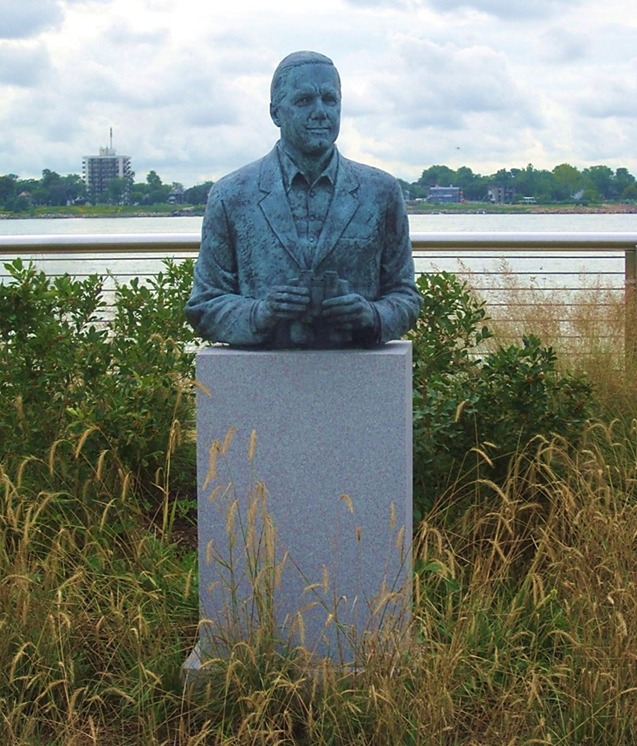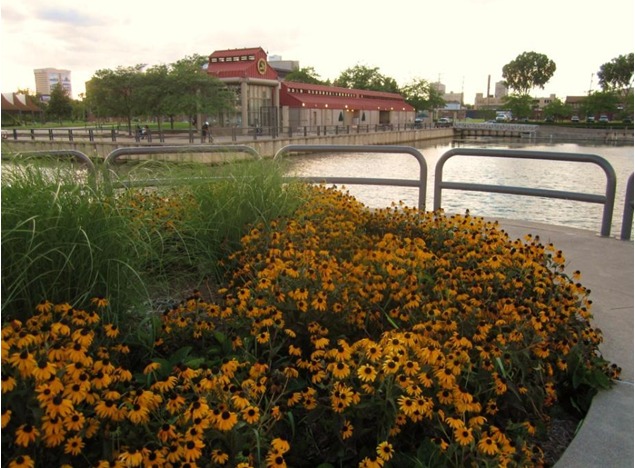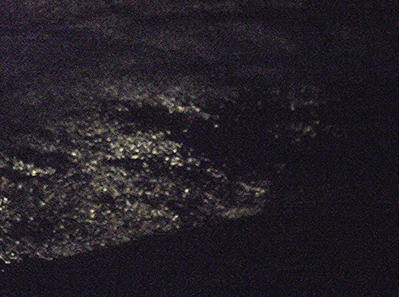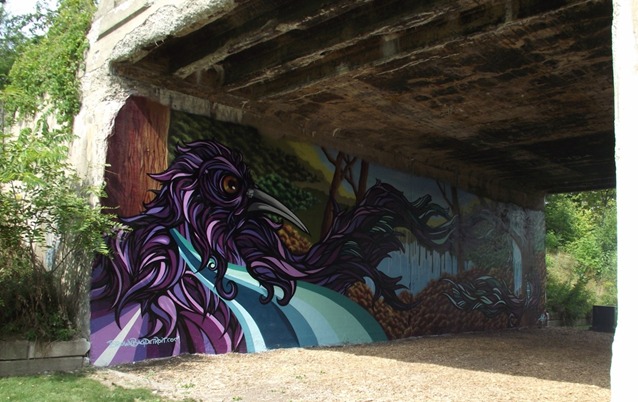 Bull frogs and turtles are appearing in the ponds for the first time.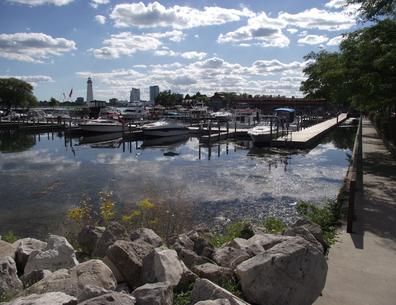 Some walkways are covered by steel plates forming Walleye and Bass reliefs. Historic markers honor Detroit's early residents and Civil War deeds.



The renovated Dequindre Cut Greenway runs north at the nearby street intersection.



(You may turn north here along the Dequindre Cut or continue east on the Walk. Go to Returning to RiverWalk, if you plan to skip the Cut section.)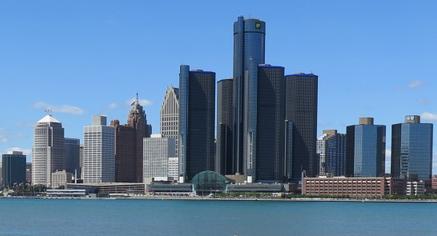 FREIGHTER TRAFFIC
Well over a hundred freighters ply the Great Lakes and many pass through the Detroit River to ports beyond. Traffic can get busy at times with just enough room for a passing lane. (Sailboats beware.)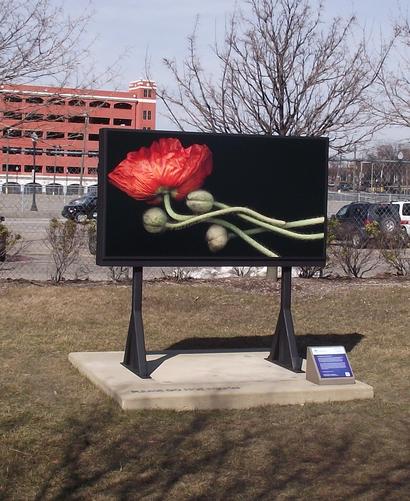 View toward River and Canada from Wintergarden Atrium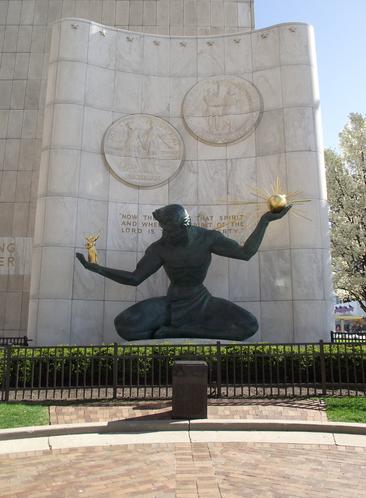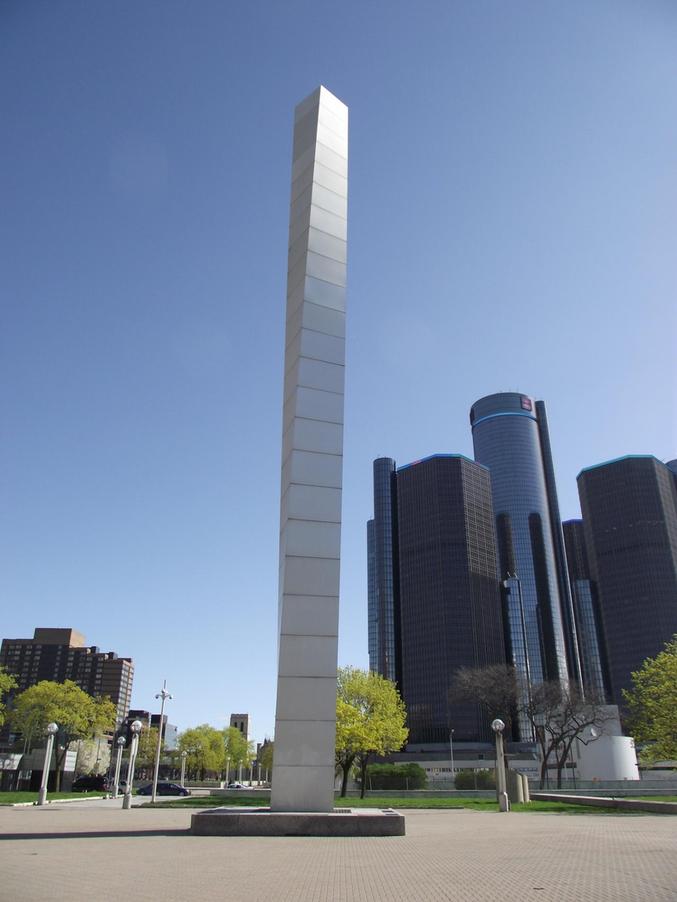 Peter Stroh, Beer Baron and Nature Lover Tribute
SPIRIT OF DETROIT
North of Hart Plaza/RiverWalk, Woodward and Jefferson.
Globe Trading Company, Commemorative in front of Dry Dock Portrayed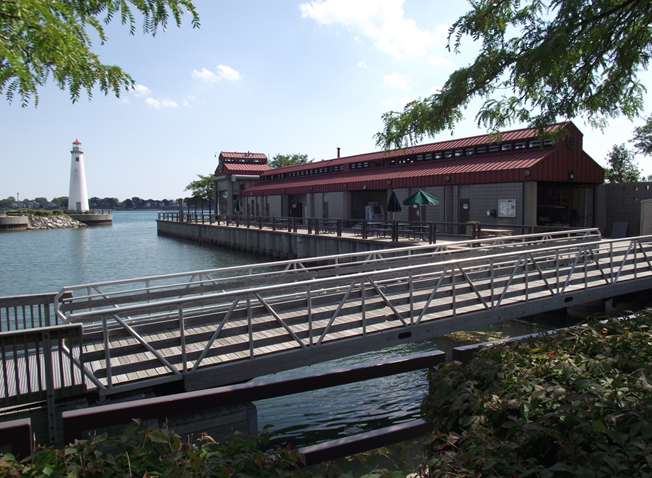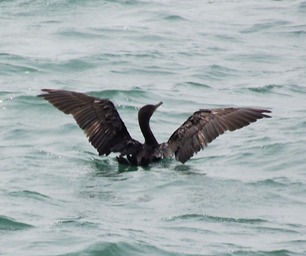 Interpretive Kiosk and Binoculars
A BRIGHT WINTER DAY, VIEW WEST ON THE WALK
​​
Changing Conditions: The river surface was frozen solid in 2015 but nearly ice-free in 2016. The water level was near a record low in 2013 and a record high
in 2016.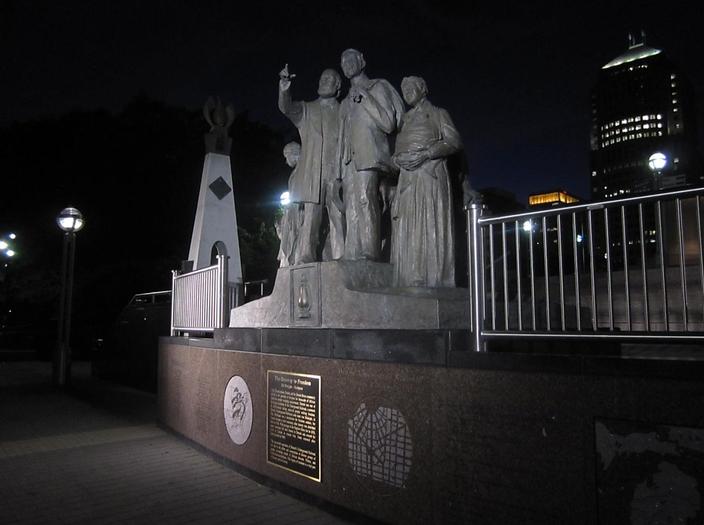 ANTOINE DE LA MOTHE (LAUMET) CADILLAC
Cadillac was as much a paradox as the city he founded.



He was as much Huguenot Protestant as Jesuit Catholic


He was as much gentleman pirate as gentleman


He was as much Native American admirer as Native American manipulator


He was as much fortune seeker as administrator


He was as comfortable in the French Court as in the wild


He was as much a builder as negligent landlord


He was perhaps as much speculator as thief


He was as much soldier as entrepreneur


He was as much a prisoner of state as honored French citizen


While from a modest background, Cadillac had a family crest, which became the logo for GM's luxury brand​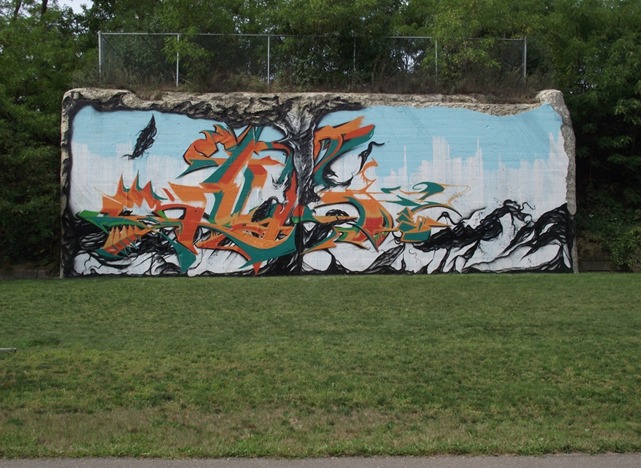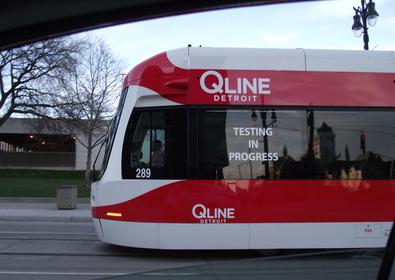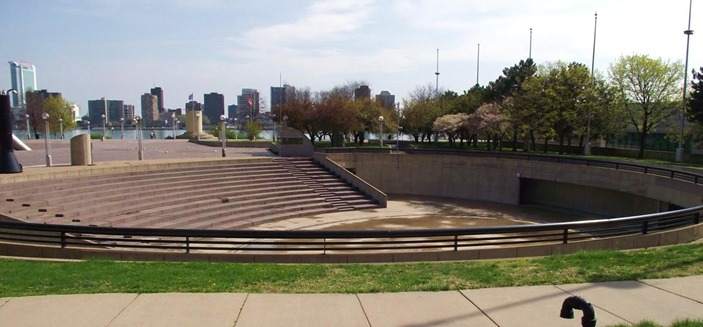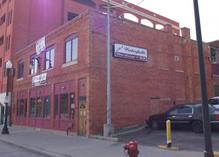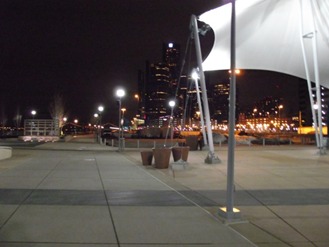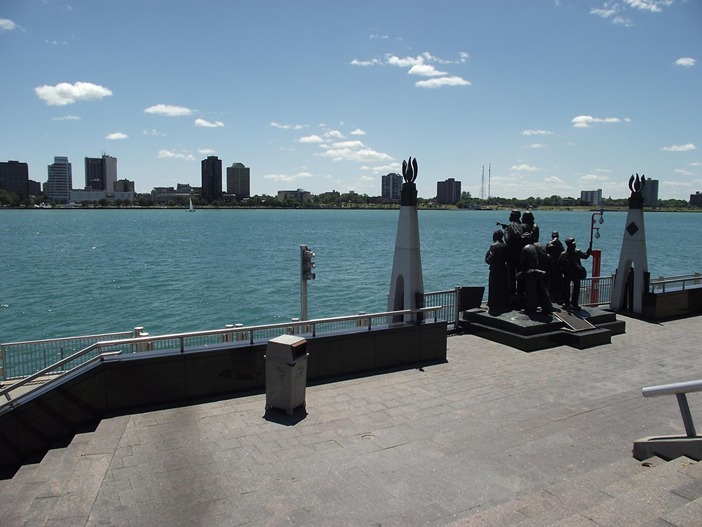 SUCCESSFUL DETROIT FISHERMEN


Milliken State Park anglers catch their share of silver bass for the dinner table.
Sculptures and weatherized copies of Detroit Institute of Arts museum pieces line the park by-ways along the Walk.