Architect, Wirt Roland was given a "blank check" to order the best materials for this project. A rare, Numidian red marble was quarried from the world's only available source, a closed mine. The mine was opened briefly just to obtain material for this commission.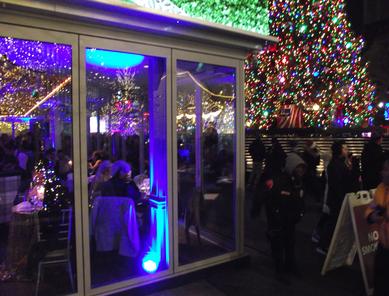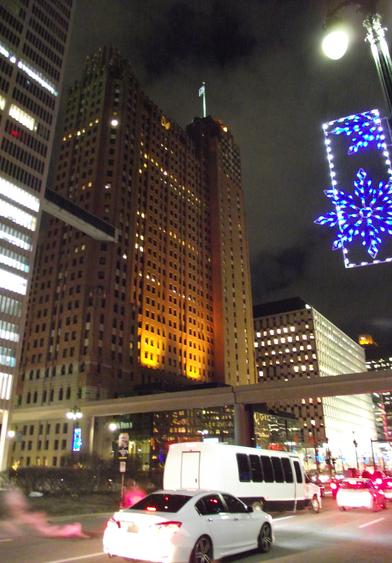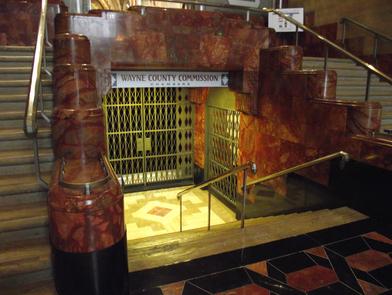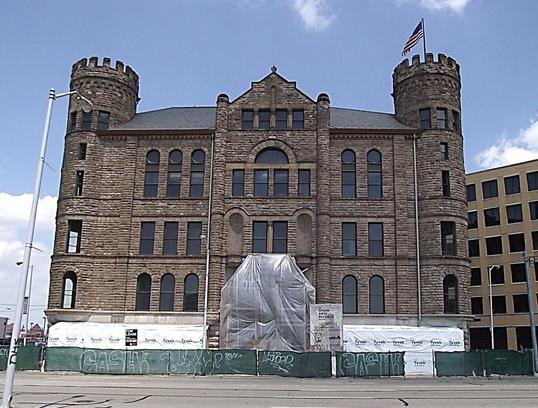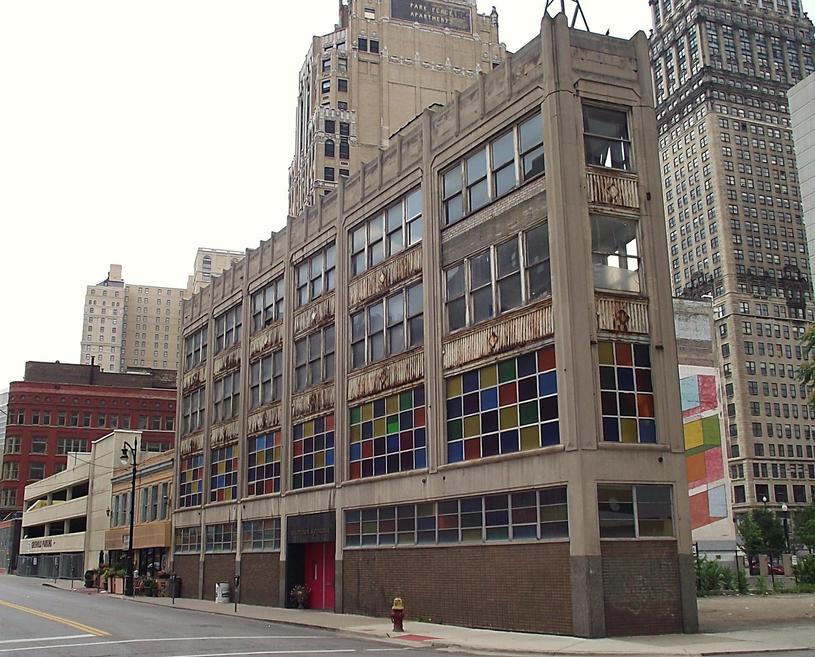 SNAPSHOT This park is at the center of several converging plans of building renovation, the creation of a music hub and the preservation of cultural icons. In this small triangular plot of land at State, Griswold and Shelby, the Downtown Development Authority invested $1.1 million to renovate the park.

Two adjacent buildings recently won approval for development funding and renovation will start.

and

√Rec La Casa De La Habana Cigars and Lounge on 1502 Randolph.


Architectural Notes:
Several prominent buildings of the early 20th century punctuate the Haromonie Park (Grand Circus Park) area:


The

√Rec David Whitney (Neo Renaissance, 19 stories, Daniel Burnham, 1915 -- restored;
The Broderick Tower (Beaux Arts, 34 stories, Louis Kamper, 1928 – restoration just completed);

The Kales Building (Neo Renaissance, 18 stories, Albert Kahn, 1914 -- restored);

Wurlitzer (terra cotta, Renaissance Revival, 14 stories, Robert Finn, 1926 -- [of Wurlitzer organ and juke box manufacturing fame] under renovation and to be converted into a boutique hotel;

Metropolitan Building (Gothic, 10 stories, Harold Ellington/William Weston, 1925 -- restoration status unknown). (Buildings of Detroit.com., 1-12-2011.)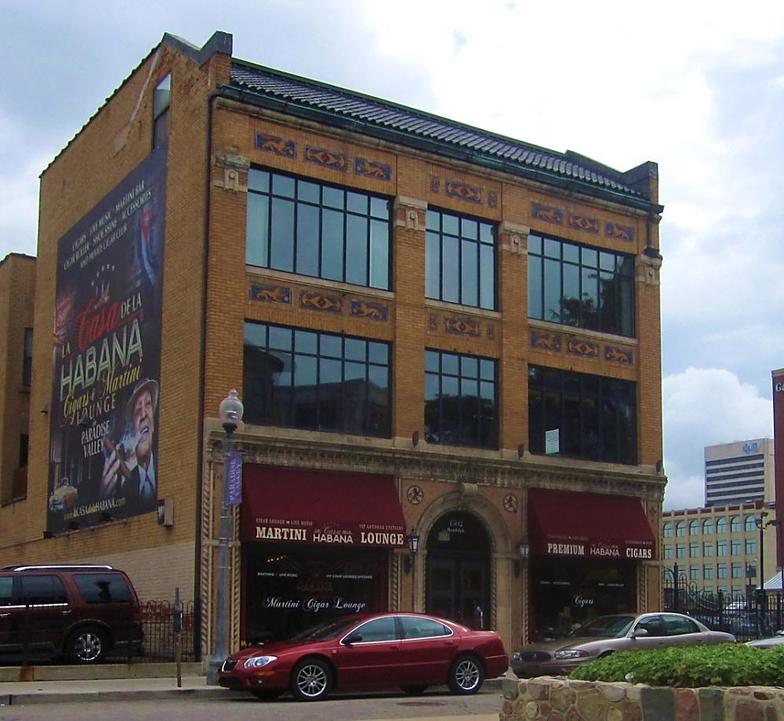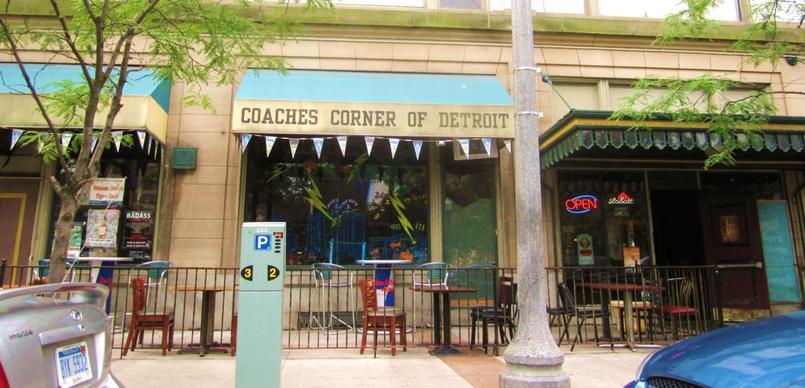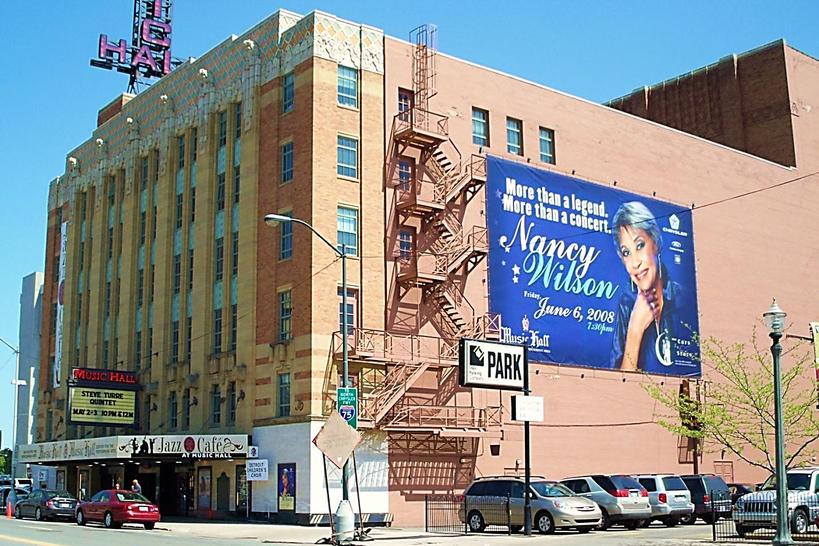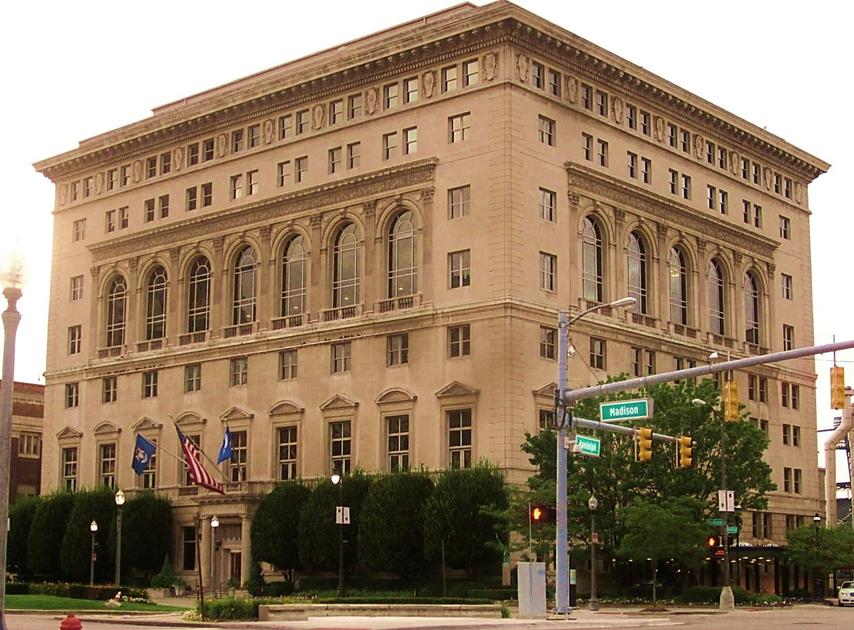 Gem and Century Theatres – Side-by-Side
​
and the √Rec Gem and Century Theatres -- side-by-side theatres. (Refer to Page 3, Theatres for detailed information.)


the √Rec Music Hall of Performing Arts/Jazz Cafe (arch. William Kapp & Smith, Hinchman and Grylls, 1928, Art Deco), the majestic skyscrapers like


the David Whitney Building and others. But their interiors have sumptuous decor and extravagant style befitting the tastes of their wealthy patrons. This legacy leaves Detroit with a tradition and abundance of live theatre venues rivaling New York. In fact, many venues were built near Detroit's own Broadway and Park Avenue, part of the second largest combined live theatre district in the nation.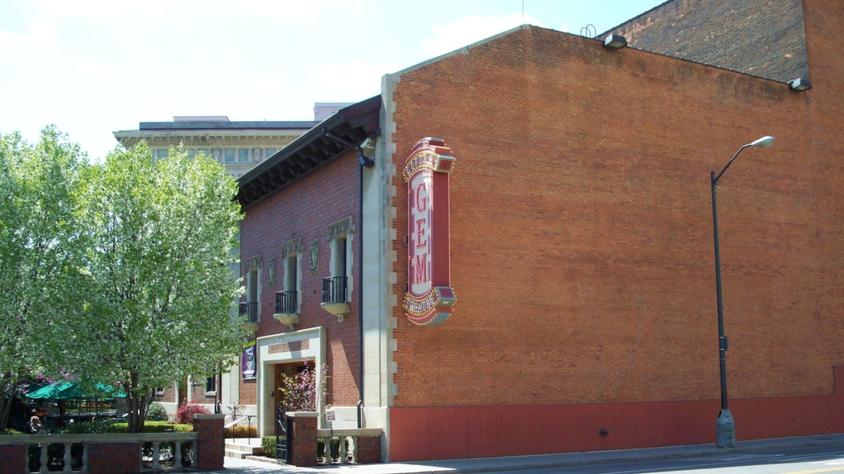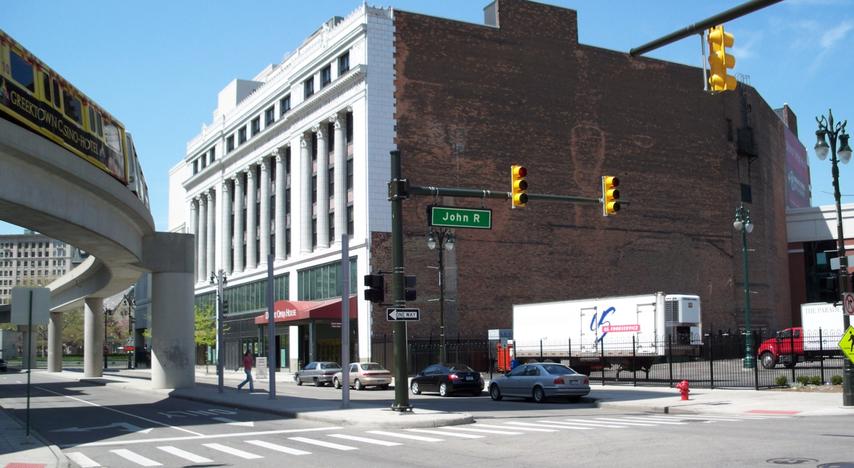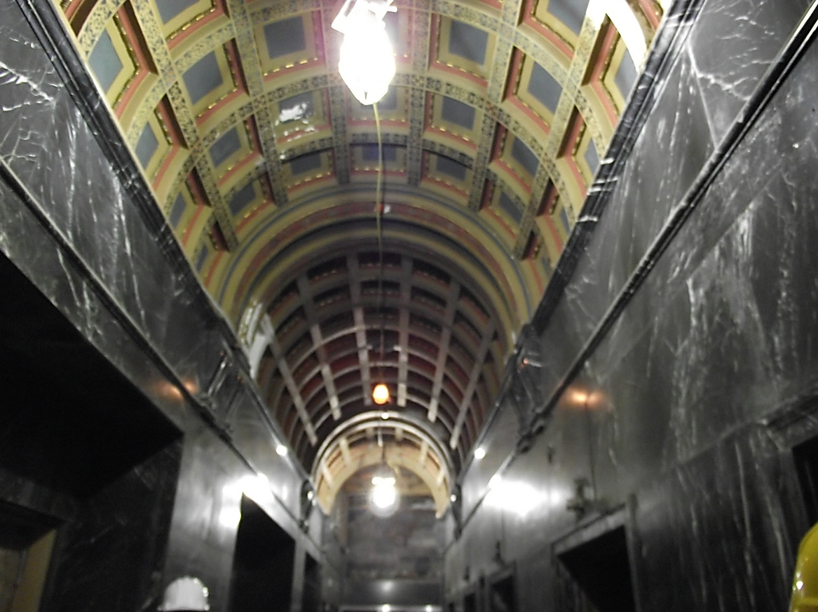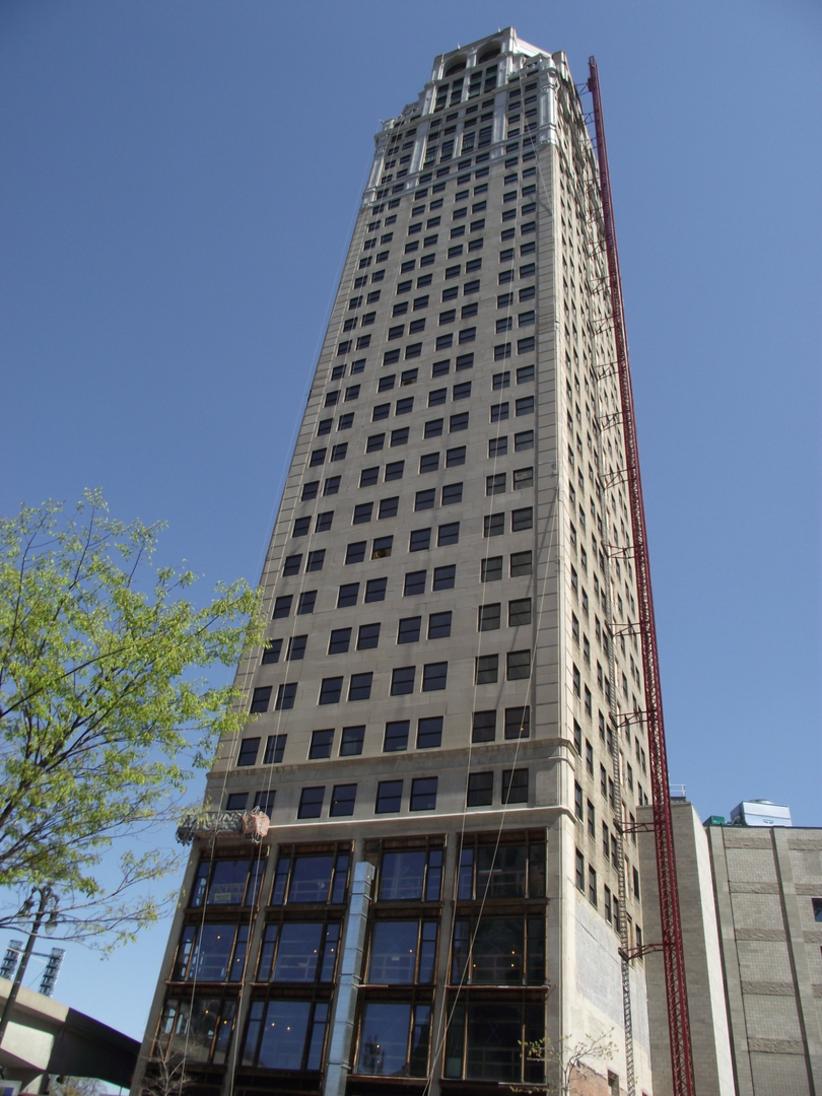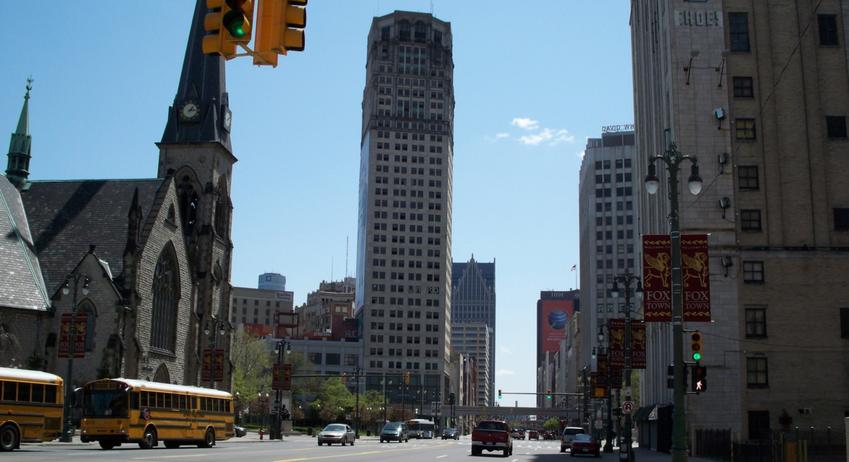 ​​
√Rec Cheli's Chili,and the Detroit Opera House roughly border the park to the north and southeast. Between Park Avenue and Woodward to the north are The City Theatre (locally focused comics and plays), the fabulous Fox Theatre (Detroit's original great Movie Palace with live shows), and the Fillmore Detroit Theatre (live shows and Off-Broadway).

Check out the Angelina Italian Bistro on 1565 Broadway, Detroit Beer Company on 1529 Broadway, Small Plates on 1521 Broadway, Cliff Bell's (Jazz) on 1534 Park, Hardluck Lounge on 2001 Woodward, Cheli's Chili on 47 E. Adams (Chris Chelios, Red Wings/Black Hawks), Hockeytown Cafe on 2301 Woodward (3 blocks north by The Fox Theatre), and Park Bar and Bucharest Grill on 2040 Park (Romanian and Middle Eastern restaurant). Ford Field (Lions) is just east of Comerica Park. To the south and east is Harmonie Park.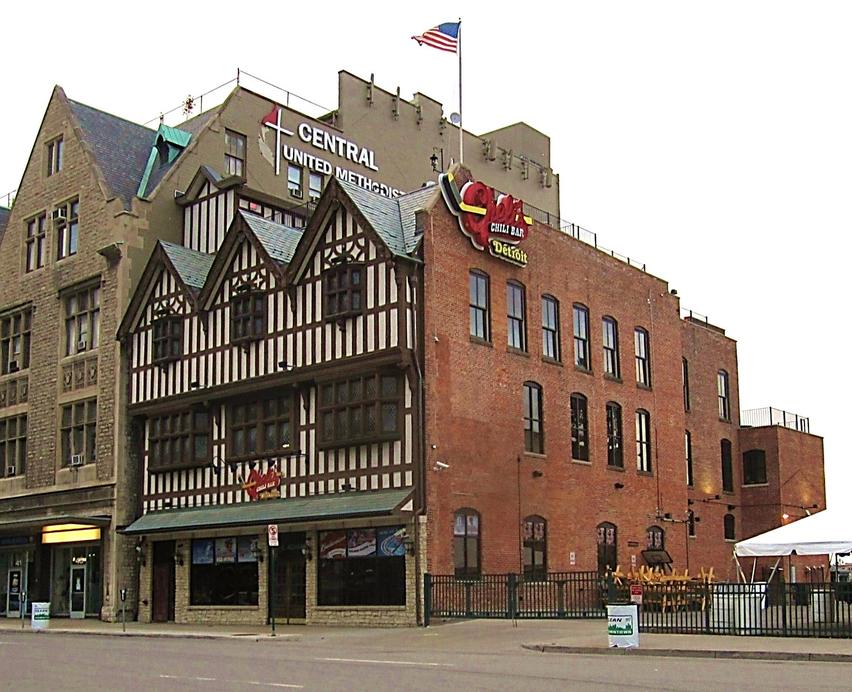 ​​
​​

At the center of the eastern Maybury section is the Alger Fountain by Henry Bacon (1921). This site is adjacent to the historic Broderick Tower.

The Central United Methodist Church, the David Whitney Building skyscraper (just renovated), Comerica Park (Tigers), Broderick Tower (recently renovated) are on Woodward just south of the park,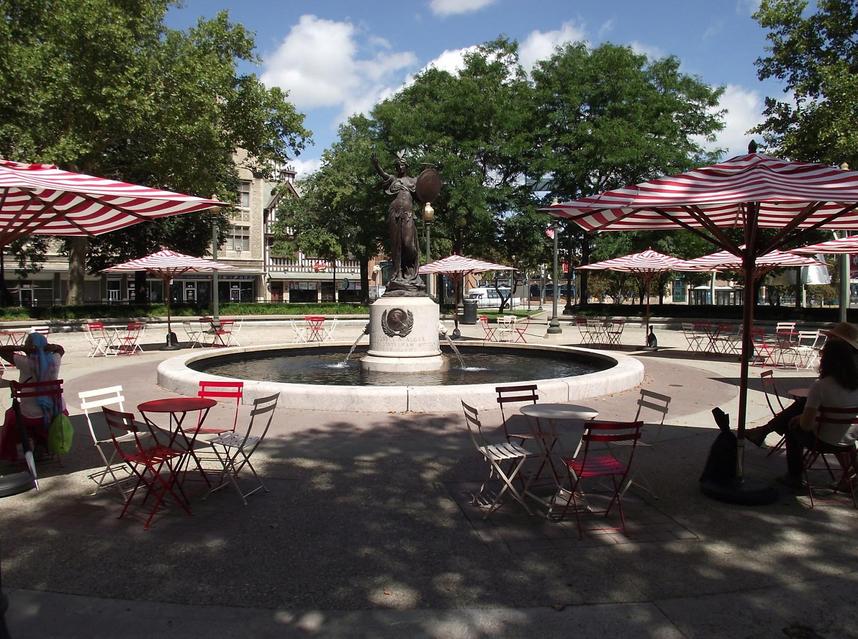 ​
​​

At the center of the western Pingree section is the Thomas Edison Fountain (1929).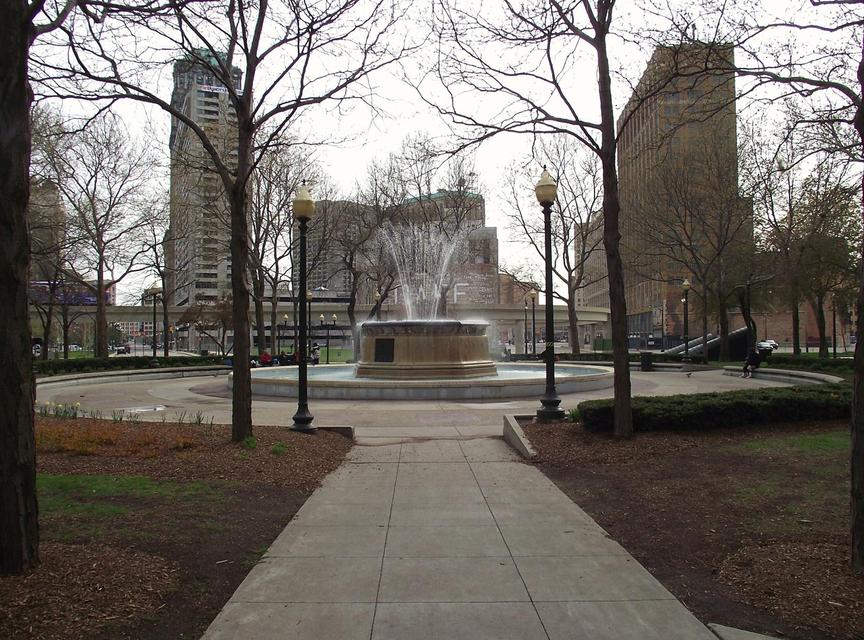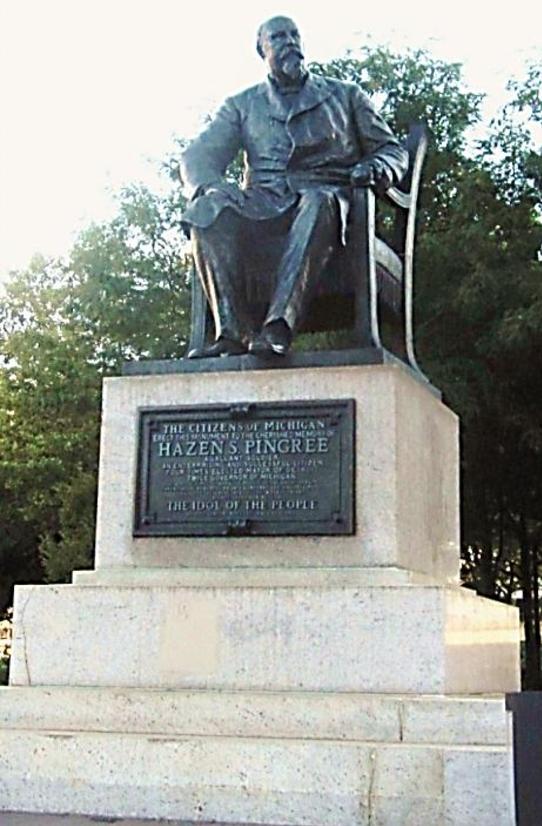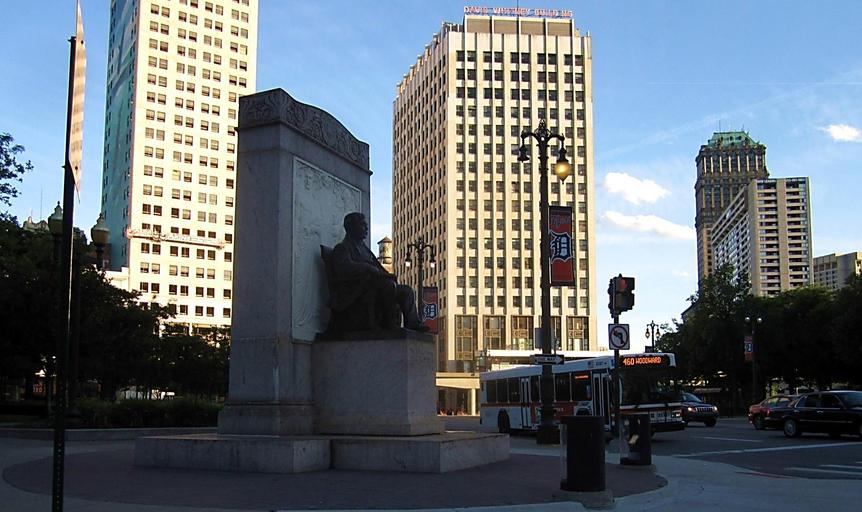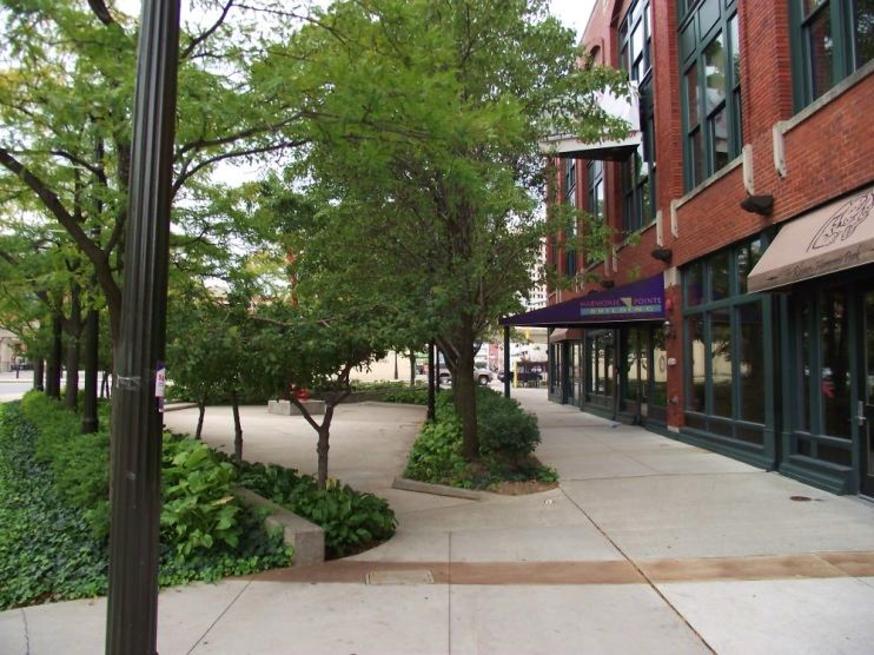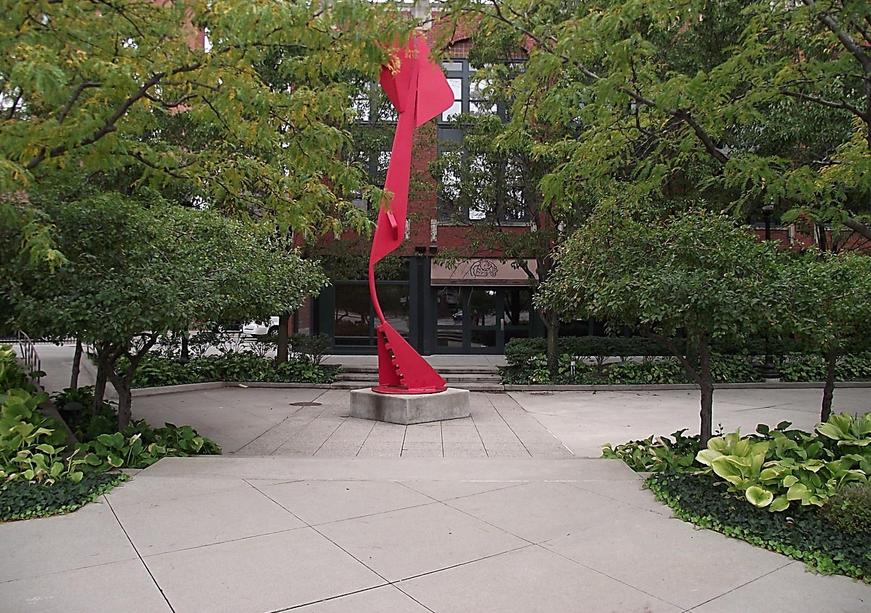 Harmonie Park-Paradise Park
At the center of the Harmonie Park-Paradise Park on E. Grand River is an engraved tribute to Paradise Valley and a commemorative of the old German and later African American neighborhoods on the east side of Downtown.



A number of outdoor concerts have been held at this location.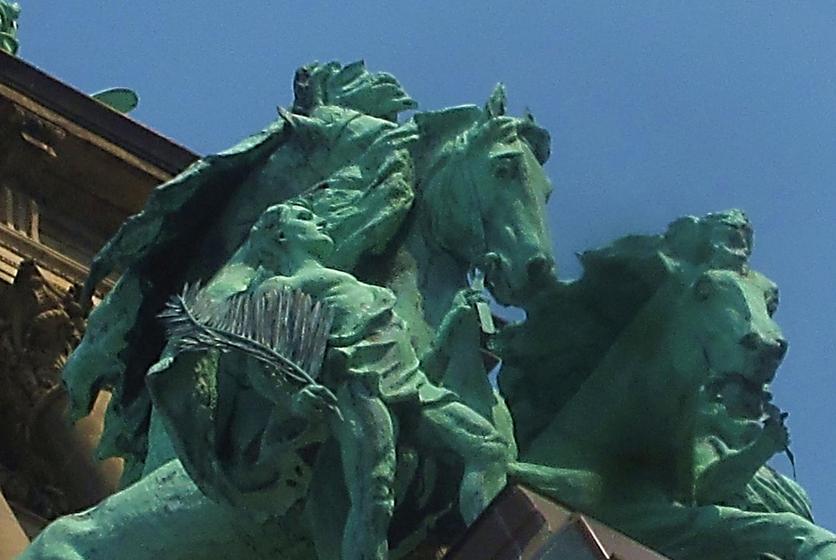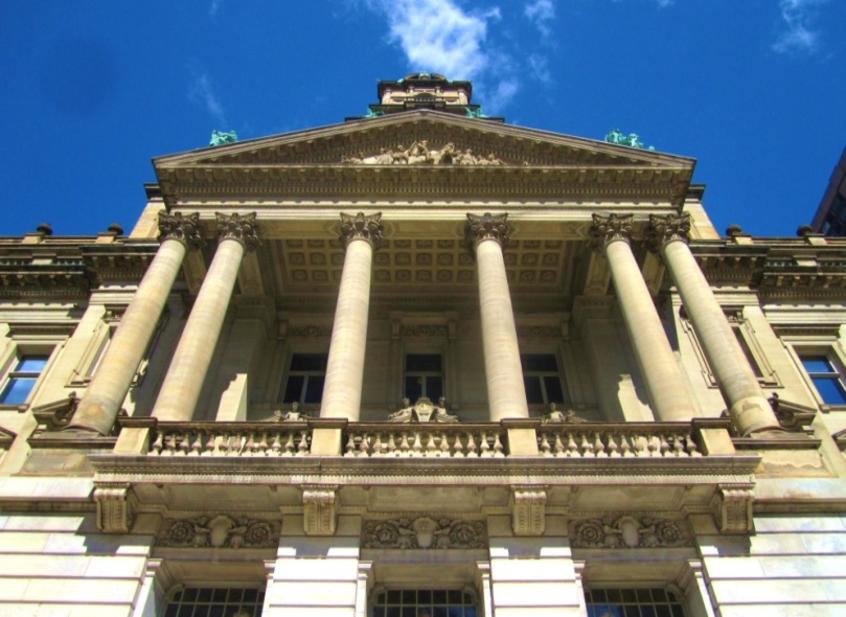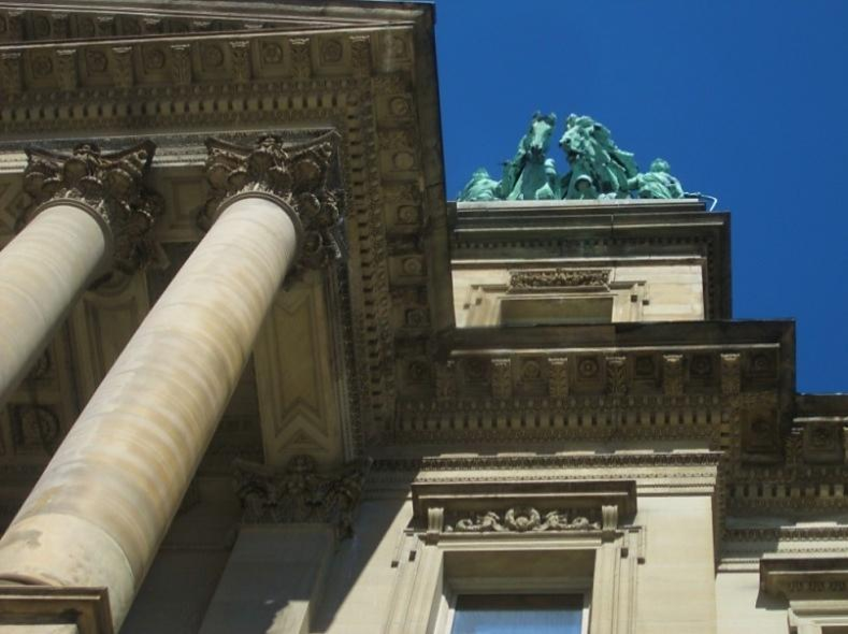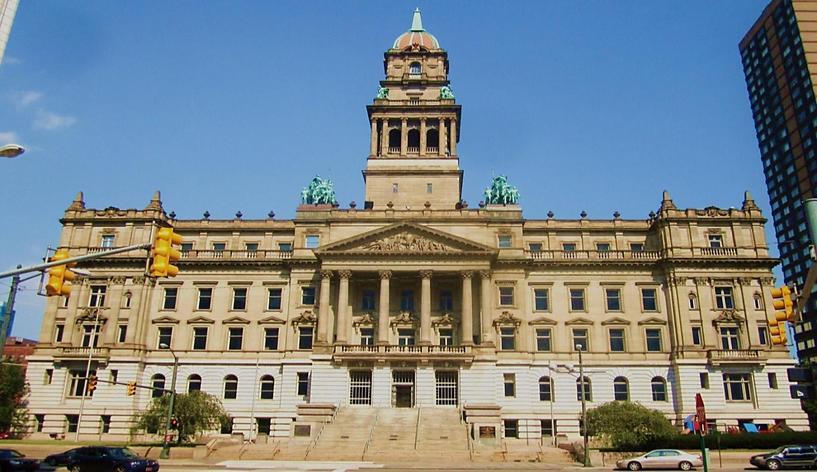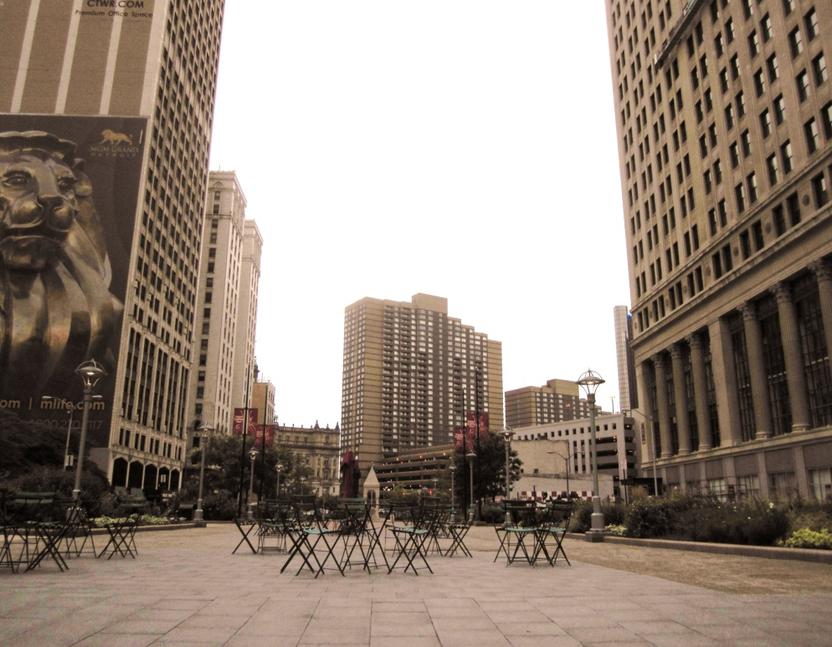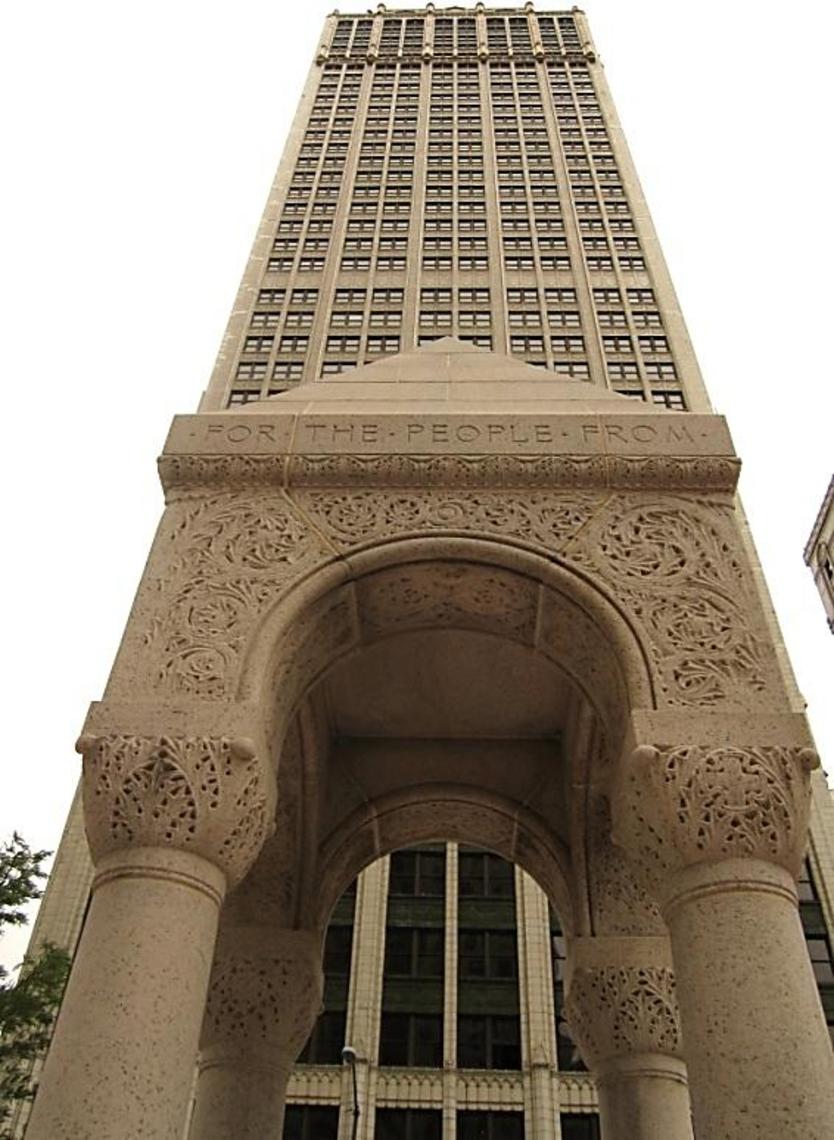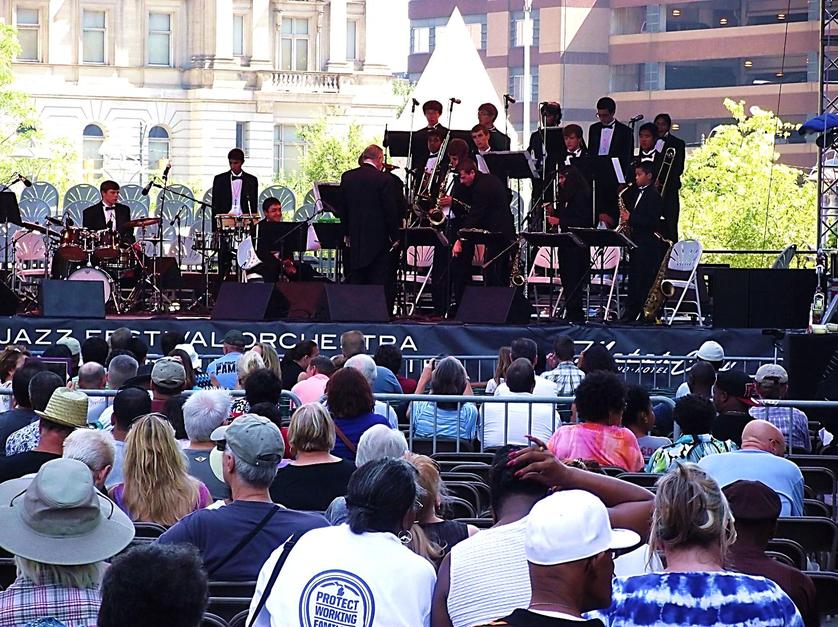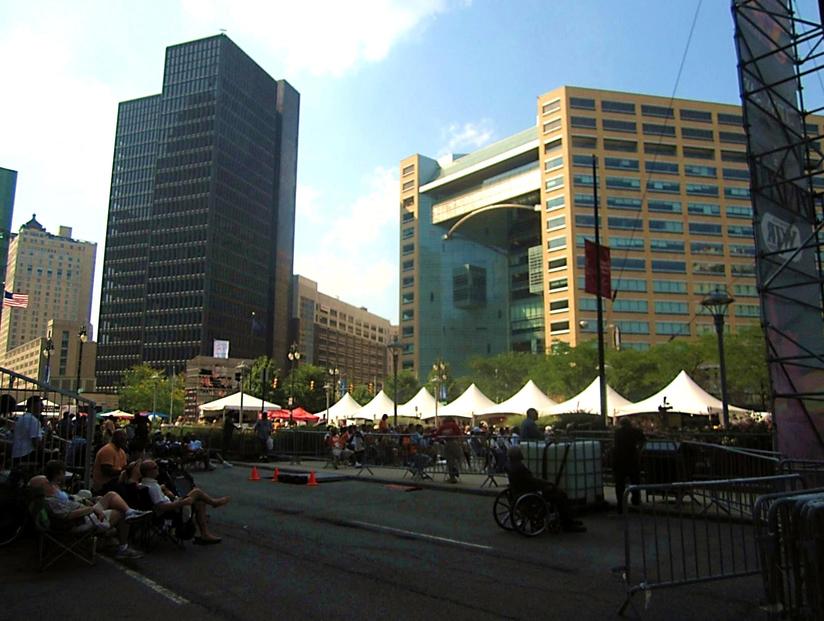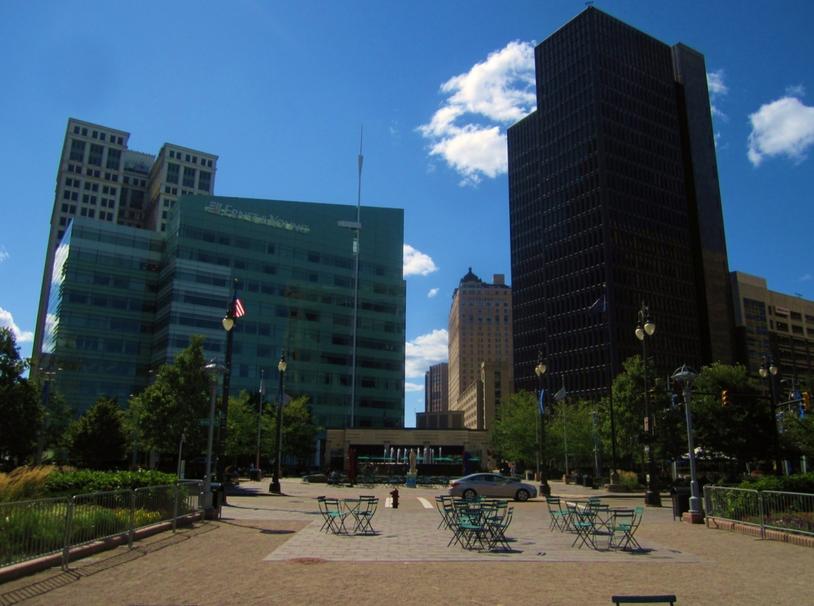 Chase, Guardian and ANR Buildings in Background
Campus Martius Skating Rink and Christmas Tree
​
The park forms the center of holiday celebrations with the lighting of an 60 foot Christmas tree each year and is the focus of special events like the Winter Blast on February 12th through Valentine's Day.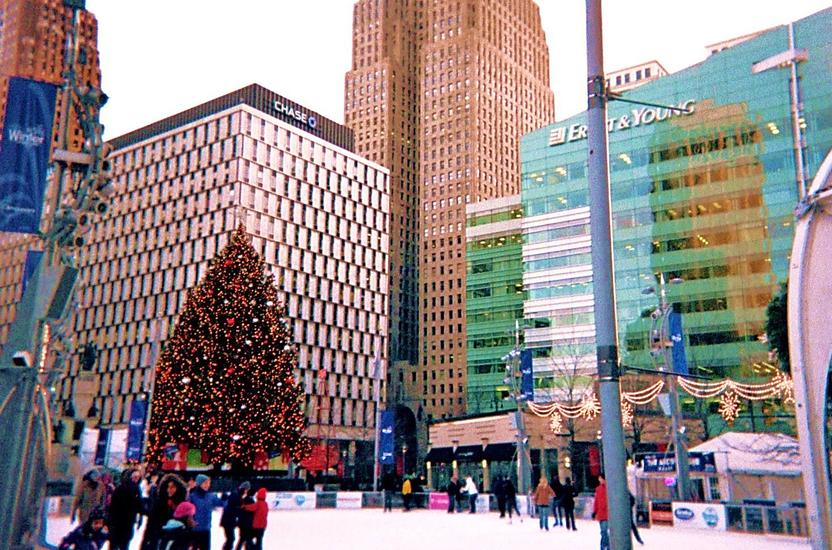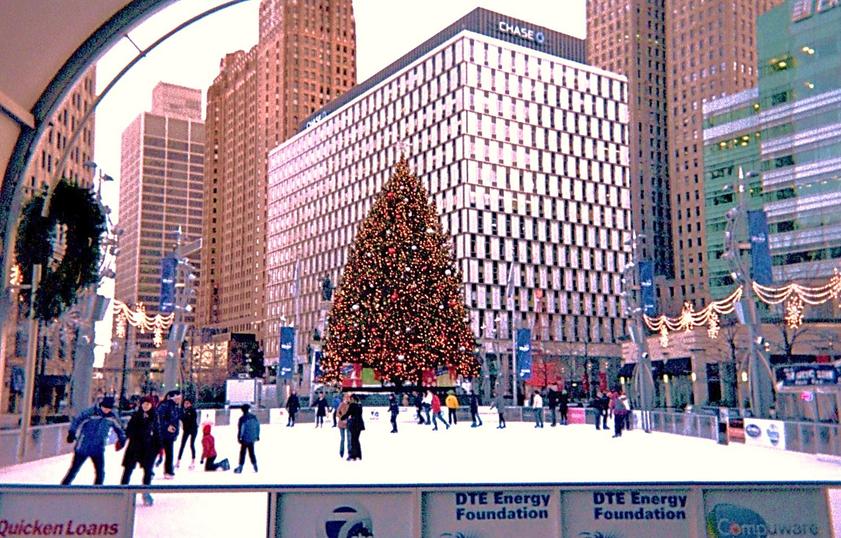 Mounted Police Woman, Campus Martius
Fanatical Botanical & Beachside Dining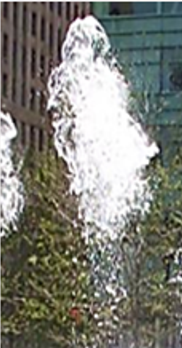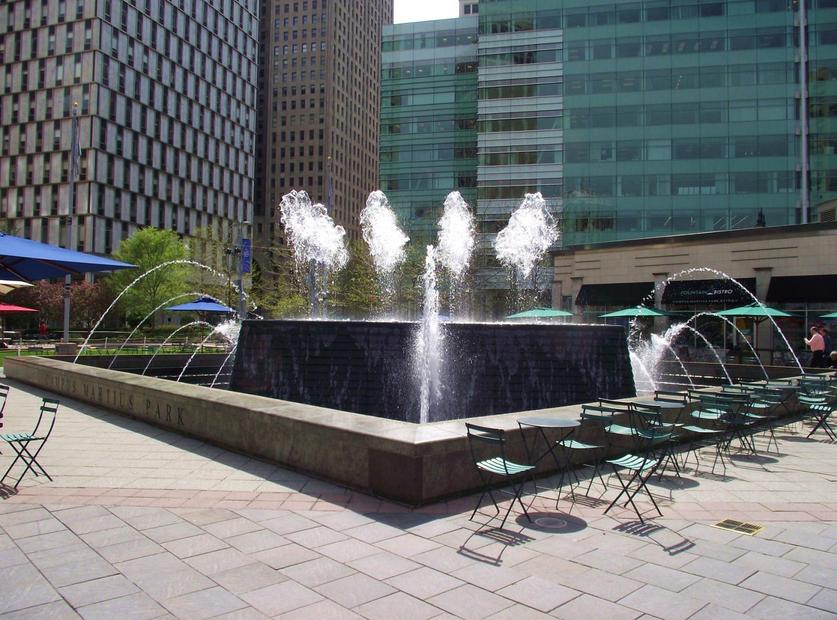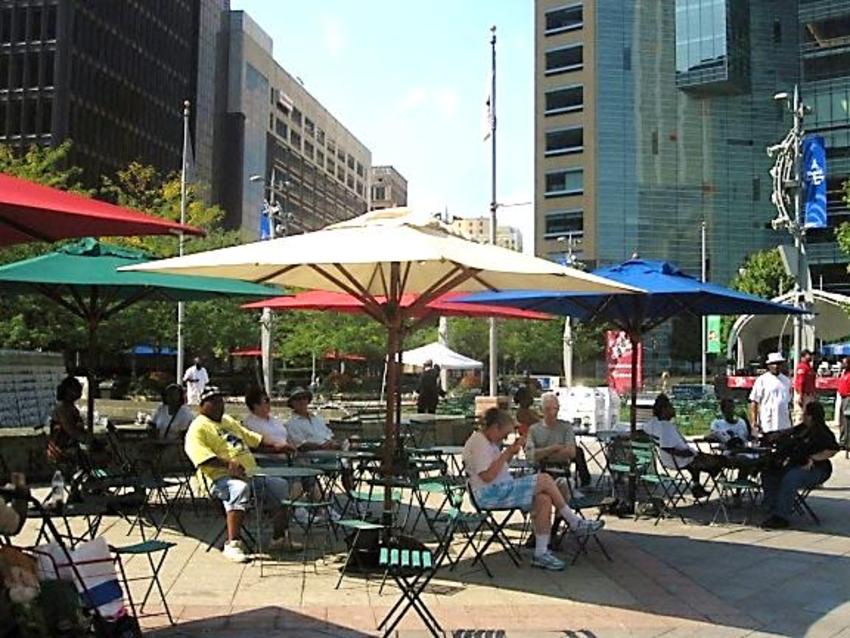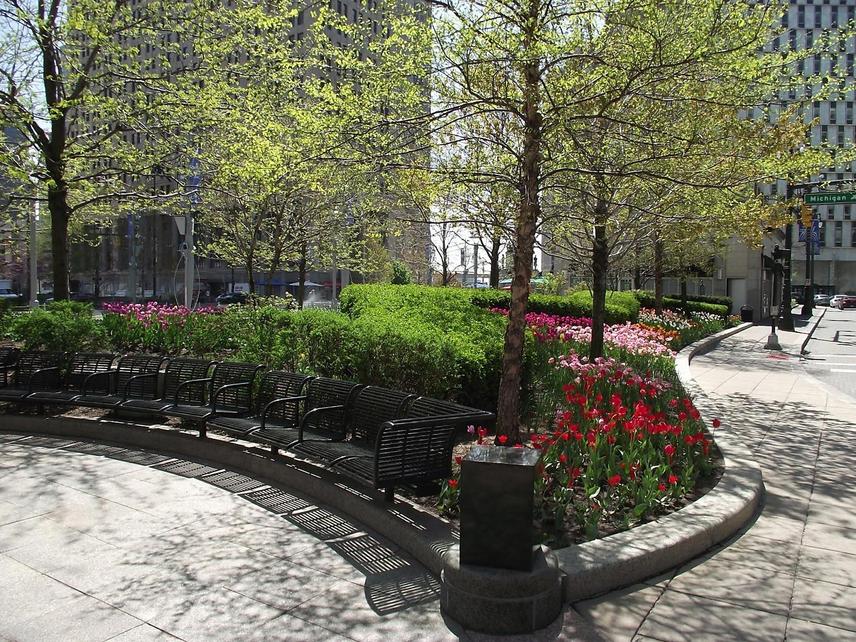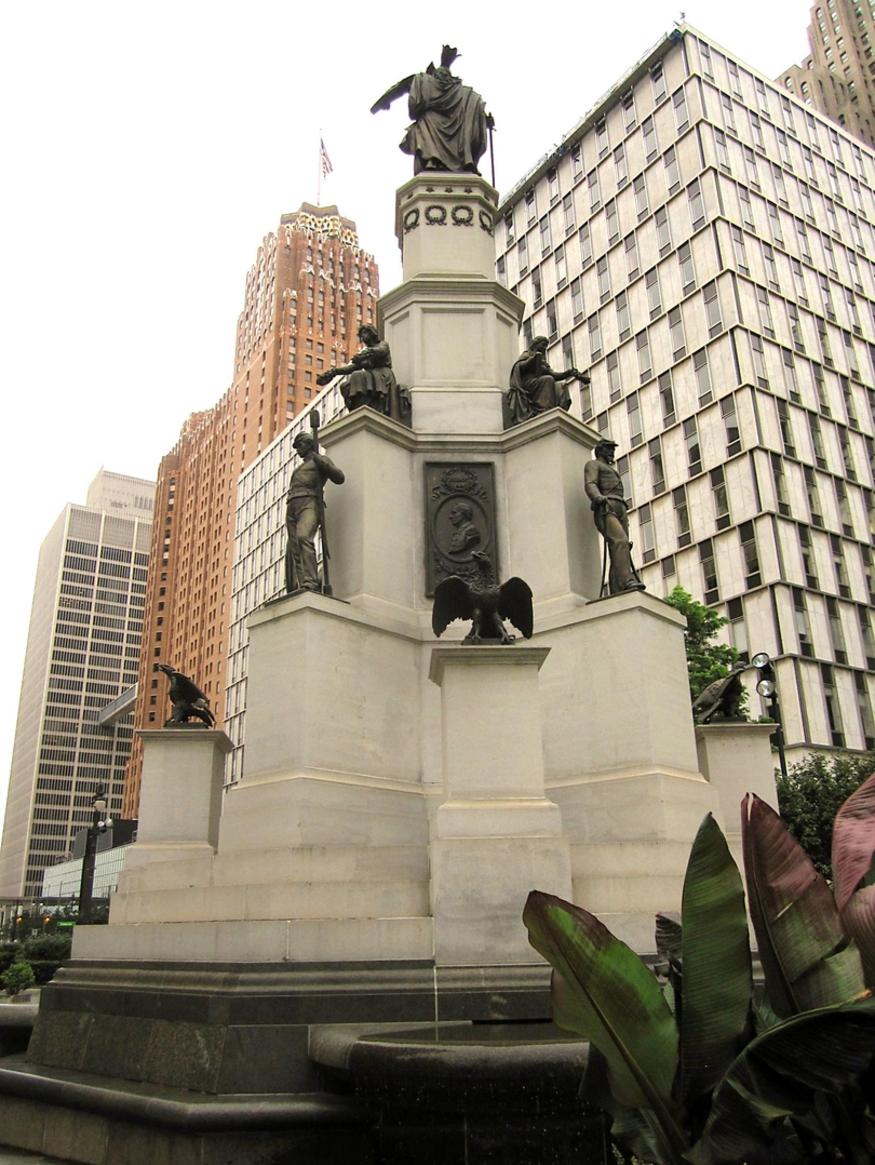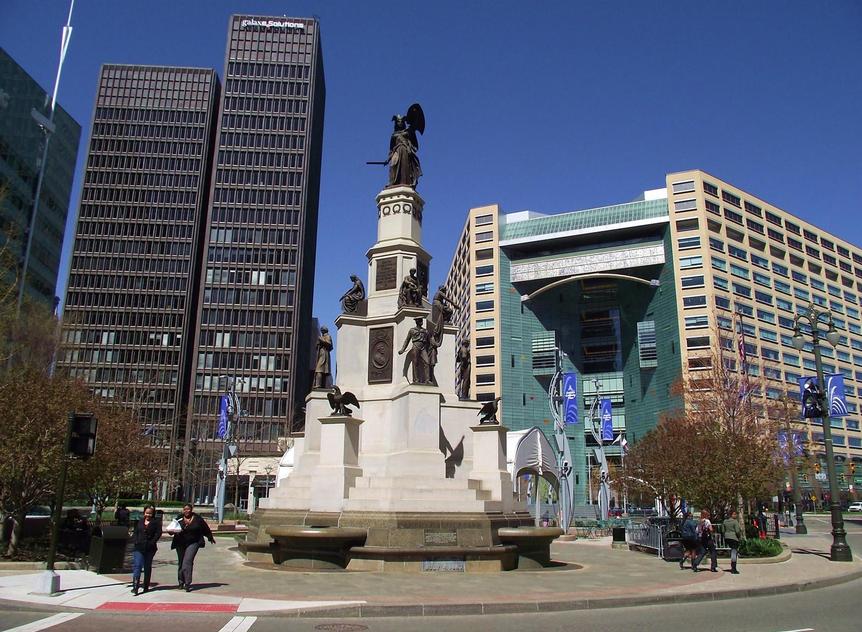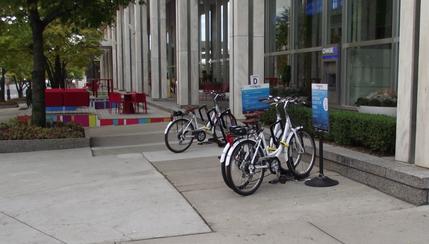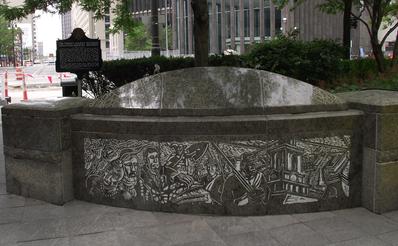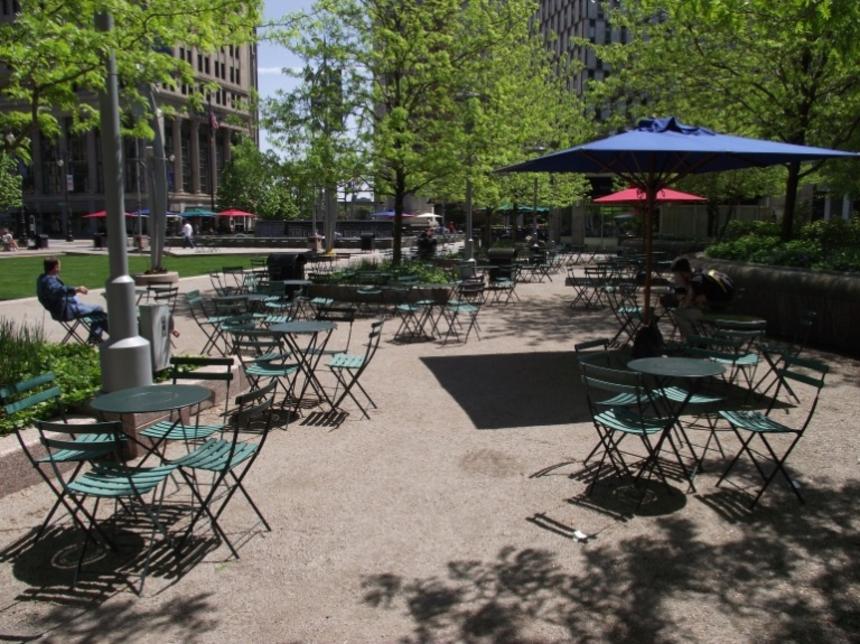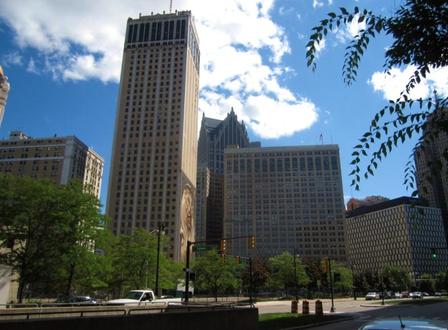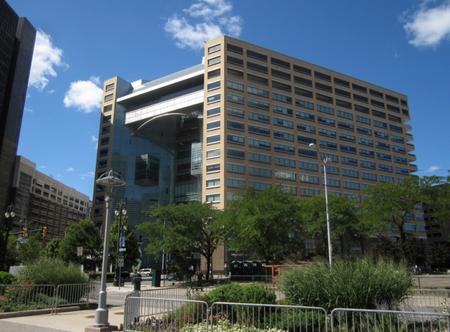 Harmonie Pointe pocket Park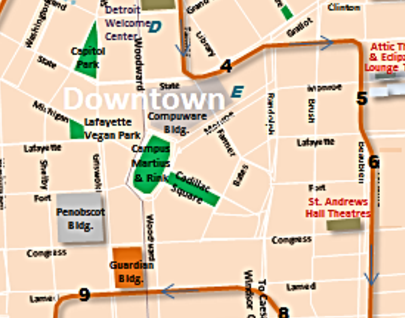 ​
​​Towering above are the graceful skyscrapers of the 1920s, the stepped Penobscot (arch.Wirt Rowland and Smith Hinchman and Grylls, 1928), which inspired the Empire State Building with its "H" frame and set-back architecture plan. Around the corner is the startling beauty of the Guardian Building.


​​​
DETROIT
ENTOURTAINMENT

.

COM
​
Don't miss the Romanesque √Rec Wayne County Building in the east with its bold, equine, Victory and Progress copper sculptures. Awash in subtle flood lighting, they are particularly striking at night. These figures have been compared to the Brandenburg Gate equine statuary in Berlin and are Roman and Greek symbols of victory and triumph inspired by Apollo's chariot borne across the heavens. Though known as quadriga, there are just three horses in this unusual pair of arrangements by J. Massey Rhind, 1900. Look carefully, and you will see numerous other sculptures atop the building designed by John and Arthur Scott and built between 1897 and 1902. Designed in a masterful style it combines Beaux-arts, Roman-revival, Baroque and Neo-classical, and is abundant in copper, granite and sandstone. This structure includes a pediment of Anthony Wayne by Edward Wagner. Other works depict Law, Agriculture, Commerce and Mechanics the sine qua non of a dynamic Detroit.
Merchants Row at Grand River, View of West Side of Woodward
Cadillac Square merges almost seamlessly from a block southeast, into a larger park surrounded by architecture of several periods. Framing this eclectic mix is the glass Ernst and Young Building (above) in the west, the Galaxe Building in the northwest and the contemporary Compuware Building in the north. These contrast sharply with the Romanesque Wayne County Building in the southeast.


Hoop Courts, North Side of Square
Meridian (Compuware) Bldg. Atrium Rain Sculpture
​​
The streets have been re-routed around the park adding more space.

The former Compuware building is now the home of Meridian, and and the popular Hard Rock Café. Several new tenants have filled the street level business area. The building's arched entrance-way opens to a high atrium with skylight.


Floral Vines & Furniture fill the Space, 2013
​​​​The addition of the
Parc restaurant, formerly the Fountain Bistro (in the park), provides a view of landscaping as well as seating for people watching.
Fountain and View South from Campus Martius
Campus Martius Northeast Corner
​​​​​​
Note: Look closely at the water forms above. They're a choreographed, Soul-Sister, Motown review, tambourine-jamming.
​​
If you haven't been here in a while, you'll notice that the statuary have been re-located and the park was renovated, adding a popular skating rink, new landscaping and a fountain with alternating jets of water.
Soldiers and Sailors Monument Figures
Thomas Edison Fountain, Grand Circus Park, west
Alger Fountain, Grand Circus Park, east
View South on Woodward toward the newly renovated Broderick Tower
Foran's GrandTrunk Diner on 612 Woodward. Pizza and sub shops are found in the same location. Note some of the fine architecture in the area.

Architectural Notes:
In the Campus Martius Park area, several buildings predominate.

A number of these buildings were recently purchased by Dan Gilbert of Quicken Loans. He has vowed an aggressive plan of renovation and redevelopment that has already shown results. Other nearby buildings are in renovation and some stand derelict.


Penobscot (Art Deco, 47 stories' H-plan, stepped ascent; Wirt Rowland, 1928 – partially restored, and the last of three by the same name);

the Cadillac Tower (terra cotta/brick, Beaux Arts, Bonnah and Chaffee, 40 stories, 1927 -- occupied),

the Guardian (brick with Pewabic tile accents -- refer to the Museum Page; Art Deco, 40 stories, Wirt Rowland, 1929 -- in restoration); Tours are available of the interior;

the Book Tower (Italian Renaissance, 47 stories, Louis Kamper, 1917 – will be restored; just purchased);

the Book Cadillac (Neo Renaissance, 33 stories, Louis Kamper, 1924 -- restored),

the Ford (terra cotta, Chicago Style, Daniel Burnham, 1909, 19 stories -- continuously occupied and maintained -- top floor interior is preserved in original 1910 decor),

the First National Building (limestone, Neo Classical, 25 stories, Albert Kahn, 1930 -- being restored),

the David Stott (brick, Art Deco, 37 stories, Donaldson,1929 – portions being restored),

The Dime (glazed terra cotta, Neo-Classical, 23 stories, Daniel Burnham, 1912 – restored in 2002; undergoing further renovation),

the Buhl (Romanesque, Neo Gothic, 29 stories, Wirt Rowland, 1925 -- continuously occupied and partially restored),

the Vinton (Neo Classical, 12 stories, Albert Kahn, 1916 -- restored into a loft building in 2006),

The Detroit Life (Neo Classical, 10 Stories, Arnold and Shreve, 1923, -- restoration status unknown),

Grinnel (terra cotta, Chicago School, 6 stories, Albert Kahn, 1908 -- [of musical instrument fame] -- restoration status unknown). (Buildings of Detroit.com., 1-12-2011.)
Note: the "quadriga" described on the Wayne County Building are actually composed of three (not four) horses each. Are they really "Tririga"? Perhaps you know.
Mayor Hazen Pingree, Maybury's Arch-Rival
Mayor William Maybury (in shadow) glances toward His Rival across the Park
​
The northeast side of Downtown is slightly ahead of its northwest side counterpart. The Harmonie Pointe pocket park on the corner of Gratiot is a good example of a spruced up neighborhood where there are a lot of small successful businesses and new lofts. It's only a half mile from thriving Eastern Market.



From Campus Martius south on Woodward there are several bars and restaurants that offer outdoor seating during the warmer months with tasty fare, good brews and wines.


Check out Pulse Lounge on 156 Monroe, two blocks west of Greektown and a block east of the Compuware Headquarters, the Hard Rock Cafe on 45 Monroe (inside the Compuware Headquarters building) or… ​

Grand Trunk Diner (named for the locally famous Railroad)
Statuary peer down from Roof ready to leap to the Street
"Merchants Row" Apartments, West Side of Woodward (Vacant Hudson's site in Foreground)
Popular Roasting Plant (Coffee Extravaganza), Honigman Building
Cadillac Square (across from Campus Martius) and temporary Al Fresco Booths
The Glass Meridian (Compuware) Building at Night and Up-lit Fountain Jets
Hard Rock Café, Lobby Area
Campus Martius becomes "Beachfront Property," 2012
Meridian (Compuware) Building (background) & Seating in "Skating Rink"-- prior to Jazz Festival
Meridian (formerly Compuware) Building, Left and Cadillac Tower, Right
Campus Martius Parc Restaurant
One of the Ghostly Performers
Campus Martius prior to International Jazz Festival
​​​​​



​

Primary access to the area is by People Mover Station 11, Cadillac Center. From here walk down Farmer and then southwest on Monroe past the Meridian (Compuware) Building to Woodward and look for the monument.

ATTRACTIONS Start at the Soldiers and Sailors Monument, (Randolph Rogers, 1871). .
​

A water wall subtly rims the landscaped periphery of the park with a curtain seep. Water trickles over the Civil War monument from drip ledges and the park fountain provides an entertaining variety of liquid displays.
​​​
SNAPSHOT This park was first built after the great Detroit fire of 1805 and is the origin of the Woodward street plan influenced by Washington DCs L'Enfant design. Michigan, Woodward and Monroe make up three spokes of the plan. A centerpiece of this park is the Soldiers and Sailors Monument commemorating Michigan's great sacrifice of troops to the Civil War. Michigan lost many soldiers who fought in the battles of the Confederacy. Soldiers known as "Black Hats" suffered terrible casualties among the legendary Iron Brigade at Gettysburg, Pennsylvania in 1863.

Campus Martius once included Kennedy Square in honor of the president who addressed Detroiters here, commemorated by a plaque at this location. The park now embraces a cosmopolitan look and neighborhood friendliness.

Campus Martius Fountain's shifting Display
Soldiers and Sailors Monument commemorating Michigan's Civil War Veterans
How to use this Page:

This page offers a descriptive focus on the major parks and architecture Downtown not seen on other pages. These areas are the historic gathering places containing numerous landmarks that display the unique character of Motown. Once you've seen Detroit's buildings you may agree that they are not quite like those in any other town. (ENJOY THE MOTOR CITY AND HAVE A PLEASANT STAY!)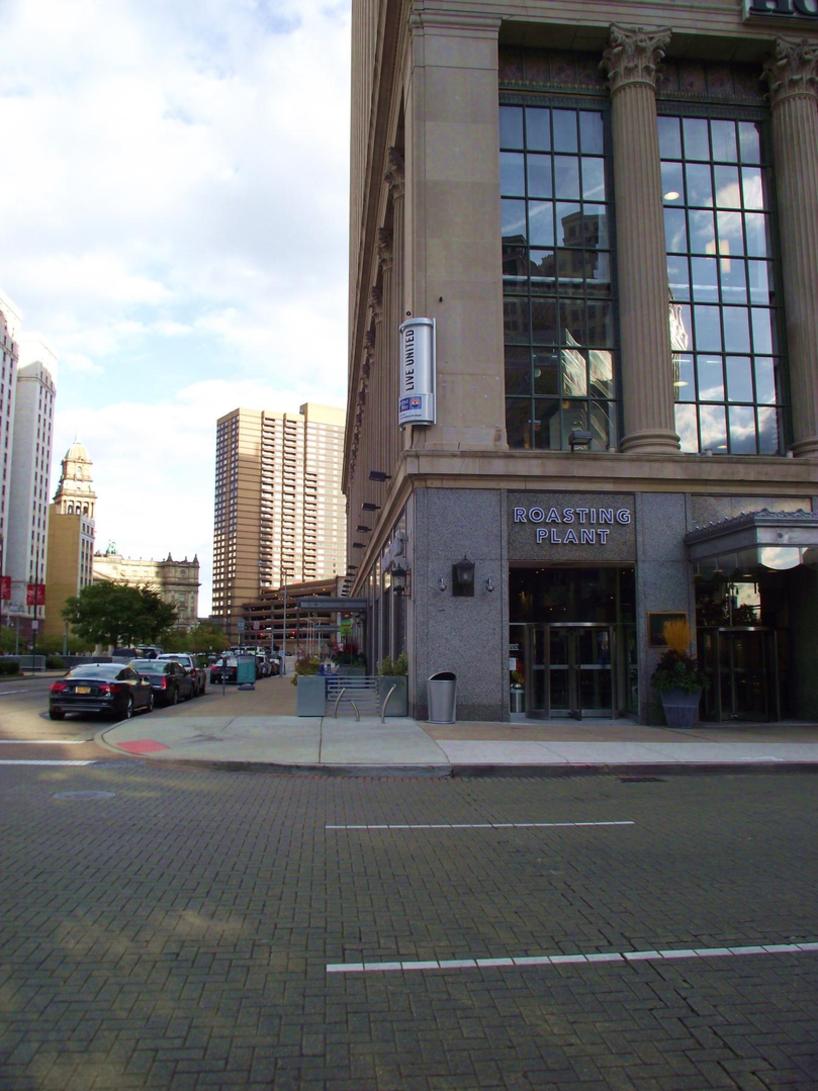 CADILLAC HOLIDAY MARKET
Winter Popups
​
By the beginning of American involvement in the First World War, German architecture became a cultural casualty. The U.S. sought a new influence indigenous to its own roots, and thus, a movement was born, which substituted Native American architecture and decorative art. This movement is perhaps nowhere more evident than at the Guardian Building, where it is known as Mayan Revival, Art Deco.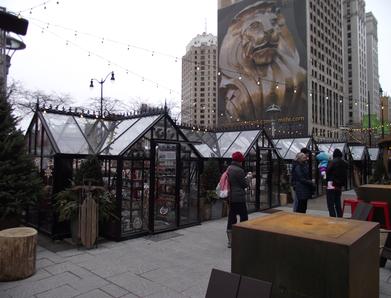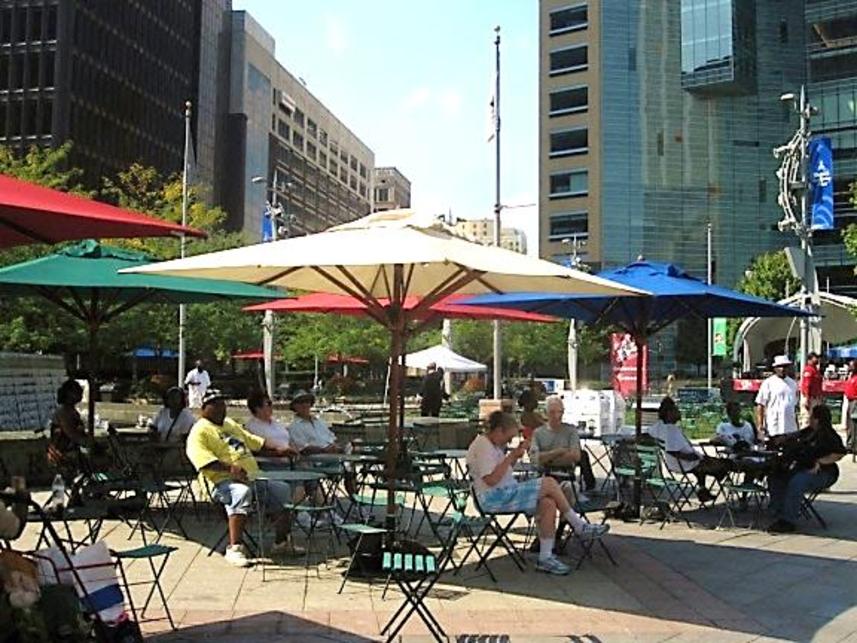 Type your paragraph here.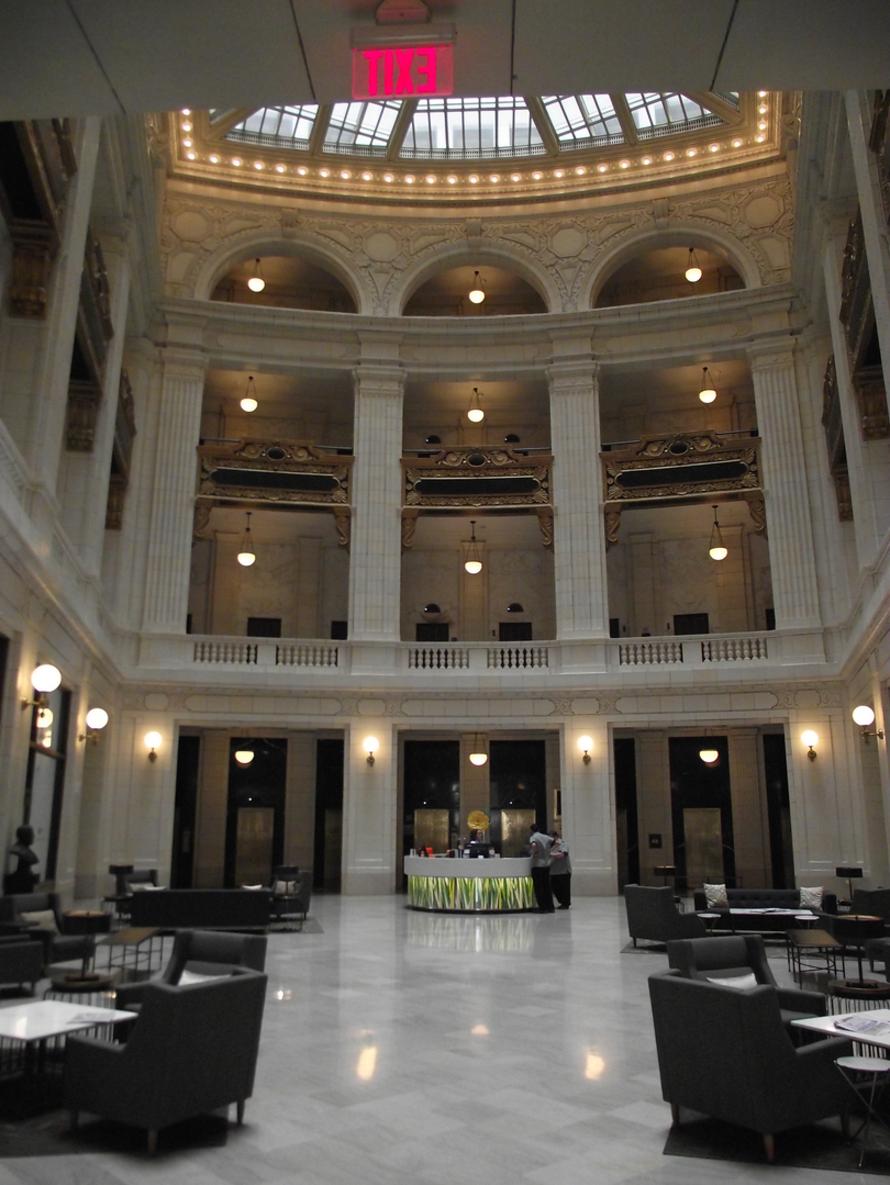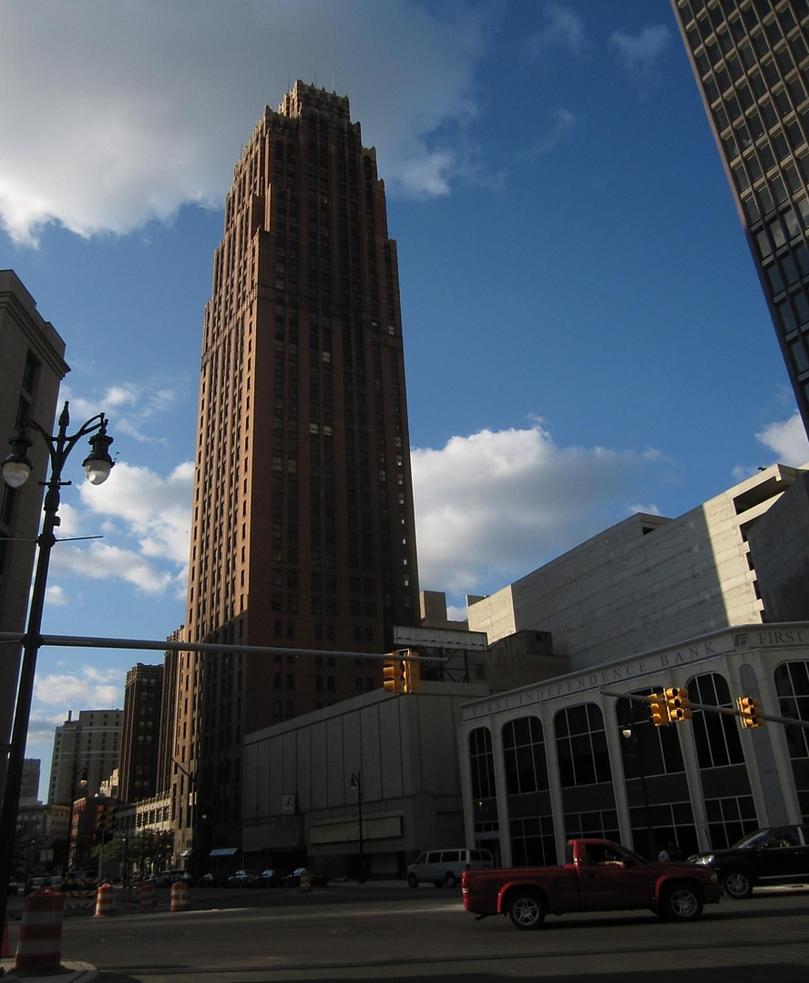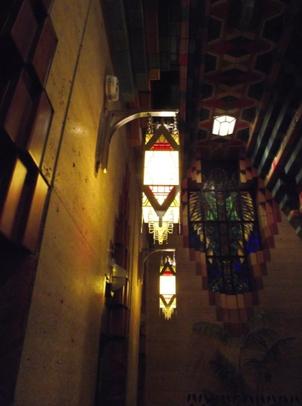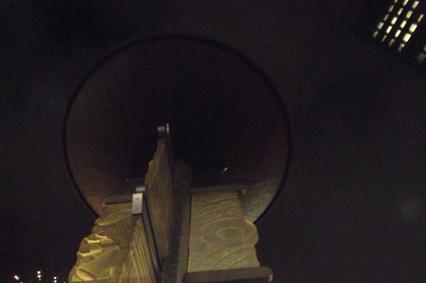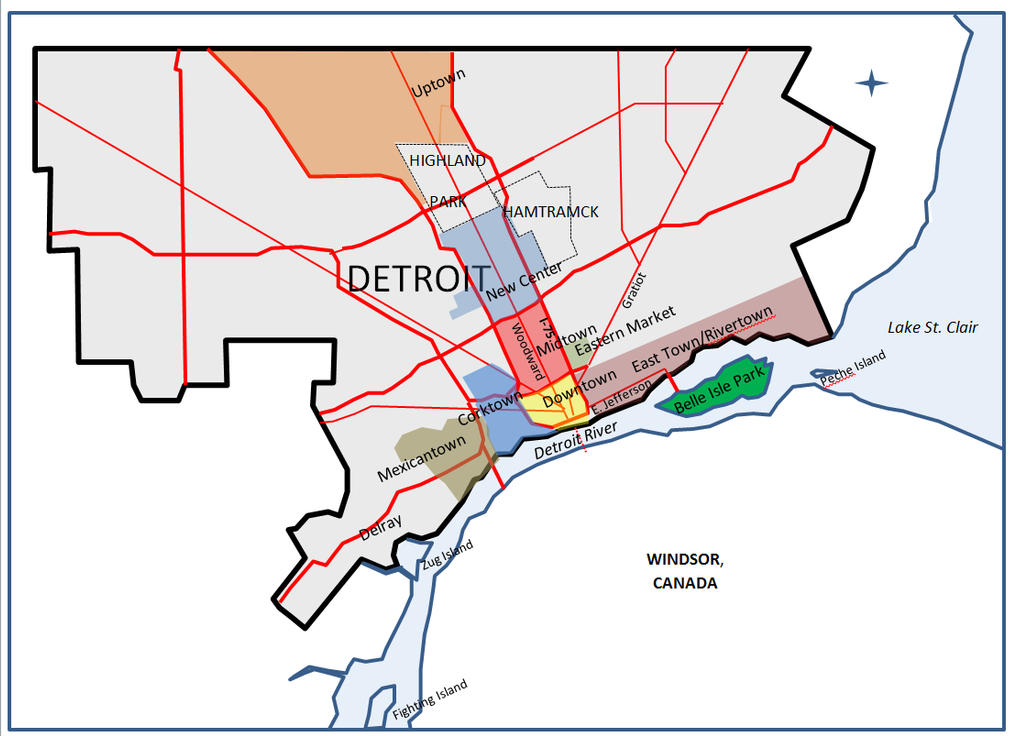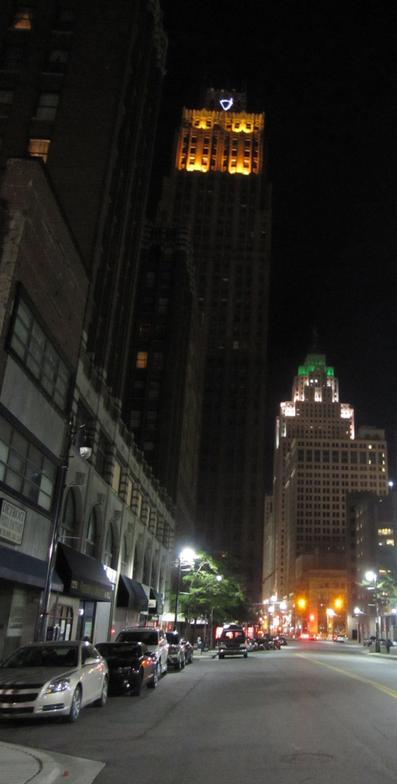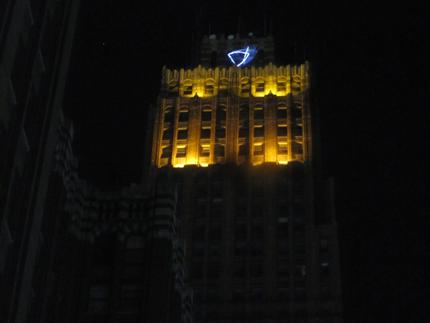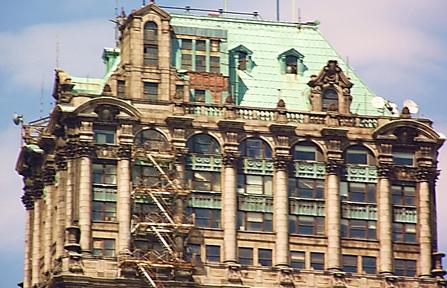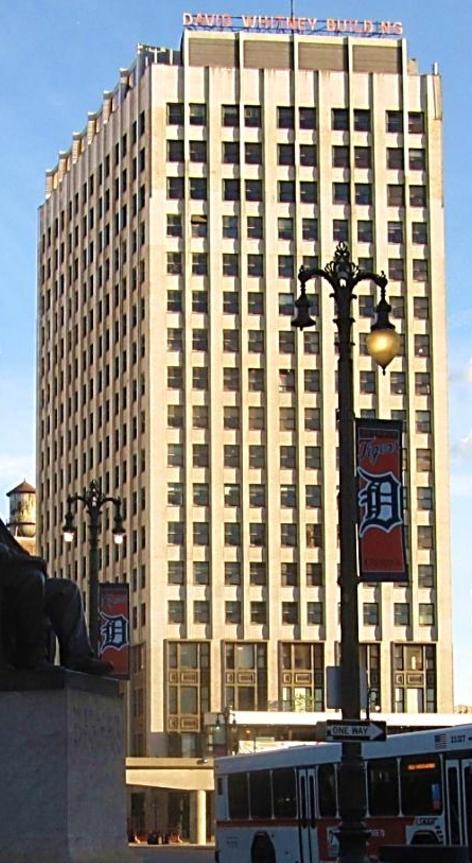 DAVID WHITNEY BUILDING & PEOPLE MOVER ENTRANCE
​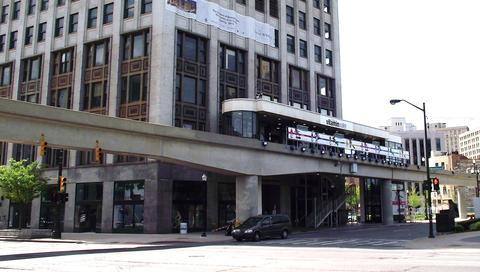 This is the Aloft Detroit boutique hotel interior with restored renaissance beauty and a touch of art deco lighting decor.
FLOATING GILDED ENTABLATURE

​
Balcony and view toward skylight East Side & North Side Entrance below
Hotel Lobby-Atrium and North Side Arcade, Columns and Pilasters
The David Whitney Building
The √√Rec David Whitney Building (arch. Daniel Burnham, Neo-Renaissance,1915, 19 stories) was renovated into a boutique hotel. It's located at Grand Circus Park on Woodward.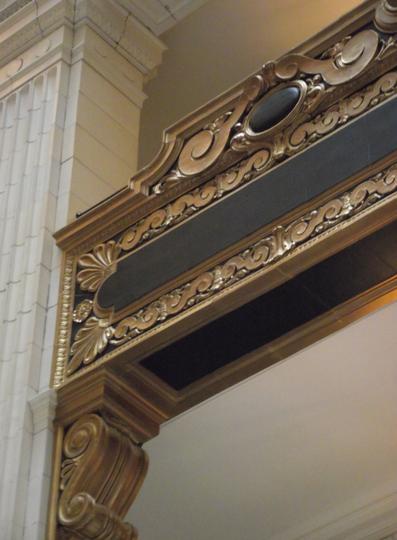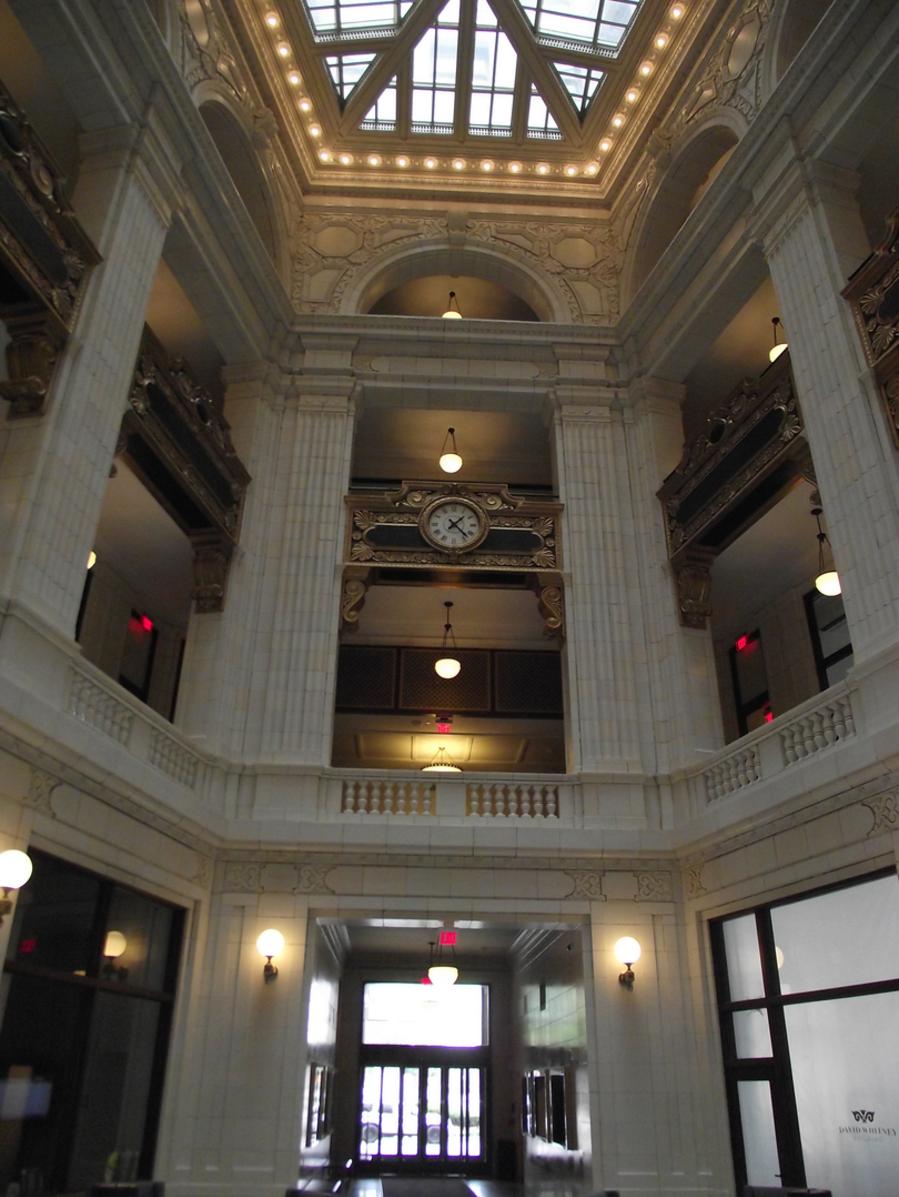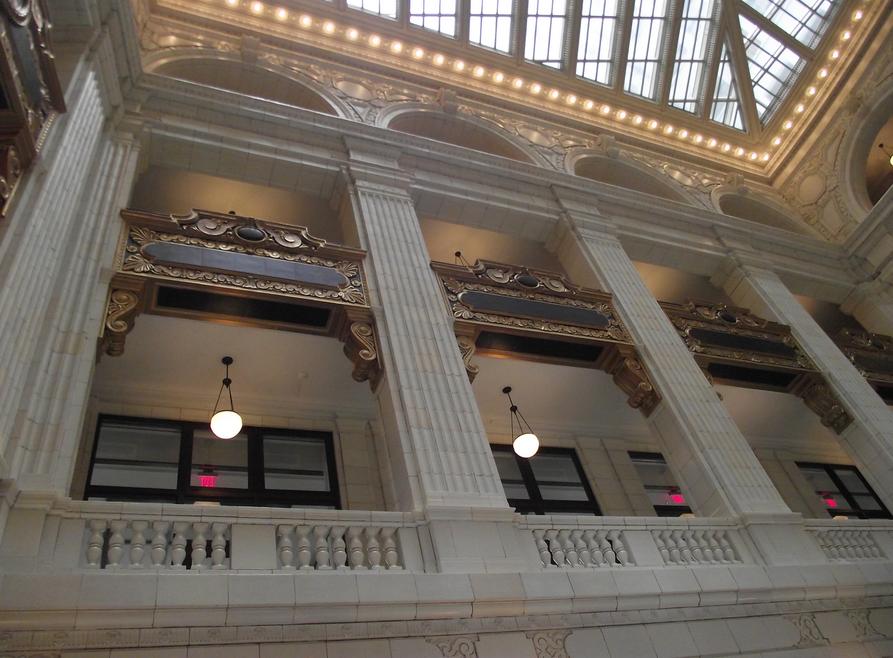 ​
√Rec Harmonie Park-Paradise Park
​
SNAPSHOT This area harmoniously blends from the area near Grand Circus Park at the "Necklace" to areas to the south and east of Woodward along Broadway, John R., Madison and Adams. As much a historical area as a park, it's home to significant architecture of different periods as well as a music recording studio by the same name that has recorded Aretha Franklin, Eminem, D12, Will,I.AM, P Diddy, The Black Crowes, Tori Amos, The Four Tops, Grand Funk Railroad, Motley Crue, Ben Folds Five, Missy Elliott, Dave Mason, Everclear, George Clinton, Elliott Smith, Karen Clark and Kierra "KiKi" Sheard.

Primary access to the area is by People Mover Station 12, Broadway.

ATTRACTIONS A Portion of the general area was once known as Black Bottom, and at its center was Paradise Valley further north and east. Huge numbers of African Americans came from the South to this location, seeking jobs in the new auto industry of the 1920s where they crowded into tenement houses. However, Black Bottom and Paradise Valley got their names from the former Savoyard River marsh nearby that ran through the bottom lands, leaving rich, black soil -- good for farming.

The many job seekers became the source of Jazz and Blues clubs. This brought great performers like Duke Ellington, Pearl Baily, Billy Eckstine, Ella Fitzgerald, John Lee Hooker and Count Basie. (
Wikiefieldtrip.org.

) In spite of the wealth of creativity the word "Paradise" was a stroke of sarcasm when compared to the truth. Entertainment continued to grow, however, into Gospel, R&B, and later Soul, Funk, Techno and other great forms of musical expression that put Detroit at the top of the charts. On the fringes of this community were built the new movie palaces by patrons who got rich from the auto industry, and whose theatres survive to this day.



​Politics and Culture

This small triangular park is the focus of cross-cultural heritage. Because it was known as Germantown, it has an ethnic connection to the original German residents. Because of its association to Paradise Valley and Black Bottom the name of the park is significant to African Americans. Continuing efforts are aimed at re-naming it Africantown in honor of prominent African Americans and to promote local black business interests. Recently, a large project was announced for the general area promoting entertainment, the arts and retail interests with an African American theme.

Rookwood Tile's Rich Tones (A New-World Masterpiece of Radiating Color)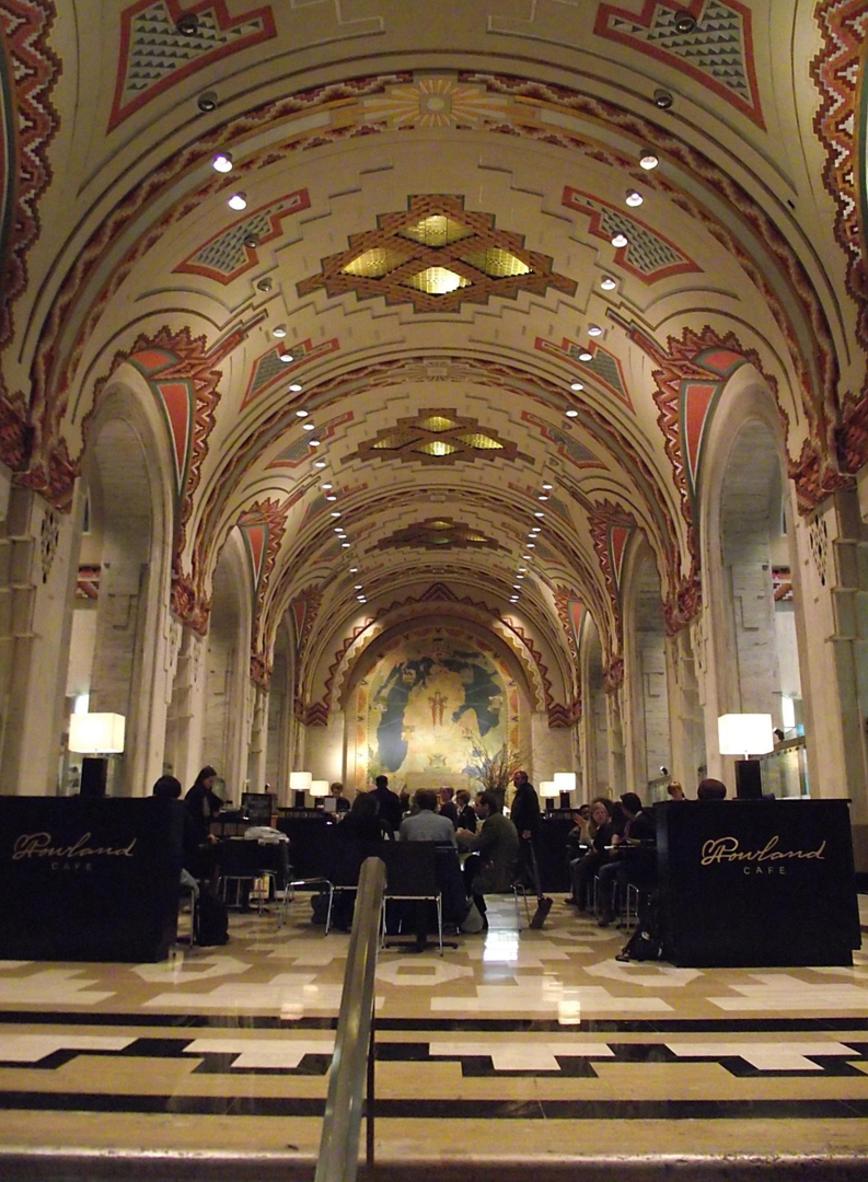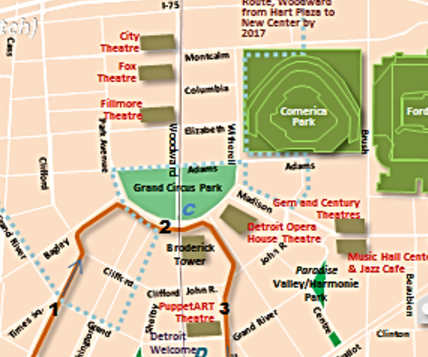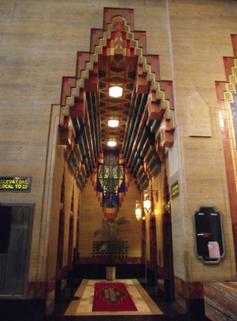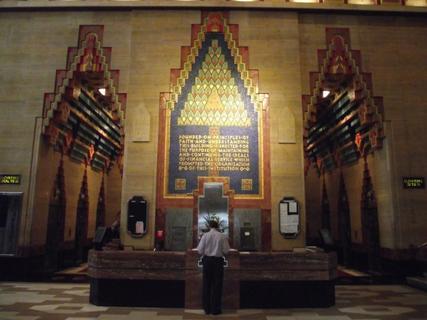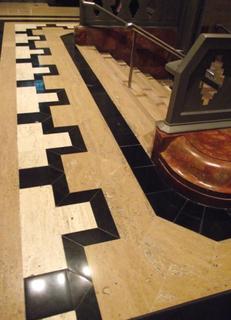 ​​​
​​The Ezra Winter Mural conveys a lofty sense of Michigan pride, work and bounty.

Michigan Mural: Urban Industrial Empire, Rural Bounty, Native Heritage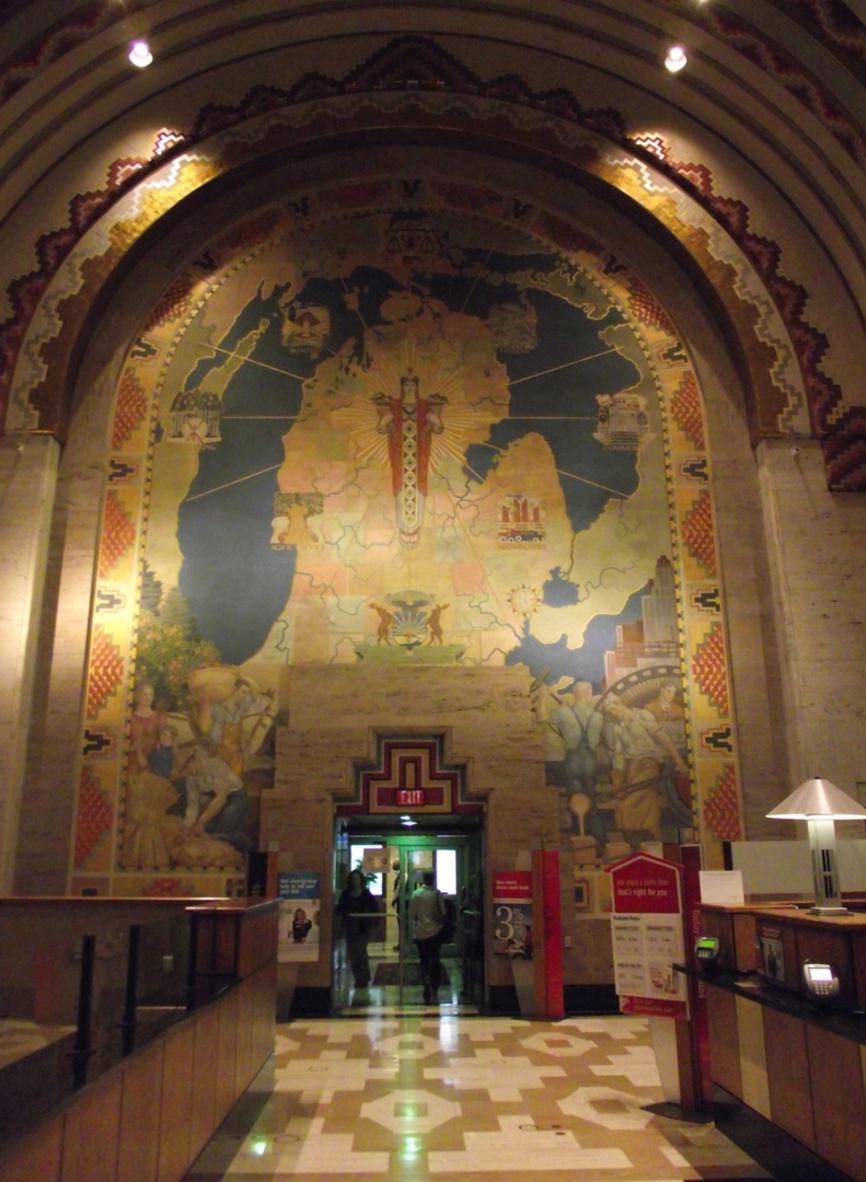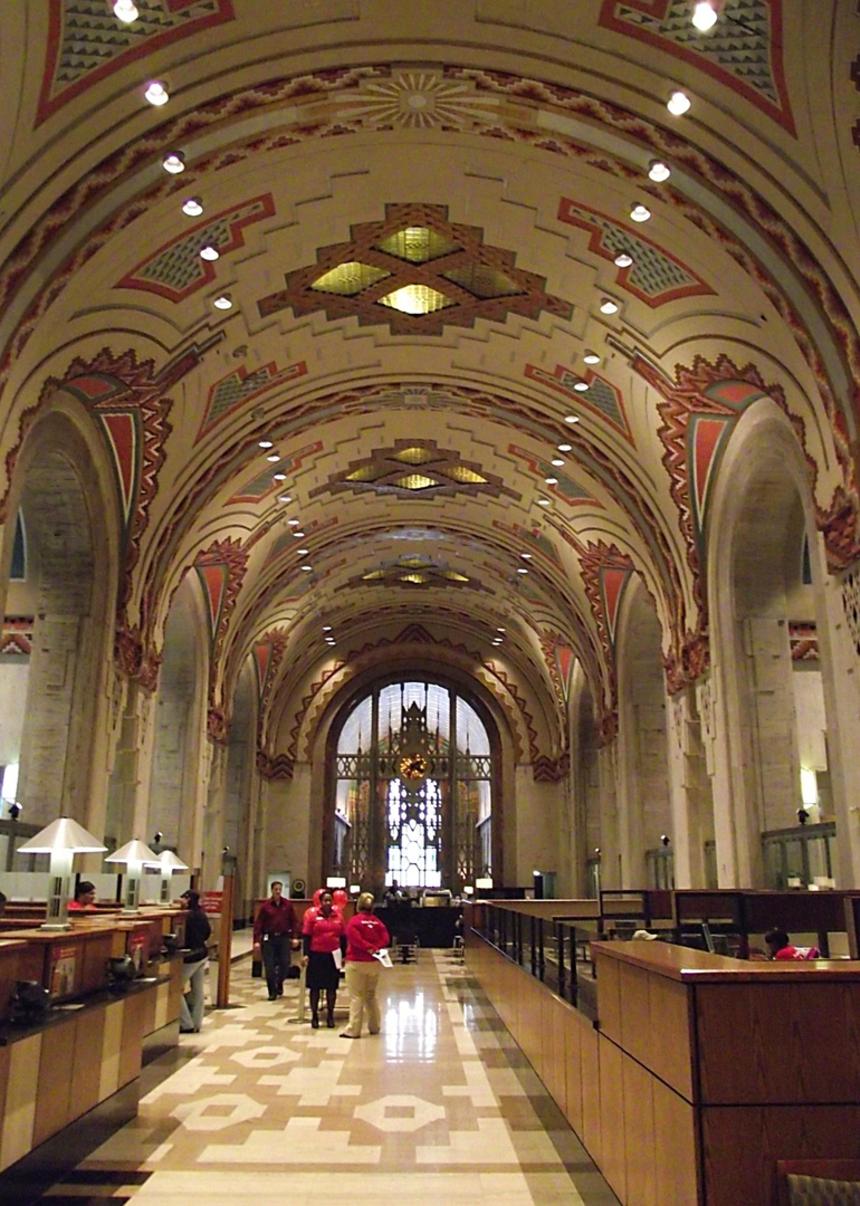 Upper Corridor, Barrel Vaulted Ceilings and Woven Horsehair grace a Brilliant Theatre of Design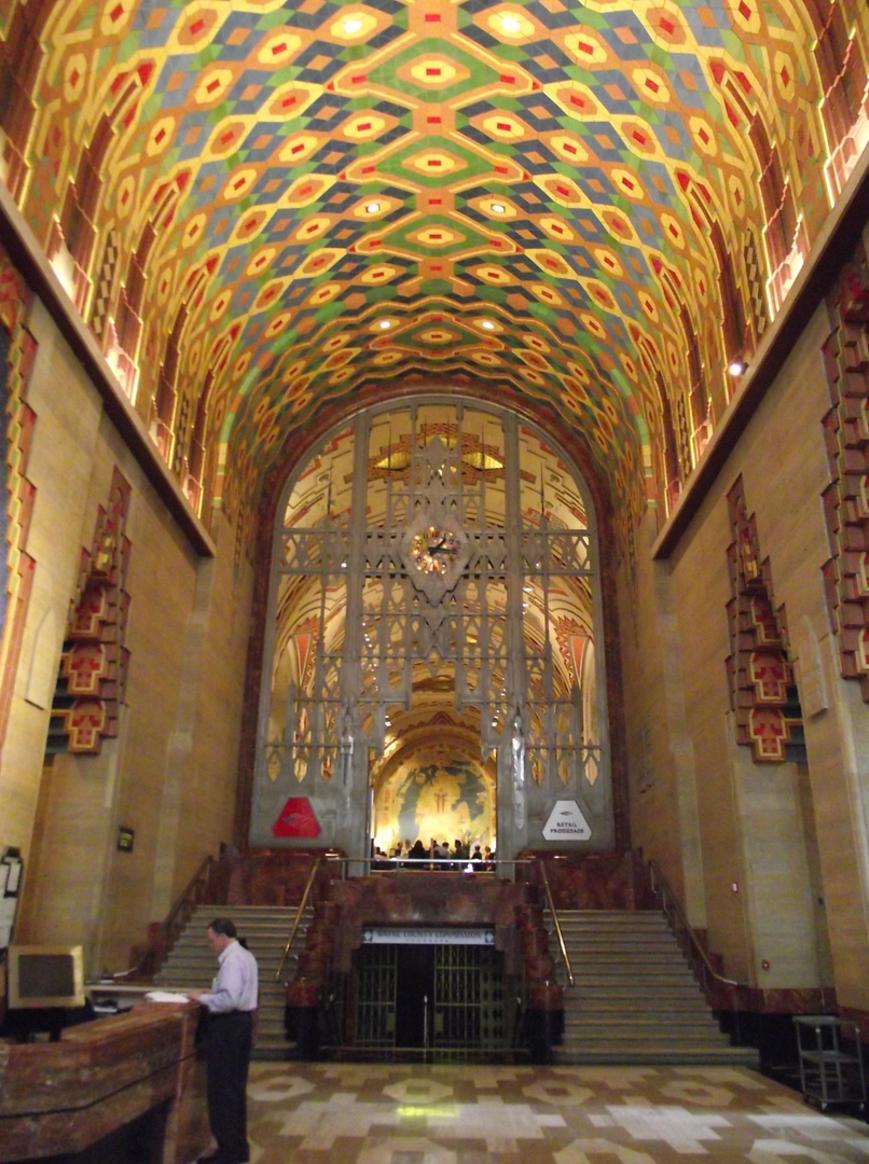 ​​​
​​The Guardian is not just a building. It's a stirring New World anthem of American majesty held in great reverence. Materials and design elements elevate the structure to international eminence.

It contains rare pink granite, buff Mankato stone, Rookwood and Pewabic tile, a stepped-arched nave, barrel-vaulted ceiling and the best examples of workmanship throughout the building. A monel metal screen frames the empire of industry from the end of the corridor.

Guarding the Gate of Democracy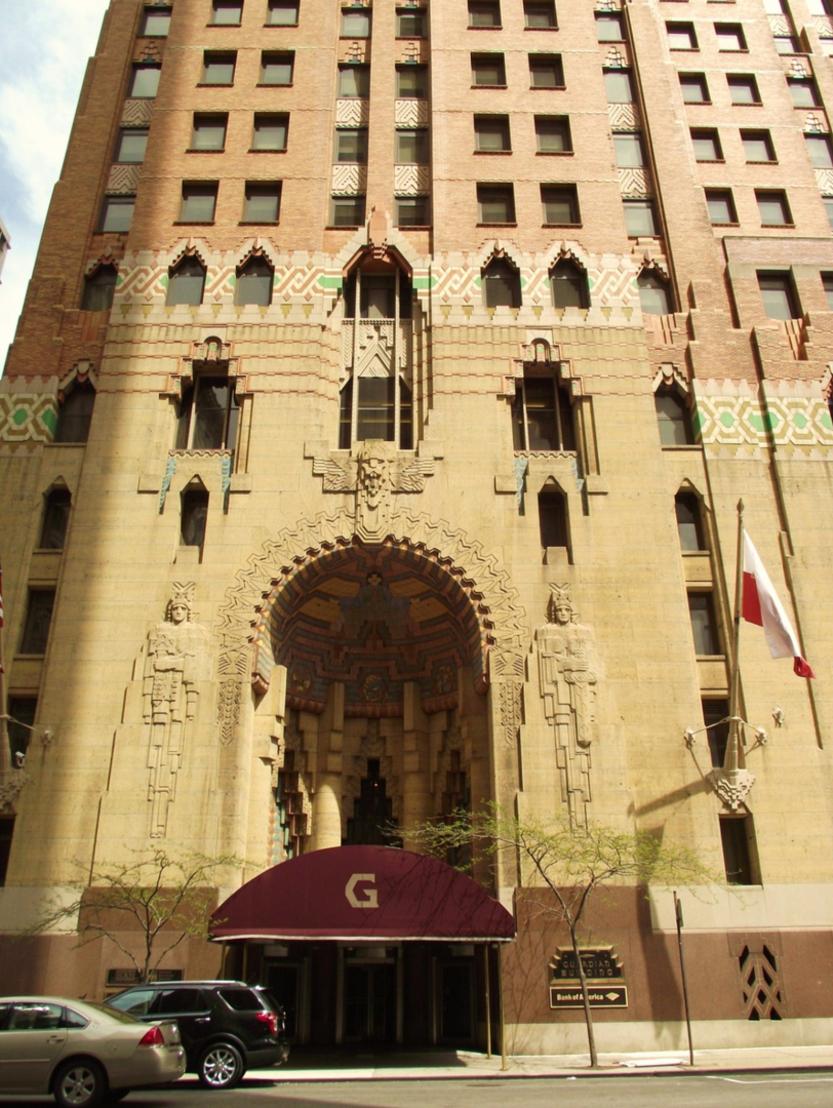 Fortress Cathedral: Orange Brick Guardian Building with Pewabic Accents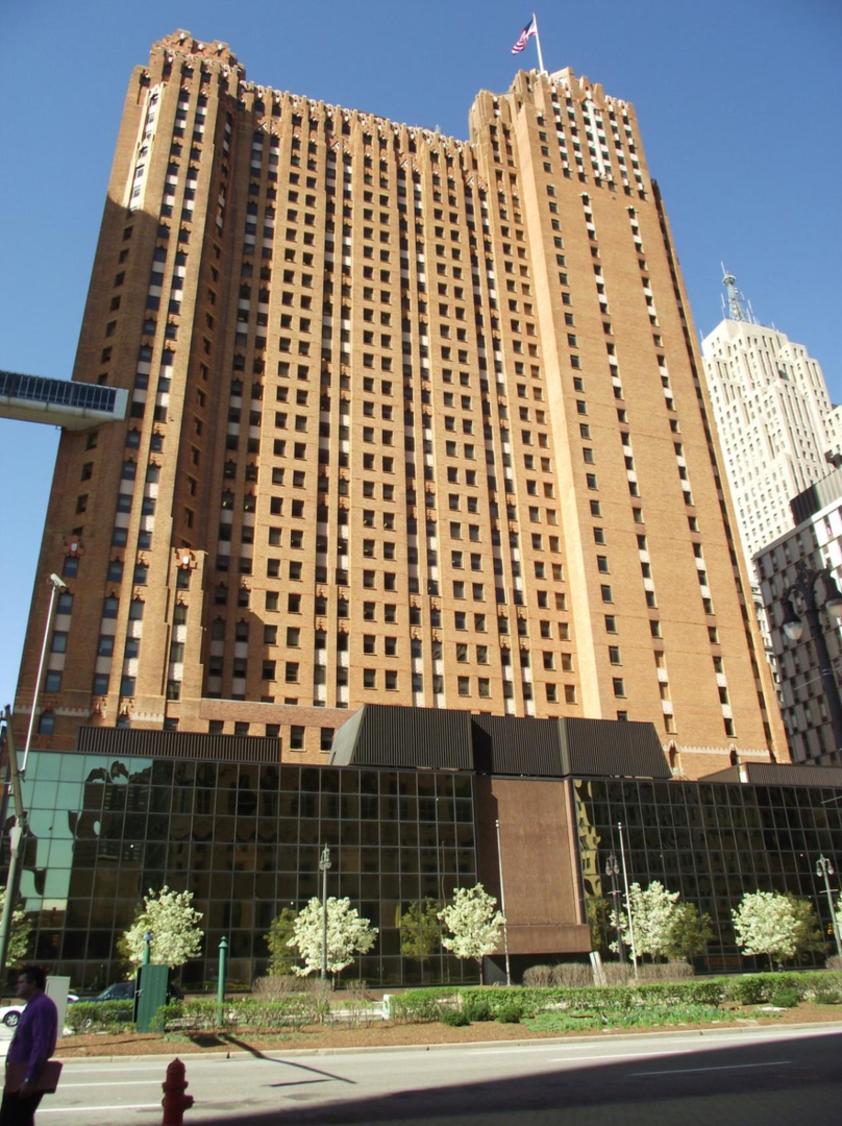 Adjoining Corridor Art Deco Ceiling Lamps and Coffered Recesses
Long Axis of Lobby, Ceiling and Floor Reflected Design
Lobby at Entrance with Art Deco Marble Floor Design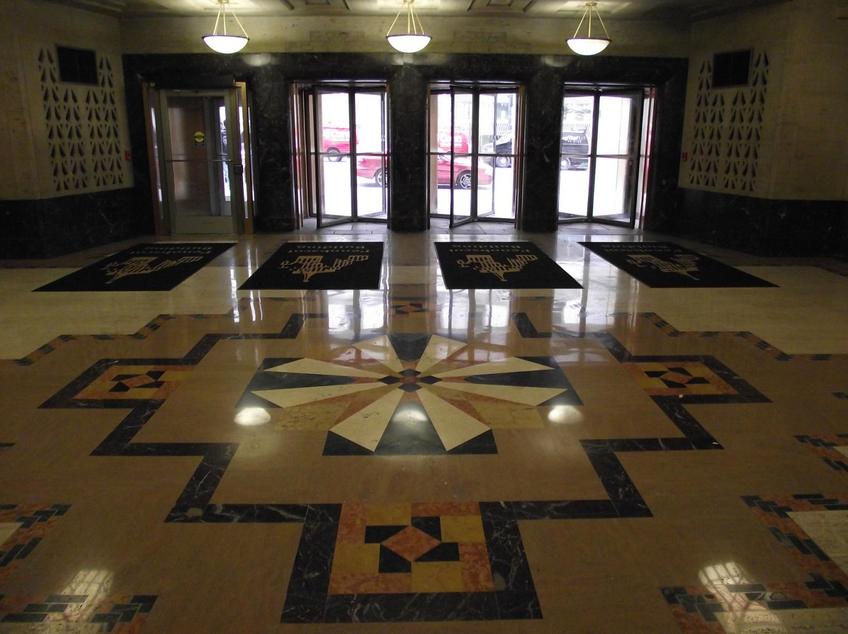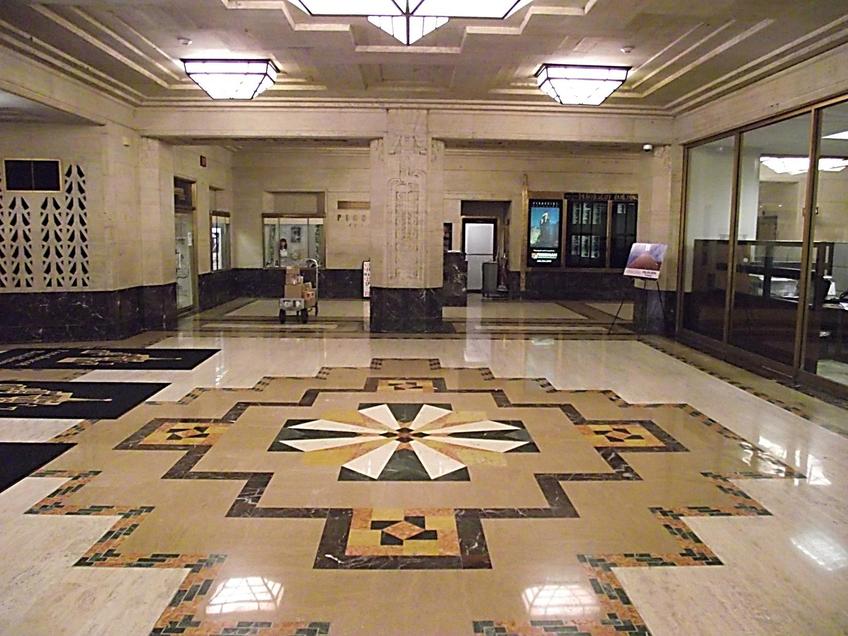 Main Entrance Art Deco, Marble Columns and Brass Framing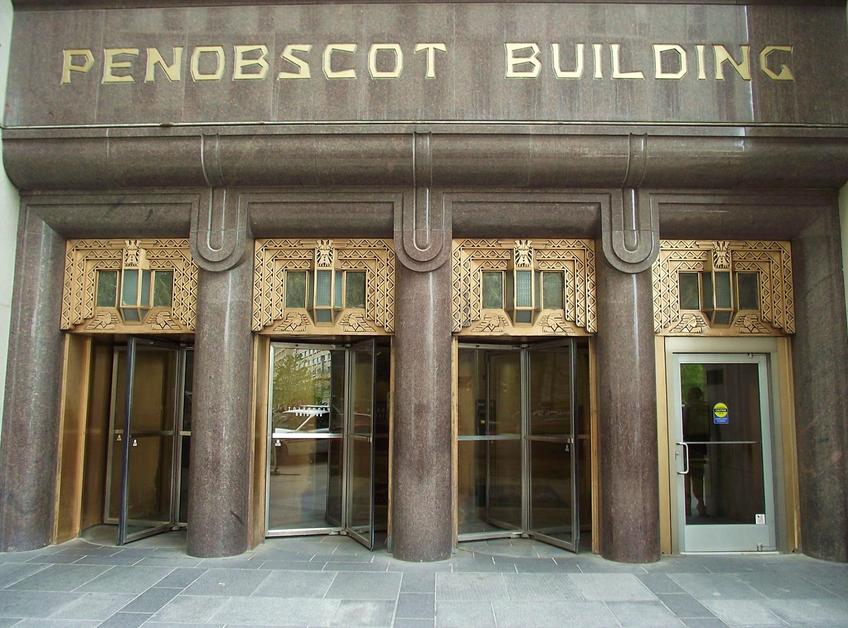 Front Elevation Arched Entranceway with Filigree, Ornate Mullions and "H" Frame Façade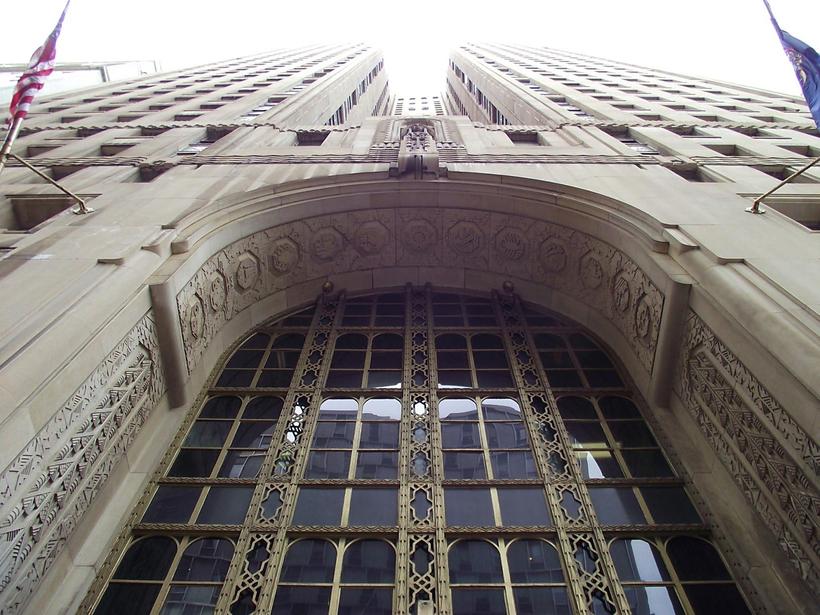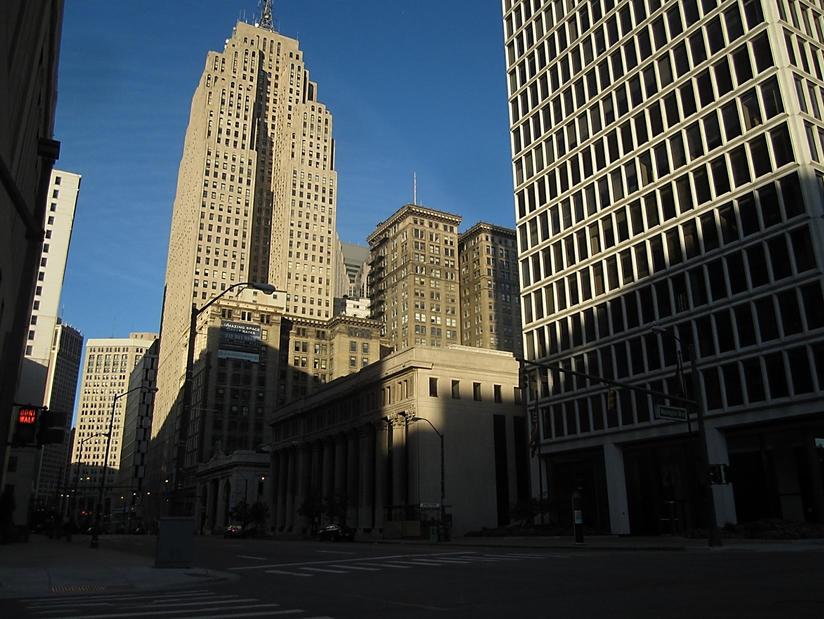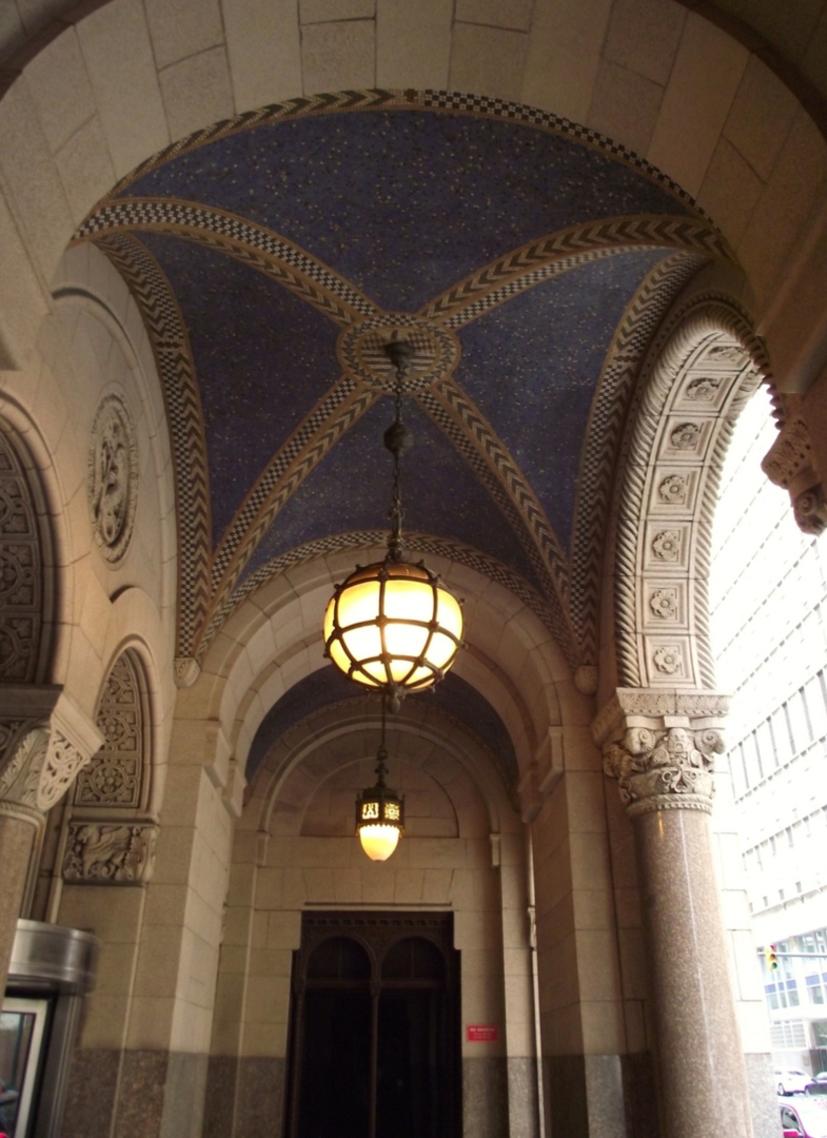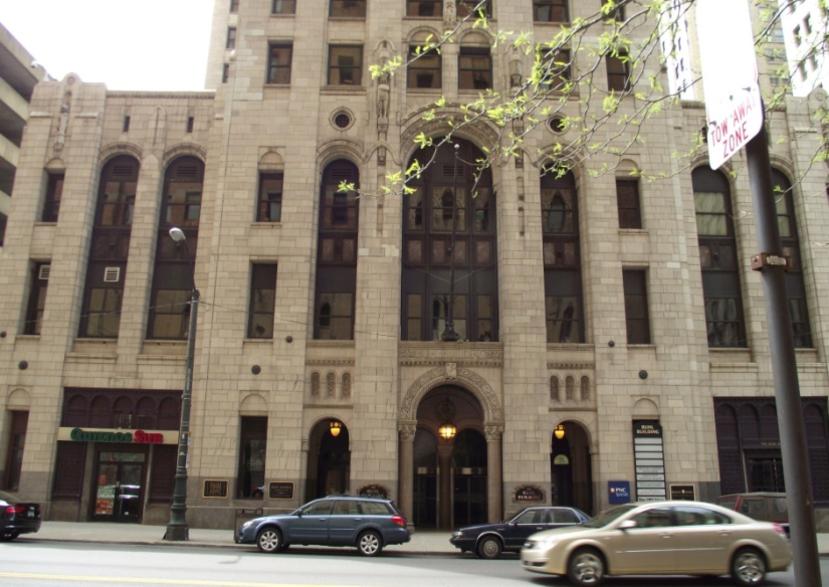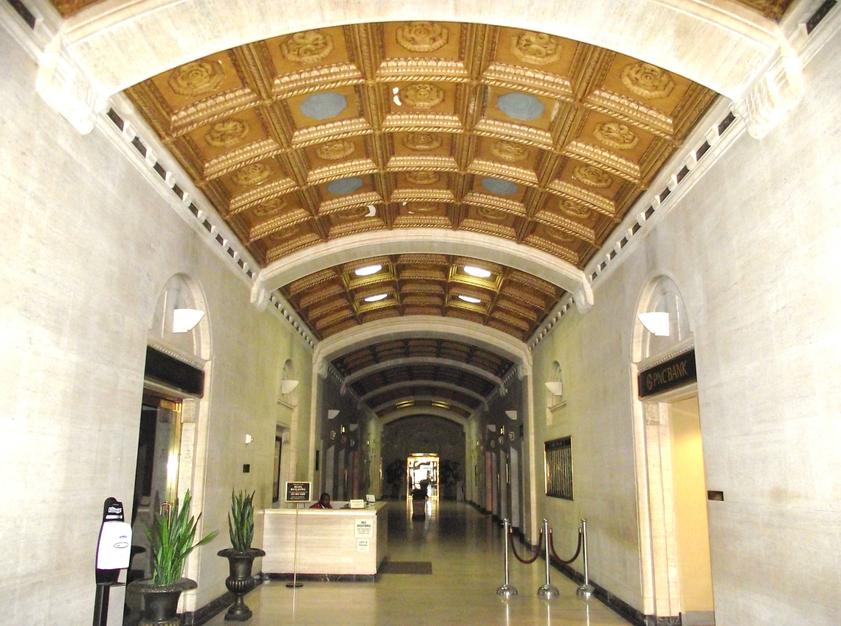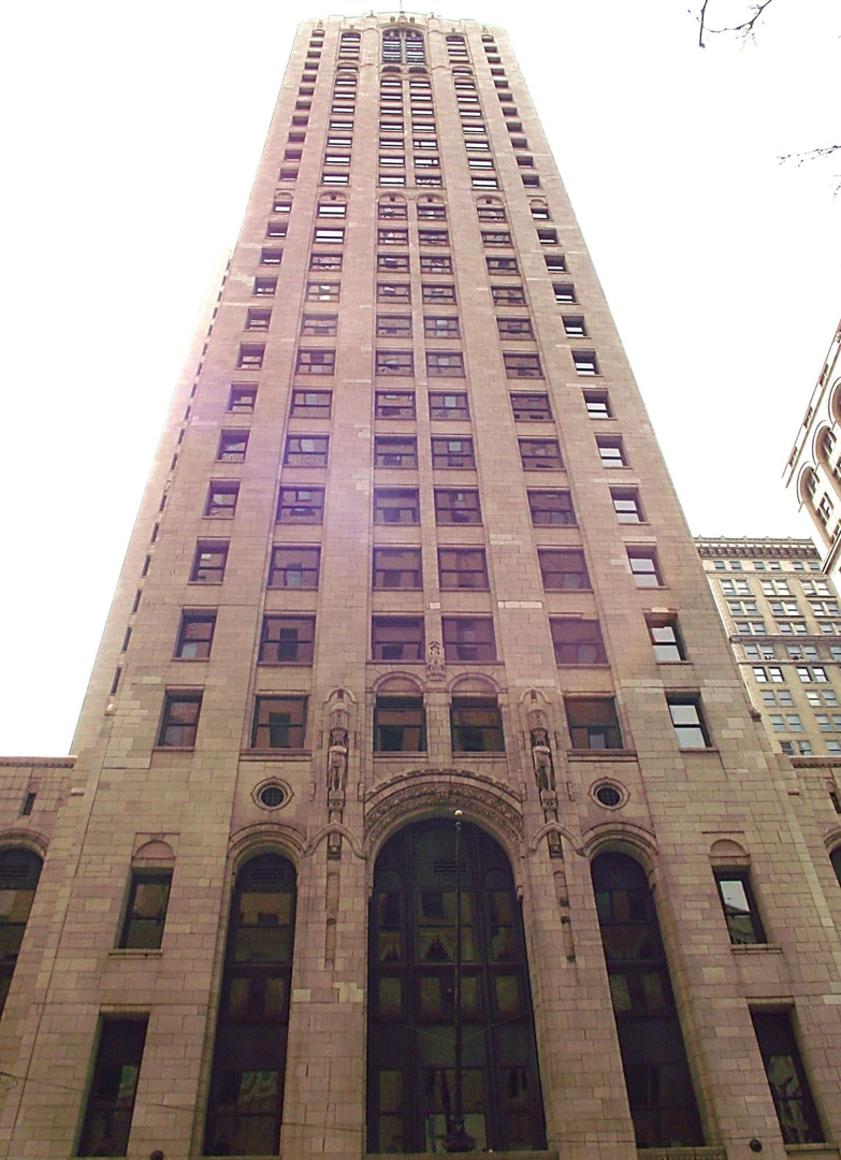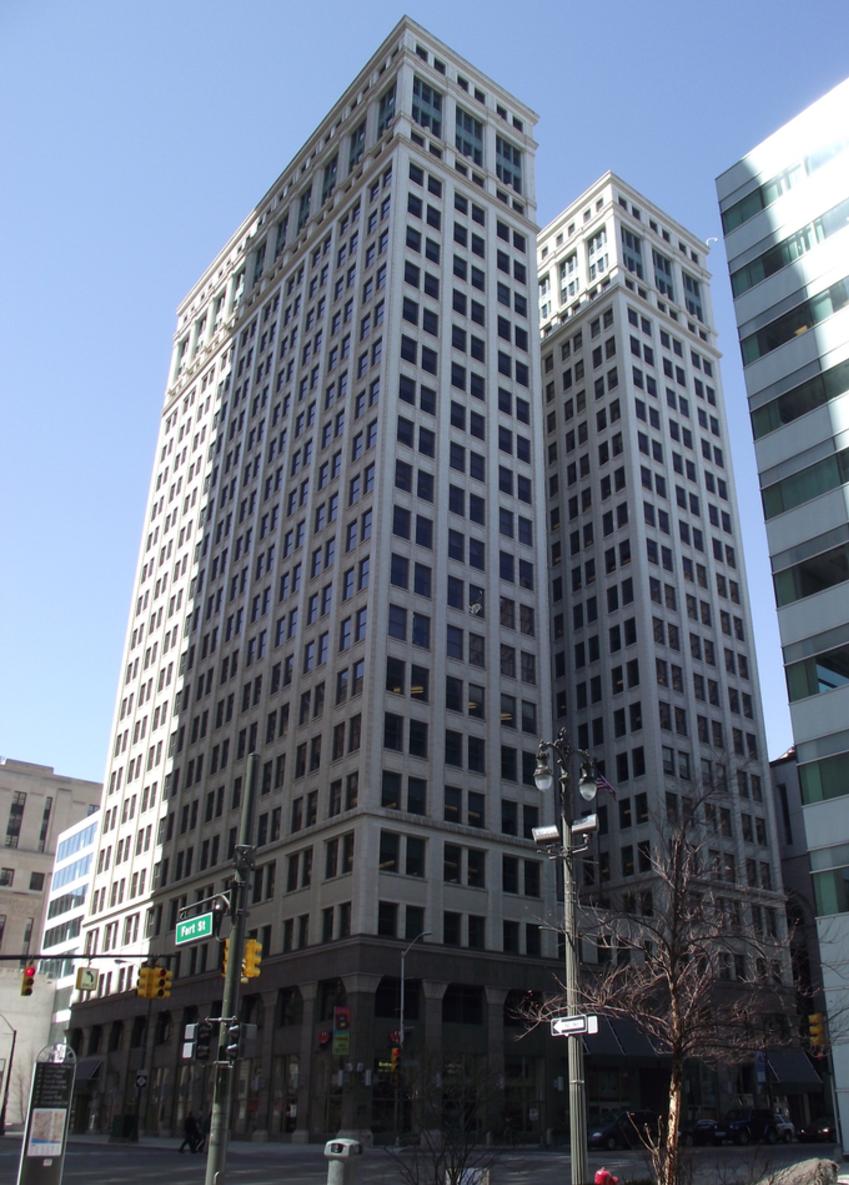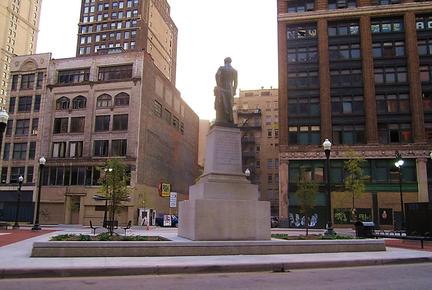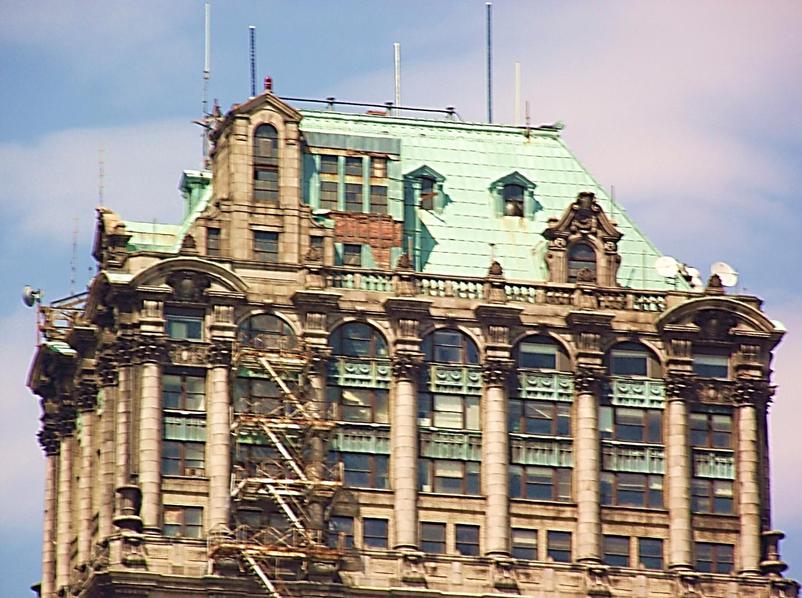 ​​​​
​​

√Rec

Texas de Brazil Restaurant (Compuware Building),


Calexico replaces Olga's Kitchen (Compuware Building),

​​​​
​​Visit the Row's newest nearby residents,

Texas de Brazil Restaurant, Compuware Building on Woodward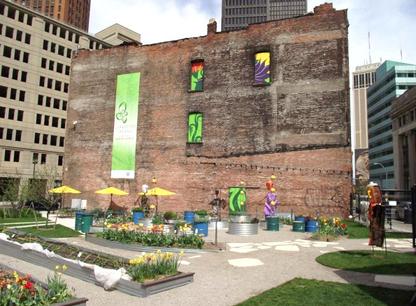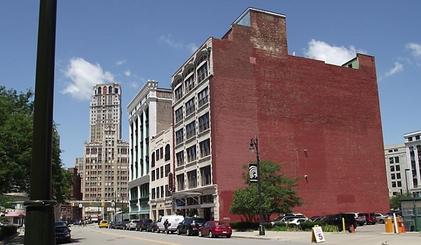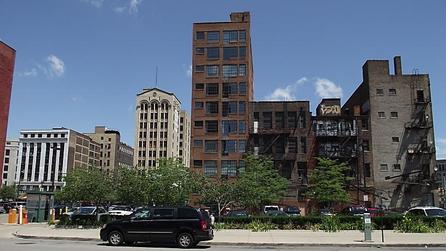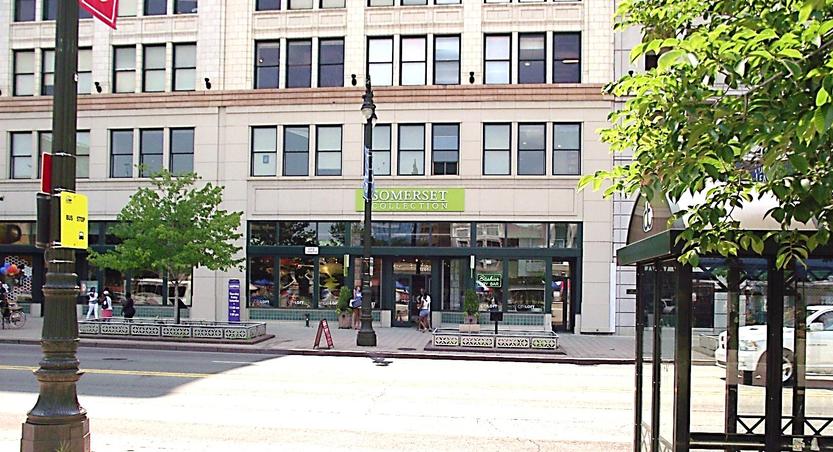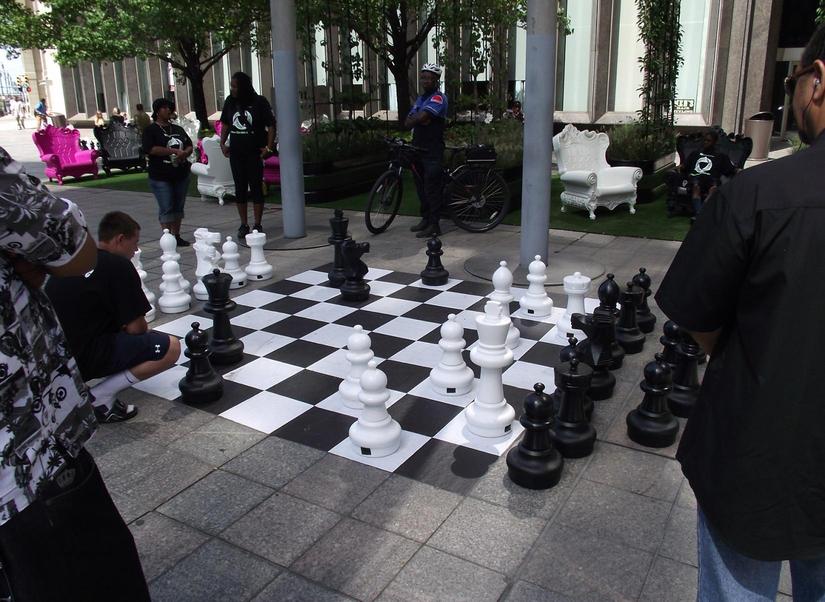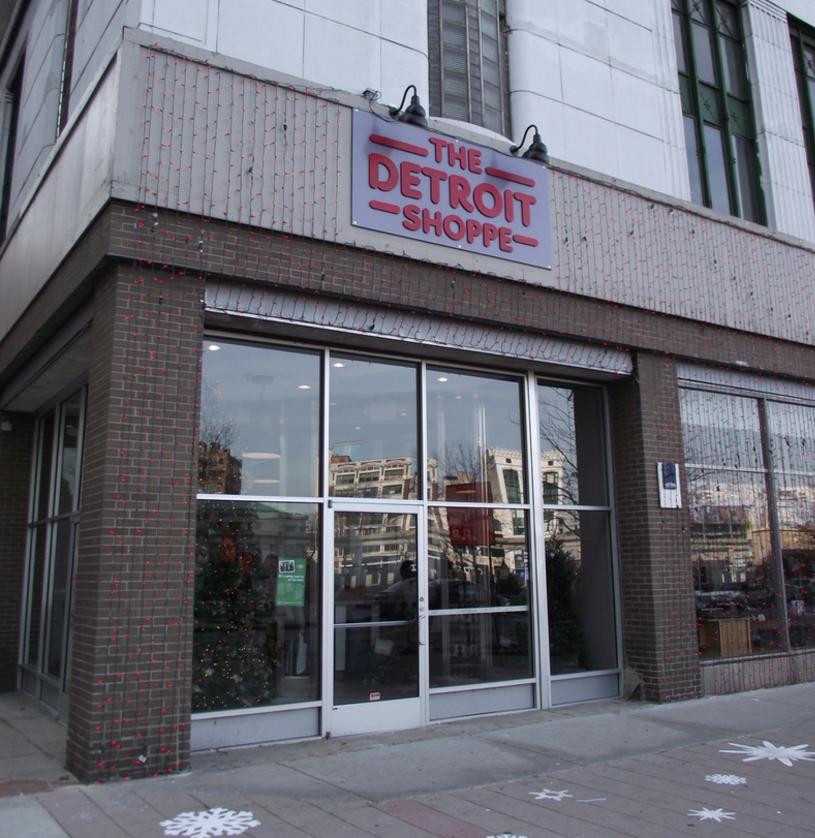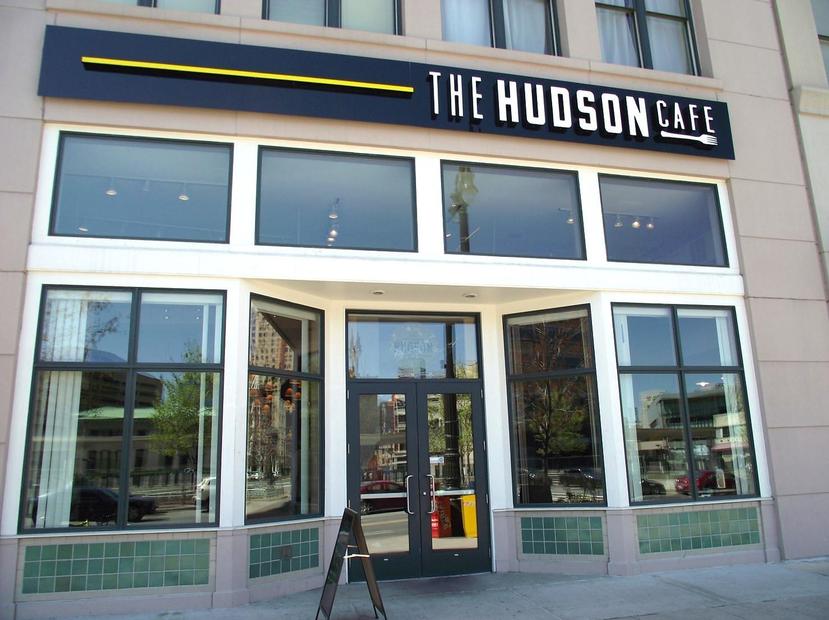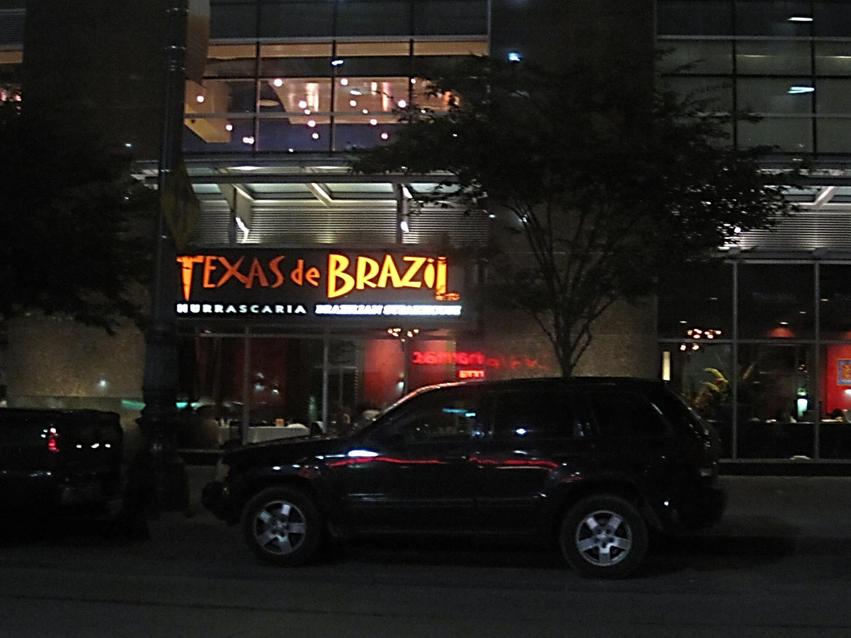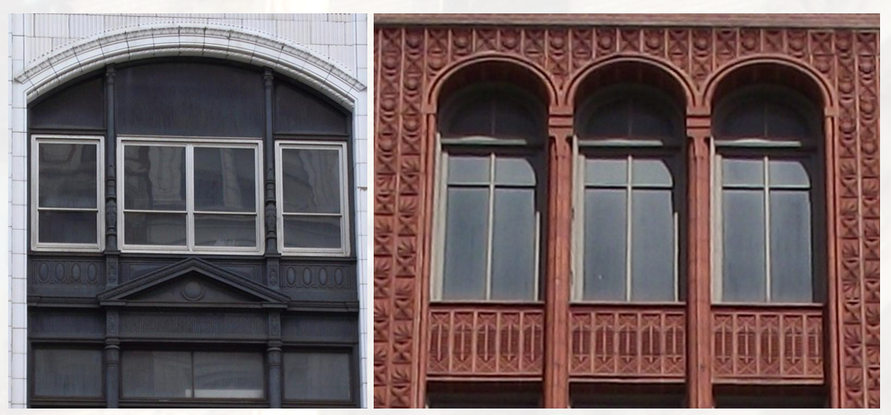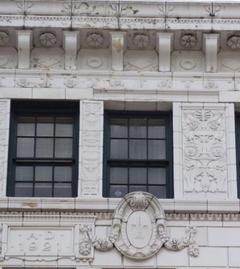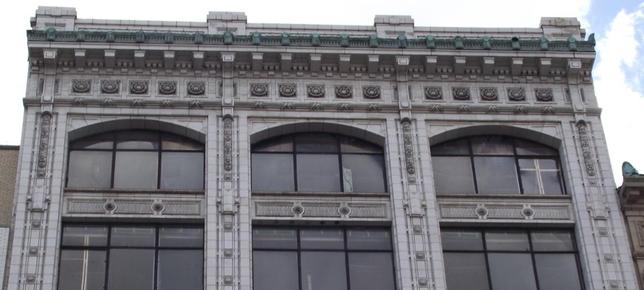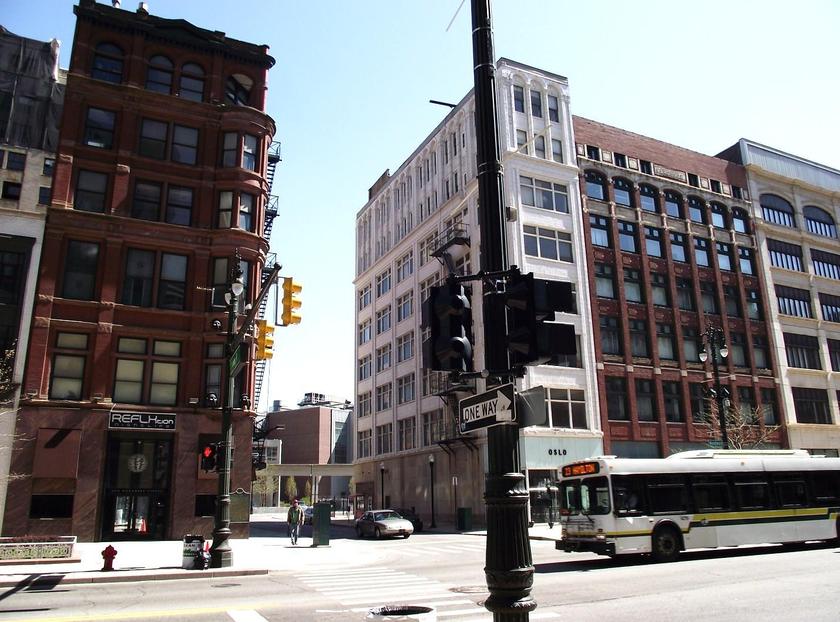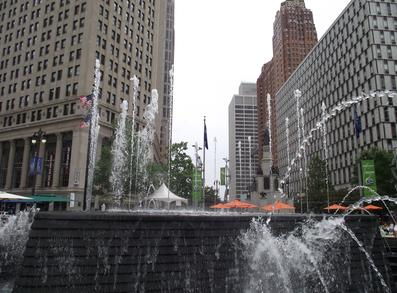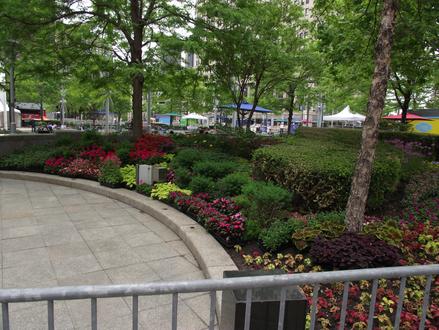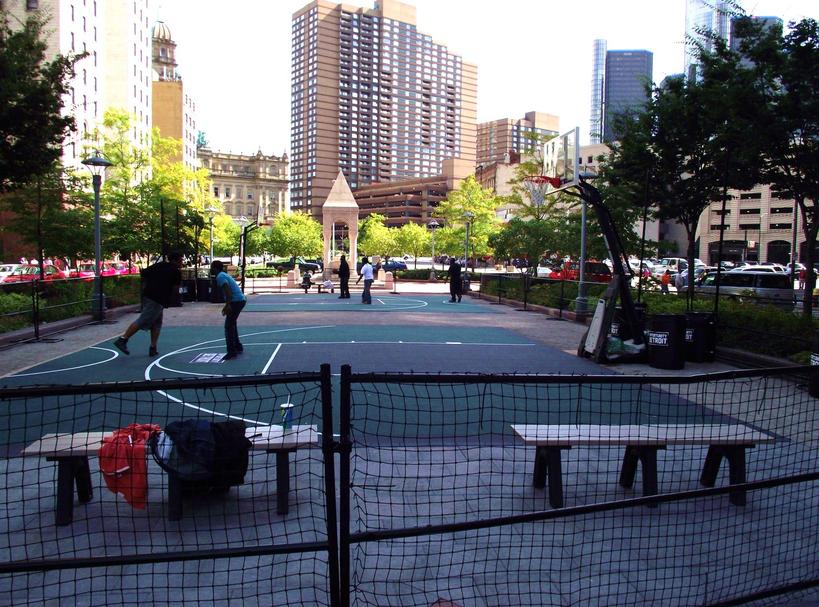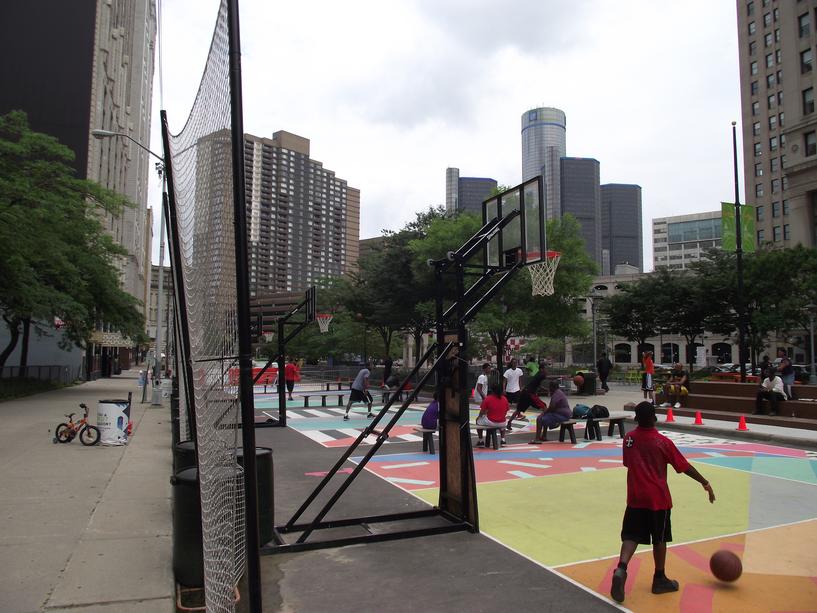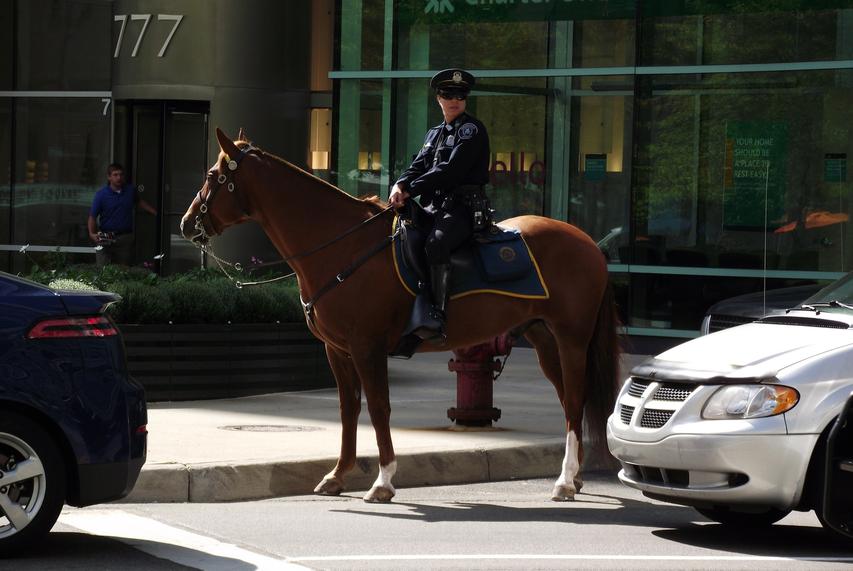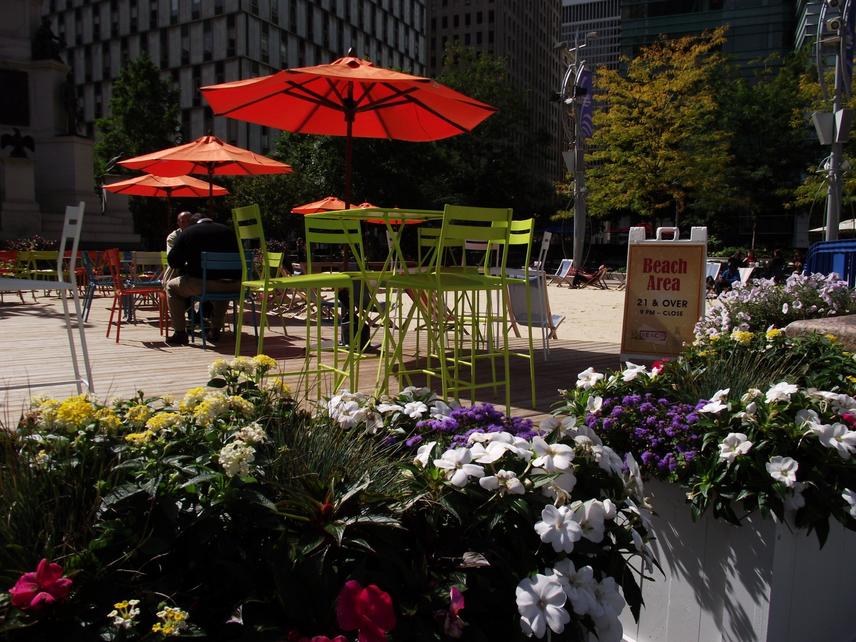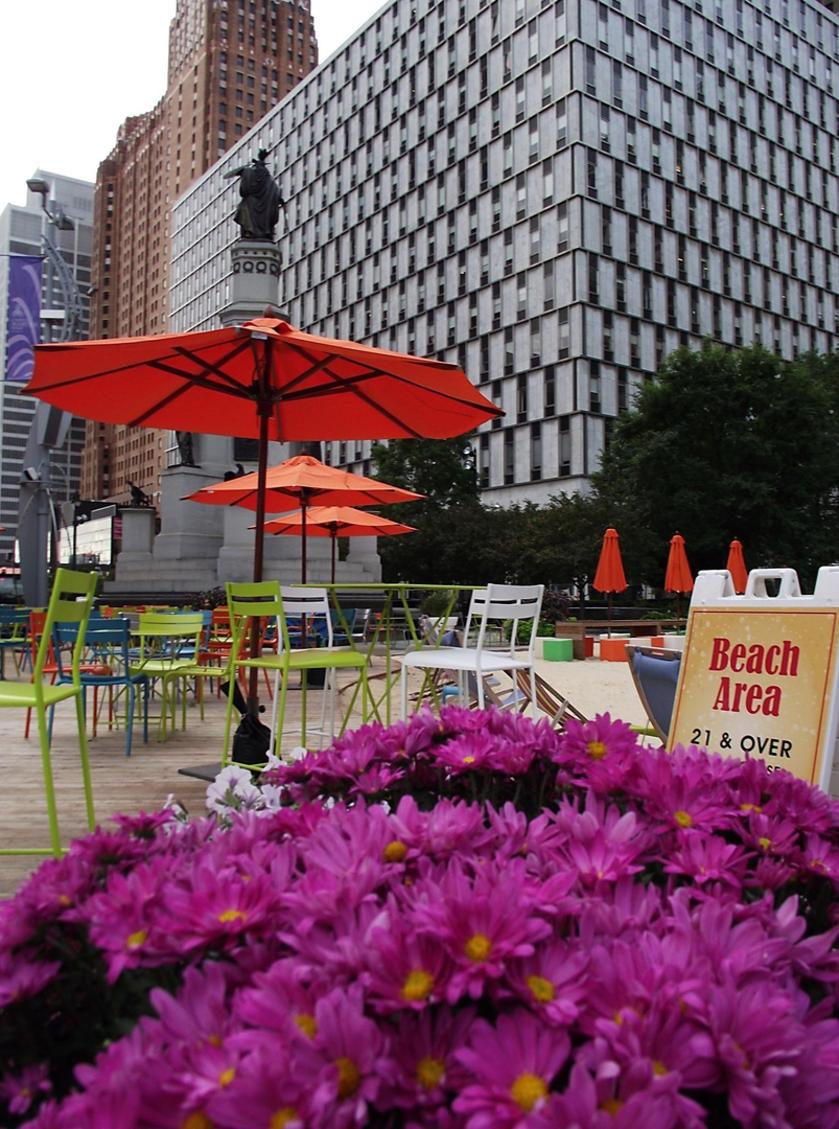 MONUMENT TO MICHIGAN 24TH
​Etched in relief are images representing the 24th Michigan Regiment soldiers and other units. (Civil War veterans of 1861-1865.)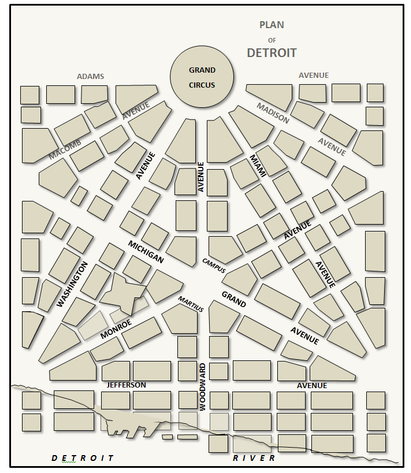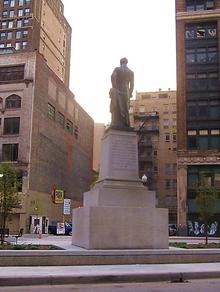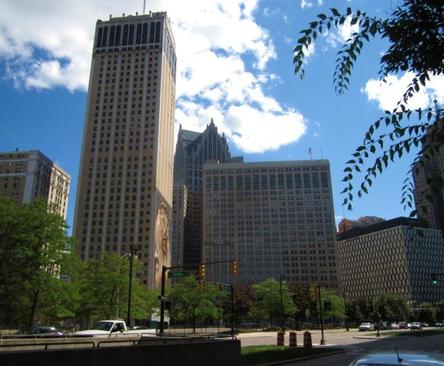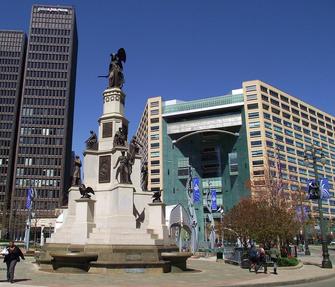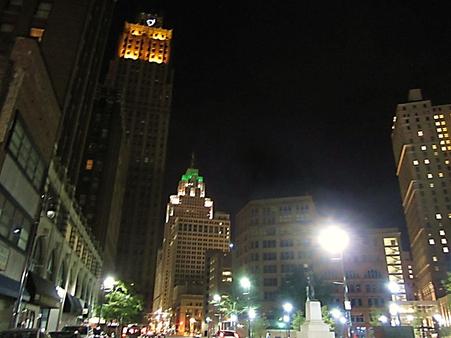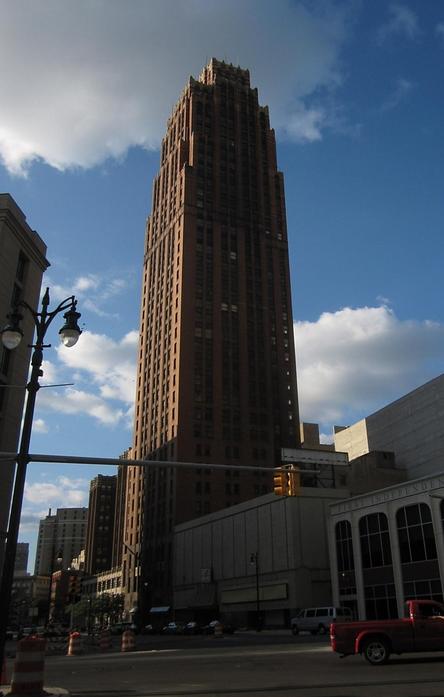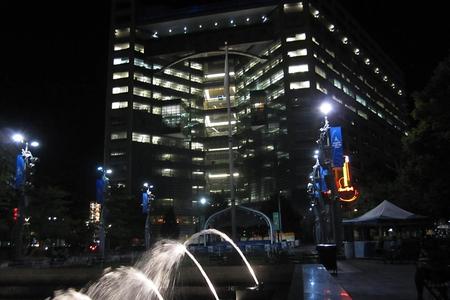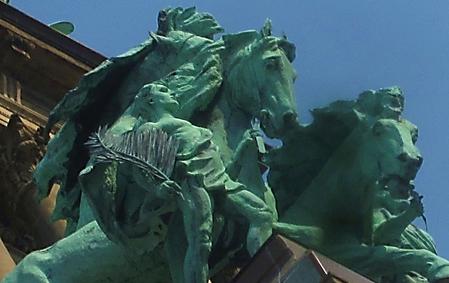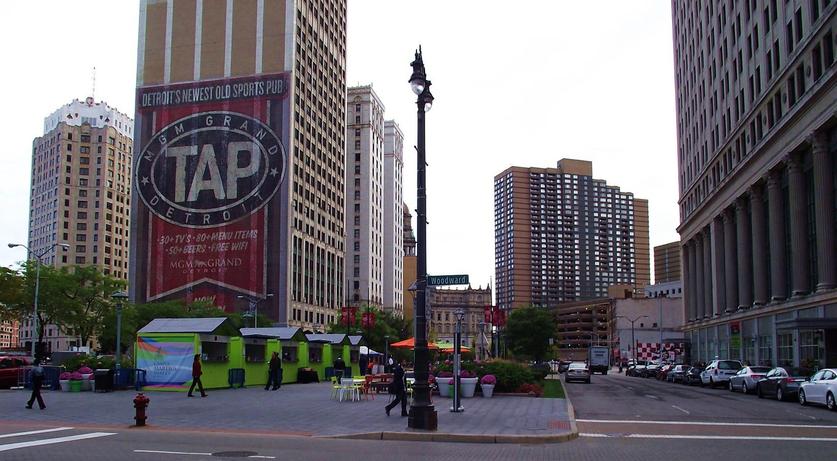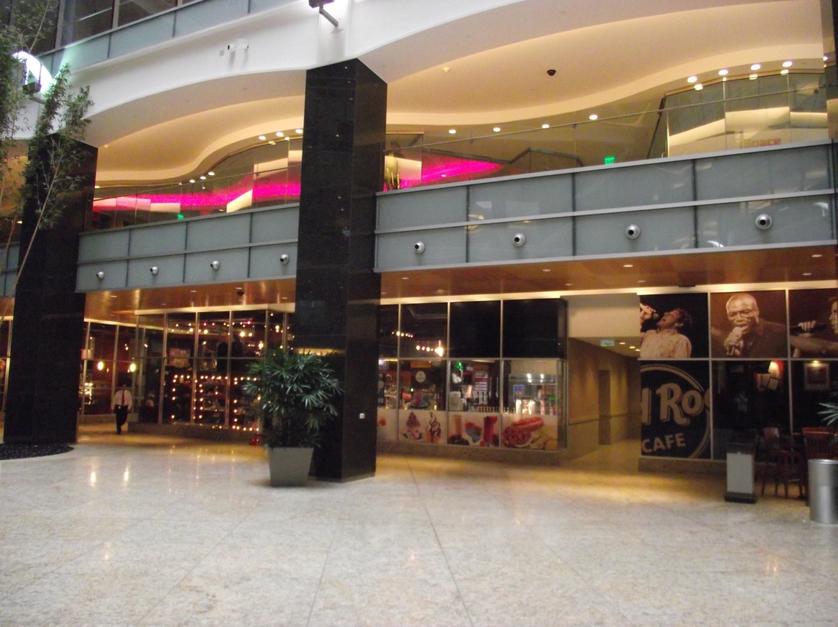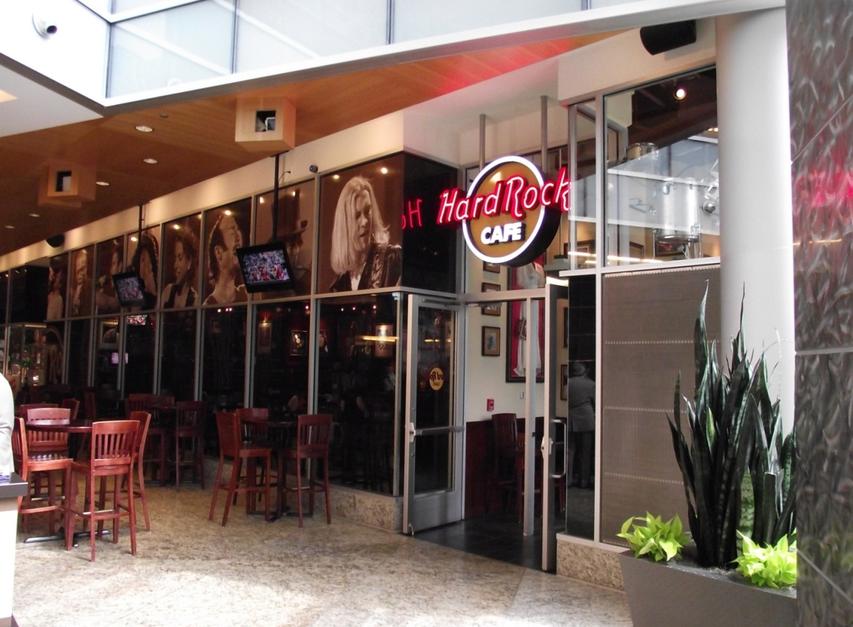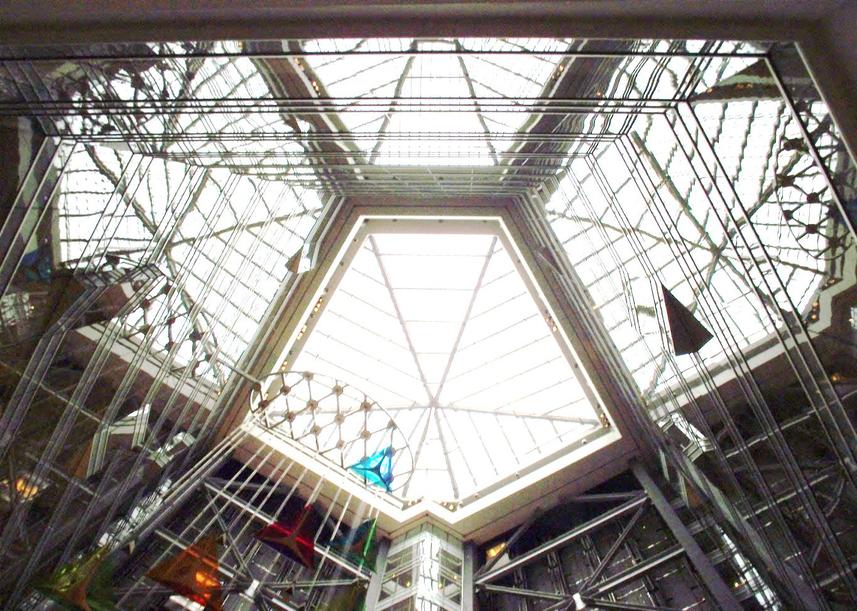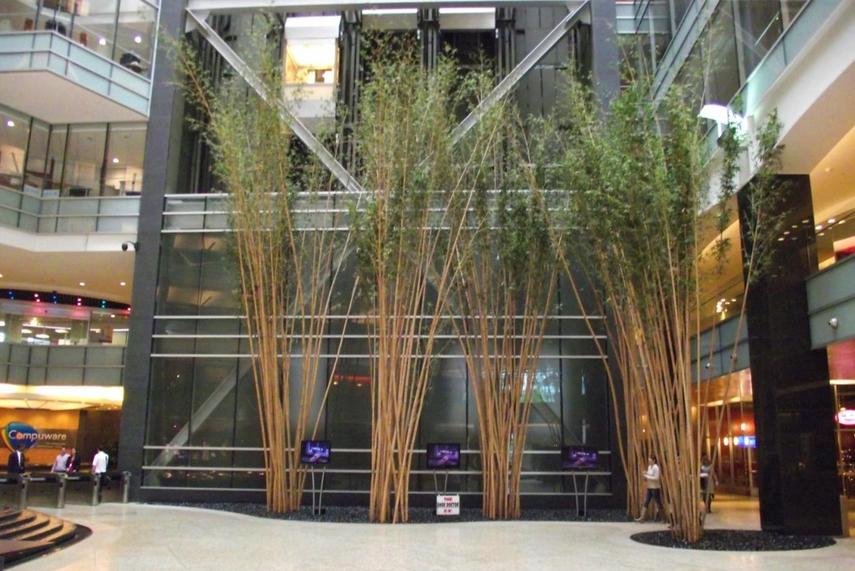 View through Rain at Top of Sculpture and Up-lit Rain Base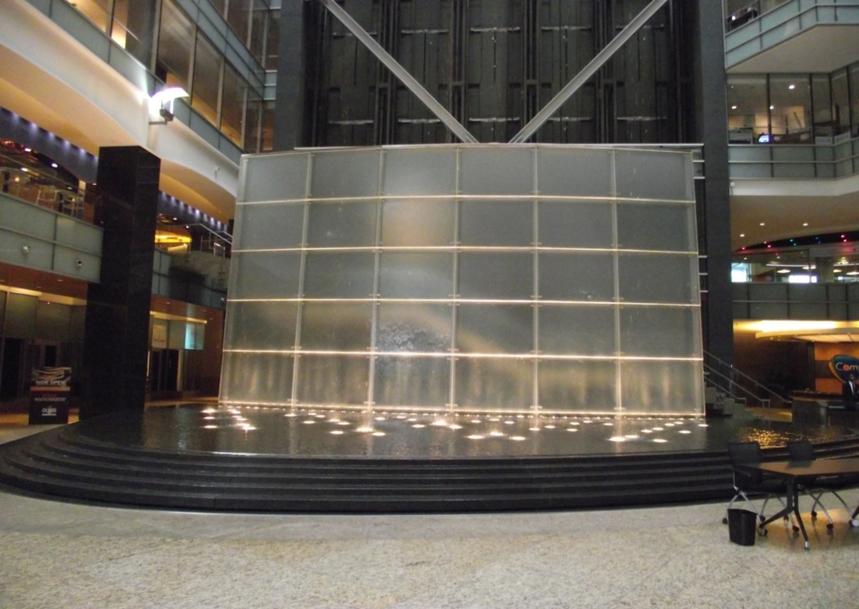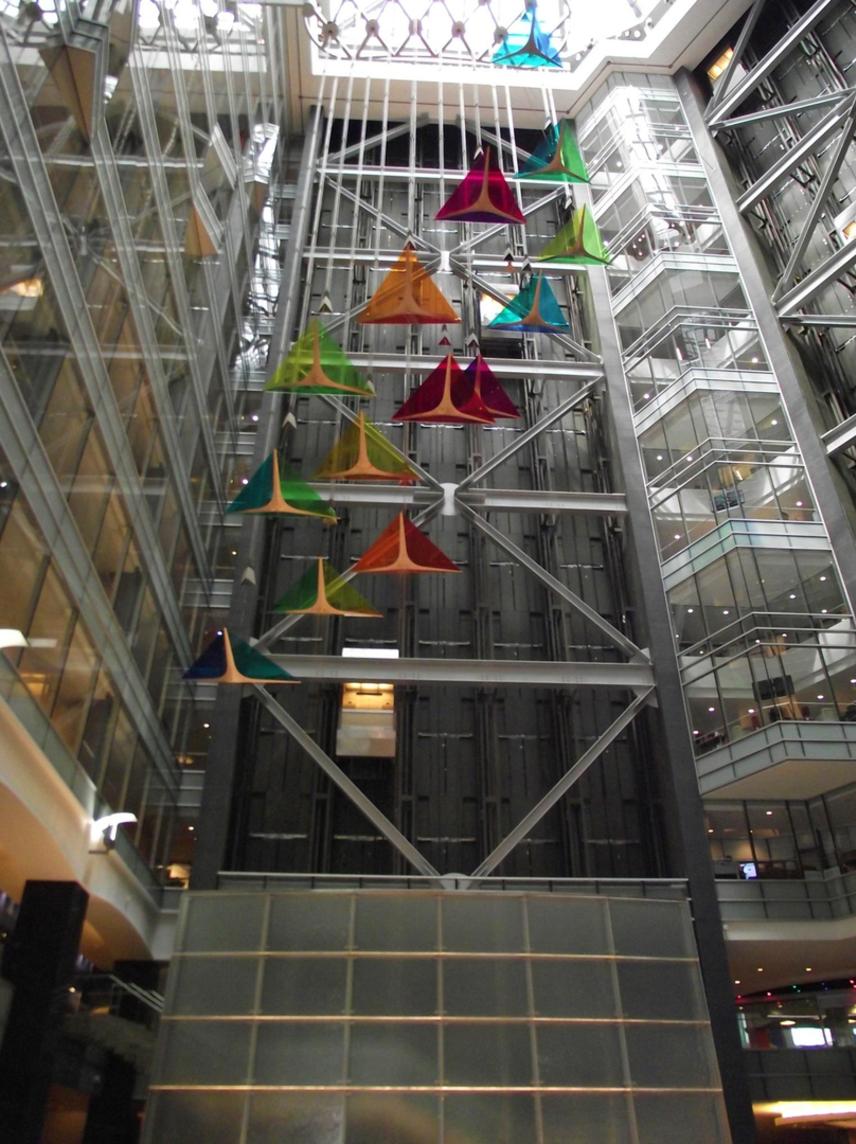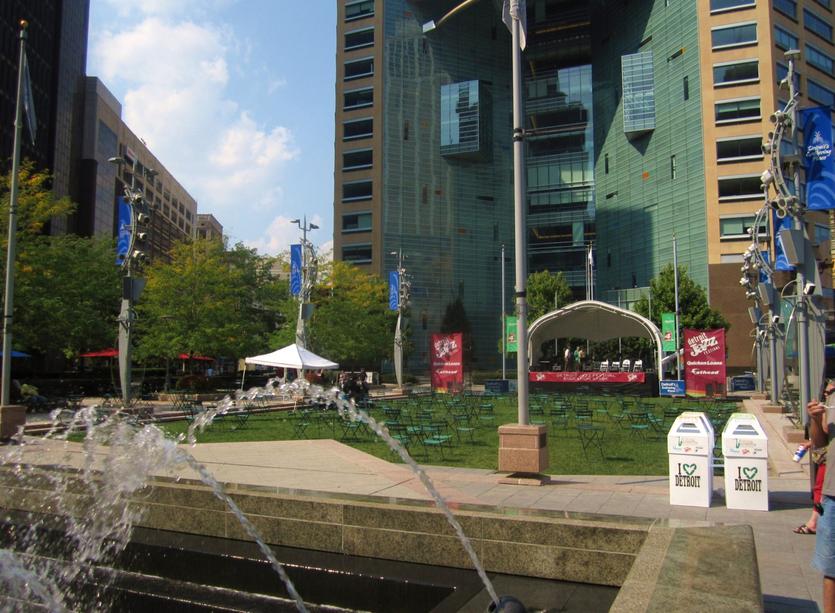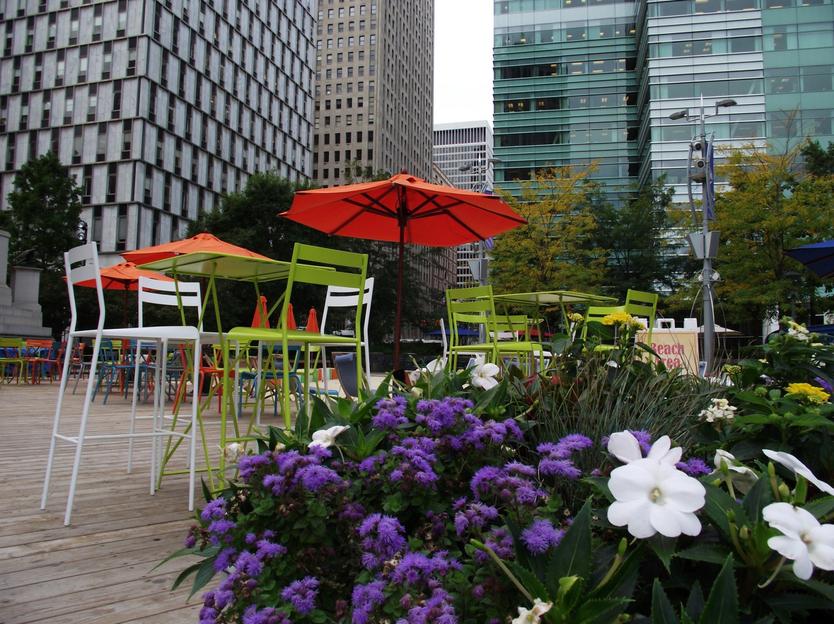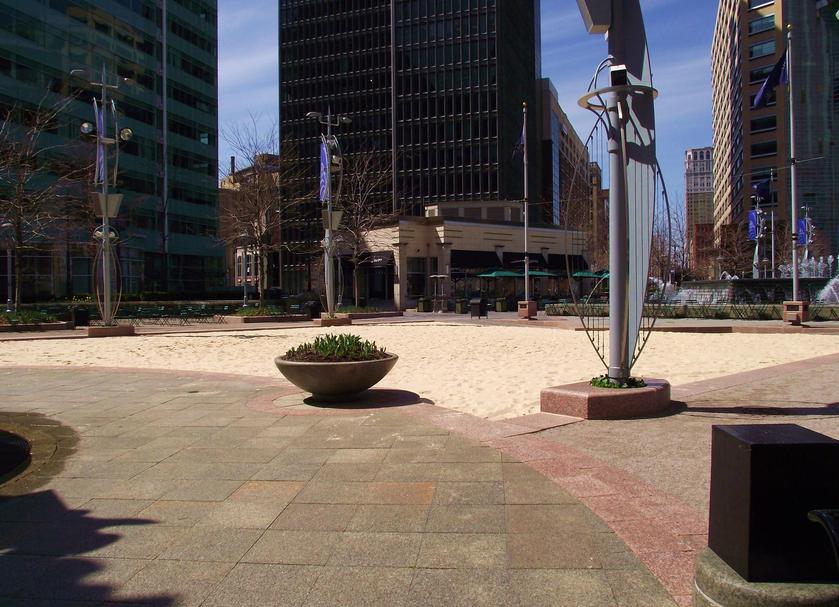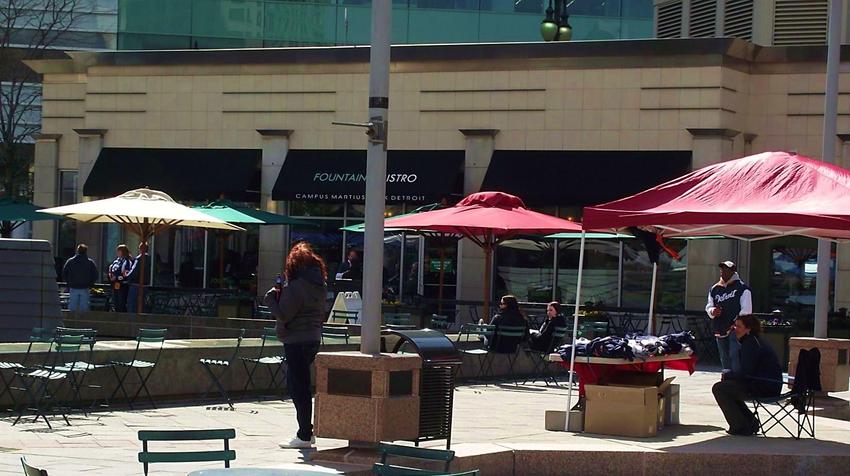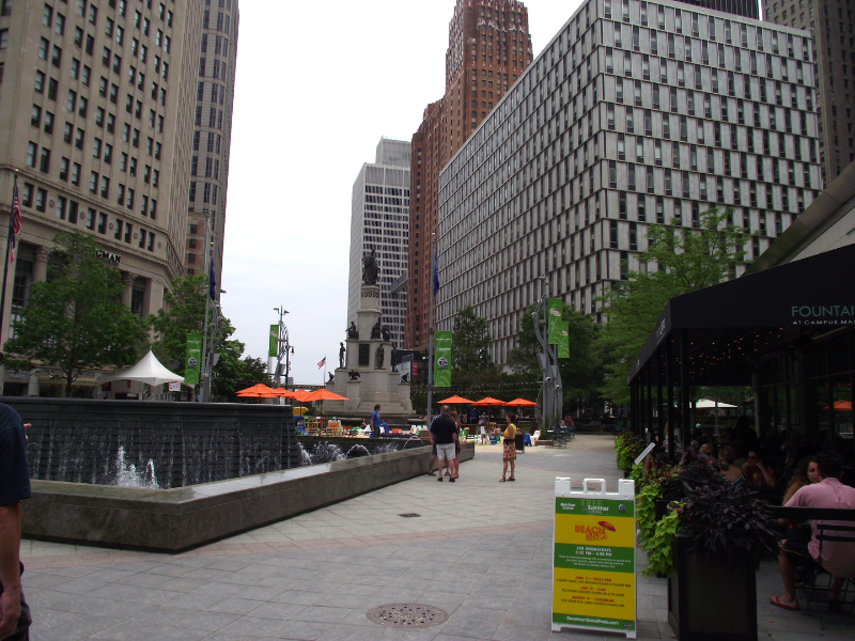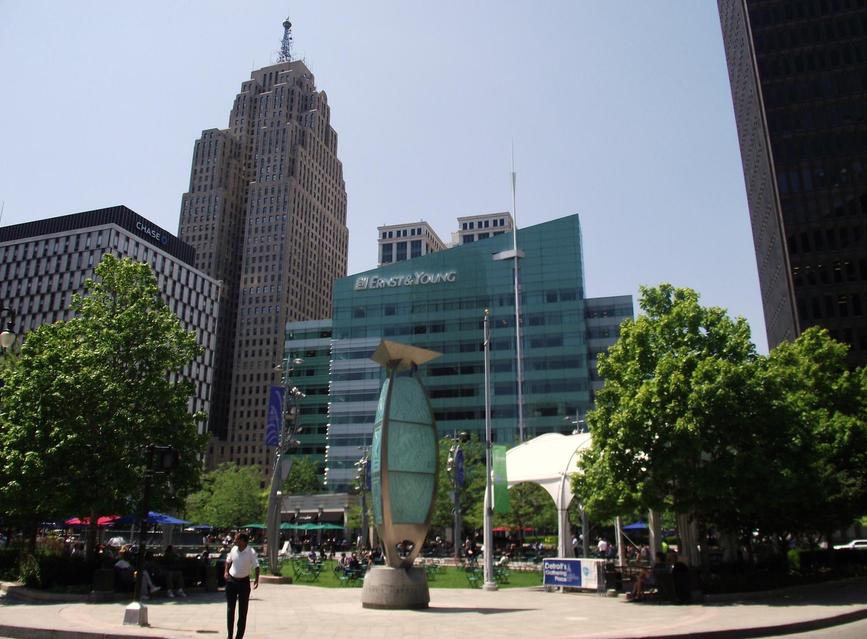 The 34-story Broderick Tower has completed renovation into apartments and condos (arch. Louis Kamper, 1928, Beaux-Arts, Chicago School, Neo-Classical). It opens the way from north downtown at the edge of Grand Circus Park west of Harmonie Park.
​​

SNAPSHOT Detroit gained a "Necklace" from the Street Plan of 1807, and a half-moon park in 1850 formed by Park and Witherell along Woodward at Adams. It's been an important gathering place for Detroiters for more than 160 years. General Custer delivered a eulogy for slain president, Abraham Lincoln here in 1865.

Primary access to the area is by People Mover Station 13, Grand Circus Park.

ATTRACTIONS Woodward divides the park into two quarter moons where facing political opponents, Mayor Hazen Pingree and Mayor William Maybury maintain their 1890s feud in bronze. Neither can suffer the indignation of slurs or insults over the issues of their day. However, Hazen was sandblasted by a construction worker during the park's last renovation who thought he could use a little cleaning. That situation was rectified by a preservation expert who took the insult personally, repairing the pitting in his honor's metallic profile.
These parks have sprung up to evoke the same dynamic features in other parts of town that combine history, nature or industrial kitsch. This one, at Lafayette, is an herb, vegetable, fruit and flower garden. The kiwi arbor, made of rusty I-beams, lends a touch of an urban charm. Part of the Children's garden is shown above, right

.
​


Architects tested their skill with detail wrought in new forms of curtain-wall. The elevator and newer materials like steel gave them the guts to explore new heights with natural lighting schemes. A number of restored buildings are subtle blends of old and new. Some have dance clubs, bars or restaurants as tenants. "The Lofts of Merchants Row" is an inspiring example. It contains 157 loft units, a large ground floor retail space and automated parking deck. Added to the new restaurants, retail outlets and tenants in nearby WEB-ward office building projects, this area now appears poised to reprise its early grandeur. One of the latest signs of revival for this area is a contemporary glass residential-office planned for the vacant Hudson site by Dan Gilbert.

​
​


The Stott building (arch. Donaldson and Meier, Art Deco, 1929) opened the new Sky Bar in the main floor and basement.


Chalet-style, Cheli's Chili Restaurant and Bar
​​​​
​​The Merchants Row buildings are cleverly ornamented with fine lintels, arches and friezes, built with brick, tile, granite, marble, limestone and sandstone.

East of Woodward, Merchants Row Ctd.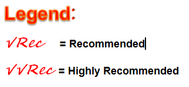 ​
The limestone chosen for this tower sucked up contaminants like a sponge. Dark stains give the place the look of a high-rise ancient ruin. An old zoning provision added stairs that further compounded the bizarre appearance. From a lost era a relic's ghostly presence still draws the gaze of city dwellers from all sides to its aging arcades.
​

NEWS FLASH! Detroit investor, Dan Gilbert has just announced his purchase of this building and promises renovations will be a "game changer" for Downtown. He plans a major project. (He now owns about 100 buildings.)

BLOCK OUTLINE OF WOODWARD PLAN
​This map offers a general impression of the 1807 Woodward Plan street layout. (The above image is adapted by the author and is not the original map of Detroit. It lacks platted lot details.)

Note the open area of Campus Martius (lower center) and fort location (near lower left corner). Detroit has unusual angular streets similar to some earlier European designs and the layout of Washington DC.

Book Tower's Mysterious Mansard Roof Penthouse
Cloud-Piercing Brick in all its Glory – The David Stott Building
Book Cadillac Interior, Modern and Antique Touches
New Architecture Temporarily appeared at Clifford & Washington for Transformers IV Film Set
Book Cadillac Hotel and other Restored Buildings on Washington Blvd.
​​
√Rec The beautifully restored Book Cadillac Hotel is a block south.
Book Cadillac Night Time Up-lighting (Holiday Inn foreground)


Exquisitely Restored Book Cadillac Hotel
​
The old Isaac Agree Downtown Synagogue (1921), is currently abandoned and undergoing renovation. Murals will be restored to the exterior. It was the last ​free-standing synagogue in the city to hold traditional services.
In the north are Comerica Park, Ford Field and √Rec the Detroit Athletic Club (arch. Albert Kahn, Neo- Renaissance,1915)).


Havana Charm and Cigar Ambrosia
Coaches Corner Bar and Grill, an Old Detroit Favorite
Music Hall's Jazz Café (Same Location)
The Posh, Detroit Athletic Club
Broderick Tower Entrance Hallway under Renovation April 2012
Innovative New Community Garden, Vegan Park at Lafayette
Harmonie Pointe pocket park Sculpture
East Downtown Buildings/Lofts on Farmer Street for Comparison
​​
Several more interesting buildings are in the east downtown area or northwest of Grand Circus Park in the Foxtown district. (Architecture: For further reading, check architectural examples of Downtown: 1400-1456 Woodward, 3-8 stories, Early Commercial, Late Victorian, Albert Kahn in similar web sites, and examples like the Fowler building. More buildings of the same era and styles survive in Downtown, a half mile east.)

Several nearby pocket parks have been developed in the last couple years.

This urban experience is increasingly cited by planners in other cities for its successful design.
Restaurants at Compuware Building, Bordering Merchants Row & Historic Kern's Clock
Window Openings, Arches, Arcades and Columns
Ornate Bay Window Treatment, East of Woodward

(Site of former Schanofsky's Music Training Center)
Merchants Row, East Side of Woodward
The Splendid Romanesque Architecture of the Wayne County Building
Cadillac Square International Jazz Festival Tents and Patrons in Shadow of Cadillac Tower
Cadillac Square, Viewed Northwest toward Ernst and Young Building and Galaxe
At the entrance, one Native American warrior holds a key and the other, a sword. They symbolize bank asset security and protection. But they would soon become guardians at the gate of democracy during a new war.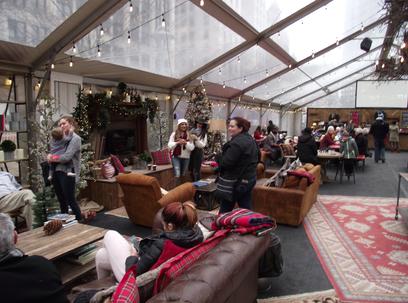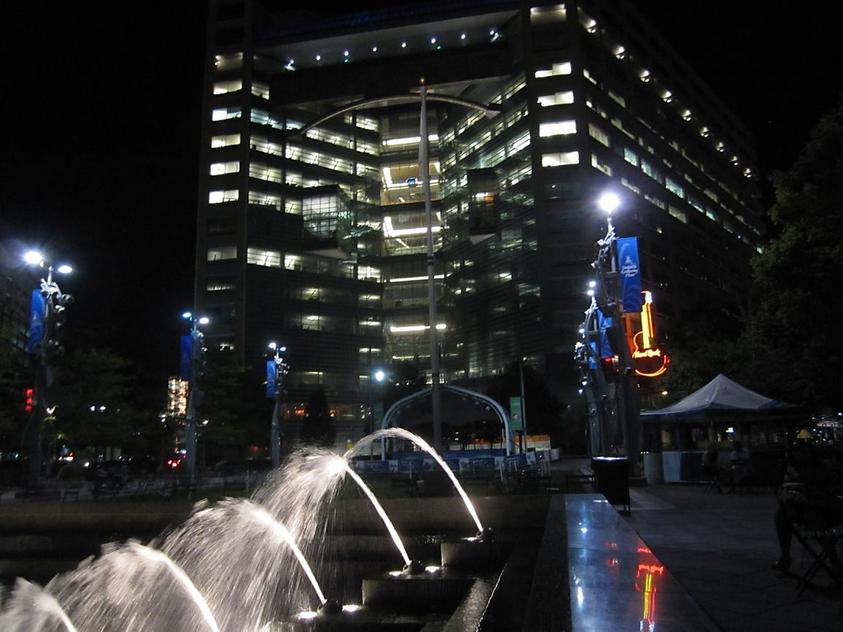 Type your paragraph here.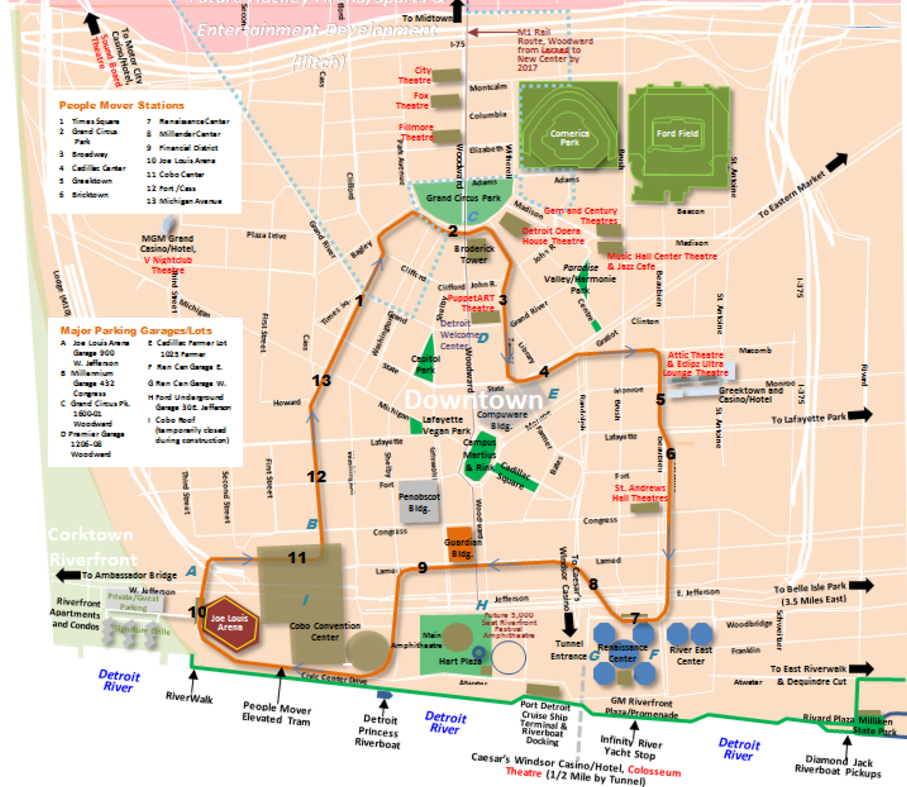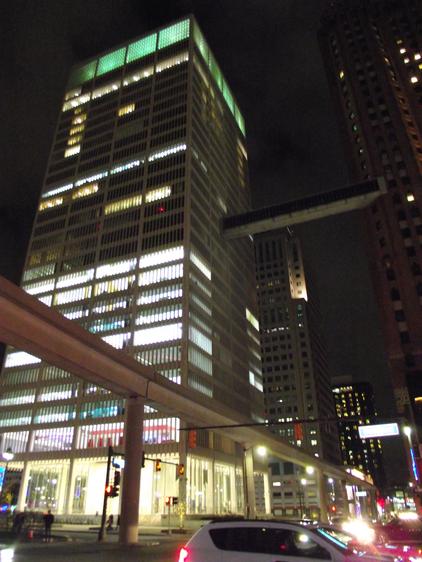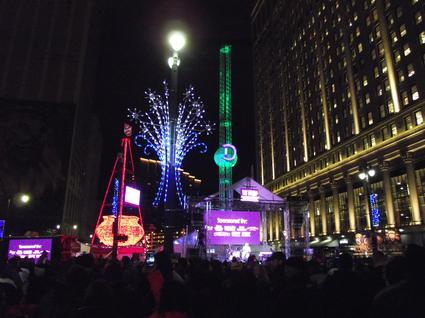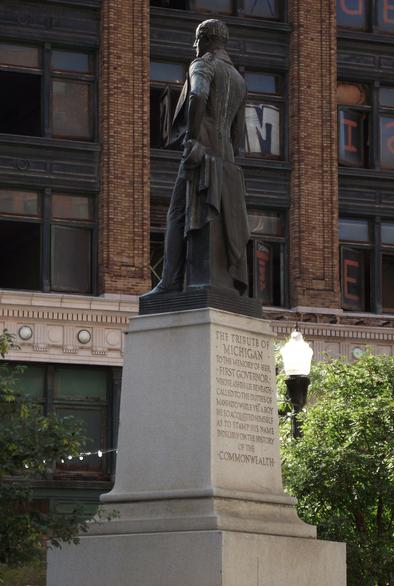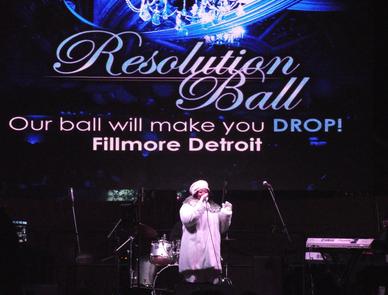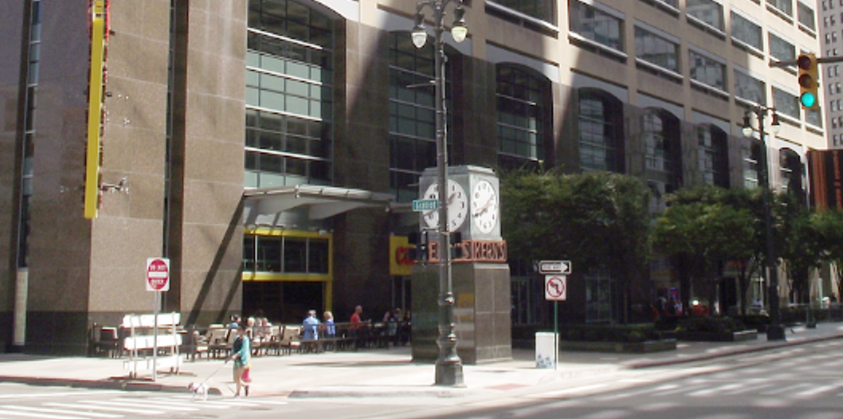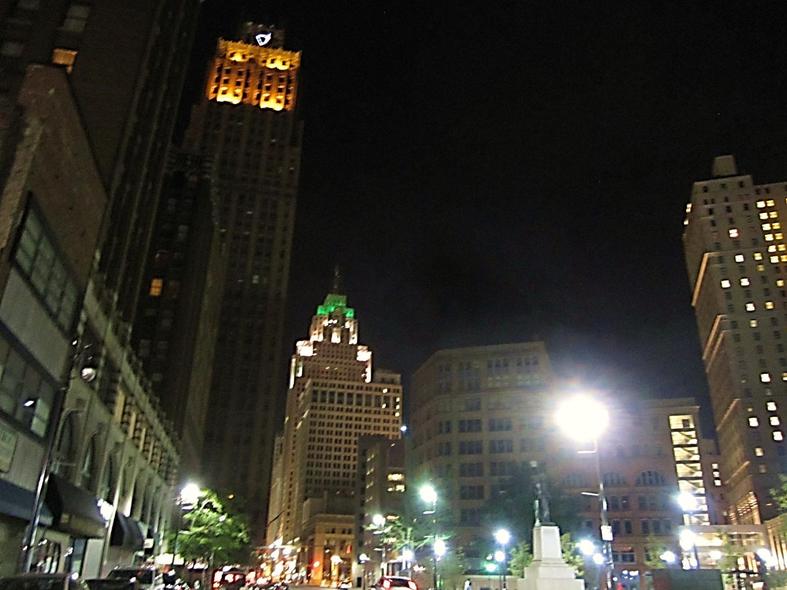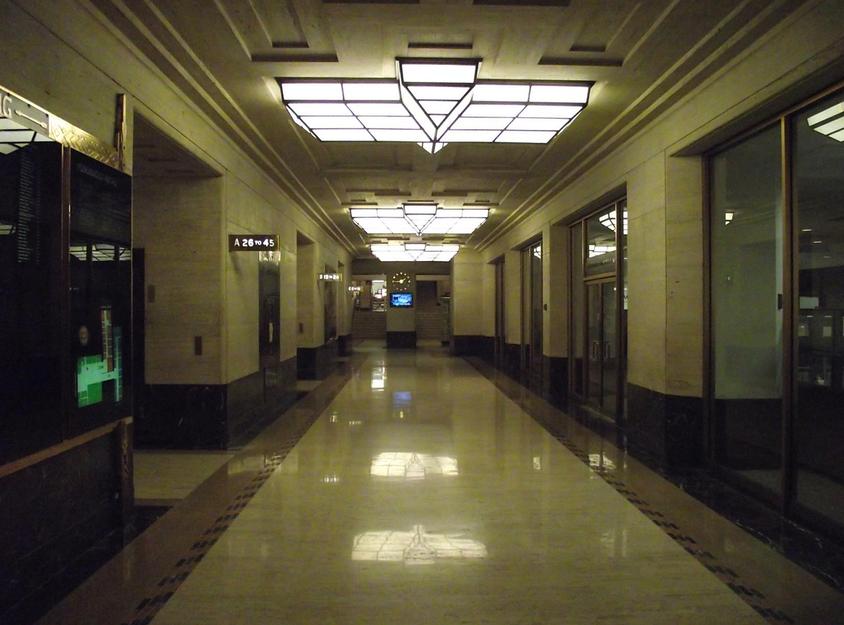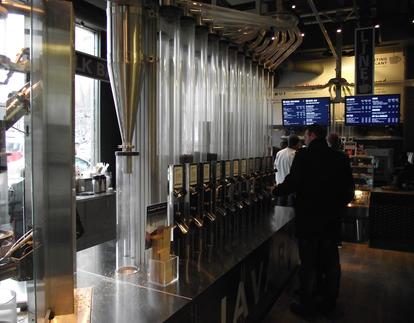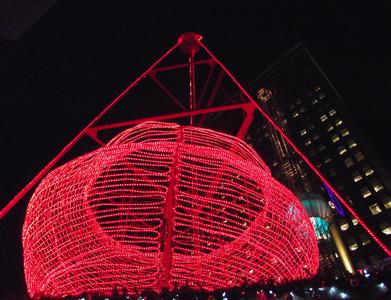 CADILLAC LODGE

Warming Center
​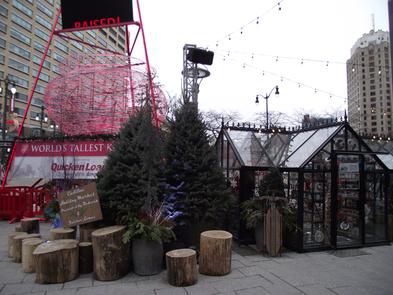 CAPITOL PARK'S EARLIEST PATRON, IMMORTALIZED IN BRONZE

​"Young Hot Spur"
The Wurlitzer is undergoing complete renovation into a boutique hotel. (Arch. Robert Finn, Renaissance Revival,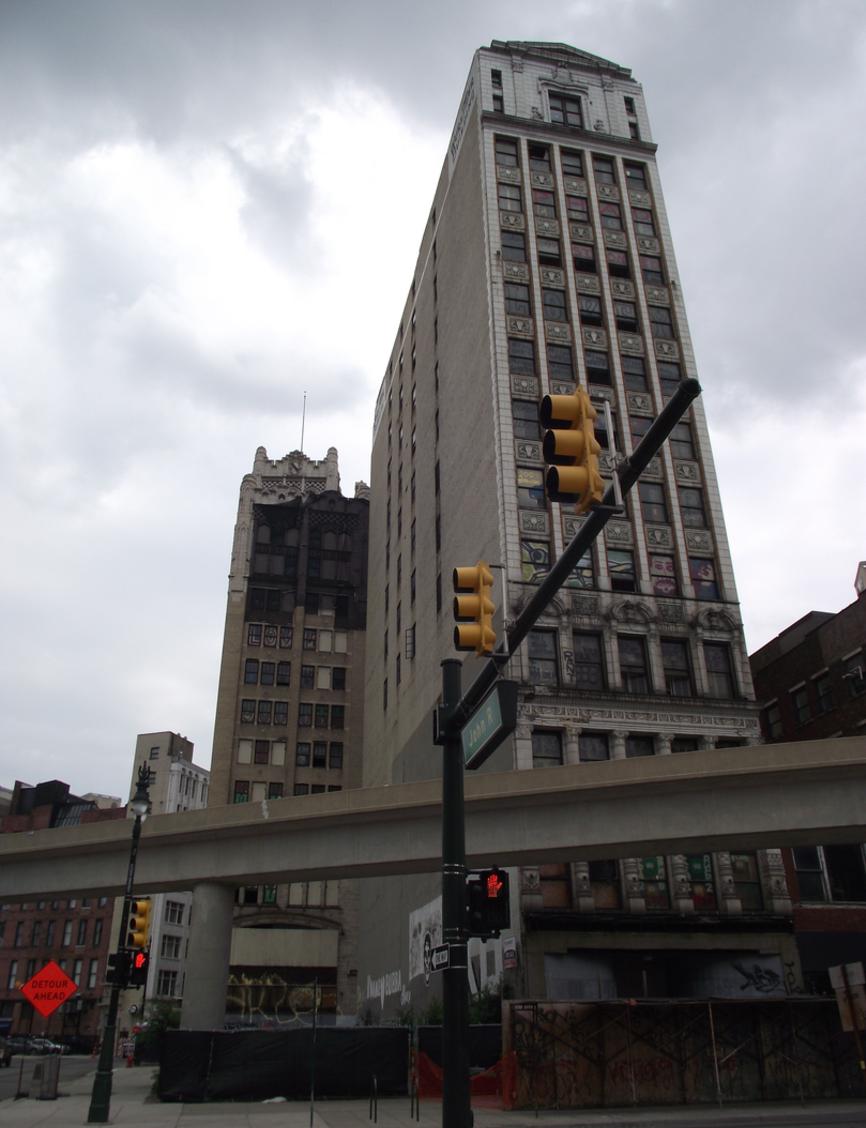 ​​​​​
​​Pure Detroit offers quality authentic keepsakes of the Detroit experience.

Note: Refer also to Museum Page 2 for details on the Pewabic Pottery Museum whose design studios contibuted much of the material for the Guardian Building tile motifs.

Guardian Building Pure Detroit Shop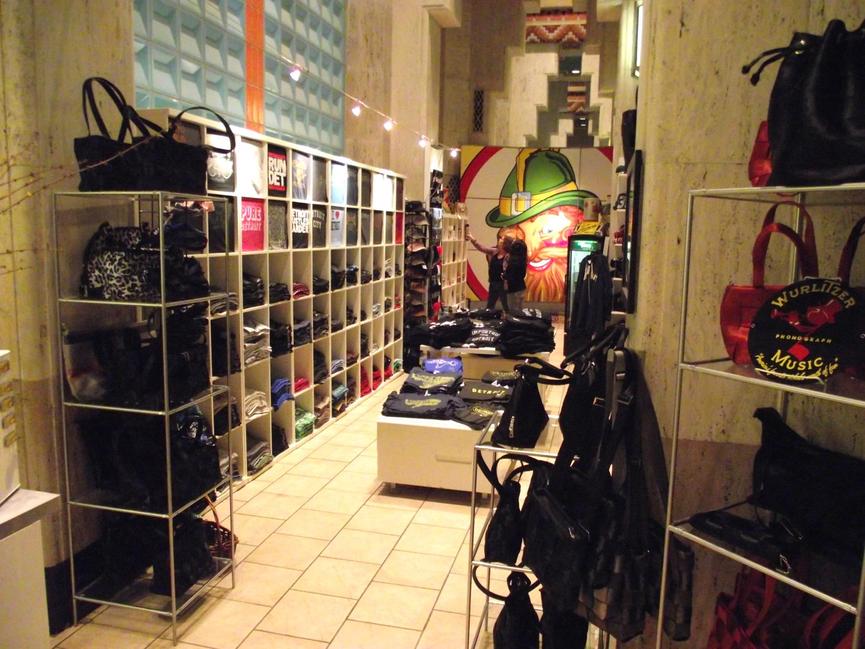 Illustrious Environs of Soaring Elegance and Industrial Spirtualism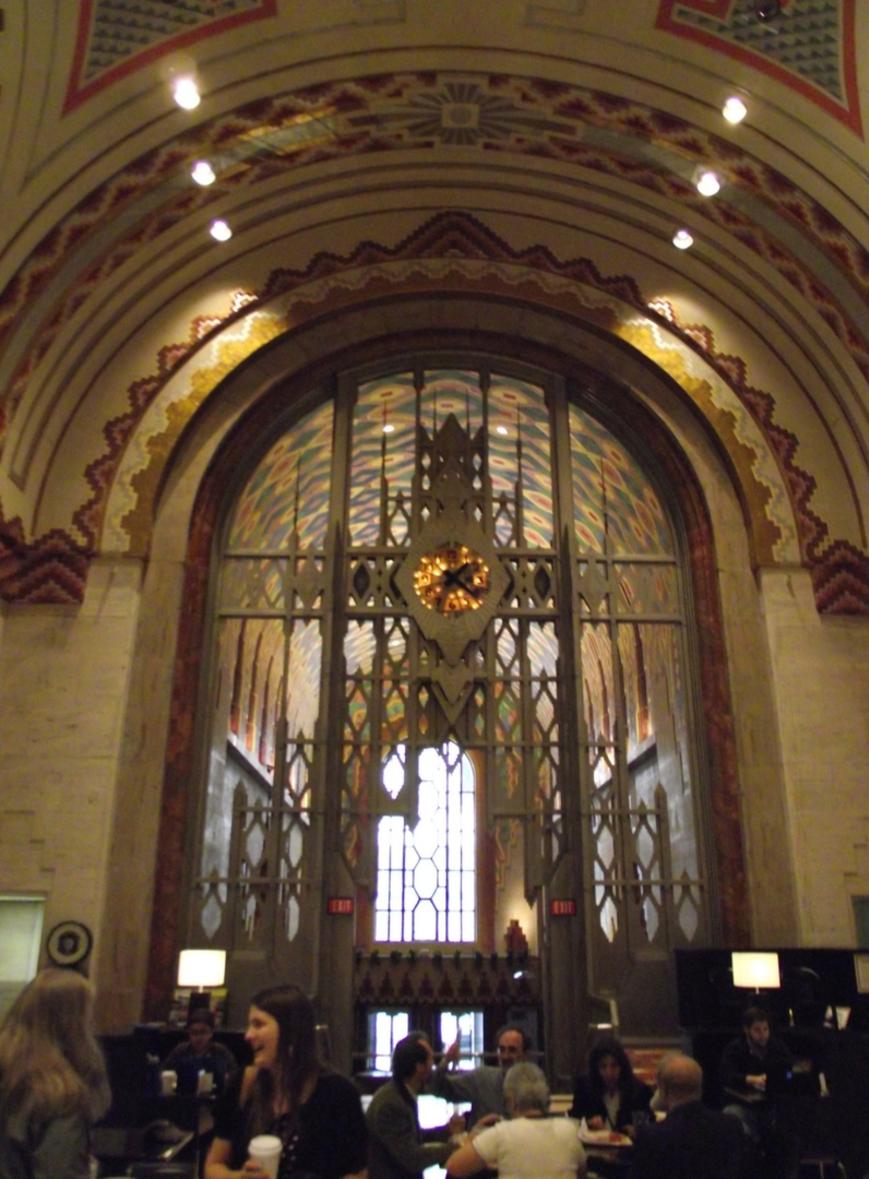 Pewabic Native American Motifs, Corvalled Vaults, Fabulous Tapestry, Lustrous Marble and Glowing Lights
​​​​​
​​Symbolic patterns reveal serpents, jaguars, bears and skulls in the weave of fabrics and tile mosaics, drawn from rich Aztec, Mayan and Woodland Indian imagery. At a distance, one image is superimposed over another. Extraordinary details are also seen in the beautiful bank vault area in the lower level. (The Guardian imagery has been adapted for the Wesley Snipes, Bruce Lee Game of Death re-make.)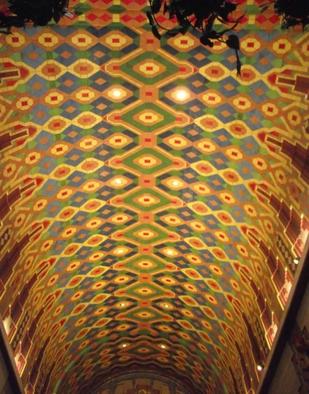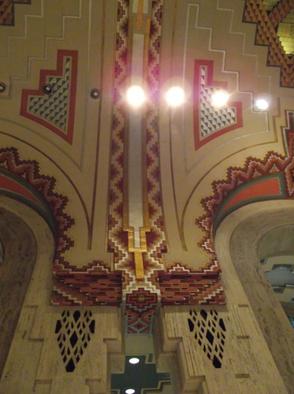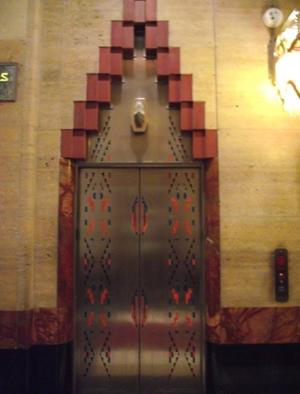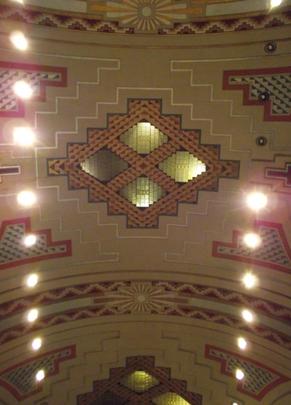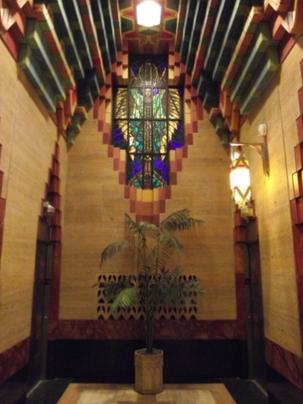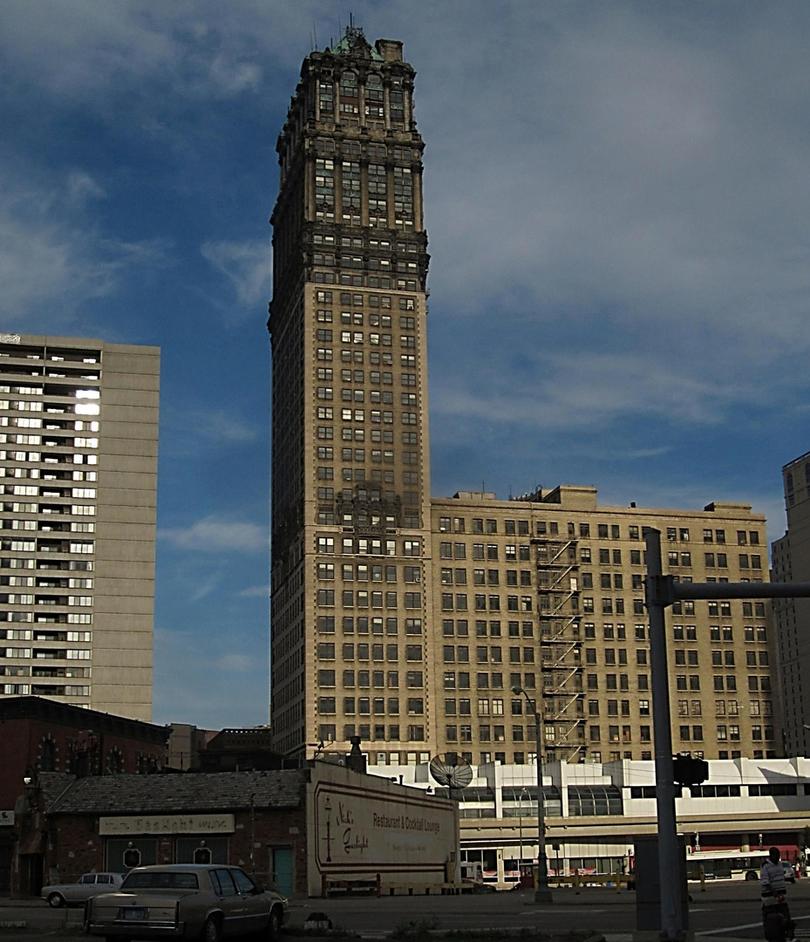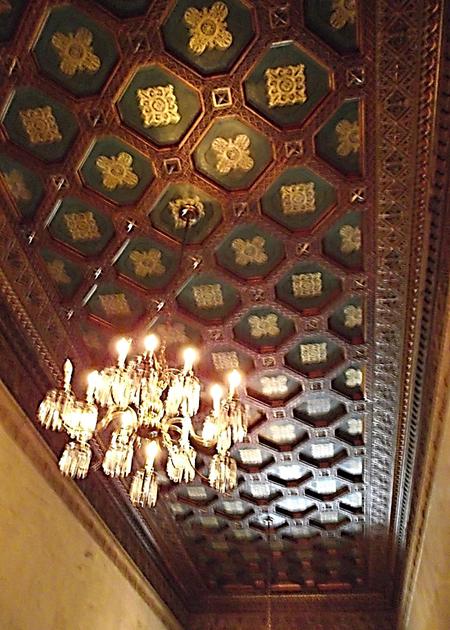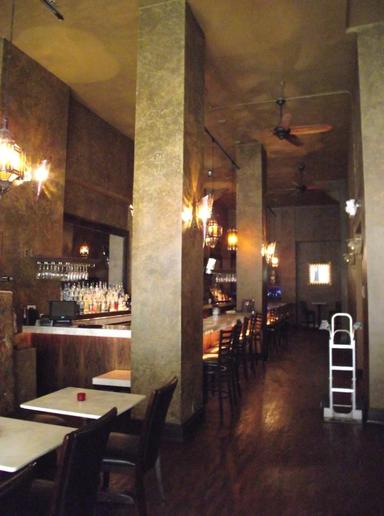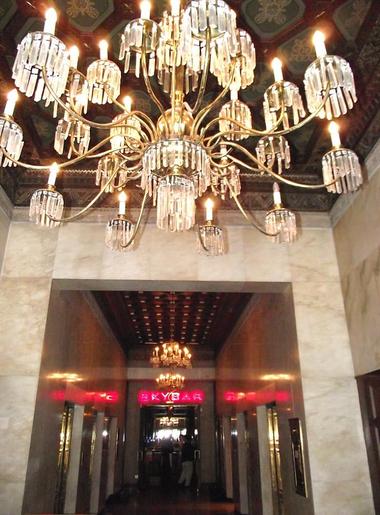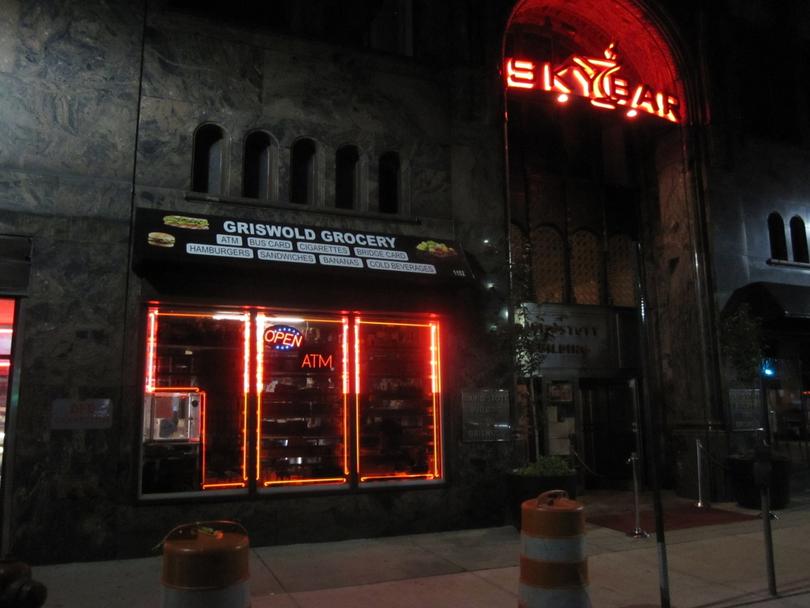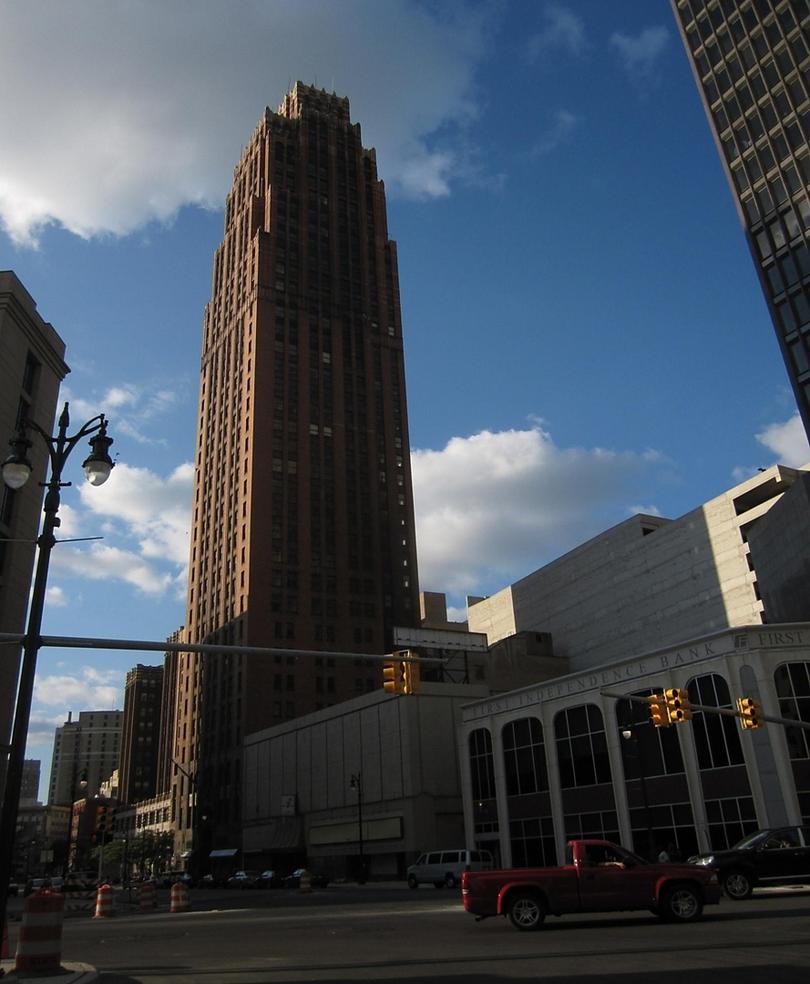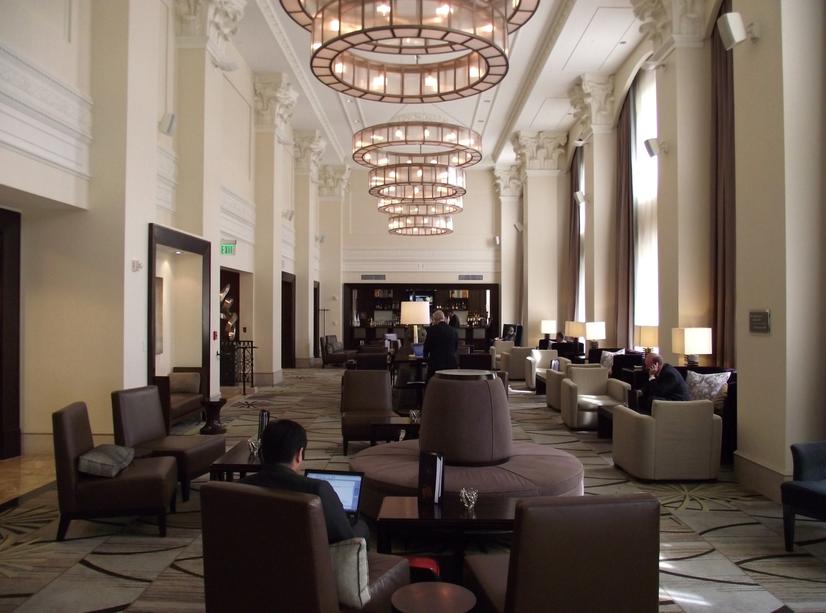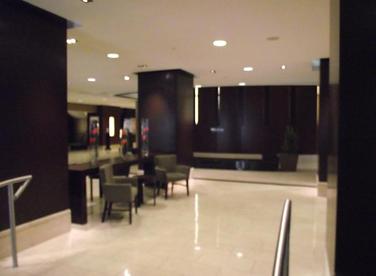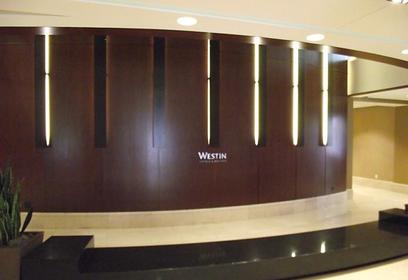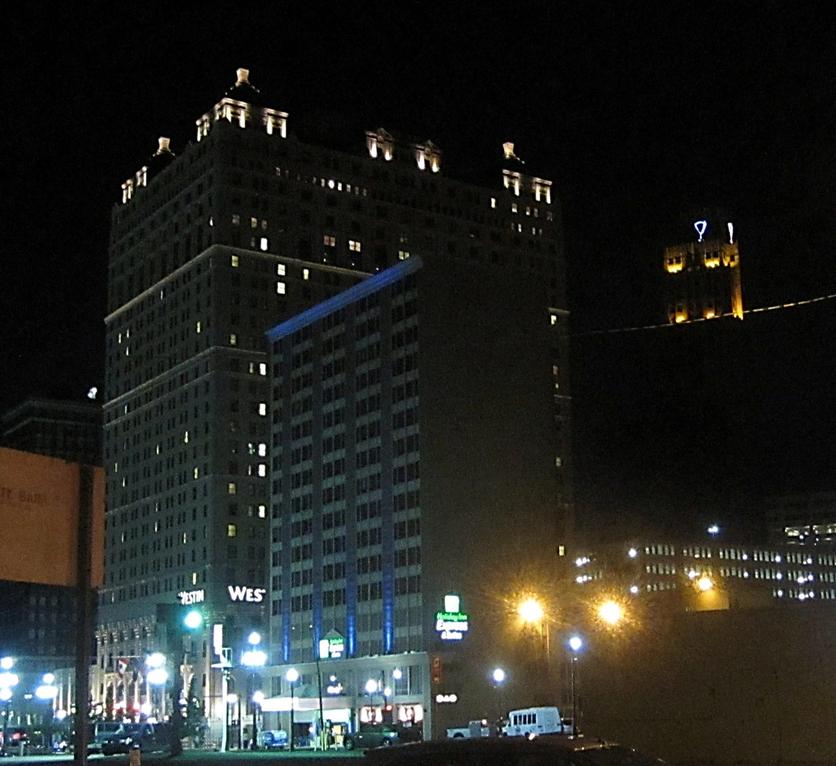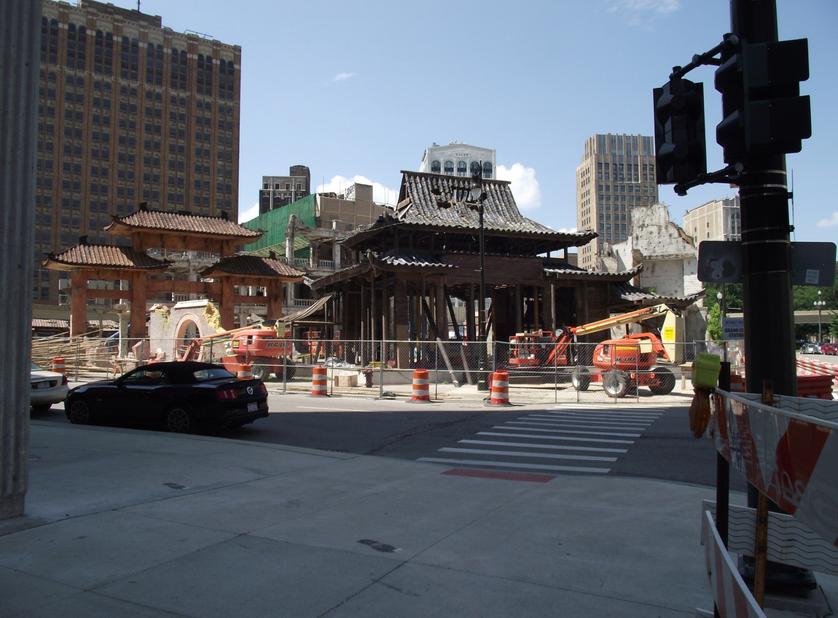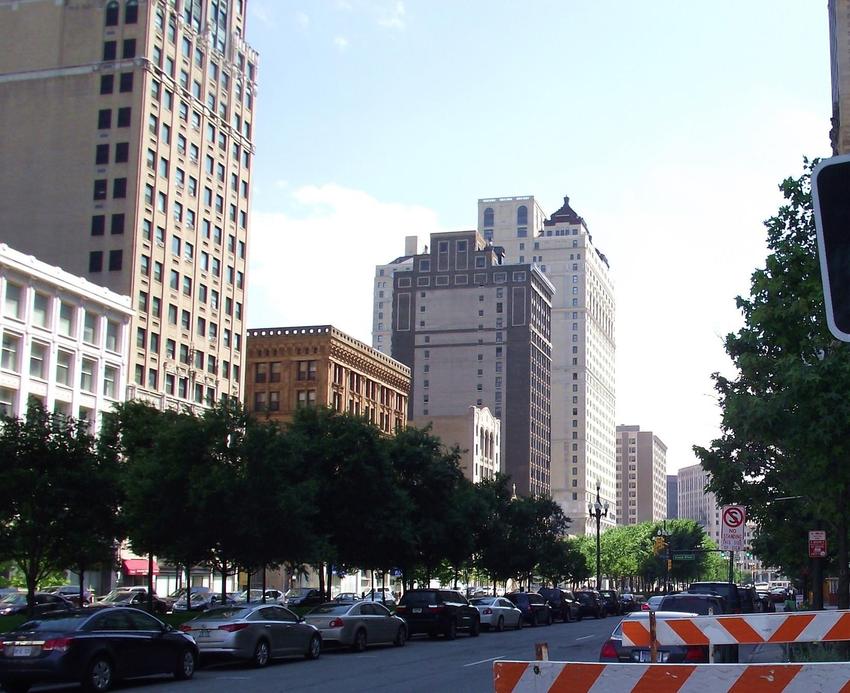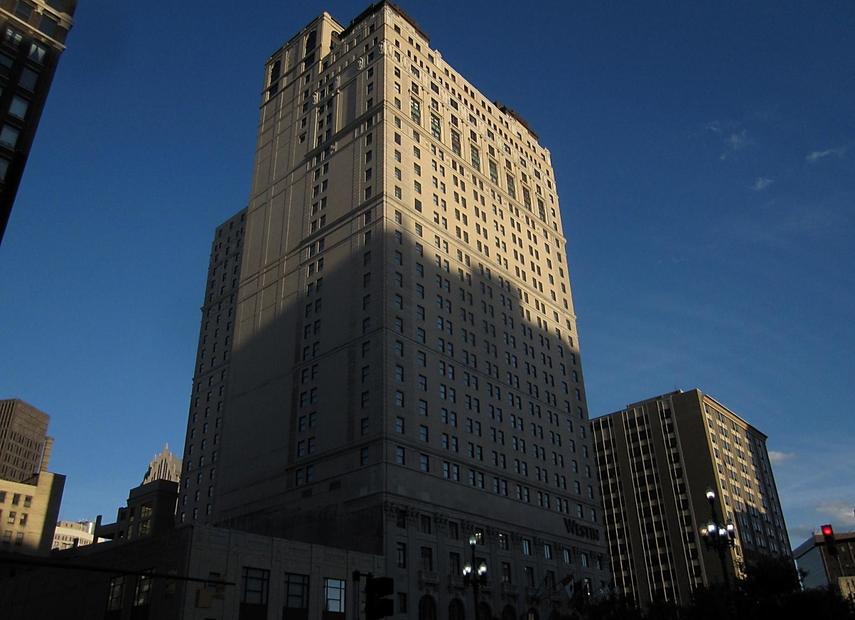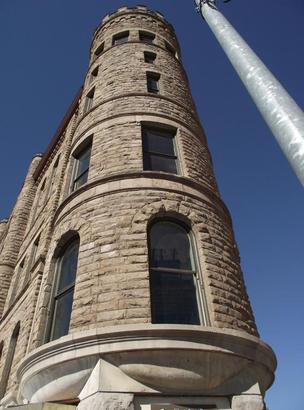 ​
The Grand Army of the Republic building (arch. Hess & Raseman, Romanesque Revival, 1899) was the headquarters for local Civil War Veterans. A company called MindField retained a portion of the building for a Civil War museum and a restored battle scene mural. ​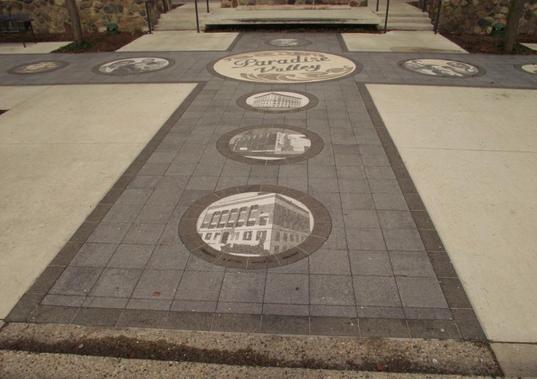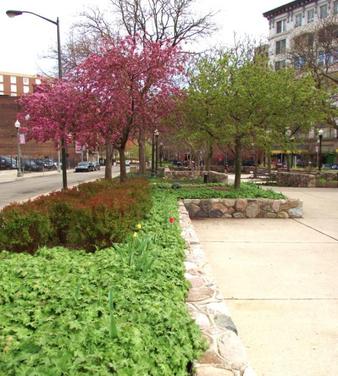 ​​​​
An extension of suburban Troy's, Somerset Collection upscale stores was open three days each month in the buildings to gage shopper demand. The positive response may bring a permanent collection to the area.
Somerset Collection, Merchants Row
A lively Game of Outdoor Chess
​​​​
​​

The Detroit Shoppe (now further north on Woodward) is a small souvenir and keepsake shop in Merchants Row that carries original brand Detroit beverages and samples of city memorabilia. The location shares space with the Detroit Art Shoppe.
​​​​
​​

√Rec

Hudson Café and


√Rec Slices (Pizza).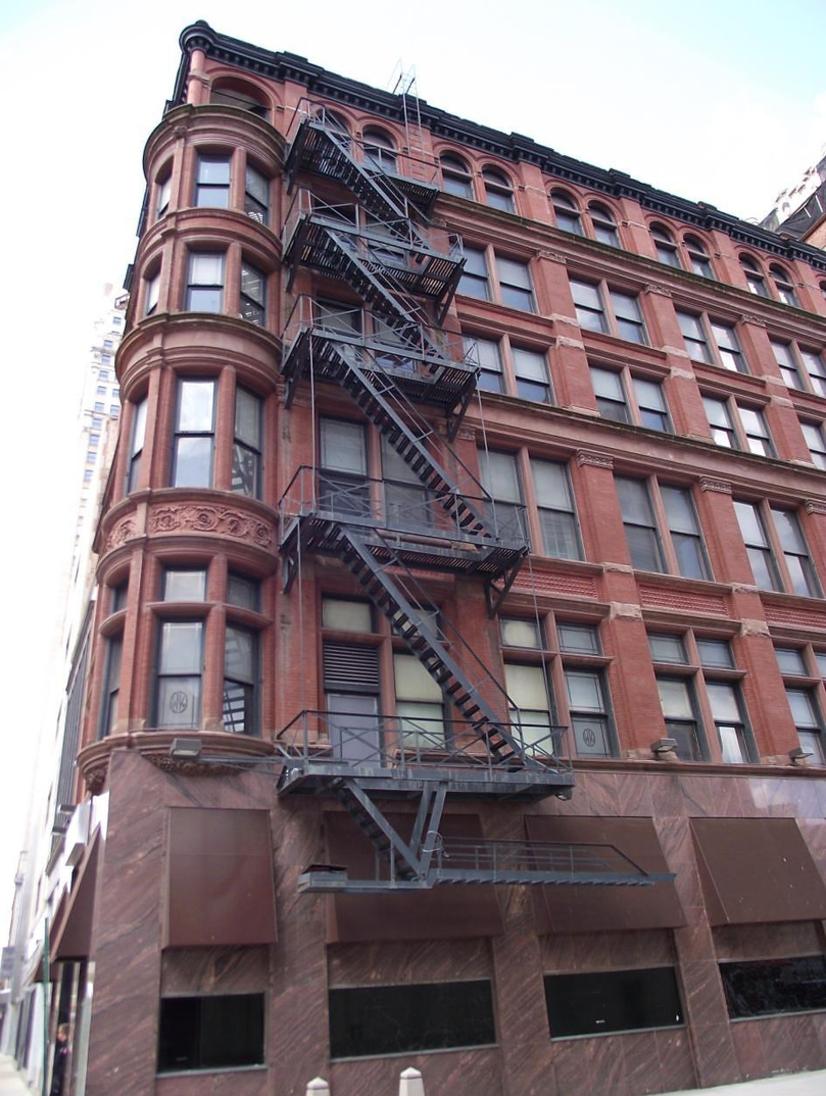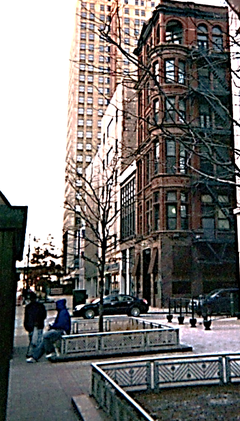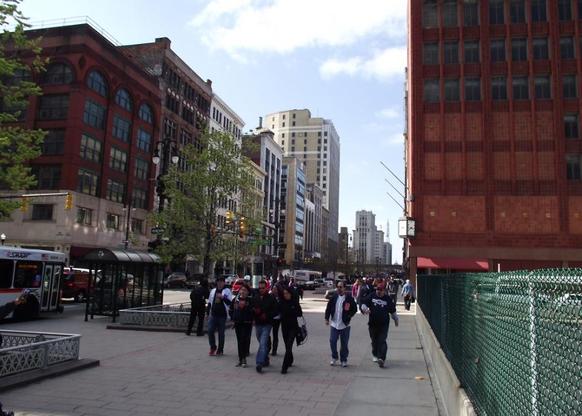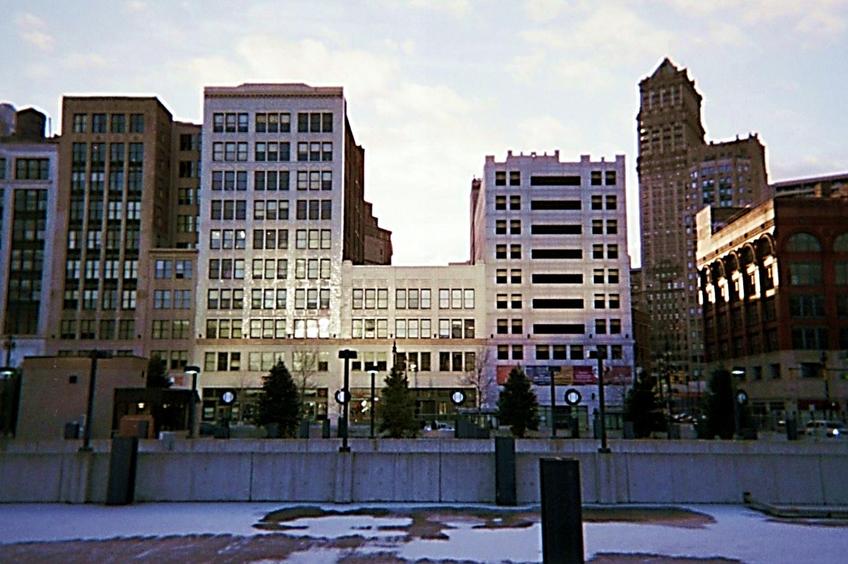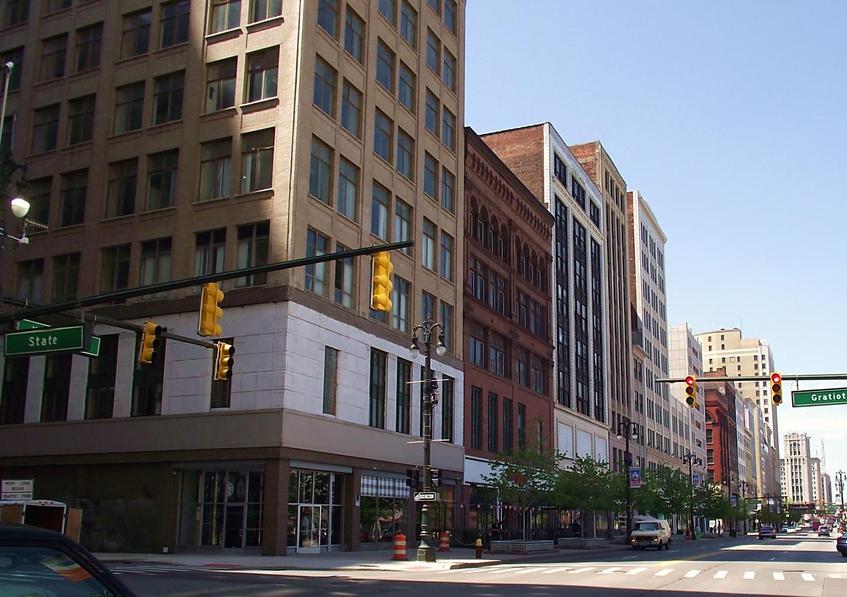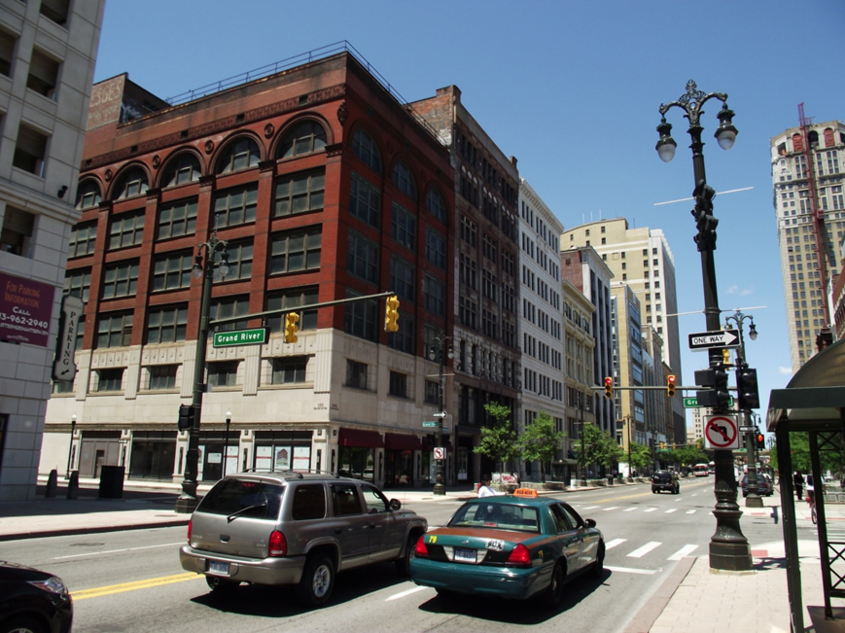 Corinthian Colonnade and Portico
Business District Centerpiece, the Regal and Ponderous Penobscot Building
Buhl Building Entrance Details
​​
​​The √√Rec magnificent Guardian Building (arch. Wirt Rowland and Smith, Hinchman and Grylls, Art Deco, Mayan Revival, 1928) was originally known as the Union Trust Building and later as the Cathedral of Finance. When you step into this building, superlatives roll of the tongue -- whatever the name. Designated the Central Command for Arsenal of Democracy war production in WWII, it boasts a spectacular Rookwood atrium that should be included on any tourist itinerary. In many ways this is the historical heart and soul of Detroit and a privileged glimpse of the city's greatness.

​
​A sophisticated façade lifts the eyes skyward on an architectural stairway that established the pattern for its larger cousins in New York built on its inspiration. Note the 13 seal reliefs embedded in the arch.


Main Corridor Coffered Ceiling and Street Level View
​​​
​The Buhl (arch. Wirt Rowland, Smith Hinchman and Grylls, Romanesque, Neo-Gothic, 1925) can sometimes be lost among its higher brethren who shoulder it out of view. But its stately design details offer up some interesting visual history and mixed décor.

The Dime Building (Now called the Chrysler Building)
The √√Rec stately 23 story Dime Building, 1912, now known as the Chrysler Building was designed by noted urban planner and architect, Daniel Burnham in the Neo-Classical, Chicago School style . It fits into a transitional form between the early skyscrapers and the 20's era Art Deco period. Fully renovated more than a decade ago, it was purchased by investor Dan Gilbert and joins the rest of his spectacular Downtown collection of period architectural gems.
Book Tower, Mysterious and Dark
​​
Exciting new clubs have opened on the top floors while other areas of the building are being renovated. Large neon Martini glasses surround the summit. They're easy to spot at night. (The building was recently purchased by Chinese investors and then subsequently sold again. But this won't interrupt renovation plans.)



Filmmakers and artists have been attracted to the area. A couple blocks south, street scenes on Griswold have been used several times by producers attracted to the area for its period architecture and the Michigan Film Credit program (recently ended). Among the nearby buildings bordering this park are the historic Detroit Savings Building, the Farwell Building (Chicago School style), the David Stott Building (shown at full height and at ground level, above) and the Griswold Building (Albert Kahn), a structure that may soon be renovated.


Sky Bar and Griswold Grocery at Base of David Stott Building
​​​
​Patrons eagerly sampled the retail areas on the first floors, while managers checked their books above. The giant, 33 story J.L. Hudson's flagship, one of the nation's most successful department stores, stood on the east side of the street with 2.2 million sq. feet of space. At 439 feet high, it was second only to New York's Macy's department store building. But it became the world's largest building implosion in 1998, a scale of demolition never since equaled. Luckily, many buildings will remain, rescued by investors. Historic designation helps. But Detroit already lost a large number of "dinosaurs" of inestimable value to the world of architecture, and a significant part of its own shrinking downtown collection of pre-Depression office towers. The "unusual," 14-story Lafayette Building, the "magnificent," 18-story Detroit Statler Hotel and the Park Avenue are its recent epitaphs.

​
​
However, all of the 34 steel-framed buildings with unique windows and entranceways, still look as they did to shoppers lining up at Sanders, Winkelman's, Kresge's, Himelhoch's, Hughes and Hatcher and Woolworth when streetcars clanked by and men wore bowler hats.
​​​​
​SNAPSHOT Merchants Row is a downtown stroll through yester-year's skyscrapers, stacked like ornate gift boxes from the 19th and 20th centuries on both sides of historic Woodward Avenue. Since 2008, it's been designated part of the Lower Woodward Historic District. New up-lighting highlights design features of several buildings at night.

Primary access to the two block area is from Woodward and State streets and between Campus Martius Park and Grand Circus Park.

ATTRACTIONS Stroll a sidewalk little changed in a century and gaze up at the wall-to-wall brownstone, red brick and terra cotta buildings, six to 12 stories high, home to America's first department store chains. The Woodward and State street intersection was thought to be the busiest pedestrian crossing in America in 1925 (Wikipedia, Merchants Row).
Merchants Row at State Street, West Side of Woodward
Cadillac Square without Recreation Setup
Cadillac Tower with Fountain Cupola foreground (Bagley Memorial Fountain)
Cadillac Square Stage, International Jazz Festival
Book Tower Architectural Details and Fire Escape to the Top
The mysterious and dark Book Tower (arch. Louis Kamper, Neo-Classical-Renaissance, 1926) with its green, Mansard penthouse and sky-high fire escape looks like a comic hero hideaway. (Could this be a redoubt for Spiderman or Superman? Perhaps, but neither would need the stairs.)
Stott Building Interior Architectural Detail
The "Westin" Book Cadillac (arch. Louis Kamper, Neo-Renaissance, 1924) was recently enhanced with extensive up-lighting, which shows off its beautiful penthouse accents. Patrons overwhelmingly love this hotel, its restaurants like the acclaimed Roast and the unsurpassed accommodations.
GAR Building under Renovation
​​​​​
Primary access to the area is by People Mover Station 1, Times Square. Walk southeast on Grand River for two blocks.

ATTRACTIONS The Park was once a busy bus station because the layout was ideal for transfers. With renovation, fresh landscaping and additional amenities the park has been given new life.



The prominent figure of Stevens T. Mason by Albert Weinert (sculpted by Morris Brose) surveys the site. The statue was made from Fort Michilimackinac's melted bronze cannons in northern Michigan. Mason was known as Young Hot Spur, Michigan's first and youngest governor. His office was in the Courthouse built at this location when Detroit held the capitol of the Michigan Territory. His daily walk to the Courthouse took him through the old French neighborhood and the low lying muddy streets a few blocks south, when the city was still becoming a respectable urban center.



Mason died very early of pneumonia while visiting New York in 1843. He was buried there, exhumed, and later re-buried here, near the Courthouse. His body was disinterred after some confusion about its location, during the park's recent construction. It was later re-interred with the full honors due a governor. Capitol Park has borne witness to several distinct eras in the city, and once was an Underground Railroad stop on the way to Canada under the protection of local abolitionists. The site of Finney's Barn has been honored in commemoration of the Underground Railroad.



Some buildings in this area, such as 1217 Griswold, have been converted to lofts, housing a number of Techno enthusiasts. This has been seen as a boost for plans to make the area a music hub. Several buildings will soon start renovation.
Wafer-thin Non-denominational Religious Center on W. Grand River
Capitol Park and Nighttime Skyline